AMC Theatres CEO reportedly considering Shiba Inu as ticket payment option

AMC Theatres is on the verge of integrating the option for customers to pay for movie tickets using Bitcoin (BTC), Litecoin (LTC), Ethereum (ETH), and Dogecoin (DOGE), into its technical infrastructure. But that's not all.
In the early hours of Friday, company CEO, Adam Aron took to his Twitter page to ask if users would be potentially interested in paying with Shiba Inu as well. At the time of writing, more than 98,000 Twitter users had already taken part in the poll, with approximately 86% of voters indicating their interest.
The prominent AMC theatres chain has been showing serious interest in crypto in recent times. Just a week ago, the CEO was discussing the potential of issuing a company-specific crypto. Earlier this month as well, AMC enabled its users to purchase digital gift cards via Dogecoin and other cryptocurrencies with the use of BitPay wallet. Last month whole speaking in an interview with CNBC, Aron also expressed interest in minting commemorative movie tickets as NFTs.
Meanwhile, Shiba Inu overtook Dogecoin on Friday, to become the world's ninth-largest cryptocurrency in terms of market capitalization. Whereas,  Etherscan also revealed the daily number of Shiba Inu transactions has surpassed 140,000, just a little below its all-time high of 172,411 daily transactions that was achieved back in n May.
Following the Shiba Inu's recent record run-up, its ecosystem has now expanded to include ShibaSwap, a decentralized exchange DEX. Data from defillama says that total value locked on ShibaSwap amounts to $537.92 million. And according to CoinGecko, there are currently no fewer than 29 coins listed on ShibaSwap, with $236 million worth of coins or thereabouts, changing hands in the last 24 hours.
Now, other than its foundational token, Shiba Inu, ShibaSwap also features two more tokens. There is the Bone ShibaSwap, which is used in voting on governance protocols put forward by developers. Then there's the Doge Killer, used in providing trading liquidity on the DEX.
Shiba Inu Remains Top Holding in Whale Wallets After Market Drops by 25%
While most traders are selling their holdings amid cryptocurrency market correction, SHIB remains one of the strongest positions on whale-tier addresses
Shiba Inu meme token has been the most popular token among whales during both local bull and bear cycles on the cryptocurrency market. With the current bloodbath continuing on both the Bitcoin and altcoins markets, Shiba maintains its strong place on whale-tier addresses, according to WhaleStats.
Whale wallet holdings
According to the total whale holdings in the 1,000 largest Ethereum wallets, Shiba Inu still remains the largest position among whales with $2 billion worth of tokens held currently. While the USD value of holdings remains the same, the percentage (or the dominance) among whales has decreased significantly.
At press time, Shiba Inu holdings remain at 8% dominance, while "Other" smaller tokens account for 7.89% of all holdings coming closer to the dog-based meme coin.
Market performance
Unfortunately for its investors, Shiba Inu did not become a safe haven asset and lost approximately 15% of its value. Compared to the market in general, SHIB token was in the middle of the biggest losers leaderboard, sitting with tokens and coins like Doge, Ethereum and Avax.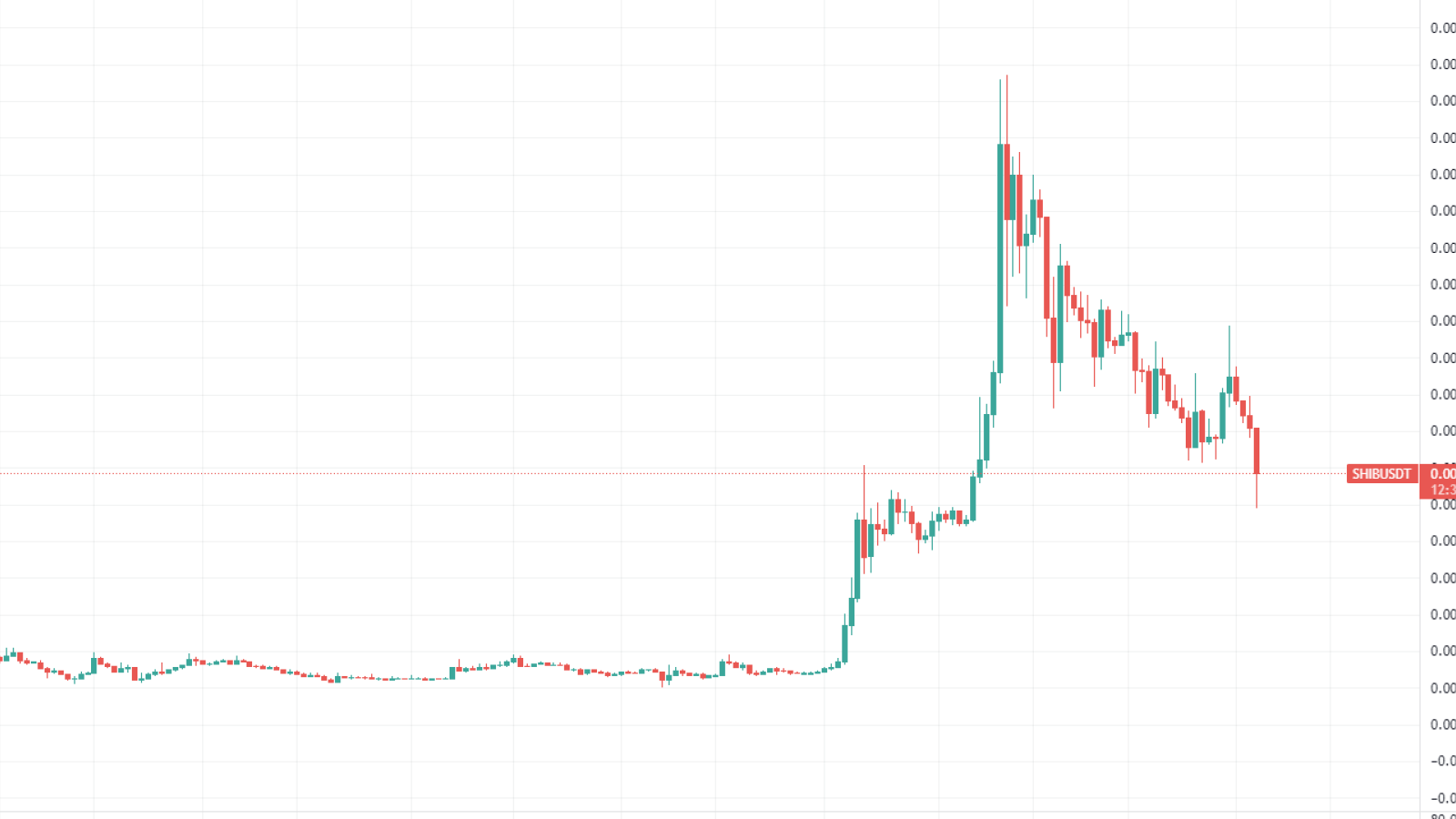 After a strong correction, Shiba Inu now remains at a total loss of 66% from its last peak. At the beginning of the week, a rapid and unexpected rally was initiated on the market, which led to a 40% short-term pump of the token's price.
At press time, SHIB token trades at $0.00003453, with 15% negative performance now and 26% minimum.
What are the chances for Dogecoin, Shiba Inu to be rescued by immediate recovery
Just like large-cap coins, the state of the market's meme-coins too has been in dire straits over the past few hours. DOGE and SHIB had in fact shed more value in the past day when compared to the past 7-days in total.
Despite the massive dip, both the meme-coins were seen exhibiting signs of recovery, at press time. As can be seen from the chart attached below, the past three odd hours have fairly been good for both these coins.
DOGE managed to pull up its socks and register two green candles in the aforementioned timeframe. SHIBA's recovery, on the other hand, looked even more concrete as it successfully managed to register three-successive green candles on its hourly chart.
Interestingly, their volumes too [depicted below the candlesticks] have been decently high over the last couple of hours. Thus, indicating that a fair share of participants has indeed started "buying the dip."
So, will they start barking louder now?
Less than a week back SHIB broke above its descending channel and registered consecutive green candles. It however did dunk in value right after. The latest dip, in retrospect, didn't seem to be too deep.
On the daily chart, SHIB was seen trading slightly below the 61.8% Fibonacci level, at the time of writing. If it continues to project green candles over the next couple of hours, it would manage to reclaim $0.00003798 as support.
However, if it fails to do so, then SHIB could fall to a level as low as $0.00002413. In such a scenario if bears manage to gain control over bulls, then HODLers can expect this coin to revisit any level around $0.00000648.
DOGE's prospects, on the contrary, looked slightly bleak. Over the past day, the largest meme-coin had broken below most of its supports and was seen trading at a level reminiscent of what was recorded way back in July. Earlier during the day it, in fact, crawled to a low level that was last seen only in April.
So, if the downtrend continues for DOGE on its charts, and it manages to break below its $0.158 support level, then there are high chances of it paying a visit to $0.101.
Nonetheless, it managed to uphold its green-candle trend on the lower timeframe, it would gradually be able to negate its losses and inch back to $0.2 after crossing $0.182.
Community 'pats'
Well, the community usually plays a key role in helping meme-coins recover. At the time of writing, the sentiment data from Santiment projected quite an interesting trend.
Over the last couple of hours, DOGE mentions on social media have, by and large, been positive. In fact, the positive sentiment has successfully been able to out shadow the negative sentiment. If the trend heads in the same direction, then community members might successfully be able to aid the coin recovery, despite the sluggishness on its price chart.
A similar trend was observed with SHIB too. Now, this essentially means that the community members are still backing both DOGE and SHIB, despite whatever has happened over the past few hours.
Well, even though meme-coins usually tread on Bitcoin and other large-cap alts' pre-carved path, they've managed to defy that trend a host of times in the recent past. So, irrespective of the state of the broader market at this stage, these two coins might end up surprising market participants. The odds of their recovery seem to slightly outweigh the odds of them continuing with their respective downtrends at this point.
SHIB Community Burned About 2 Billion SHIB in November
There have been a total of 7,409,202 $SHIB tokens burned and two transactions in the last hour.
According to shibburn, the SHIB community, dubbed the "SHIB Army," burned about two billion SHIB in November. A total of 410,298,489,440,804 of the one quadrillion initial supply has been burned. Tokens that are burned are permanently removed from circulation. The decrease in circulating supply is predicted to raise the price of Shiba Inu in this instance.
According to Shiba Inu's burn tracker, shibburn, a total of 410,296,586,422,853 SHIB tokens (41.02966%) have been burned from the initial supply of one quadrillion at the beginning of November.
As of Dec. 1, this number had grown to 410,298,449,011,405 (41.02984% of the initial supply), representing a near 1.9 billion increase in tokens burned within the time frame.
Shiba Inu is about to undergo significant alterations that are likely to increase its value and boost its price. Shytoshi Kusama, the SHIB team's lead developer, recently discussed the potential of Shiba Inu's gameplay expanding into the "Metaverse."
Gaming will also facilitate the burning process, as in-app purchases made from the Shiba Inu game will be used to burn a large amount of SHIB to lower the token's supply. Currently, the SHIB supply is burned only when the owner of a Shiboshi NFT pays $100 in SHIB to change the NFT's name.
SHIB is trading at $0.00004230 as of press time.