Ether reaches record high of over $4.4K as Shiba Inu becomes a leading ETH burner
Ether (ETH) clocked a new all-time high on Friday as blockchain data showed that smart contract blockchain burned more tokens than it emitted in the last 24 hours, thanks partly to strong action in Shiba Inu (SHIB).
The native token of Ethereum's blockchain rose to $4,402 during Asian hours, topping the previous record high of $4,379 reached in May, according to CoinDesk data.
At the going price of $4,370, the is up 45% on a month-to-date basis versus bitcoin's 40% gain. The ether-bitcoin implied volatility spread is rising in a sign that the market expects ether to continue leading the price action in the coming weeks, as Thursday's First Mover newsletter mentioned.
Data tracked by Tokenview shows Ethereum produced 15,109.34 ETH and burned 16,710.2 ETH in the past 24 hours. That's a net supply reduction of 1,600 ETH.
SHIB, the self-proclaimed dogecoin killer, burnt 770.12 ETH, becoming the third-largest ETH destroyer. Uniswap V2 and Tether destroyed 2729.22 and 1248.72 ETH, respectively.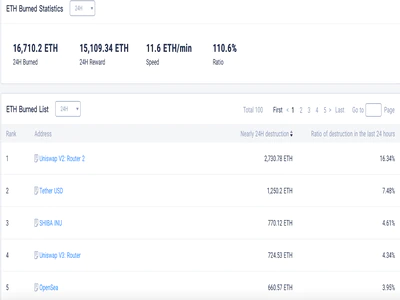 SHIB has rallied a staggering 800% this month, hitting a record high of $0.00008870. According to Defi Llama, the total value locked in ShibaSwap, a decentralized exchange that allows users to stake SHIB, has doubled to $512 million this month.
Coin burning refers to the process of removing tokens from circulation and is the crypto market's equivalent of a stock buyback.
The Ethereum Improvement Proposal (EIP) – 1559 implemented on Aug. 5 EIP 1559, burns a portion of fees paid to the miners, removing a notable chunk of coins from circulation. The upgrade has tied the amount of ether burned with the network usage.
Since activation, the upgrade has destroyed 668,339 ETH, representing over 50% of the new coins issued over the same period.
Some options traders are betting that U.S. regulators would soon approve a futures-based exchange-traded fund (ETF) and are buying cheap out-of-the-money calls in anticipation of a price rally. Data tracked by Laevitas shows the ETH $15,000 call expiring in March has drawn strong demand in recent days.
Ethereum Price Analysis: ETH rejects further downside at $4,000, moves into consolidation?
Ethereum price analysis is bullish today.
ETH/USD set another higher low at $4,000 overnight.
Upside is currently tested again.
Ethereum price analysis is bullish today as we saw a higher low set above $4,000, leading to a slight recovery so far today. Likely, ETH/USD will continue higher over the next 24 hours as bears are exhausted after a strong selloff on Friday.
The cryptocurrency market saw bearish momentum return again, with Bitcoin down by 1.3 percent. Ethereum follows, with a loss of 1.09 percent, with the rest of the top altcoins performing even worse.
Ethereum price movement in the last 24 hours: Ethereum drops again, finds support around $4,000
ETH/USD traded in a range of $3,990.68 – $4,162.30, indicating strong volatility over the last 24 hours. Trading volume has declined by 30.49 percent, totaling $13.36 billion, while the total market cap trades around $486.6 billion, resulting in a market dominance of 19.82 percent.
ETH/USD 4-hour chart: ETH recovers again
On the 4-hour chart, we can see the Ethereum price moving higher again today as bulls are eager to test upside after a higher low set overnight.
Ethereum price has seen strong volatility this week. After dropping more than 15 percent last week, support was found around $3,950. Further higher low was set early this week, resulting in more upside reached later.
A strong higher high at $4,550 was set on Thursday, indicating that the overall market structure has turned bullish again. However, a strong spike lower followed on Friday, leading ETH slightly below the $3,950 previous major swing low.
Since then, the Ethereum price has retraced to retest the $4,200 mark as resistance before starting to move lower yesterday. Overnight, rejection for further downside was seen around $4,000, leading to some bullish momentum returning again Today.
Ethereum Price Analysis: Conclusion
Ethereum price analysis is bullish today as we expect more upside to follow over the next 24 hours after a higher low was set around $4,000 yesterday. Alternatively, ETH/USD could start to consolidate in an increasingly tighter range if a lower high is set later today.
While waiting for Ethereum to move further, see our articles on the Best Crypto Wallet 2021, Decred Wallet, and Ripple vs SEC.
Despite All The FUD, Ethereum (ETH) Price Stands Strong Above $4000!
The Ethereum price after breaking the symmetrical triangle towards the north and was on the verge to hit the immediate resistance at $4742. However, a huge plunge dragged the price just below $4000 and it recovered within no time. Currently, the ETH price is swelling and trending again above $4100 that may march beyond $4250. 
At the press time, the 2nd largest crypto is sustaining above $4100 and may test one of the important resistance zones at around $4250. Yet before marching towards the highs close to ATH, the possibilities of the asset revisiting levels below $4000 surface the waters. And hence providing a good opportunity for the traders to enter the trade at a discounted price.
The asset's ascending parallel channel appears to be still intact and hence as per a popular analyst, the ETH price may revisit the lower zone of the channel again.
The analyst feels the asset may revist to the liquidity zone in between $3880 and $3671 in the upcoming days. Also, Ethereum may get the required strength and boost on revisiting these levels. As the levels around $3700 – $3600 are a good buy-zone for the asset. Therefore the price may reverse the trend as it hits the lower trend line.
The flip may still be pretty challenging as the ETH price initially needs to break the downtrend line by surpassing $4190. After sustaining successfully above these levels, Ethereum may range in the upper zone of the channel. This is when the actual bull run may initiate as to surpass the middle line, the price needs to form a new ATH.
Vitalik Buterin has a new proposal to reduce gas fees for Layer 2 scaling options
The new EIP-4488, co-written by Vitalik Buterin, is seeking to bring down gas fees for Layer 2 scaling options, but is a temporary solution.
It will achieve this by reducing transaction calldata cost and capping the total transaction calldata in a block.
---
Ethereum's high transaction costs have been well-documented, and have been a key factor in the rise of Ethereum killers. One of the solutions that seemed to be working was the Layer 2 scaling options that leverage Ethereum's security but cut down on costs. Even these have become increasingly expensive in recent months, however. Vitalik Buterin has come up with a new proposal that is seeking to keep the gas fees for L2s low, but it can only be temporary.
EIP-4488 – Vitalik Buterin's short-term fix
In his new Ethereum Improvement Proposal (EIP) 4488, Buterin recognizes that while the Layer 2 solutions have lowered the costs by a great margin, they are still not low enough for mass adoption.
"Hence, a short-term solution to further cut costs for rollups, and to incentivize an ecosystem-wide transition to a rollup-centric Ethereum, is desired," he noted.
Layer 2 scaling options for Ethereum, such as Polygon, mainly rely on either Optimistic Rollups or zero-knowledge (ZK)-Rollups. Together with sharding, they are the primary method that Ethereum 2.0 will leverage to scale.
Rollups (both the ZK and optimistic family) exist and continue to make great progress. While sharding is still coming along fast, we do NOT depend on sharding to achieve 1000+ on-chain TPS.

And in eth2, the scaling gains of sharding and rollups *multiply*.— vitalik.eth (@VitalikButerin) May 21, 2020
Optimism family of rollups lowers fees on Ethereum by 3-8x, while ZK-Rollups, which have better data compression and can avoid including signatures, have fees 40-100x lower than the base layer.
Though much lower, these fees are still way too expensive for many users, Buterin acknowledges. In the long term, sharding will solve this challenge.
"However, data sharding will still take a considerable amount of time to finish implementing and deploying. Hence, a short-term solution to further cut costs for rollups, and to incentivize an ecosystem-wide transition to a rollup-centric Ethereum, is desired," he noted.
EIP-4488 will provide a solution by decreasing the calldata gas cost. This is the compressed transaction data component from rollups running at scale once it's committed to the main Ethereum chain.
Looks like Ethereum may soon effectively have a 1MB blocksize limit!

This is part of the process to lower the gas cost of data by around 5 times, to make rollups cheaperhttps://t.co/W98cePpnKP— BitMEX Research (@BitMEXResearch) November 26, 2021
Decreasing the calldata gas cost by itself would present a new security concern. It would, in turn, increase the maximum block size from about 1.9 MB to 10 MB. "This would push the Ethereum p2p networking layer to unprecedented levels of strain and risk breaking the network," Buterin notes.
As such, just decreasing the calldata gas cost won't do. EIP-4488 solves this by adding a limit for the total transaction calldata that can be in a block.
The proposal would be a backward-compatible gas repricing that would require a scheduled network upgrade.
Ethereum users wouldn't be affected and would continue to operate without any changes. The miners, as well, would continue to operate unaffected. But they will now have to adhere to a new rule that bars them from adding new transactions to a block when the total calldata size reaches the maximum.