Subme partners up with Terra Land for their upcoming 200 IDO allocations for Subme HOLDers!
One of the most expected IDOs on the Terra (LUNA) blockchain is coming – Terra Land. 
The Terra Land project is a global transactional platform designed with selling entire real properties or their parts in mind, based on blockchain technology. Fractionating the real estate market keeps investors interested in the geographical diversification of their real property portfolio, particularly for those with fewer funds. 
In cooperation with Subme – which is a project aiming to disrupt the subscription economy by creating a subscriptions management app of everyday orders of products and services – the projects would like to form together with a special DCA strategy for investing in Real Estate markets.
The more imminent part of their cooperation is bringing the 200 spots worth ($500 each) of $100.000 for the oversubscribed TLand IDO! The only other way to get the TLAND tokens is to join the StarTerra Gamified Launchpad platform, and it is not an easy task and requires a considerable amount of capital for the guaranteed allocation.
How to get a $500 USD allocation for $TLand
In order to get on the IDO launchpad with Subme, you will need to join the First Come First Served (FCFS) whitelist. The rules are easy! All you will need to do is to go to:https://panel.subme.cash/ and provide and lock SUB/BNB liquidity in one of the 3 tiers:
If provided liquidity is worth 1000 USD you will have a 25% chance of getting whitelisted
If provided liquidity is worth 2000 USD you will have a 50% chance of getting whitelisted
If provided liquidity is worth 3000 USD you will have a 100% chance of getting whitelisted
All the whitelisted addresses will be published on Subme's Twitter after the whitelist closure on 1.11 at 8:00 PM UTC.  Once you are whitelisted, the next step for you will be to send $500 UST to the contract address that will be provided on Monday (01.11)!  More info and details about the IDO can be found on the Subme medium blog.
Ethereum Challenger Terra Becomes Third-Largest Blockchain by Total Value Locked, Surpassing Solana and Avalanche
Decentralized finance (DeFi) platform Terra (LUNA) has surpassed its rival blockchains to become the third-largest crypto by total value locked (TVL).
Crypto market intelligence firm Delphi Digital says that the Ethereum competitor has now overtaken Solana (SOL) and Avalanche (AVAX) in terms of TVL primarily due to value growth in Bonded Luna (bLuna), which is the token used by liquid staking protocol Lido as collateral to borrow stablecoin TerraUSD (UST) within the Anchor protocol.
"TVL on Terra network overtook Avalanche and Solana, making it [the] third-largest blockchain by TVL after Ethereum (ETH) and Binance Smart Chain (BSC).
It's important to note that TVL numbers are highly reflective alongside native token prices as they are commonly used as collateral in DeFi and as base pairs for DEXes. In Terra's case, DEX base pairs usually utilize Tether instead of LUNA, therefore this growth in TVL is primarily contributed by value growth in Lido bLuna."
The TVL of a DeFi platform is the total value held within its smart contracts. It is calculated by multiplying the amount of funds locked into the network as collateral by the current price of the assets.
Delphi Digital points to how LUNA's rise has helped Terra's stablecoin UST increase its overall supply by 4 billion tokens due to a proposal to mint UST on the Terra network.
"The increase in UST Supply from under $3 billion to $7 billion across mid-November was due to this proposal to mint UST with LUNA in the community pool to grow the Terra ecosystem through UST usage.
UST did another ~$1 billion of growth in circulating supply after 19th November."
LUNA is exchanging hands at $70.85 as of writing, an 46% increase from its 30-day low of $38.06.
Top Trader Says Ethereum Looks Exceptionally Bullish, Unveils Targets for Bitcoin and Explosive Altcoin Terra
A popular crypto analyst believes Ethereum (ETH), Bitcoin (BTC) and one altcoin are about to blast off and leave the recent market-wide slump in the dust.
The pseudonymous crypto strategist and trader Kaleo tells his 454,000 Twitter followers that ETH's time to shine has arrived as the "king" of the layer-1 blockchain protocols.
The analyst says,
"ETH is so bullish after the most recent flush it's not even funny.
We've seen a major rotation play among the alt [Layer-1s] the past few months.
It only makes sense that the king of the L1s finally has a chance to suck liquidity from the rest of the market and have a run of its own."
Ethereum is about even on the day, trading for $4,346 at time of writing.
Kaleo next looks at Bitcoin and says he still believes the top crypto will reach at least $100,000 during the current cycle.
"I've said it before and I'll say it again – I still expect to see Bitcoin have a parabolic move to top out at $100K+ this cycle.
I'll gladly start scaling out around $150K. I expect it to go higher, but I'm not concerned with nailing the top. Until then, just keep stacking."

BTC currently sits at $50,900 after having battled back from a flash-crash low around the $43,500 level on December 3rd.
Lastly, the crypto analyst lays out his price prediction for the Terra (LUNA) protocol, whose native token LUNA underpins a suite of decentralized stablecoins.
Kaleo tells his followers that Terra reaching the $100 threshold is inevitable.
"LUNA going to $100 from here is only a matter of time."

LUNA has seen some wild price action in recent days, with the altcoin tumbling from $69.66 to $53.64 late last week before surging to $77.37 on Sunday.
The 10th-ranked crypto has since corrected but is back up 5% on the day to $70.74.
TerraUSD (UST) adoption backs LUNA's ascension to a new all-time high
Cross-chain integrations and the growing popularity of Terra's UST stablecoin are just a few of the factors behind LUNA's recent rally to a new all-time high.
Stablecoins are an integral part of the the centralized crypto sector and the decentralized finance (DeFi) ecosystems that have sprung up over the course of the past few years because they provide the liquidity needed for traders to easily swap into different assets. They also serve as a shelter against strong downside swings like the 25% correction seen on Dec. 3.
One project with a stablecoin component that has seen its price surge to a new all-time highs despite the wider market pullback is Terra (LUNA), a multi-sector blockchain protocol aimed at building a global payments system through the use of a fiat-pegged stablecoin called TerraUSD (UST).
Data from Cointelegraph Markets Pro and TradingView shows since hitting a low of $37.86 on Nov. 26, the price of LUNA has surged 106% to a new all-time high at $78.43 on Dec. 5 as its 24-hour trading volume spiked to a record $5.66 billion.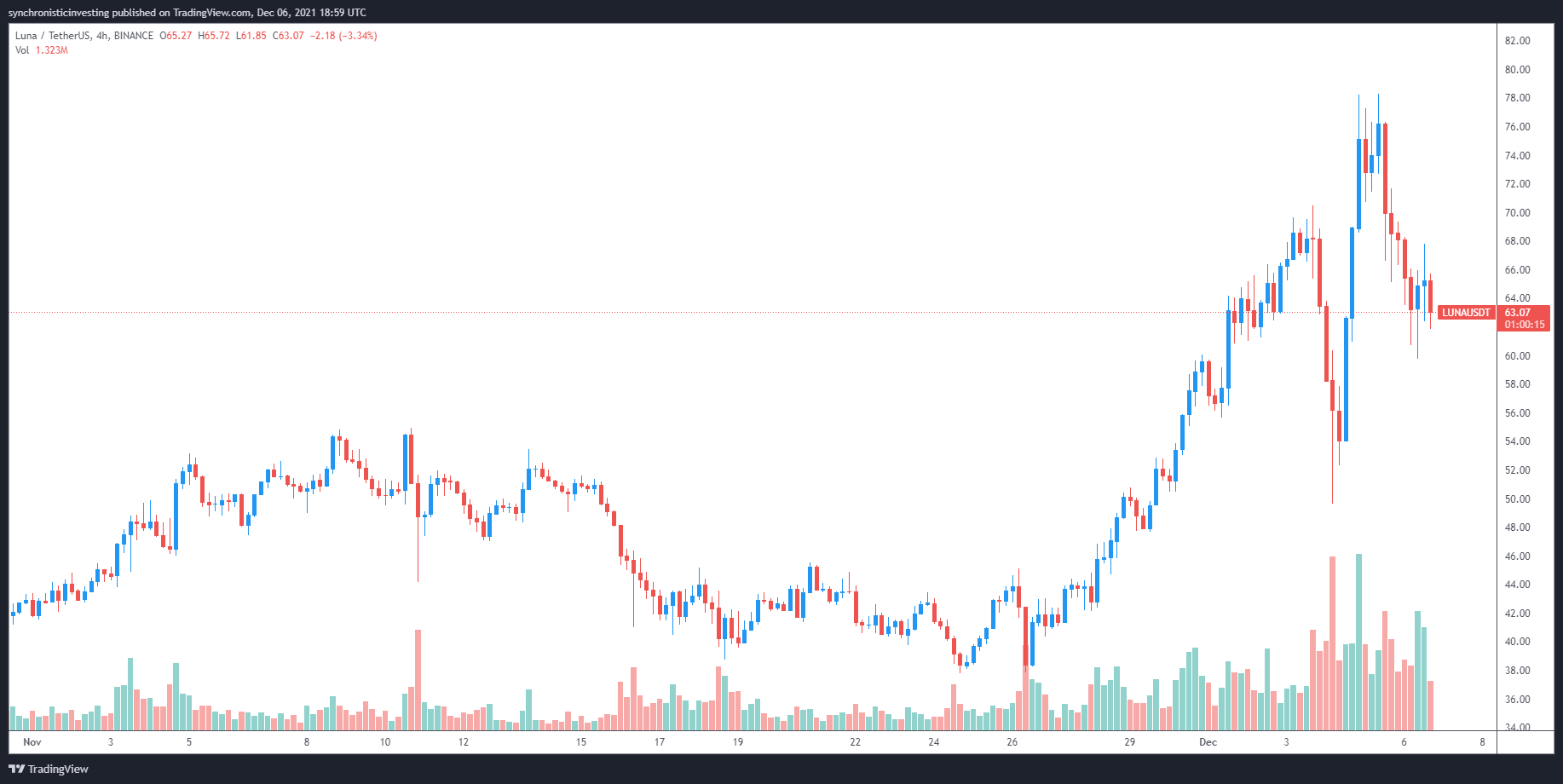 LUNA/USDT 4-hour chart. Source: TradingView
Three reasons for the breakout in LUNA price include the increasing supply of UST, a series of new cross-chain integrations for the Terra ecosystem and a surging total value locked (TVL) on the Terra network.
UST supply hits a new all-time high
One of the main drivers behind the strength seen in LUNA has been the rapid growth of the circulating supply of UST, which is now the largest algorithmically-backed stablecoin in the market and the fourth-ranked stablecoin with a market cap of $8.221 billion.
Crypto proponents in favor of decentralized stablecoin options have embraced the use of UST in comparison to its more centralized counterparts USD Coin (USDC), Tether (USDT) and Binance USD (BUSD).
As the popularity of UST grows, many in the field have begun referring to it as 'The DeFi dollar' because it embodies the ethos of decentralization and is slowly spreading across the multi-chain DeFi landscape.
Cross-chain integrations
LUNA is also available across a few cross-chain bridges, making it easier for LUNA holders to invest their in DeFi ecosystems on Ethereum (ETH), Solana (SOL), Fantom (FTM) and Polygon (MATIC)
Total value locked on Terra hits an all-time high
Increasing use of LUNA and UST pushed the total value locked on the Terra blockchain to a new all-time high at $14.36 billion on Dec. 5th and LUNA price hit a record-high on the same day.

Total value locked on the Terra network. Source: Defi Llama
The rapid rise in TVL has resulted in Terra becoming the third-ranked blockchain network in terms of TVL after it surpassed Solana, which has $12.08 billion in value locked on its protocol, while the top-ranked Ethereum network boasts a TVL of $164.72 billion and the Binance Smart Chain has $22.4 billion in value locked on its blockchain.
VORTECS™ data from Cointelegraph Markets Pro began to detect a bullish outlook for LUNA on Nov. 24, prior to the recent price rise.
The VORTECS™ Score, exclusive to Cointelegraph, is an algorithmic comparison of historical and current market conditions derived from a combination of data points including market sentiment, trading volume, recent price movements and Twitter activity.
VORTECS™ Score (green) vs. CHZ price. Source: Cointelegraph Markets Pro
As seen in the chart above, the VORTECS™ Score for LUNA began to pick up on Nov. 24 and reached a high of 85 around the same time as the price began to increase 106% over the next eleven days.