Tron founder withdraws over $4 billion from Aave protocol amid exploit speculations

Justin Sun, Tron founder recently withdrew $4.2 billion from Aave lending pools, affecting the liquidity of the Defi lending network, further causing a spike in interest rates. According to market speculations, the sudden and expensive liquidation is the result of the ongoing debate on Twitter between the Yearn and Aave community, regarding Aave being vulnerable to a potential exploit.
Yesterday, Yearn founder, Andre Cronje took to Twitter to highlight that the Aave protocol "is vulnerable to the same exploit" that CREAM finance suffered earlier this week. The Defi network, Cream Finance suffered $130 million worth of a flash loan attack, and the community is now at war with Aave for scrutinizing the protocol's security by speculating a potential exploit.
Aave core after 24 hour defamation marathon on yearn for cream being exploited, while Aave is vulnerable to the same exploit. How is that disclosure of funds at risk going for your users? 2nd full protocol exploit. Tell me again how much better your security is. https://t.co/OahM8BJS9w
— Andre Cronje 👻 (@AndreCronjeTech) October 29, 2021
AIP 44
In lieu of the raging exploit speculation Aave is set to temporarily suspend borrowing on xSushi and Defi Pulse Index (DPI), along with freezing deposits, borrows, and rate swaps for UNI/BAL AMM Markets after a proposal by the community members, appealing the protocol to take the mentioned precautionary measures. With nearly 590,000 votes for the proposal and only 1 against, Aave Improvement Proposal (AIP) 44 is gravitating completely towards getting passed. However, voting doesn't close until tomorrow, and given the decentralized twists, anything can happen.
Flash Loans in the NFT market
The flash loans concern is not limited to Defi's lending protocols. Yesterday, the Non-Fungible Token (NFT) market was hit with a flash loan hack aimed at raising the floor price of the token. The white-haired, green-eyed pixelated character known as the CryptoPunk 9998, which was bought for $532 Million from a loan that the attacker borrowed, was sent to the bidder's wallet but with a hiked floor price, according to the Ethereum blockchain. In a more traditional market, this process would be referred to as, wash trading, which is also under regulators' oversight for being a crypto tax loophole.
Larva Labs, the CryptoPunks founder, revealed on Twitter that this process is called, "flash loans". "In a nutshell, someone bought this punk from themself with borrowed money and repaid the loan in the same transaction."
TRON price kick-starts 20% rally as TRX shatters vital trend line
TRON price breached through a declining trend line on November 29, signaling the start of a new uptrend.
A minor downswing to $0.09 is likely before TRX rallies to $0.109.
A daily close below the $0.082 to $0.087 demand zone will invalidate the bullish thesis.
TRON price experienced a two-week downswing that ended recently with an uptick in buying pressure. This move suggests that TRX has kick-started an uptrend and is likely to continue higher.
TRON price looks to set up higher highs
TRON price has corrected 30% over the past two weeks and set a swing low at $0.089. Connecting the swing highs between November 22 and November 29 using a trend line reveals a bear trend line and a declining resistance level. A potential increase in buying pressure reversed the trend and broke this hurdle, propelling TRX by 7.7% to where it currently trades – $0.096. Going forward, investors can expect TRON to head lower and retest the $0.092 support level before firmly launching.
The immediate resistance level at $0.10 is the first hurdle TRX will encounter after a 10% upswing. Clearing this barrier will allow TRON price to retest the 50% Fibonacci retracement level at $0.109. This move will indicate a 20% upswing from the current position and is likely where the upswing will face a decisive moment.
If the buying pressure continues to increase, investors can expect TRON price to retest the 62% Fibonacci retracement level at $0.11 or the following one at $0.12.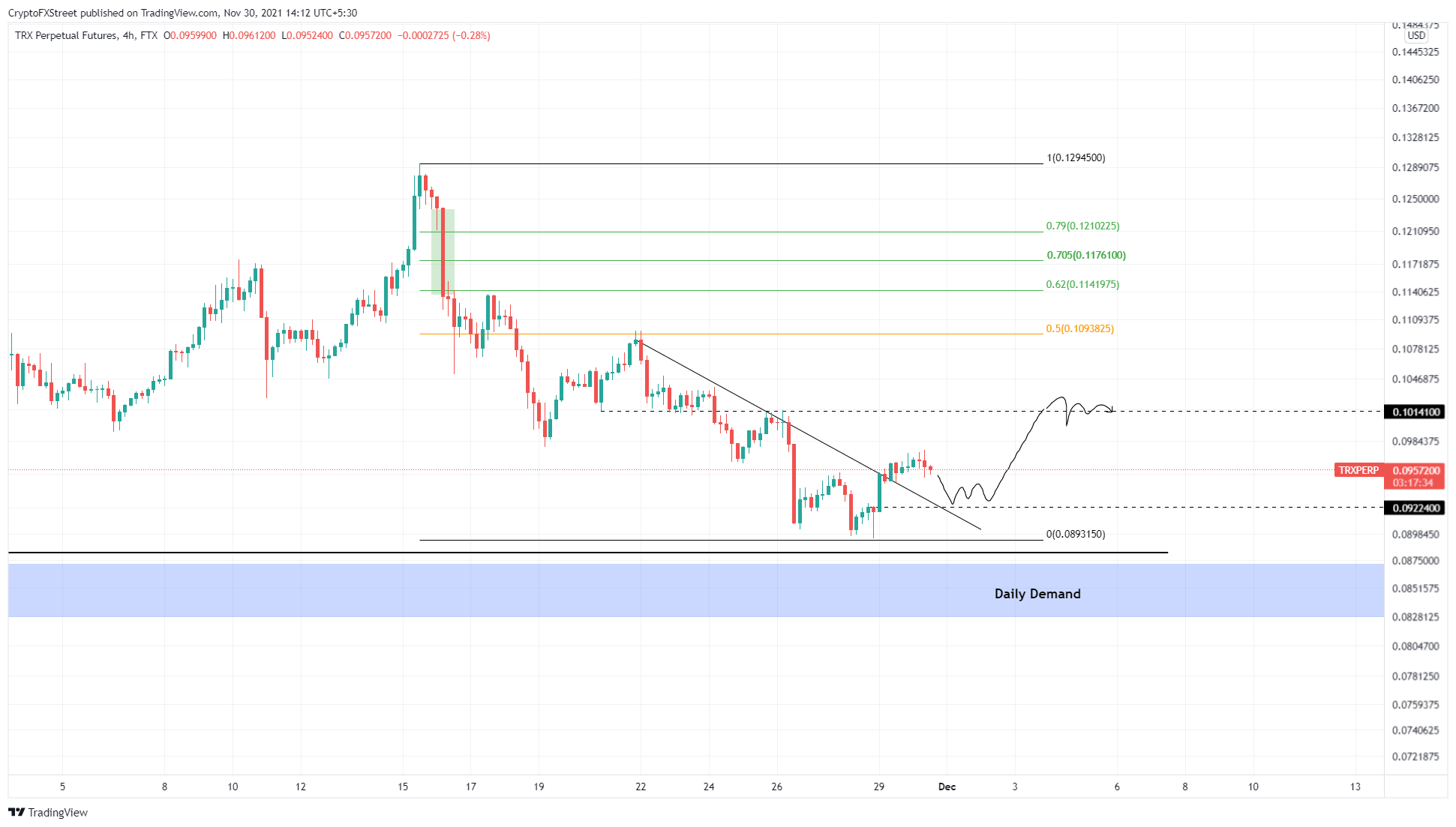 TRX/USDT 4-hour chart
TRON price needs to stay above the $0.92 support level, a failure to do so will indicate a lack of buying pressure and push TRX down to the daily demand zone, ranging from $0.082 to $0.087.
As long as TRX stays above this area of support, buyers can make a comeback. However, a daily close below $0.082 will create a lower low and invalidate the bullish thesis.
TRON bears remain in control but TRX price downside limited at $0.08
TRON price action shows a bearish Ichimoku breakout developing.
Oscillator readings indicate that any move lower could be limited.
Strong support exists near the $0.08 value area.
TRON price has entered into the most bearish trading conditions on its daily Ichimoku chart since June 2021. An Ideal Bearish Ichimoku Breakout entry was generated last Friday, but it could be a developing bear trap.
TRON price action has mixed signals, may dip to $0.08 before creating new highs
TRON price has displayed a relatively muted response to the steep drop on Friday. The resulting sell-off on Friday positioned TRON into extremely bearish trading conditions, but the bears have been unable or unwilling to keep up with the selling pressure.
Reasons why the perceived inability for short-sellers to take control could be due to the gap between the daily candlestick bodies and the Tenkan-Sen. Additionally, the Optex Bands oscillator shows TRON price trading in extreme oversold levels, not seen since July 2021.
A key test of near-term resistance is ahead at the critical $0.10 value area. $0.10 is not just an important psychological number, but it also contains the 2021 Volume Point Of Control, Tenkan-Sen, and Senkou Span A. Sellers may be waiting to trigger bearish pressure on TRON price at that level.
The 50% Fibonacci retracement and second-highest high volume node in the 2021 Volume Profile, share the $0.09 level. If TRON price falls below that support, then a quick trip towards $0.08 is probable. The 61.8% Fibonacci retracement is at $0.08, along with a high volume node.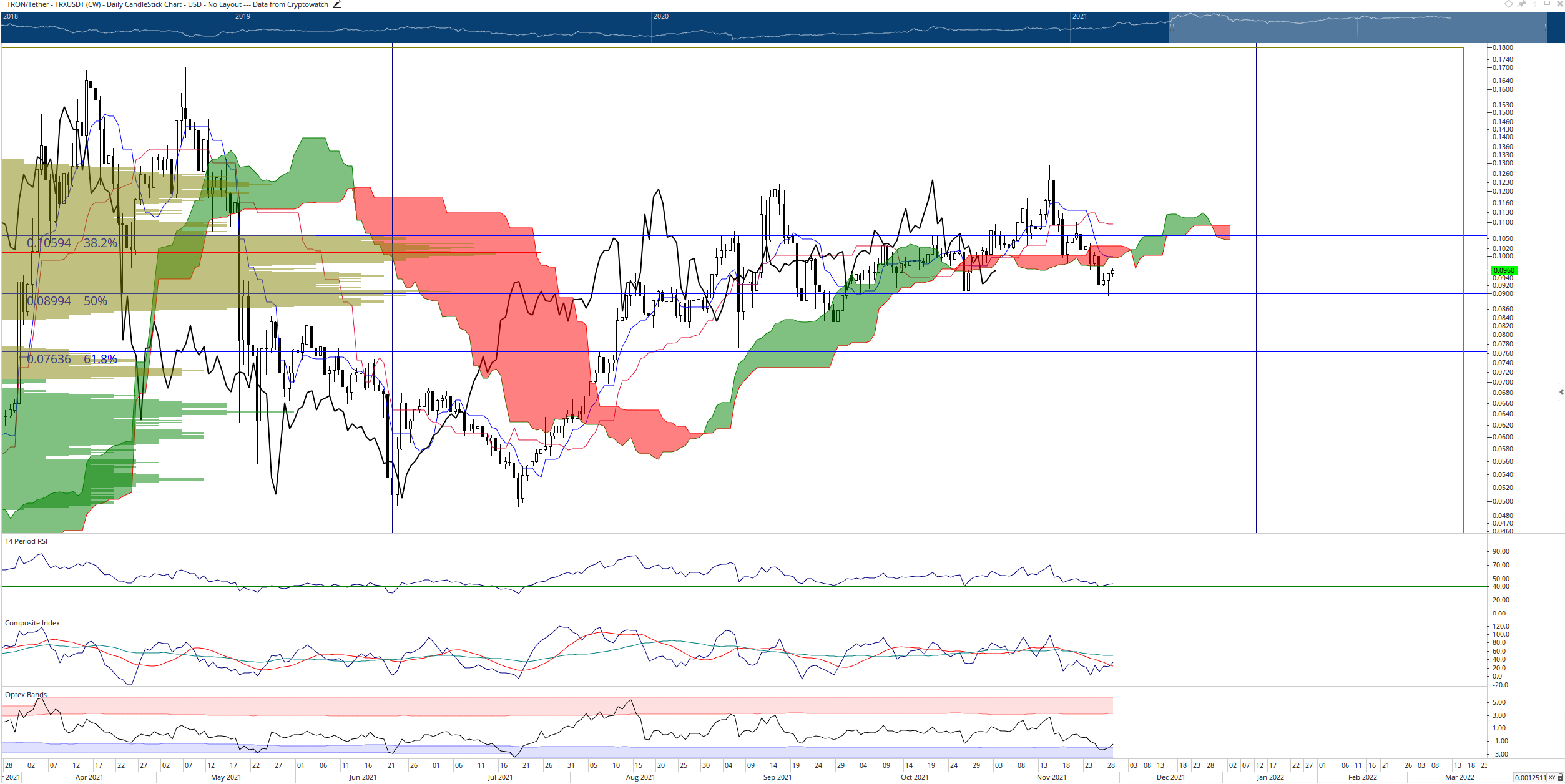 TRX/USDT Daily Ichimoku Chart
For TRON to resume a clear uptrend and a move towards new all-time highs, it must fulfill an Idea Bullish Ichimoku breakout entry. For that to occur, TRON has an extensive road ahead of it. TRON would need to close at or above the $0.115 value area to resume the prior bull market.
Cardano and Tron Will Soon Be Removed From eToro
The trading app has cited unspecified regulations as the reason behind the delistings.
Trading platform eToro has announced that it will delist Cardano (ADA) and Tron (TRX) for American users.
The company did not explain why those assets were targeted or which regulations influenced its decision.
The new policy will take effect in late December.
Trading app eToro has announced that it will remove Cardano (ADA) and Tron (TRX) from its listings before the end of the year.
Policy Will Hit eToro Users in December
The new policy means that eToro users will not be able to open positions in those cryptocurrencies beginning on Dec. 26.
Additionally, users will not be able to receive staking rewards for the two cryptocurrencies beginning on Dec. 31.
These restrictions will only apply to users in the United States, according to the policy update posted by eToro on Tuesday.
The company cited "business-related considerations in the evolving regulatory environment" as the reason for the delistings, but did not say which regulations influenced its decision.
Neither TRX nor ADA has been targeted by regulatory action. It is possible that new reporting requirements for crypto brokerages in the U.S. have played a part in eToro's decision, but this does not explain why TRX and ADA were specifically targeted.
Crypto Market Is Largely Unaffected
Though early reports suggested that each token had seen losses, both had recovered by the time of writing. As of 3:30 PST on Nov. 25, Both ADA and TRX saw gains of roughly 0.5% over 24 hours.
Given that Cardano ranks among the top six tokens, it seems unlikely that other exchanges will follow eToro's lead and delist it. TRX ranks somewhat lower as the 32nd largest cryptocurrency, but it does not seem to be a target for delistings, either.
In fact, both coins have recently gained new listings elsewhere. Cardano's ADA token was listed on Bitstamp on Wednesday, while Tron saw a TRX ETN listed on Deutsche Börse in September.
Furthermore, eToro is primarily a stock trading app with crypto features, meaning that its regulatory concerns may not reflect those of dedicated crypto exchanges.