Cardano price analysis: Price backslides to $1.936 as bears retain their lead
The price has moved down to $1.94.
Cardano price analysis indicates bearish trend.
Support is still maintained at $1.93.
The Cardano price analysis reveals that the price has been following a downward movement for the past few days, as the bears have been constantly striving for lead. The short-term trending line is also descending as a regular decline in price has been taking place for the past few weeks. The price has been lowered down to the $1.95 level as a result of the latest bearish strike. Further downfall in price is to be expected in the approaching hours as well.
ADA/USD 1-day price chart: Cryptocurrency value depreciates up to $1.94 degree
The one-day Cardano price analysis shows that the price has been following a decreasing trend for the past few weeks. Although there have been instances where the bulls tried to take over the market, the overall trends have been in the favor of the sellers. A substantial decline in ADA/USD value has been recorded in the last 24 hours as well as the price moved down to $1.94. The moving average (MA) is relatively at a stable position i.e. $2.04.
The SMA 50 curve has been traveling higher than the SMA 20 curve, which is yet another confirmation of the bearish trend. The increase in volatility has taken the upper Bollinger band value to $2.283 and the lower Bollinger band value to $1.93. The Relative Strength Index (RSI) score has dropped down to 36.91 level as well.
Cardano price analysis: Bears strike again taking price below $1.93 boundary
A considerable decline in ADA/USD price has been observed during the last few hours. The price has gone below the $1.939 support as well, as a result of the constant bearish pressure. The latest downturn in price has lowered it to the $1.935 level, which has proved to be quite damaging for the overall coin value. The decreasing trend has taken the price below the moving average value i.e. $1.97 as well.
A crossover between SMA 50 and SMA 20 took place in the earlier hours as well. Now the Bollinger bands average is at $1.989 point, whereas the upper Bollinger band is resting at $2.04 and the lower Bollinger band is at $1.939. The RSI curve has covered downward movement as well and the score is now touching 36.57.
The market value of ADA/USD has been degraded to a great degree in the period of the last few months. This can be further confirmed from the above technical indicators chart, which is giving out a bearish indication. There are 12 indicators on the selling position, nine indicators are there on the neutral position while only five indicators are present on the buying position.
The moving averages indicator is giving out a strong selling hint as well. There are 11 indicators settled on the selling mark, three indicators are on the buying mark while only one indicator is there on the neutral mark. The Oscillators are showing a neutral trend for the day, as there are eight oscillators at a neutral level, two oscillators at buying level, and one oscillator at the selling level.
Cardano price analysis conclusion
The one-day and four hours Cardano price analysis is confirming a downtrend for the day, as the price has undergone a significant decrease in the last 24-hours. The bears have been leading the price charts for the past few days, and even today a downward tendency has been shown by ADA/USD. A further drop in price should be expected as the hourly price chart is showing negative signs as well.
Cardano-Based DEX Announces Date of Testnet Launch
A major Cardano-based decentralized finance protocol is about to launch its testnet
Cardano-based decentralized exchange SundaeSwap has announced that its testnet launch is going to take place on Dec. 5. 

Thousands of users will be able to try out one of the most notable projects on the Cardano network.  

The purpose of the testnet is to discover some bugs and inefficiencies ahead of the upcoming mainnet launch.

It will also help the Input Output team to adjust the performance metrics of the network so that it can work smoothly under heavy load:
Our testnet is the perfect opportunity to put the new parameters under load so they can assess performance and further raise these limits.
Implementing such incremental changes will be crucial for making Cardano scalable enough for the decentralized finance sector.  
In late September, SundaeSwap forged a partnership with Nervos, China's top public blockchain. 
Here's What's Next for Cardano, Shiba Inu, Terra and Two More Altcoins, According to Crypto Analyst
A popular crypto strategist and trader is plotting what could be ahead for Cardano (ADA), Shiba Inu (SHIB), Terra (LUNA) and two other altcoins.
Pseudonymous cryoto analyst Altcoin Sherpa tells his 154,100 Twitter followers that he is short-term bullish on ADA after the smart contract platform managed to stay above support at $1.48.
"ADA: Not a bad place for a long. Support/resistance level, 0.50 Fibonacci level too. I still wouldn't hodl (hold on for dear life) this though. It would be a swing trade."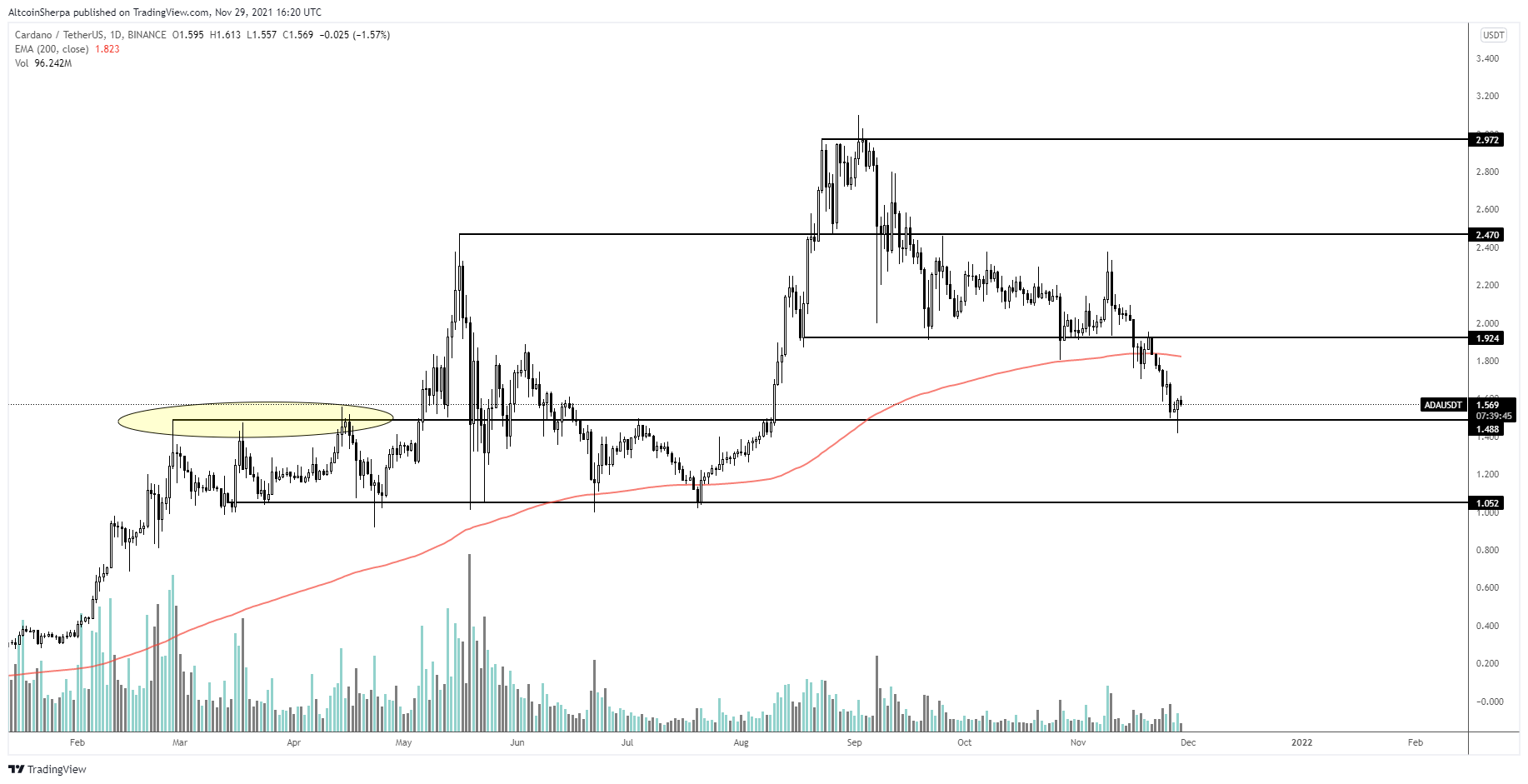 At time of writing, Cardano is trading at $1.56, down 2.85% in the last 24 hours.
Next up is popular meme coin Shiba Inu. According to the crypto strategist, he's expecting SHIB to ignite a quick bounce before resuming its downtrend unless the Dogecoin competitor manages to consolidate around $0.000047.
"SHIB: Short-term bottom is probably in. Expecting some sort of lower high to form. If this consolidates at the 0.50 [Fibonacci level], a more explosive move will come (But it's going to take a much longer time in my opinion)."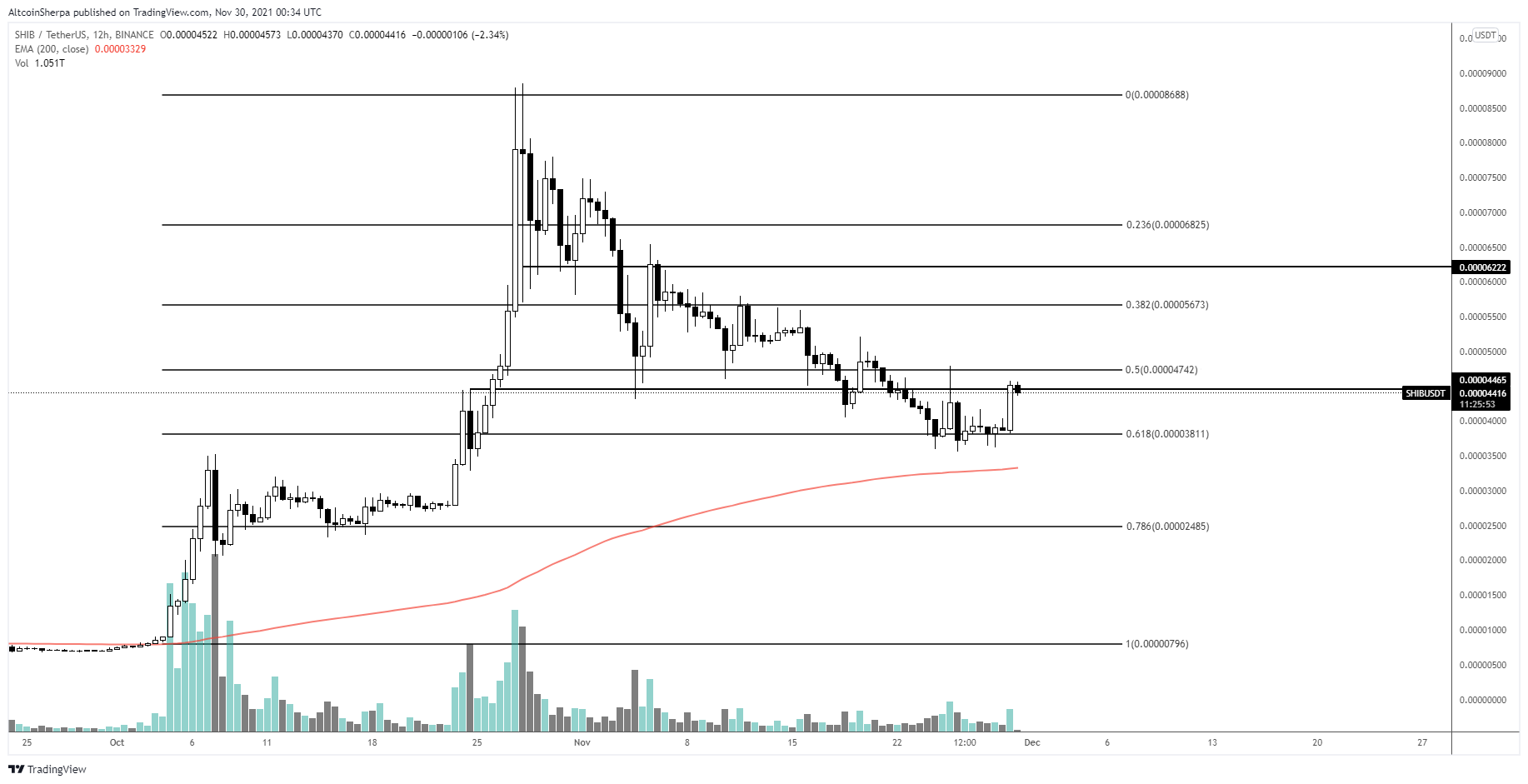 SHIB is currently exchanging hands at $0.000048.
Another coin on the trader's list is decentralized finance (DeFi) payment network Terra, which Altcoin Sherpa says is poised to erupt to new record highs.
"LUNA: Still a high time frame bullish [market structure], send to all-time highs."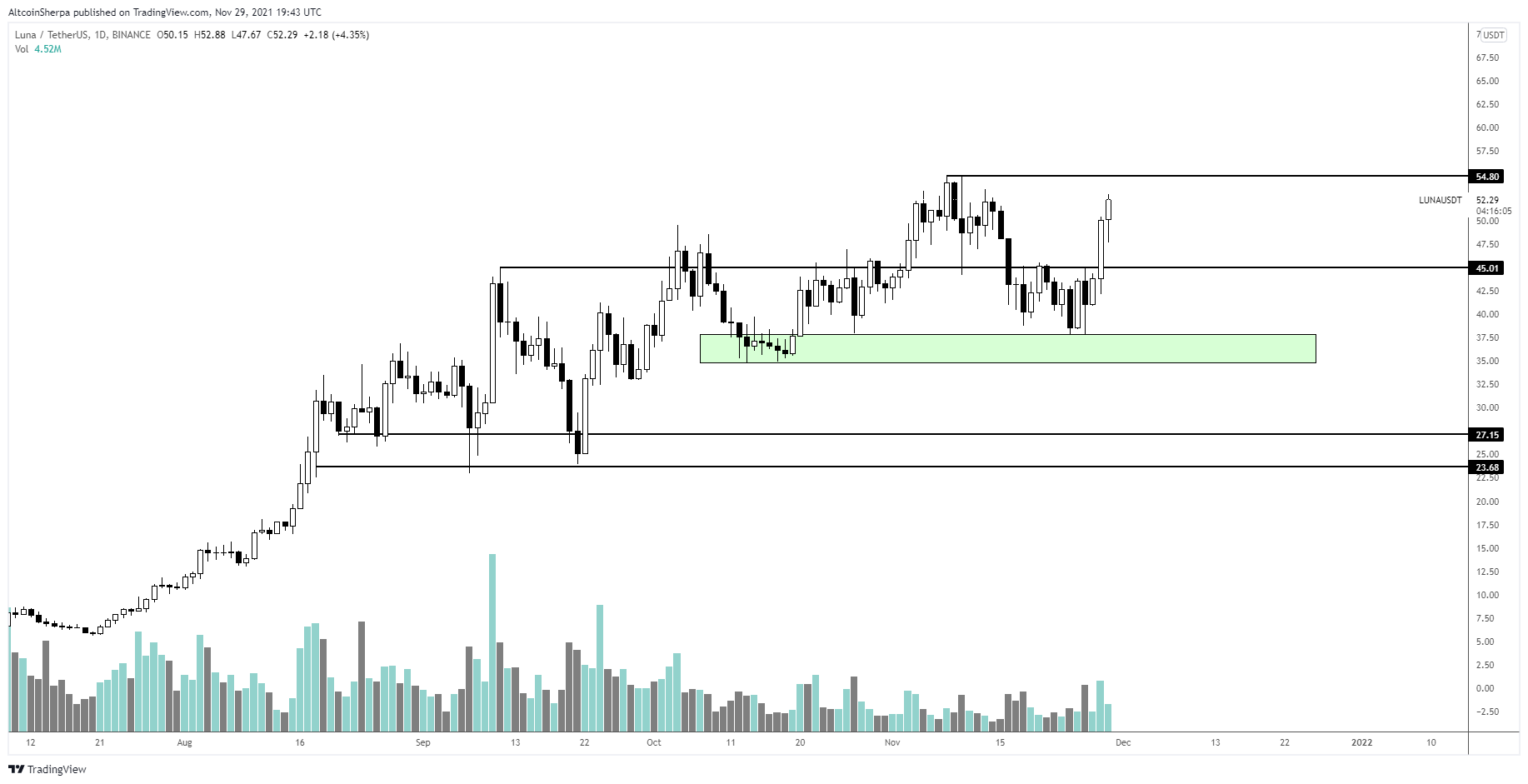 The fourth coin on the analyst's radar is the blockchain-based game ecosystem The Sandbox (SAND). Altcoin Sherpa maps out two potential scenarios for SAND after the coin printed a bearish lower high structure.
"SAND: My plans are below. Let's see where this goes. In general, I personally think a lower high just got printed, and we're going to go lower. If a higher low comes, we will enter some consolidation, and then I'm guessing another push higher."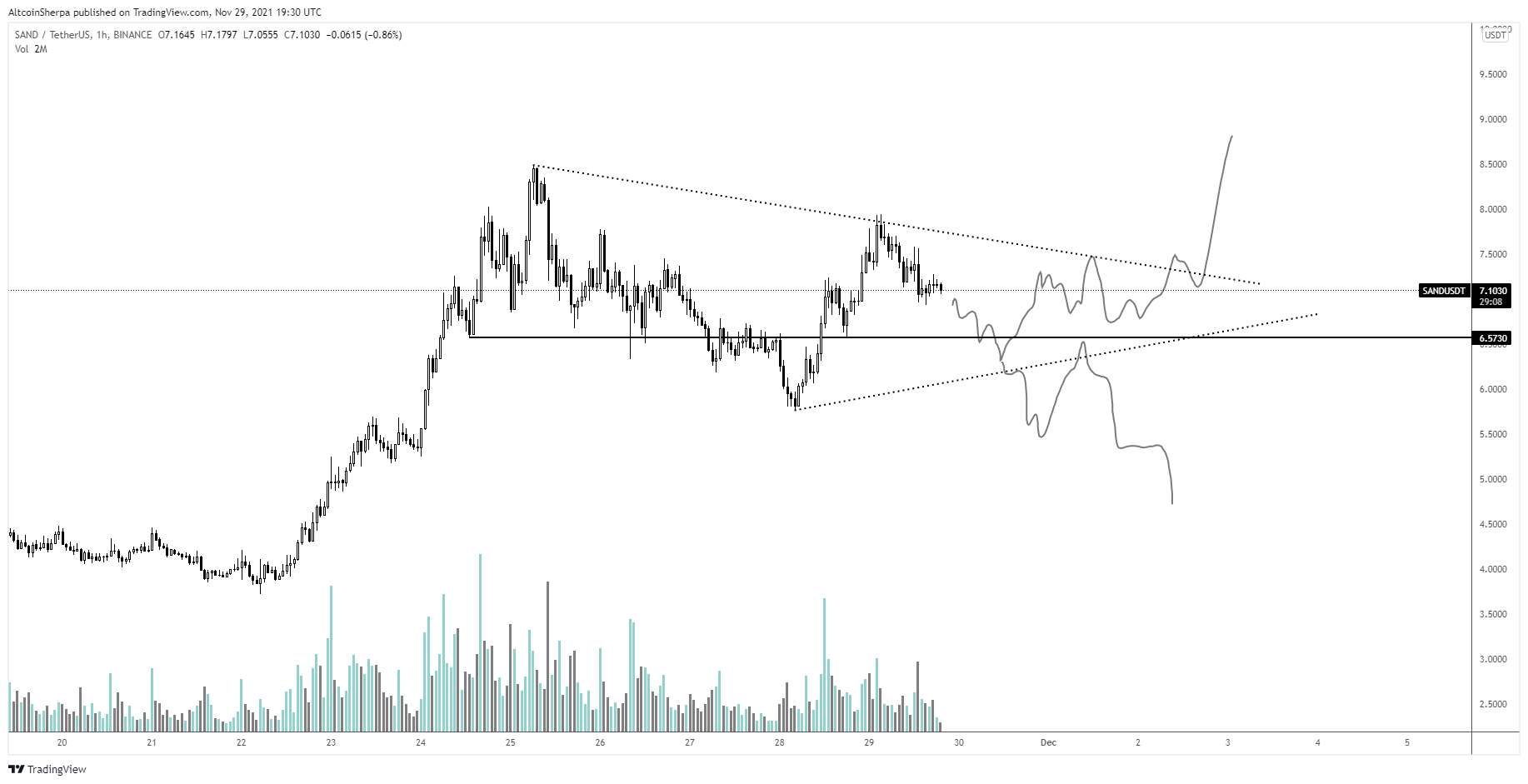 The last coin is Theta Network (THETA), a peer-to-peer distribution platform for video content. According to Altcoin Sherpa, THETA can launch a massive rally once it takes out resistance at $9.61.
"THETA: When this moves it will be explosive. It's been ranging for quite some time, and I think that this one usually has its own market cycle. I would not buy this as an active trade though."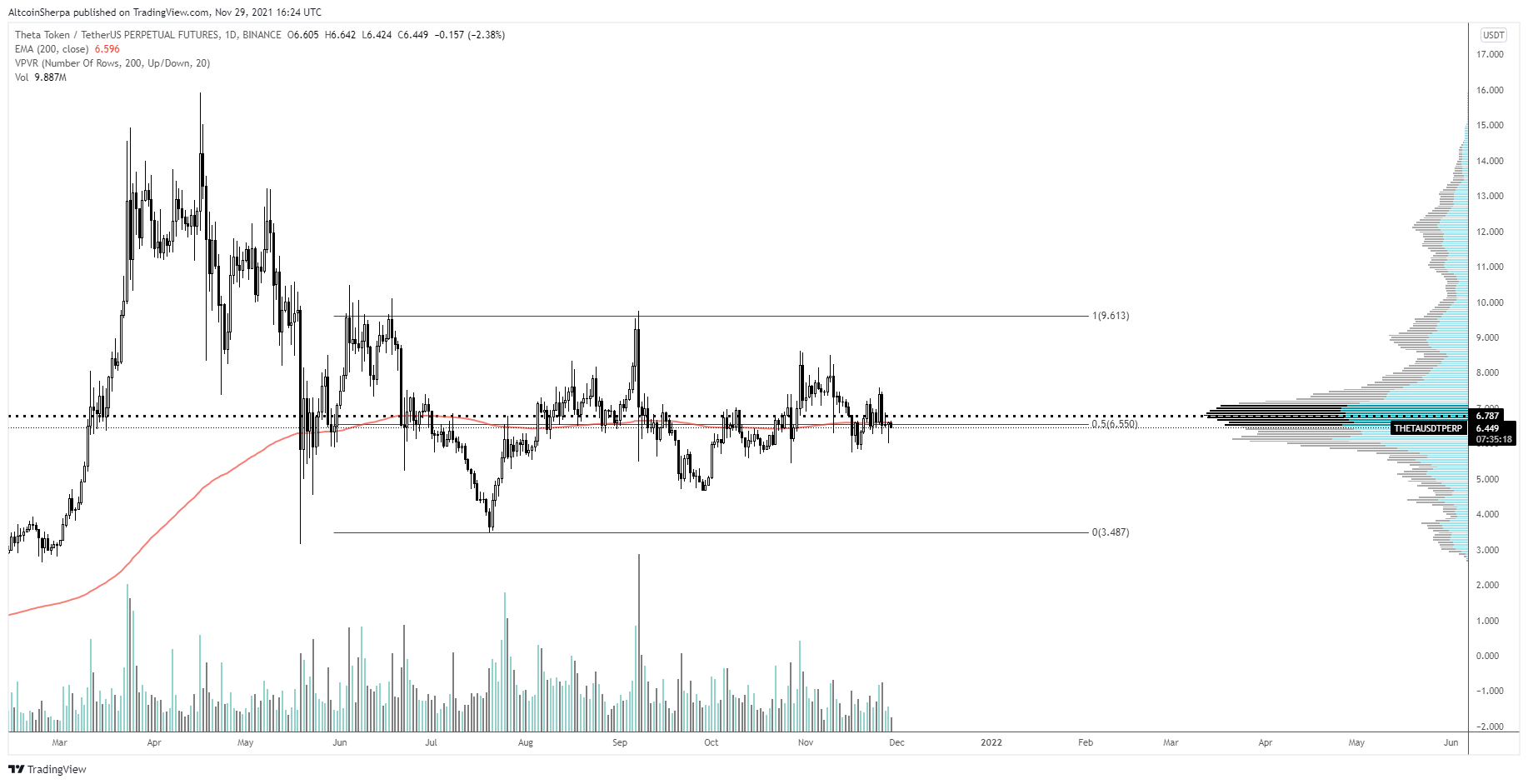 Is Cardano Price Ready For Bullish Reversal? Traders Watch These Crucial levels
ADA Price established a new high price of $3.08 two months ago. The altcoin has been struggling to keep up with its earlier stellar performances.
In November 2021, the Cardano price struggled. It began the month around $2 and then jumped more than 22% to a monthly high of $2.3766. It then plummeted 44.55 percent to $1.4235, a multi-month low.
Cardano Must Hold Critical Level
Cardano (ADA) must hold a key level to maintain its positive market structure, according to a well-known crypto strategist and trader.
Despite Cardano's dramatic slide from its all-time high, crypto analyst Jason Pizzino assures his 242,000 YouTube subscribers in a new strategy session that the smart contract platform is still on a broadly positive trend. At the moment, the overall trend is still a huge bull market. 
If we broke the lows at approximately $0.90, he wouldn't call it a bull market anymore, but at the moment, we've closed above the 50% [Fibonacci level], so it's still going strong. [It's trading at] $1.60, and the 50% is at $1.59, so it's $0.01 higher, so there are just a few minor indicators there.
Cardano's significant decrease this month, according to Pizzino, could signal the end of ADA's multi-month corrective period.
"You can see how much, how quickly it starts to fall towards the end. And from this point, I am saying 'potentially' the end. I can't say for sure it is, but it's quite often that you get a very sharp move towards the end of the downtrend and then a reversal…I don't see a reversal yet, but the first sign is there for me that the market has taken a sharper turn down."
According to public on-chain data, the number of active addresses on the Cardano ($ADA) network has lately increased from roughly 150,000 per day to over 480000, before plummeting back to 200,000.
The data shared by Messari shows that when the price of the Cardano fell, the number of active addresses unexpectedly increased. At the time of writing, the altcoin is trading at $1.58 and has declined by 2.7 percent in the last 24 hours.