Ripple Price Analysis: XRP spikes to $1.16, a swift retracement to follow?
Ripple price analysis is bearish today.
XRP/USD has another push higher this morning.
Further upside current prevented.
Ripple price analysis is bearish today as the market spiked to $1.16 overnight after a brief retracement yesterday. Since further upside currently is getting heavily rejected, we expect XRP/USD to retrace again over the next 24 hours.
The cryptocurrency market trades mostly with a loss today. The market leader, Bitcoin, has lost 1.63 percent, while Ethereum is down by 2.31 percent. Meanwhile, Ripple (XRP) is slightly in the green, with a gain of 0.47 percent.
Ripple price movement in the last 24 hours: Ripple rallies again, peaks below $1.16
XRP/USD traded in a range of $1.06 – $1.15, indicating a moderate amount of volatility over the last 24 hours. Trading volume has increased by 35.36 percent and totals $4.31 billion. Meanwhile, the total market cap trades around $51.7 billion, ranking the coin in 7th place overall.
XRP/USD 4-hour chart: XRP to retrace again?
On the 4-hour chart, we can see Ripple price action starting to reverse as further upside got rejected below $1.16.
Ripple price action has seen strong bullish momentum during the first days of October. However, the momentum shifted as a new swing high was set at $1.23. XRP/USD saw a strong retracement to $1.07, with further lower highs set over the past weeks.
A substantial move lower was set on the 27th of October, as XRP fell below $0.96. A quick reversal followed over the following days, with the $1.10 mark tested.
After a brief retracement and consolidation, the Ripple price action continued higher yesterday, reaching just under $1.16 overnight. XRP/USD has set another lower high, indicating that we should see the bearish momentum continue later today.
Ripple Price Analysis: Conclusion
Ripple price analysis is bearish today as strong resistance was met at $1.16 after a quick spike higher this morning. Therefore, we expect XRP/USD to move lower again as bullish momentum is exhausted.
While waiting for Ripple to move further, read our guides on LTC wallets, Gero wallets, and  DeFi wallets.
XRP and Other Top Cryptocurrencies Now Accepted by Croatia's Largest Supermarket Chain
Crypto is becoming mainstream in Croatia because of Konzum
Konzum, the largest supermarket chain in Croatia, which was founded all the way back in 1957, has begun accepting cryptocurrencies in its online store, according to a Dec. 1 report by Zagreb-based newspaper 24sata.

The lineup of supported digital currencies includes Ether (ETH), Bitcoin (BTC), XRP, Stellar Lumen (XLM) and Bitcoin Cash (BCH), as well two stablecoins (Tether [USDT] and DAI).

Shoppers are now able to buy groceries, hygiene items, household supplies and other items with the aforementioned cryptocurrencies.

Konzum partnered with Croatian fintech company Electrocoin to use its PayCek system to facilitate crypto payments.

They spent several weeks testing the service before the official rollout in the run-up to Christmas.
Crypto is coming to Konzum's physical stores
Crypto payments will also gradually become available in Konzum's physical stores throughout the country.

The company will begin with 60 locations that have self-checkouts. After that, new payment options will be introduced in 630 stores of all sizes throughout Croatia.
Why Brad Garlinghouse and Ripple (XRP) are Excluded from the US House Full Committee Hearing?
On December 01, 2021, Congresswoman Maxine Waters (D-CA), Chairwoman of the House Committee on Financial Services, announced witnesses for the December 8 full Committee hybrid hearing entitled, "Digital Assets and the Future of Finance: Understanding the Challenges and Benefits of Financial Innovation in the United States.
Reportedly, "Since becoming Chairwoman of the House Financial Services Committee, Congresswoman Waters has transformed the Committee to focus its agenda on fairness, protecting consumers and investors, which includes accountability of large financial institutions and emerging tech products and services. She has made it a practice to call Committee hearings with CEOs of major financial institutions and companies to hold them accountable."
The Committee has been a leader in highlighting issues related to cryptocurrency and financial technology:
US House Committee on Financial Services expressed: Chairwoman RepMaxineWaters announces Cryptocurrency CEOs to Testify at Full Committee Hearing.
Witness List: Witness List: Jeremy Allaire, CEO, Circle Pay; Sam Bankman-Fried, CEO, FTX.US; Brian Brooks, CEO, Bitfury Group; Chad Cascarilla, CEO, Paxos Global; Denelle Dixon, CEO, Stellar.Org Development Foundation; Alesia Haas, CEO, Coinbase Inc. and CFO, Coinbase Global Inc.
Denelle Dixon expressed: Honored to testify at next week's full committee hearing on digital assets and the future of finance. Thank you to Chairwoman
Community Reaction: Where is Brad Garlinghouse Ripple (XRP) this is disappointing that the most compliant abs transparent US based Cryptocurrency is not represented.
No Ripple? What a joke. Don't think they'll be involved in innovating the future of finance? Sad.
"Due to COVID-19, all markups and hearings will be in hybrid format. Members and witnesses may participate remotely via Cisco WebEx or participate in-person in room 2128 Rayburn House Office Building."
Covid is not the reason why Brad was not called.
Why is Ripple not invited? Maybe they were invited but due to ongoing legal case they refused or couldn't participate who knows?
I can just see certain CEOs are trying to bash other crypto instead of standing together. Crypto Committee hearing without the multibillion Dollar Blockchain Decacorn and Global Player Ripple (XRP)
The Ones that William be Testifying William be the ones who paid the entry fee.
Ok. So, this is basically a meeting to learn more about stable coins. *Noted.*
So many XRP fans roughed up realizing Stellar is a better protocol. Who will be translating to these dinosaurs.
Why not invite Ripple? Politicians ruin everything they are involved with.
Other than Sam there is no single big player in this list. Seriously, term limits can't be here any sooner.
News Source
A recovery rally for Ripple [XRP] may be right around the corner
XRP just broke away from a month-long downtrend. After dropping below the psychological level of $1-level. However, following the latest rise in the market, XRP climbed surged back to the press time price of $1.09.
Ripple CEO Brad Garlinghouse had revealed making tremendous headway in its legal feud with the United States Securities and Exchange Commission last week. In a recent interview with CNBC,
"We're seeing pretty good progress despite a slow-moving judicial process. Clearly, we're seeing good questions asked by the judge. And I think the judge realizes this is not just about Ripple, this will have broader implications"
Since its all-time high of $3, XRP has undergone a dramatic decline. But with the Ripple vs SEC heading in a positive direction, things look good for XRP. After a rather dull November, the coming days may be kind to the asset's price trend.
XRP's bearish narrative may flip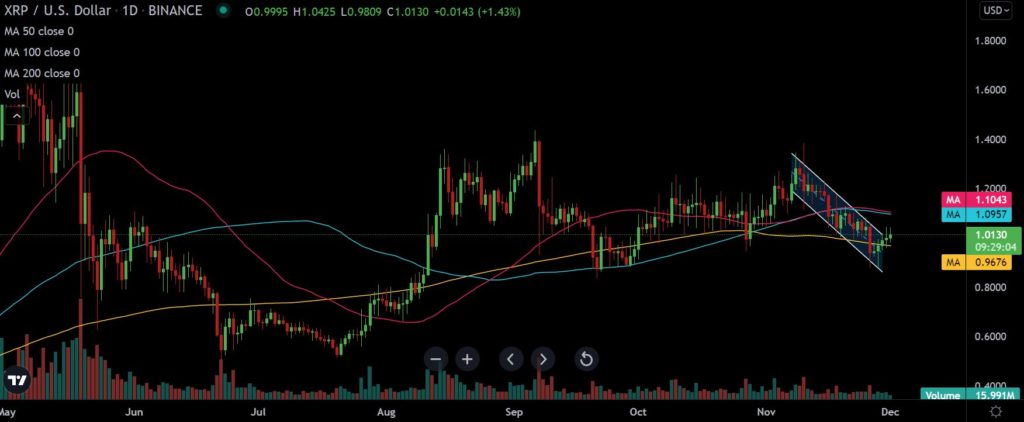 XRP has been on a constant decline since the beginning of the year as it fluctuated within the trendlines of a descending parallel channel. As the pattern completed, a much-needed bullish breakout transpired. Subsequently, the asset posted five straight green candles after breaking away. The increase in volatility in the market may support the upward price action.
Besides, the price candles surged past the 200 daily moving average [Yellow] this week which was another positive development. Even as the 50 DMA [Pink] and the 100 DMA [Blue] continued to hover above the candlesticks, it has so far dodged a potential bearish crossover.
Bulls Defend Despite Being Under Pressure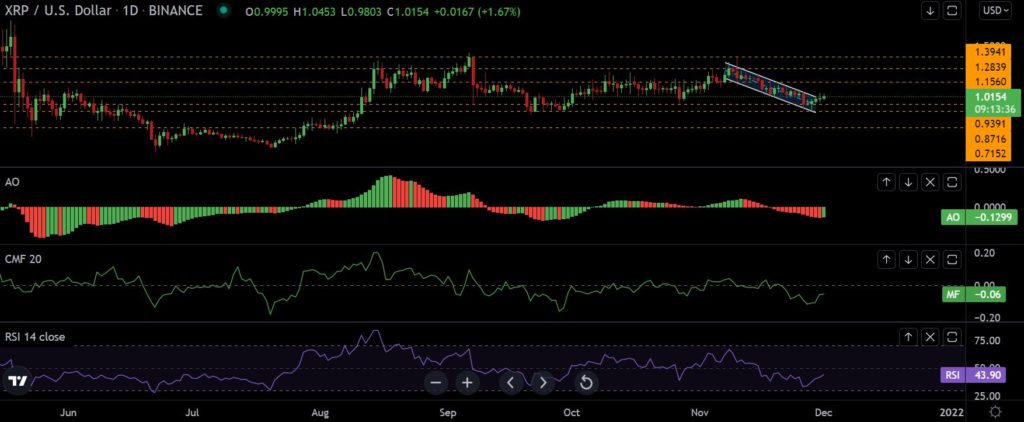 The technicals look promising even if they aren't strongly bullish. The switch to the green closing bar of Awesome Oscillator [AO] depicted a bullish momentum. The Chaikin Money Flow [CMF] appeared to be heading above the zero line indicating a steady increase in capital inflow in the coin market. The daily Relative Strength Index [RSI] was also climbing towards the 50-median line in tandem with the rising price as it demonstrated a weakening sell pressure.
The profit-taking phase may come to an end if the crypto-asset maintains the momentum and breaches the moving averages of 50 and 100 near $1.10. The buyers stepping in may further catalyze the price. The resistance levels to watch out for are $1.15, $1.28, and $1.39. The support levels, on the other hand, are found to be $0.93, $0.87, and $0.715 respectively.