Axie Infinity Records $190.9m Revenue from Dapps ! AXS Price Eyeing $200
Axie Infinity, a popular NFT game, has made a lot of money in the last 30 days. According to Wu Blockchain on Twitter, Axie Infinity has been able to lead the way with significant growth in Dapp revenue over the last 30 days. Dapps have brought in a record $190.9 million in income for the NFT game. With increasing sales volume on OpenSea, an NFT marketplace for buying and selling products, the non-fungible token market continues to heat up.
In the past 30d, Axie Infinity continued to lead the way with $190.9 million in revenue from Dapps. With the cooling of the NFT market, dYdX surpassed OpenSea with 30d $66.9million in agreement income. pic.twitter.com/Agg0CgYG8y— Wu Blockchain (@WuBlockchain) November 1, 2021
Dapps stand for decentralized applications, which are applications that exist on the blockchain rather than on the internet. These dapps are typically created on a smart contract platform such as Ethereum.
Returning to Axie Infinity and NFT games, dYdX has managed to surpass OpenSea with $66.9 million in agreed income over the last 30 days, despite the slowing of the NFT market as the bubble has partially peaked. The difference between Axie Infinity ($190.9 million) and dYdX ($66.9 million) is enormous.
AXS Price to Hit $200?
Facebook's renaming to Meta on October 28 was a confirmation of the company's goals to develop a metaverse beyond online social media. In the Metaverse, this announcement sparked a speculative spike in NFT and Gaming cryptos.
According to the Axie Infinity price analysis, AXS is bullish today, as it continues to rise after hitting a new high of $143. As the bulls maintain their dominance, further price advancement has been noticed today.
The price of Axie Infinity is on track to hit fresh all-time highs near $200. The price of Axie Infinity is declining from recent highs, currently trading at $134, down 3.7 percent in the last 24 hours. However, after AXS price verifies an upside breakout, the bullish potential remains intact.
Axie Infinity price upside potential limited as AXS struggles to tackle tough hurdles
Axie Infinity price could see its rally hindered by various headwinds ahead.
There are two key hurdles for AXS to overcome to target higher prices and revisit its all-time high.
A major decline could be on the radar if Axie Infinity falls below $122
Axie Infinity price sees little hope of trending higher as a few obstacles emerged, prohibiting AXS from targeting bigger aspirations. The gaming token must hold above $122 to prevent a massive sell-off.
Axie Infinity price to confront key obstacles
Axie Infinity price has formed a parallel channel on the daily chart, as it continued to consolidate since October 4. After AXS reached its all-time high at $165 on November 6, trading activity waned as the token tests the reliability of the support at the lower boundary of the governing technical pattern.
The fact that Axie Infinity price has been able to hold onto the downside trend line of the parallel channel as support at $122 suggests that AXS is unlikely to fall further unless a catastrophic sell-off takes place. However, the token's upside potential is severely limited unless it tackles several obstacles ahead.
Axie Infinity price sliced below the 21-day Simple Moving Average (SMA) on November 16 and the 50-day SMA on November 18, as AXS momentum weakened. The 50-day SMA at $133, and the 21-day SMA at $136 currently act as stiff resistance for the gaming token.
Another hurdle for Axie Infinity price may appear at the 78.6% Fibonacci retracement level at $140. Only if AXS is able to overcome the aforementioned challenges will see the token rise toward the middle boundary of the prevailing chart pattern at $145.
An increase in buying pressure may push Axie Infinity price higher toward the October 4 high at $155.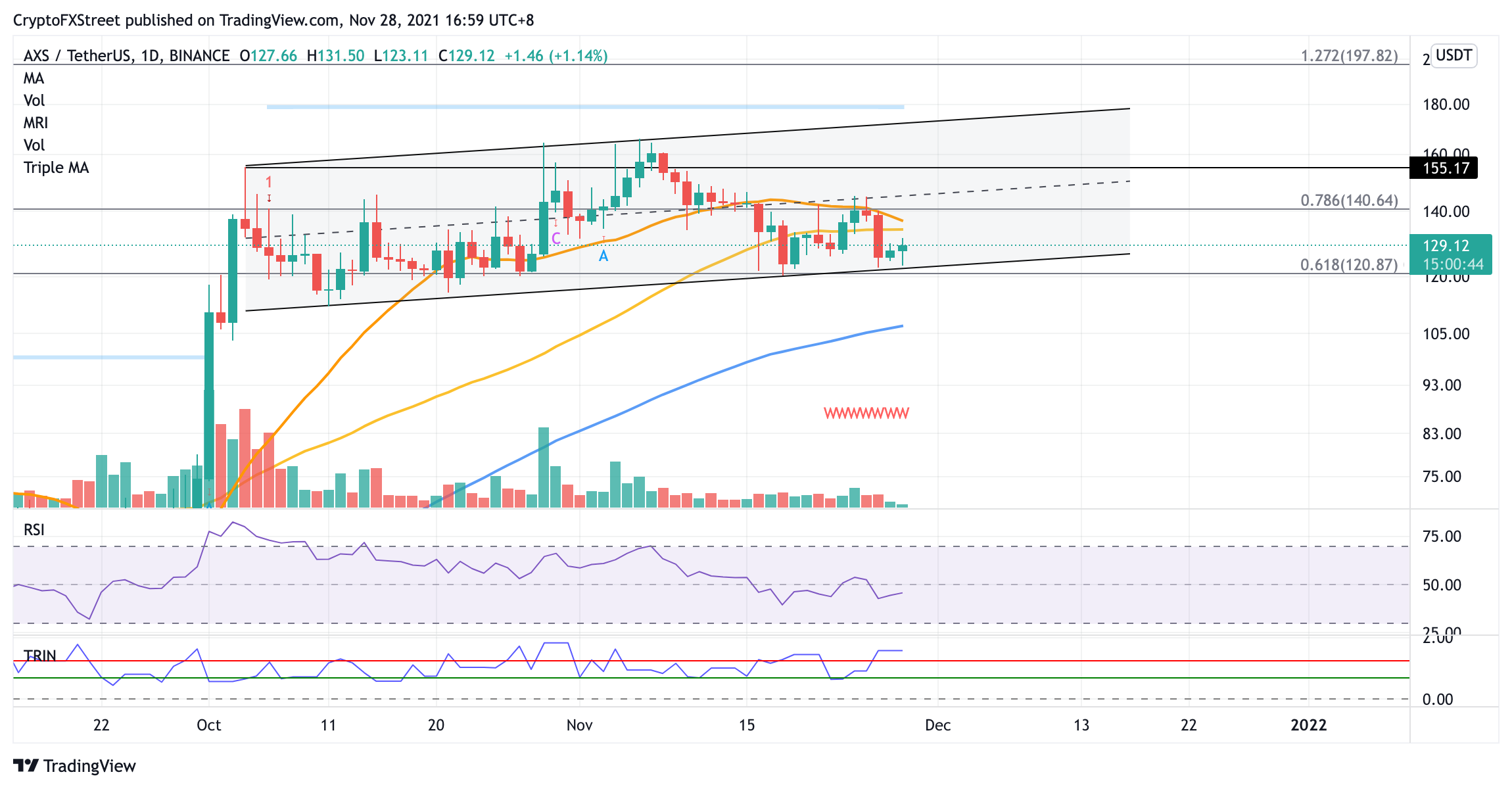 AXS/USDT daily chart
If the bears continue to control the market, Axie Infinity price may discover its first line of defense at the lower boundary of the chart pattern at $122. Additional support may appear at the 61.8% Fibonacci retracement level at $120.
Although the two aforementioned support levels will act as meaning footholds for Axie Infinity price, a significant increase in sell orders may see AXS slide toward the 100-day SMA at $106.
Live about Axie Infinity to give away 10 spots for Coingoback school on Black Friday
To celebrate Black Friday, Coingoback's Axie Infinity School will raffle 10 people in the live from today (11/25) at Cointimes Twitch, that starts at nine-thirty at night (9:30 pm).
Axie Infinity is the best known game of the play-to-earn model, and Play is a "school" of Coingoback that opens up opportunities for its users to play for free.
Created to offer cashback to users who usually buy online, Coingoback is a Cointimes platform that now gives you the chance to earn money by playing, just apply to Play and receive your Axie Infinity account.
Play is a product within Coingoback, but it's not called a school by accident, there's a team ready to teach you everything you need to know about the game and how to be efficient at SLP farming.
Every fortnight, players receive their share (30% to 50% of the SLPs earned, depending on their performance) converted to bitcoin in their Coingoback accounts, where they can withdraw to any wallet whenever they like.
There are currently about 200 players earning money with Play. But, as expected, there is a large queue of users who also want to join.
Therefore, the easiest way to get a seat on Coingoback Play is by watching the lives on Twitch, which usually has a lot raffle. This Thursday (25), the draw is a special Black Friday and ten places will be awarded.
Axie Infinity's digital land sells for $2.5 million, boosting AXS price uptrend
Axie Infinity is the most traded NFT collection in Q3 2021, emerging as the second most popular blockchain gaming token.
Digital land plot on Axie Infinity metaverse sold for 550 ETH, a record high in the play-to-earn gaming ecosystem.
Sky Mavis, developers of Axie Infinity, plan to sell 90,000 plots of land to create news games within the ecosystem.
Axie Infinity is one of the most popular blockchain games among Ethereum whales. AXS token has posted 85% gains over the past 90 days. The game developers plan on nurturing the play-to-earn gaming ecosystem by powering new games on digital plots of land. 
Digital plot of land sells for 550 ETH on Axie Infinity
Axie Infinity, the play-to-earn game, rewards players with tokens for winning battles and conquests. The blockchain game relies on the addition of new players in the ecosystem for the Axie economy's growth, therefore analysts question the sustainability of the game.
Sky Mavis, the Axie Infinity developers, plans to sell 90,000 plots of digital land in the game's ecosystem. Developers have an opportunity to buy these digital plots and build their blockchain games in the Axie Infinity ecosystem. 
The popular metaverse game recently hit a milestone, selling a digital plot for 500 ETH, or the equivalent of $2.5 million. Axie Infinity has confirmed that this is the highest price for a digital plot of land in the metaverse. 
Yesterday, an Axie Genesis Plot sold for 550 ETH!

This was the largest sale ever for a single plot of digital land ✨🔥

Learn about Land 👇https://t.co/6zPh0roPqG pic.twitter.com/4h5yERCwwO— Axie Infinity🦇🔊 (@AxieInfinity) November 25, 2021
Back in February 2021, Axie Infinity sold nine plots of digital land for $1.5 million.
AXS token has struggled to recover from a nearly 20% drop below its all-time high of $164.90. Eric Krown, a cryptocurrency analyst, is bullish on AXS price and expects a recovery. Krown has set a target of $180 for AXS price. In his recent YouTube video, Krown said:
Axie Infinity has more or less a bullish setup… A daily closure above $150 or so will imply a target above $180, a little bit higher than that actually.