AXS, Theta, VeChain, HBAR, and XCAD Are Set To Rekindle A Grand Altseason!
The global crypto space appears to be rolling in the dough since the start of the quarter. Besides, the fear and greed index has been manifesting to extend the bull season. The Bitcoin price has been trading at $60,269 with 1.06% negative gains in 24 hours. In the short term, the price is expected to retest between $57k and $58k.
The Ethereum seems to be running at pace with the star crypto. If the top leaders undergo a breakout, then the intensity of the upcoming alt-season would be massive. However, Axie Infinity, Theta, VeChain, XBAR, and XCAD have been trading around crucial areas. This article would further guide you to better know about the entry and exit points of the aforementioned coins. 
VeChain (VET) Price Analysis:
The VeChain price has been experiencing a key correction around $0.129. Cryptobusy, a popular crypto analytics platform, expects VET price to bounce from $0.14 to new milestones. The ongoing quarter has experienced a mammoth accumulation, as a result of which the price surged by over 30%. If the buy-orders maintain the uptrend in the next couple of days, then the altcoin could break out around $0.139 to surge by another 30 to 40%. 
If the asset undergoes a correction, the best entry points would be somewhere around $0.11. And the preferred exit points for the trade would be between $0.151 to $0.161.
Theta Price Analysis:
The Theta price has exhibited a best long opportunity for crypto-traders with the latest retest around $8.16. The altcoin has been enduring support of $7.125, and patiently awaiting a breakout. Cryptobusy, a crypto metrics platform is hopeful of Theta price bounce between $6.9 to $7.025. The crucial level to buy the asset would be between $6 to $6.15. The altcoin has the potential to retest the $7.8 resistance level. 
Axie Infinity (AXS) Price Analysis:
The popular gaming altcoin has been creating a lot of media buzz since the start of Q4. AXS's price has hit an ATH of $164.15 a couple of days before. The protocol is expected to further retest around $120 support levels. However, a popular crypto analyst, Micheal Van De Poppe, has recalled the historical breakouts at $110.50, $83.43, $74.18, and $48.15.
If we keenly look at the previous bull runs, the protocol has never undergone heavy correction after the run. Hence, the price range between $110 to $115 could become the best entry points to look out for.
Hedera Hashgraph (HBAR) Price Analysis:
Hedera has been bearing massive volatility since late September. The altcoin has managed to hit an ATH of $0.5059 on September 15th, 2021. Followed by the surge, the altcoin has been hovering between $0.3051 to $0.4127.
The crypto analyst,Michaeal Van De Poppe predicts HBAR price to retest a bottom of $0.35 before taking up another leap. The chart shown by him highlights the token to initially break out from $0.45 later take a leap to $0.55. The analyst is hopeful of the price to soar beyond the previous ATH in the next bull cycle. 
XCAD Network Price Analysis:
The XCAD network has been one of the unnoticed coins which have been creating higher highs in the recent past. The crypto analyst Van De Poppe has made a whopping prediction for the altcoin. The analyst believes, if altcoin holds the support above $4, then he assumes XCAD price to hit $8.50 in the upcoming bull run. 
Collectively, Bitcoin's dominance has been sliding sideways, as massive cash flow has been shifting towards several altcoins. Aforementioned are some coins which possess the strong potential to dominate in the coming altseason. 
VeChain Price Analysis: VET spikes above $0.13, prepares for another push lower?
VeChain price analysis indicates bearish momentum to follow.
VET/USD set slightly lower low at $0.12 yesterday.
A strong spike higher took VET above $0.13 today.
VeChain price analysis is bearish today as we expect another move lower once the current spike above $0.13 ends. Some selling pressure for VET/USD has already returned, likely leading towards more downside over the next 24 hours.
The cryptocurrency market has seen strong bullish momentum over the last 24 hours. The market leaders, Bitcoin and Ethereum, are up by 4.7 and 6.88 percent, respectively. Meanwhile, the previous top performer, Crypto.com Coin (CRO), has reversed, losing almost 20 percent.
VeChain price movement in the last 24 hours: VeChain sets lower low at $0.12, spikes higher
VET/USD traded in a range of $0.1202 – $0.1309, indicating substantial volatility over the last 24 hours. Trading volume has increased by 14.11 percent, totaling $603 million, while the total market cap trades around $8.38 billion, ranking the coin in 26th place overall.
VET/USD 4-hour chart: VET spikes above $0.13
On the 4-hour chart, we can see the VeChain price action rapidly advancing over the past hours, likely leading to another lower high set over the next hours.
VeChain price has seen bearish momentum continue so far this week. After peaking slightly above $0.185 on the 9th of November, VET/USD saw a rapid decline over the following days to $0.15.
Some of the loss was regained on the 15th of November, as bulls quickly pushed VET above $0.175. However, bears took over again, leading to more downside last week to the $0.123 mark.
By the end of last week, another clear lower high was set at $0.14, with a further decline starting over the weekend. Since then, the VeChain price momentum has been steadily bearish, with the previous low tested again Yesterday.
A quick break lower followed to $0.12, with immediate reaction higher overnight. Currently, VET/USD has spiked to $0.13, where another lower high should be set by the end of the day.
VeChain Price Analysis: Conclusion
VeChain price analysis is bearish today as we expect more downside to follow after the current spike higher. Likely VET/USD will establish another lower high around the current price levels, leading to more downside over the next 24 hours.
While waiting for VeChain to move further, see our articles on the Best Crypto Wallet 2021, Decred Wallet, and Ripple vs SEC.
VeChain price presents buy opportunity before VET hits $0.20
Vechain price positioned for an early entry that will likely trigger the move to $0.20.
Near-term short entry opportunities exist too, as downside risks remain.
Expect volatile price action during the US Thanksgiving holiday and weekend.
VeChain price downside risk remains elevated, but oversold readings in the oscillators indicate that risk is limited. A strong bullish entry opportunity would likely return VeChain to a push towards new all-time highs.
VeChain price could shock bears with a powerful spike higher, despite temping short entry opportunities
VeChain price has two trade setups on its $0.001/3-box Reversal Point and Figure Chart. The first is a theoretical long entry with a buy stop order at $0.132, a stop loss at $0.128 and a profit target at $0.150. This entry would simultaneously break a double-top pattern and breakout above the dominant bear market trendline (red diagonal line).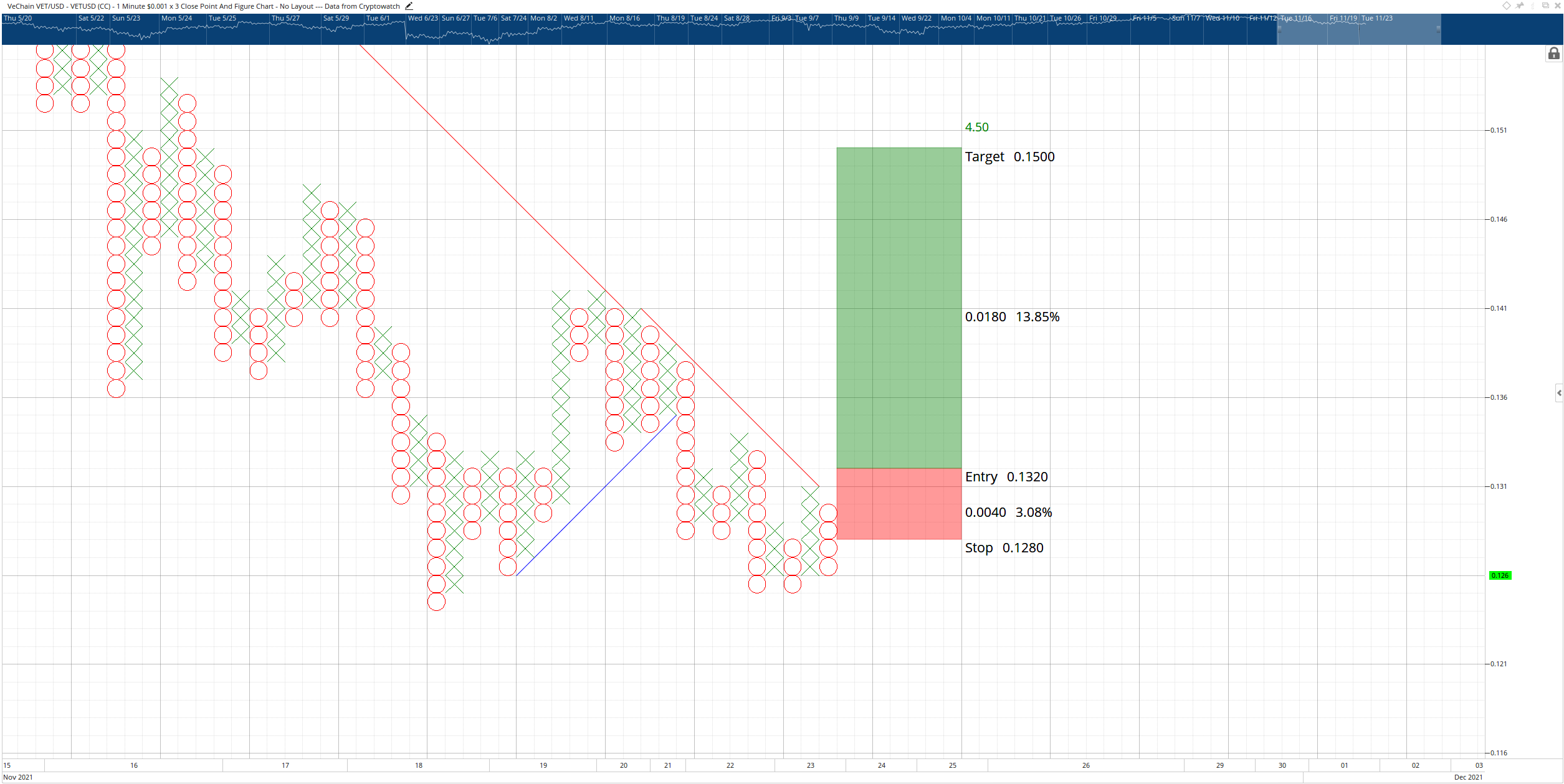 VET/USDT $0.001/3-box Reversal Point and Figure Chart
The theoretical long trade idea will be invalidated if the short idea identified below is triggered.
The hypothetical short set for VeChain price is a sell stop order at $0.124, a stop loss at $0.128 and a profit target at $0.110. The short entry is an overwhelmingly tempting and bearish setup. The entry at $0.124 breaks below a triple-bottom while also confirming a powerful Point and Figure bearish pattern known as a Bullish Fakeout.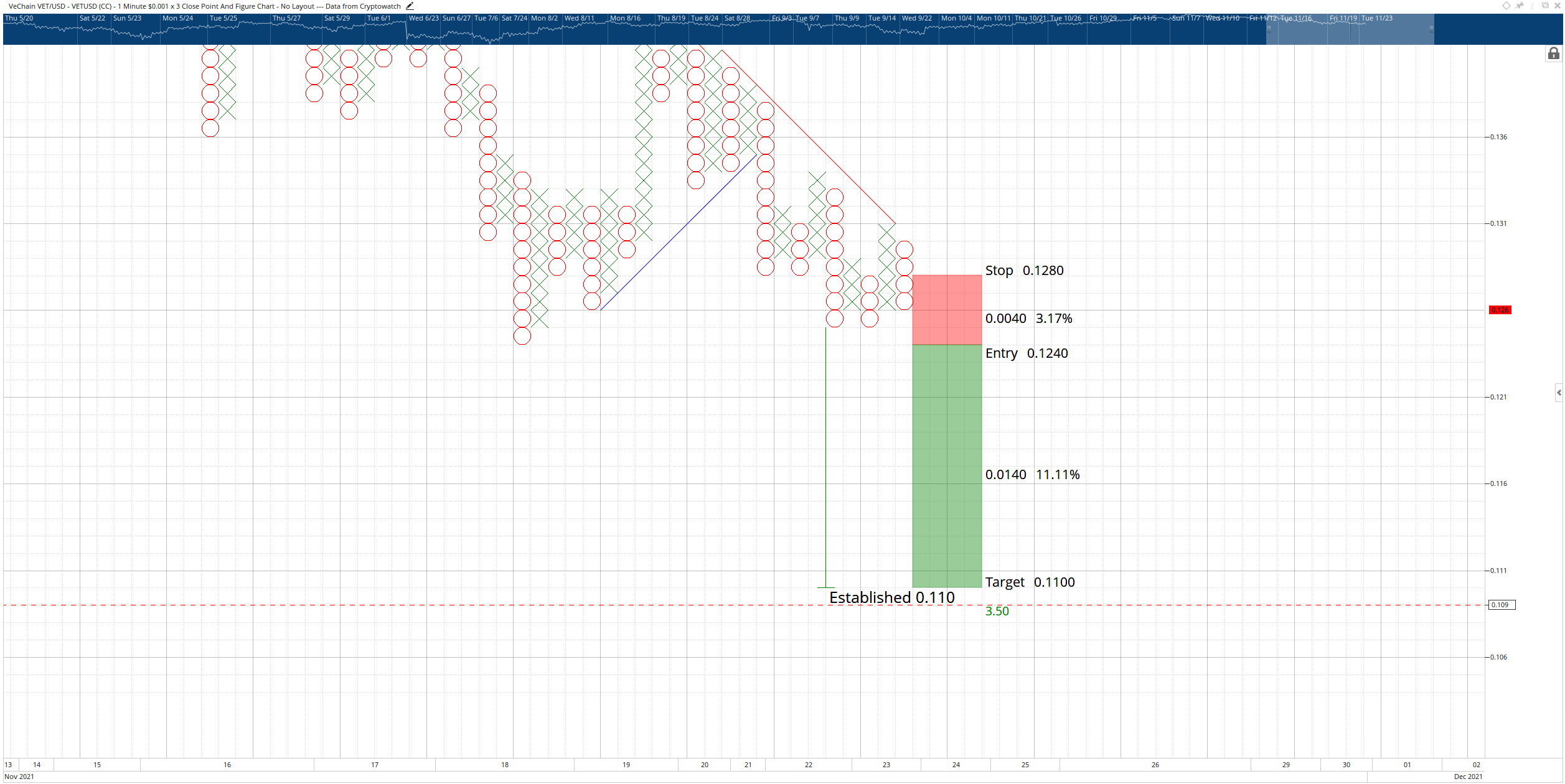 VET/USDT $0.001/3-box Reversal Point and Figure Chart
However, the daily Optex Bands oscillator levels indicate extreme oversold conditions and do not support an extended drive south. The hypothetical short entry is invalidated if VeChain price moves to $0.132.
VeChain (VET) official member at CNFCA Another Feather in the Cap
VeChain is now an official member of the China Non-staple Food Circulation Association (CNFCA), a national-level organization! Vechain's technology continues to form the base of next-gen industry standards. VET is proud to lead real world adoption of Blockchain technology.
VeChain will be the sole public blockchain technology provider in the alliance, providing technical and infrastructural support for the council members.
Can you please elaborate on the role of VeChain as a member of the CNFCA? Verifying the authenticity of labelling through the entire process from ingredients sourcing, production through reporting of nutrition information of all non-staple foods in China? Can you imagine?
Community Reaction: Are more companies adopting the tech now? Any updates on the previous tests with the VeChain blockchain, BMW, Walmart China and etc?
Do you need VET token, to use VeChain technology? Maybe companies are using VeChain technology without token supply?
How many lives would VeChain Official touch in China and worldwide? VS supposedly how CardanoStiftung would touch in Nigeria and/or Africa?
What will be the utility of the token vet in this case? VET I don't think it will go up without a great partnership, but isn't there some great partnership?
Vechain just keeps building and building. I sleep very well at night. Congratulations to the persistence of your team. this is genuine marketing.
When do we actually get to see any adoption from Bright Foods? PICC? Kuehne & Nagel? DB Schenker? Why are 98% of companies you claimed would use Vechain after Mainnet NOT using? When do we get to see DNV 900K wallets claimed in 2019? Now you have POA2 what's stopping adoption?
Otherwise, for those who missed: CoinTelegraph recently expressed, "The VeChain network runs with only 101 nodes. Fewer nodes reduce decentralization but increase the speed and reliability of the network, tending to be favored for commercial and industrial applications. By comparison, Bitcoin currently has 13,244 nodes, while Ethereum has 2,701.
The latest VeChain PoA consensus upgrade aims to improve scalability and key operations and hopefully make the project even friendlier to the environment.
It is important to understand that VeChain provides more than for the supply chain. It is huge. Those who think that VeChain is only a supply chain tracking network should spend some time to really understand the huge potential of the network.
For those who think they should conduct a token burn it is important to get educated on VeChain. Sometimes projects are more than the price highs for their tokens.  Their technology is helping some really genuine concern for the well-being of the whole of mankind.
News Source