Bitcoin closes October with the highest monthly appreciation since December 2020
Bitcoin (BTC) did not buck its historical price trend and, as expected, October was the best month for cryptocurrency in 2021. In the last 31 days, bitcoin accumulated a gain of 39.9%, its best monthly performance since December last year.
According to data from Bybt, the cryptoactive had closed the last month of 2020 with an appreciation of 46%, and the good performance was repeated in January (+14%), February (+36%) and March (+29% ).
The second quarter, however, was marked by strong falls and although in July and August bitcoin managed to recover part of the gains, prices fell again by 7% throughout September.
Until October came to drive the BTC's valuation once and for all. The month has already consolidated itself as a positive period for cryptocurrencies when opening the fourth quarter, a time of the year that historically bitcoin tends to increase substantially.
The only years in which bitcoin did not close October in the green were 2014 and 2018. Even so, the drops of -12% in October 2014 and -3% in 2018 were small when compared to losses in other months of the year.
In the years when October was positive, all bitcoin gains were above 10%. The best performance of BTC in the month in question came in 2013, when the asset appreciated 60%, followed by October 2017 (+47%) and 2021 (+39%).
In addition to the historical trend, it is undeniable that a series of positive news had an effect on driving the recent rise of the BTC. In early October, bitcoin was able to top $50,000 after a month of falling, thanks to confirmation from the Federal Reserve that the US had no intention of following China's example and banning cryptocurrency.
That first week, the market was also reacting to the increasingly concrete chances of the US Securities and Exchange Commission (SEC) to approve the country's first bitcoin ETF.
When the green light from regulators was confirmed and the ProShares Bitcoin futures ETF debuted on the New York Stock Exchange, the price of the crypto-asset soared to an all-time high of $66,930.
November challenges for bitcoin
Although bitcoin is currently 7% below the record, worth US$ 61,500 (R$ 349 thousand), the asset is strong enough to keep its price above the important level of US$ 60 thousand.
November, however, will be a decisive month and should take the real test if in fact the BTC is starting a year-end bull run, as it did in 2020, or if October's good performance was an isolated event.
Brazilian experts consulted by Bitcoin Portal they have already stated that the upward trend should continue as the ETF legitimizes the currency and consolidates it as a financial asset to protect against instabilities caused by geopolitical movements, such as inflation that affects the entire world.
Already the famous analyst PlanB (@100trillionusd), who has been hitting the bitcoin price forecast for three consecutive months following the stock-to-flow model, believe that cryptocurrency could surpass US$ 100,000 in 2021.
Although indicators are positive and confidence in the BTC is strong, a reduction in monetary stimulus by the Fed and other central banks around the world, also known as "tapering", could rock global markets in the coming weeks and have an effect on bitcoin.
"If public markets falter due to reduced Fed bond buying, the BTC could be dragged into a small correction after breaking historic highs last week," warned Coindesk Jehan Chu, analyst at Kenetic Capital.
Scary Pattern Could Send Bitcoin Below $10,000, According to This Top Money Manager
Famed growth investor Louis Navellier warns that Bitcoin could see an inexorable crash
Navellier & Associates founder Louis Navellier has predicted that Bitcoin could endure a grueling 80% correction.

The U.S. Federal Reserve tapering its bond purchase program will be the biggest headwind for the cryptocurrency, according to the prominent money manager:
The Fed is tapering, and this should create a correction in risk assets, of which bitcoin is a part. The more the Fed tapers, the more volatility we should see in both stocks and bonds — and yes, bitcoin, too.
Bitcoin has been range-bound over the past two weeks, failing to gain a footing above the $59,000 resistance level on seven occasions over the past two weeks.

At press time, the flagship cryptocurrency is changing hands at $56,676 on Bitstamp. It is down roughly 17.5% from its record high.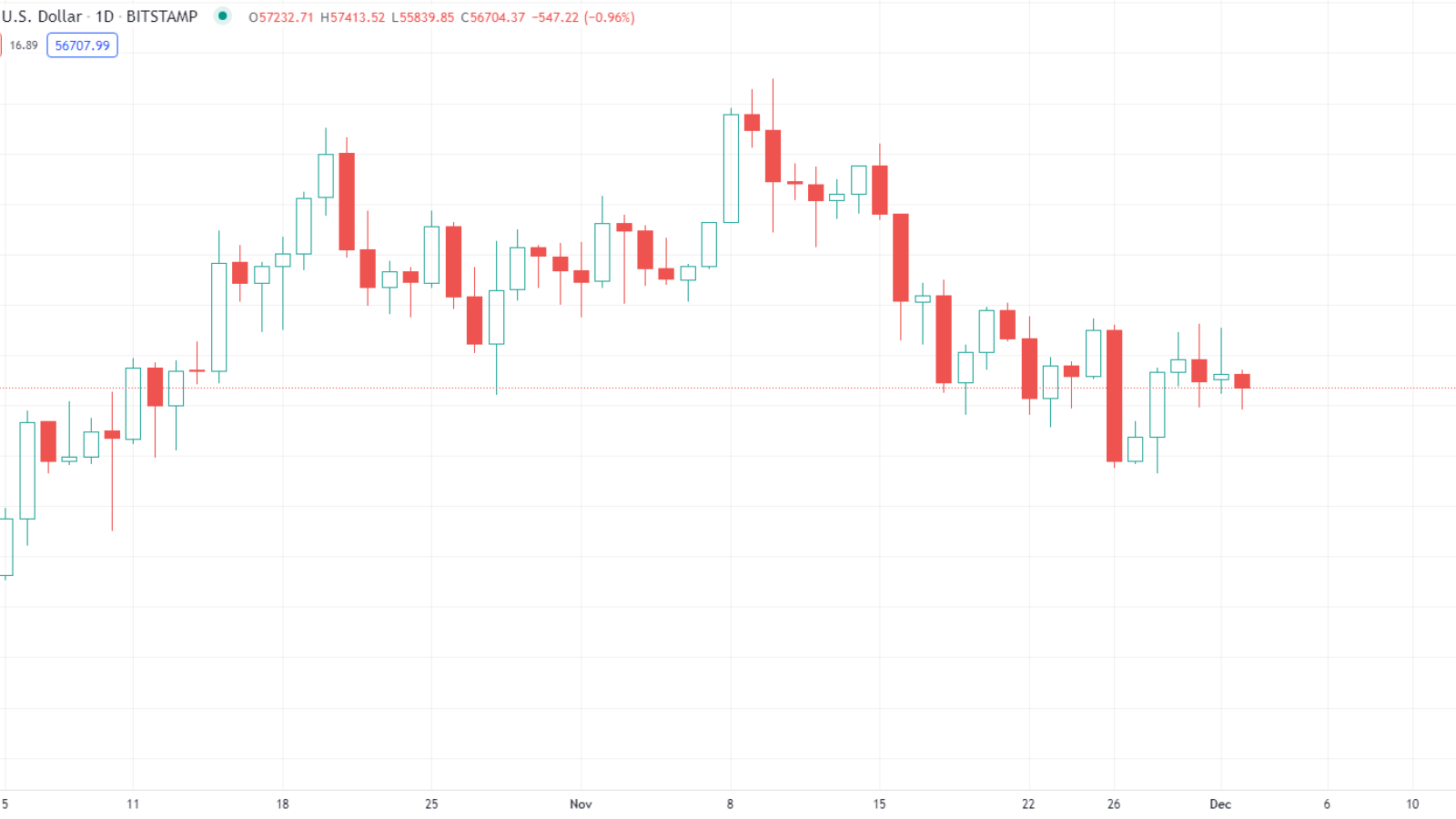 A scary pattern
Navellier believes that Bitcoin could end up forming a scary double-top pattern if it continues sliding lower.

The top cryptocurrency plunging below the $28,500 level should be a big red flag for bulls.

In such a case, a double-top formation would be confirmed, and Bitcoin would be on track to collapse back into four-digit territory.
While such bearish predictions may sound extreme, it is not as if Bitcoin has not had its share of massive price crashes. In December 2018, it recorded an 84.5% correction from its previous bull market peak of roughly $20,000.
Such a correction would be in line with Bitcoin's previous drawdowns:
I would take a decline below $46,000 (the 200-day moving average) to be a yellow flag and a decline below the spring low of $28,500 to be a completed massive double top which points to a decline to below $10,000, which incidentally would match many of the multiple 80%+ declines in its storied history.
Top 3 Price Prediction Bitcoin, Ethereum, Ripple: ETH outperforming its peers, BTC struggles and XRP bearish
Bitcoin refrains from making new highs as Tuesday's gap-fill kills uptrend continuation.
Ethereum outpaces its peers by barely hitting new all-time highs.
XRP price again looking for direction as investors interest wanes.
The Bitcoin bull rally got stopped in its tracks this week after BTC price came under more pressure from the Omicron story, and the resulting market turmoil. Ethereum price, however, came just $16 away from making a new record high, making gains in contrast to the other two majors. XRP saw investors buying the dip, but the uptrend hit a wall and got stopped in its tracks.
Bitcoin price on the backfoot after a slowdown that made it lose bullish momentum
Bitcoin (BTC) price popped higher at the beginning of the week, shrugging off investors' concerns about the new Covid variant.On Monday, BTC price opened up much higher than where it closed on Sunday, forming a gap in the chart. As a general rule, gaps get filled sooner rather than later, and this was the case on Monday, when bulls saw their early gains lost as BTC price retraced to fill the gap. 
Bears have seized the opportunity to defend the new monthly pivot for December at $59,586, which coincides with the start of a Fibonacci retracement.. Evidence of this weakening can be found in the Relative Strength Index (RSI), dipping back below 50, showing that bullish demand is starting to wane.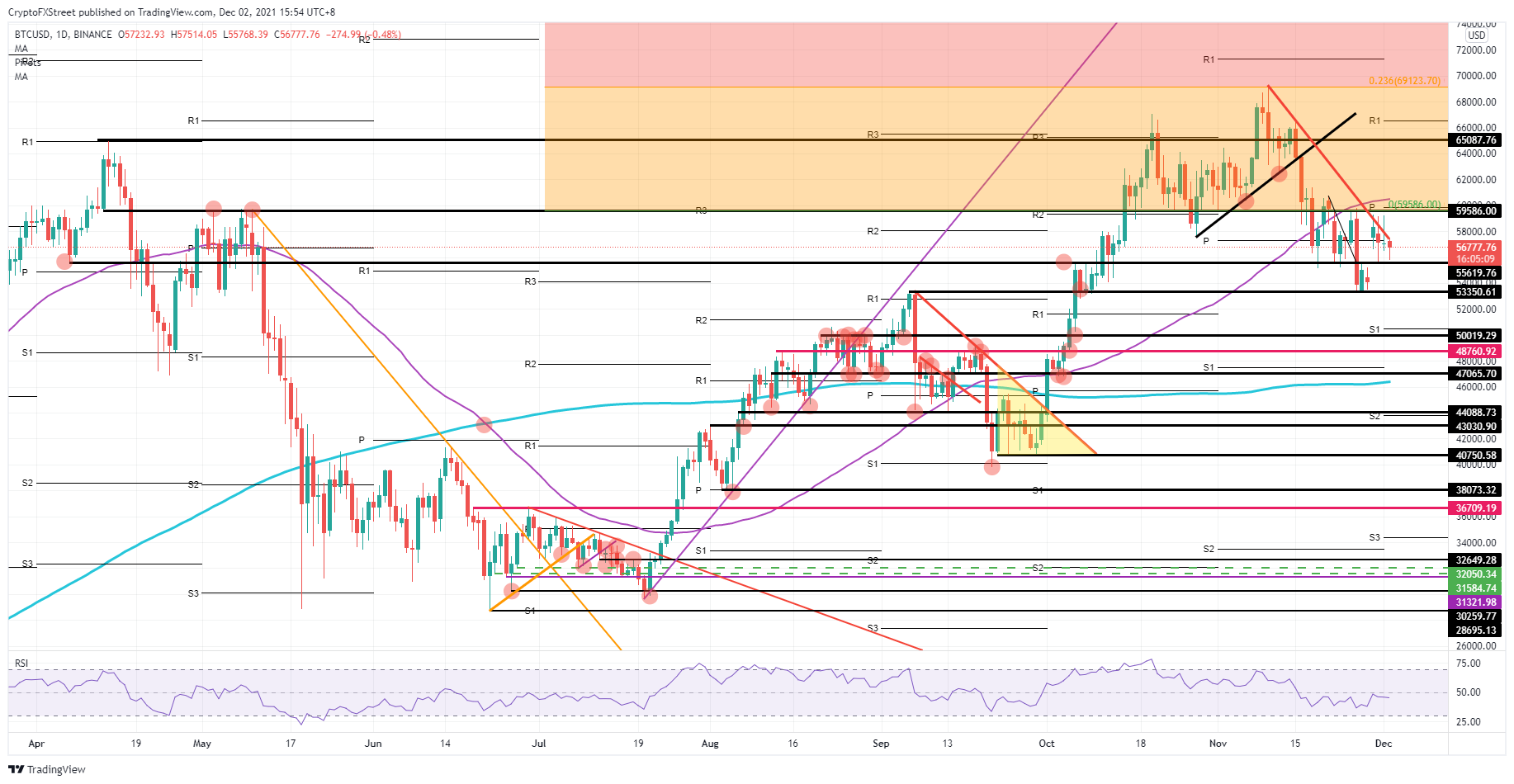 BTC/USD daily chart
As a result of current market uncertainty, expect potential investors to stay on the sidelines. Although the red descending trend line has been broken a little, it still holds importance and investors will probably only step in following a break back above it,  helped, perhaps, by breaking news about vaccine effectiveness  against the new strain. Either that or investors will sit on their hands and wait for another bounce off $53.350. Should that level fail to hold, however, and there is more bad news,, expect a quick 6% drop towards the $50,000 psychological level and previous historical support. At that level bulls will likely mount a defence against a further downturn.
Ethereum price outpaces its peers and could make new highs by the end of this week
Ethereum (ETH) price, unlike Bitcoin and XRP, saw bulls run a tight and steep rally from $4,000 towards $4,936 in just five days. That was in a troubled market facing considerable headwinds. That said, bulls now need to keep a tight stop on current ETH price action in order for a bull trap not to form, after the pull-back on profit-taking that occurred in the wake of price barely hitting an all-time high. 
ETH quickly reversed from its highs on Wednesday and tested the December pivot at $4,481. That is just $16 above the historical technical level marked up on the chart from November 12. This is a level of great importance and it will be very interesting to see if bulls can maintain price action above it, perhaps, helped by a possible bounce off the red top line that has so far been  successfully capping price action to the upside.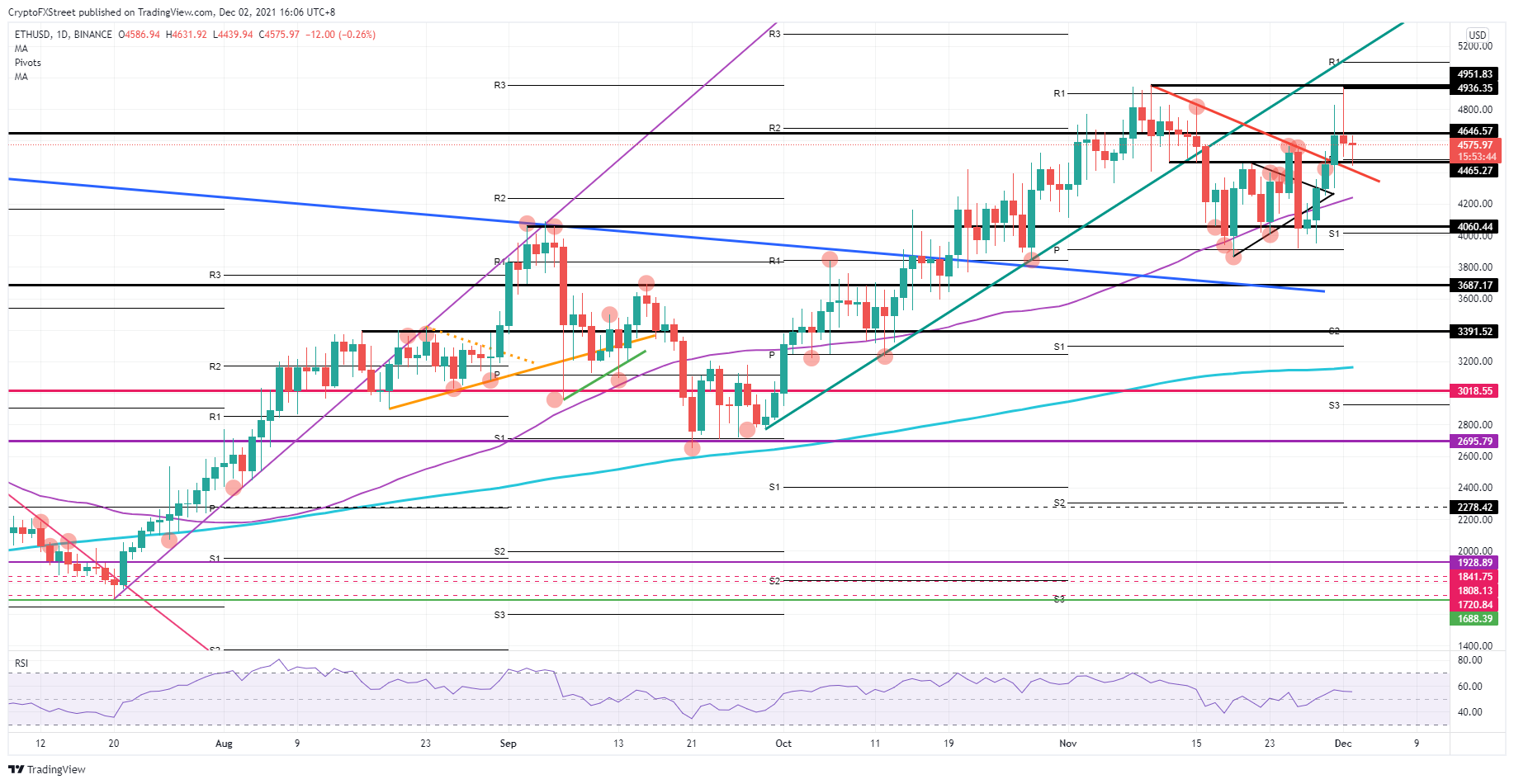 ETH/USD daily chart
That red descending trend line, on the other hand, should support a break below $4,465, but if bulls flee the scene, expect a bull trap to form and price to run down lower. The first support tested in that decline is the historical double top at $4,060, with the monthly S1 support level at $4,000 just below there. The correction could already hold 18% of accrued losses from the highs of Wednesday, which would attract investors interested in the buying opportunity at those levels.
XRP price sees bulls rejected at $1.05, pushing price back towards $0.88
Ripple (XRP) price saw sparks fly in a nice uptrend on Wednesday, but then hit a bump in the road after the $1.05 level held firmly, following two failed tests to the upside. The rejection that squeezed prices to the downside on Tuesday, probably washed out quite a lot of investors and technical traders, and caused the lack of momentum and drive in XRP price action to tackle that $1.05 resistance. As the price fades further to the downside today, expect current market uncertainty to weigh further on XRP and see a possible retest of the short-term double bottom at $0.88.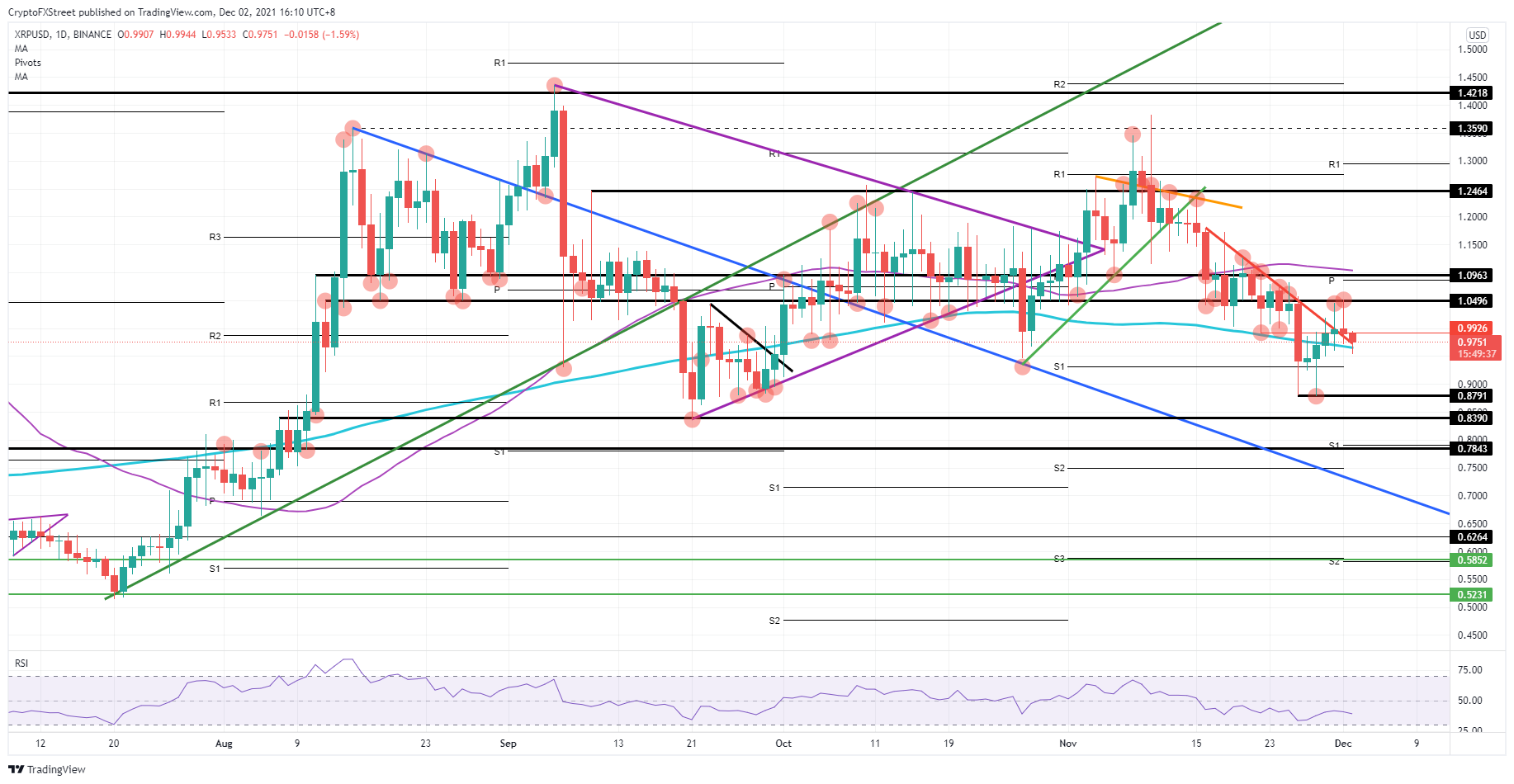 XRP/USD daily chart
On a retest of that double bottom, a break looks more than likely, as the level holds no historical or other significance. That would hand bears the opportunity to push XRP price down towards either $0.84, for the third test of support at that level, or breakthrough and run down to $0.80, which is a prominent figure and the level of the monthly S1 pivot support level, combined with a historical significant support level at $0.78, originating from June 8. This  would provide the perfect zone for a fade-in trade for XRP traders.
Bitcoin Miner Riot Blockchain Purchased ESS Metron for $50 Million
Riot Blockchain paid $25 million in cash, while the other $25 million consisted of up to 715,413 Riot shares to acquire ESS Metron.
One of the leading cryptocurrency mining companies in the US – Riot Blockchain – acquired the electrical equipment provider – Ferrie Franzmann Industries (known as ESS Metron) for $50 million. As a result, the latter will provide a steady infrastructure supply for Riot's new mining machines.
Riot's Expansion
The news was announced in a recent press release by the US Securities and Exchange Commission (SEC). The total amount of the transaction equals $50 million as the bitcoin mining firm paid $25 million in cash, funded with capital from its balance sheet. The other half consisted of up to 715,413 shares of Riot common stock.
The mining company expects to benefit from the deal by utilizing ESS Metron's "highly engineered electrical equipment solutions" as Riot plans to expand to 700 MW. Previously, ESS Metron helped Riot develop customized immersion-cooling technology for its 200 MW expansion project.
Jason Les – Chief Executive Officer at Riot Blockchain – described the acquisition as "another milestone in establishing" his firm as a leader in its field.
"Riot's strategic position across the electrical supply chain is significantly enhanced as the company will benefit from ESS Metron's existing relationships with leading electrical suppliers globally," he added.
Stephen Howell – CEO of ESS Metron – asserted that his organization will keep providing "best-in-class service" to its growing customer base and aid Riot Blockchain in its expansion efforts.
The American bitcoin mining company is one of the giants in its sector and is even listed on Nasdaq under the ticker symbol "RIOT." A few months ago, it purchased Whinstone US – the owner-operator of North America's single largest BTC mining and hosting facility.
Riot's Previous Purchases
Earlier this year, Riot Blockchain increased its mining capacity by buying 42,000 S19 Antminers from Bitmain (a Hong Kong-based cryptocurrency mining products manufacturer).
The purchase was worth at least $138 million and was part of the firm's plans to boost its bitcoin mining hashrate, aiming at 7.7 EH per second.
"By nearly doubling its planned hash rate capacity, Riot continues to take great strides forward in growing both the Company's and the United States' share of the global network hash rate," – said Megan Brooks, COO of Riot Blockchain.