FunnyMike bought $60k worth Shiba Inu, Shiba continues to soar
FunnyMike, a well-known YouTuber, rapper, and comedian, announced on his Twitter that he has bought $60k worth of Shiba Inu (SHIB) tokens. In the tweet, he said, "bought $60,000 worth of #shib this morning! Here goes nothing."
Bought $60,000 worth of #shib this morning ! Here goes nothing 🎣😂— FunnyMike (@1funnymike) October 31, 2021
While the 24-hour trading volume of the token rose by 31.52% and is currently at $10 billion, the chances of widespread adoption for Shiba Inu continue to increase.
Shiba Inu has been on a roll lately, entering the top 10 tokens in the crypto market and breaking on resistances while simultaneously defeating its rival meme token, Dogecoin.
There have been a number of anonymous buyers of the token who have bought billions of Shiba Inu tokens taking the coin up by more than 101% in the last 7-days. The supporters of the token are calling it the 'dogecoin killer.'
Shiba Inu (SHIB) adoption shutting out Dogecoin
Elon Musk, the biggest supporter of dog tokens, recently revealed that he doesn't own any Shiba Inu, and yet the currency continues to surge beyond everyone's expectations. It seems that the token has picked up a lot of audience on Twitter, recently crossing 700,000 holders.
On the other hand, Dogecoin has dropped below Shiba Inu in terms of market cap and rose by only 15.5% in the last 14 days. Along with the continuous surge in popularity, the release of Shiboshis also contributed to the price of SHIB.
Shiboshi is a collection of 10,000 'exclusive Shiba Inu generated Non-Fungible Tokens' that became very popular after its initial release. Furthermore, the Volunteer Project Lead of Shiba Inu, Shytoshi Kusama, announced on his Twitter that he would be dishing out 3 free Shiboshis, celebrating the success of the token.
Following the footsteps of Dogecoin and SHIB, another meme token, Floki Inu, flooded the streets of London with ads as it jumped to a market rank of #2713, reaching a new all-time high on 28th October, at $0.0001434. The message was displayed on buses and trains, saying, "Missed Doge? Get Floki."
These meme tokens have their way of getting attention, and each token has proved to be quite a huge investment for users. However, there are many analysts who are still critical of these tokens. As reported by TronWeekly, Edward Snowden still remains critical of meme tokens.
Shiba Inu (SHIB) Crosses 1 Million Holders Milestone
Meme coin Shiba Inu is hellbent on proving its dominance in the space and it has done so successfully. From being accepted as a method of payment by prominent companies such as AMC Theaters to being the first meme coin to list in South Korea, the altcoin has had a good run of it. Its community had grown tremendously in the past few months and support has not faltered.
Although the meme coin had suffered in terms of price, it still continues to thrive in other ways. Last week, Bitcoinist reported that the digital asset was close to hitting the 1 million holders mark, with Baby Doge in hot pursuit to cross the mark first. However, Shiba Inu has proven it is the top dog as it has now surpassed the one million holders milestone.
Shiba Inu Crosses One Million Holders
Shiba Inu's investor base had been rapidly growing since the altcoin had posted new all-time highs in October. Its initial fame had come from being touted as the "Dogecoin killer" and as the latter had suffered, Shiba Inu had taken full advantage to live up to this name. It became one of the highest performing cryptocurrencies in 2021 after returning 900% gains for investors in a matter of months.
SHIB recovers from dip | Source: SHIBUSD on TradingView.com
The digital asset had secured listings on major crypto exchanges and this helped to boost faith in the future of the coin. As trading volume grew on these exchanges, so had the number of holders.
One prominent development that had investors clamoring to own a piece of the digital asset was an investor that had turned $8,000 to $5.7 billion. The investor had bought $8,000 worth of the cryptocurrency in 2020 and by October 2021, the wallet held billions of dollars. This had further helped cement the asset's credibility as a viable investment option.
SHIB Dominates In Numbers
Shiba Inu has dominated social media conversations since the digital asset found its way into the limelight a couple of months ago. Twitter had been lit abuzz with talk of SHIB to the point that it had overtaken top cryptocurrencies such as Bitcoin and Ethereum in terms of mention.
The meme coin did not stop there though. Google searches for Shiba Inu had also surged dramatically during this time with reports showing that it was among the top searches for 30 states in the US.
Despite all of this, the asset price has suffered in the market. Shiba Inu recorded a 17% loss in the past week that brought its cumulative loss to 50% less than its ATH. This had caused it to concede the 12th spot on the largest crypto by market cap list to CRO, although it had since reclaimed its spot after posting a recovery that saw it surge above $0.00004 on Thursday.
Shiba Inu price analysis: SHIB hits 1 million token holders as price continues to falter
Shiba Inu price went down 7 percent on the day
Trading volume also declined more than 33 percent
Price fails to capitalise despite positive news of token gaining one million token holders
Shiba Inu price analysis for the day shows a significant 7 percent decline for the token with price reaching as low as $0.00003599. After steadily decreasing since November 19, the token now faces a stern battle to keep above the crucial 20 and 50-day Exponential Moving Averages. The decline comes into the fray despite a milestone achievement for SHIB to have crossed one million. token holders earlier today. With trading volume also falling more than 33 percent, Shiba Inu price is set for a potentially lengthy bear spell.
The larger cryptocurrency market also reflected SHIB's decrement today, led by Bitcoin's 8 percent decline to take it to $54,000. Ethereum followed suit, dropping 10 percent to sit just above $4,000, as major Altcoins also showed significant dips. Cardano, Ripple, Dogecoin and Solana all dropped more than 7 percent each, whereas Polkadot declined 11 percent to sit at $34.93.
SHIB/USD 24-hour chart: Buyers attempt to rescue price as price falls below EMA
On the 24-hour chart for Shiba Inu price analysis, the latest candlestick shows buyers attempting to come late into the market to rescue price. Earlier, price shipped below the crucial 20 and 50-day EMAs at $0.00004230 and appeared to be in free fall. The Relative Strength Index value of 41.99 does not provide an encouraging reading, with the token needing greater market valuation to push price upwards. RSI has been oscillating within the low 40's since November 17, which is also reflected in the decreasing price. Price currently sits between the middle and bottom Bollinger bands' curves, confirming the developing bearish outlook for SHIB.
SHIB/USD 4-hour chart: Buyer momentum expected to save price at $0.00003445 support
Over the coming short-term trading sessions, buyers will be applying pressure to rescue price before it hits the support floor at $0.00003445, presenting an investing opportunity for traders. The 4-hour RSI shows the same valuation as the daily chart at 43.60, also confirming the 33 percent dip in trading volume. The short-term Moving Average Convergence Divergence (MACD) curve sits just above the neutral zone below 0.00, indicating that there is some momentum in the token to keep price afloat.
Shiba Inu price analysis: Conclusion
Shiba Inu price continues to struggle and was compounded with an 8 percent decline on the daily trade. The token was expected to be buoyed by the news of making one million token holders, instead price suffered along with the larger cryptocurrency market. Buyers are presented with an investment opportunity and will be pushing to keep price above the support at $0.00003445, but major technical indicators hint towards a prolonged bearish spell for the token.
Shiba Inu to revive bullish outlook if SHIB holds above this critical support level
Shiba Inu price continues to trend lower as it records lower lows, failing to reverse the period of underperformance.
However, the prevailing chart pattern suggests that SHIB could be preparing for a 42% surge if it tackles the remaining resistances ahead.
The canine-themed token must hold above $0.00003457 to avoid invalidating the bullish outlook.
Shiba Inu price action has failed to galvanize investors' enthusiasm as SHIB continues to create lower lows and lower highs. Although the canine-themed token's momentum has shifted to the downside, the prevailing chart pattern suggests that a slice above $0.00004457 could put a 42% on the radar.
Shiba Inu price eyes 42% ascent
Shiba Inu price has formed a falling wedge pattern on the 12-hour chart, suggesting a bullish outlook for the token. The governing technical pattern indicates that SHIB could surge 42% toward the 61.8% Fibonacci retracement level at $0.00006363 if the dog-themed coin slices above the pattern's topside trend line at $0.00004457.
Before Shiba Inu price could reach the aforementioned optimistic target, SHIB has a few obstacles to tackle ahead. The first area of resistance for the token is at the 21 twelve-hour Simple Moving Average (SMA) at $0.00004337, then at the 100 twelve-hour SMA at $0.00004538, before it confronts the upper boundary of the prevailing chart pattern at $0.00004457.
If Shiba Inu price manages to slice above the aforementioned resistances, additional hurdles may emerge before the token reaches the bullish target. The following obstacles for SHIB are at the 38.2% Fibonacci retracement level at $0.00004819, then at the 50 twelve-hour SMA at $0.00004991, then at the 50% retracement level at $0.00005591.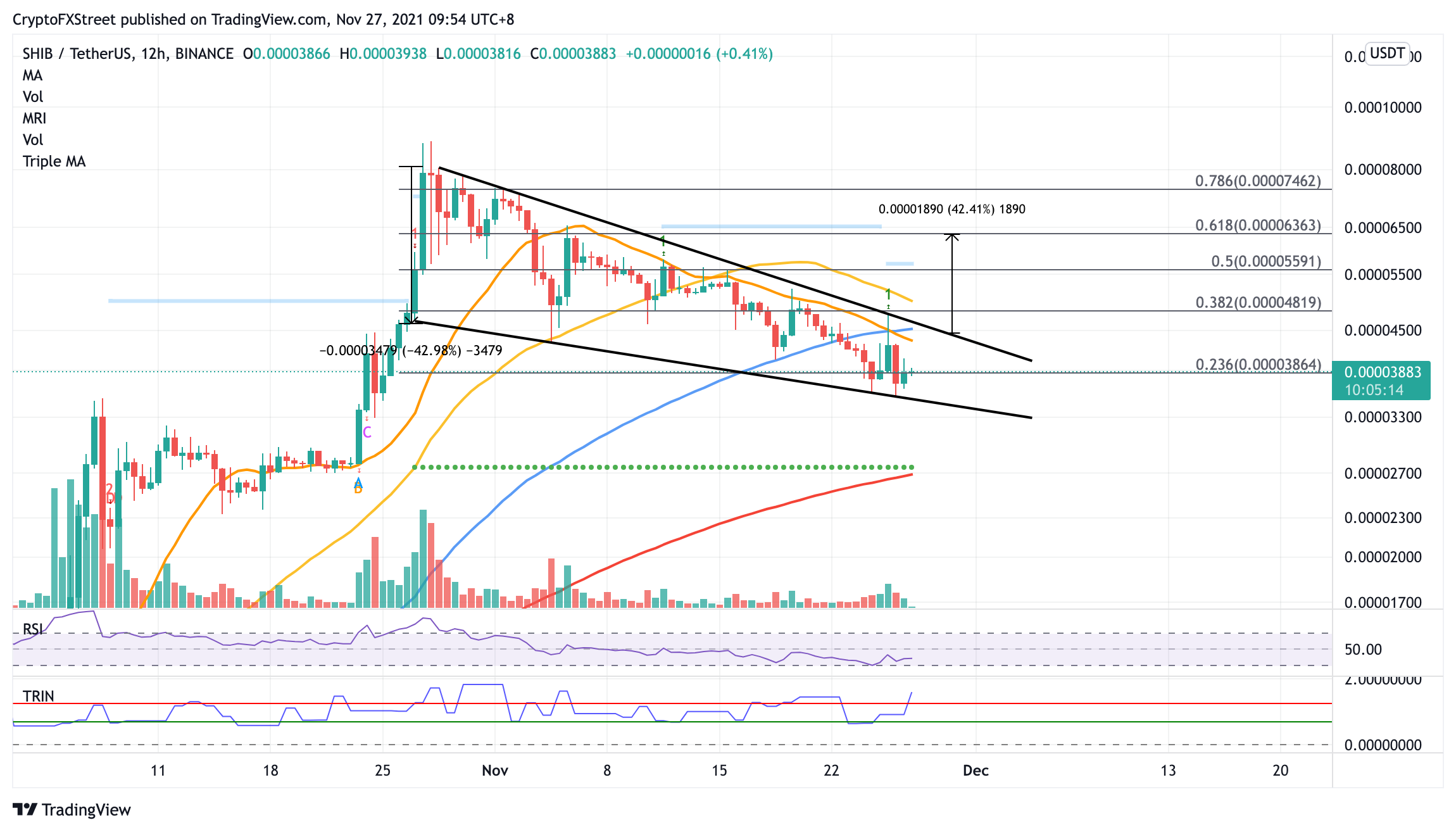 SHIB/USDT 12-hour chart
However, if selling pressure increases, Shiba Inu price could retest critical support levels before restoring its uptrend. The first line of defense for SHIB is at the 23.6% Fibonacci retracement level at $0.00003864. The lower boundary of the falling wedge pattern at $0.00003457 would act as a crucial foothold for the token, as breaking below this level would invalidate the bullish outlook.
If Shiba Inu price witnesses a catastrophic sell-off, SHIB could fall further, reaching the 200 twelve-hour SMA at $0.00002695, which sits near the support line given by the Momentum Reversal Indicator (MRI).