Here Are the Top 5 Altcoins To Watch This Month, According to Crypto Analyst Michaël van de Poppe
Popular crypto strategist and trader Michaël van de Poppe is naming the five altcoins to keep an eye on for the month of November.
In a new strategy session, Van de Poppe tells his 139,000 YouTube subscribers that he's watching the price action of interoperable blockchain Polkadot.
According to the crypto trader, Polkadot is in an uptrend against Bitcoin (DOT/BTC) as the pair continues to print higher highs and higher lows on the daily chart.
"The assumption is made that as long as we stay above this area of 0.00056 BTC ($33.83), I think that we're going to have continuation happening in which we might flip this high (0.00085 BTC or $51.34) and create ourselves a new high."
Using the Fibonacci extension tool, Van de Poppe says the target for the next DOT/BTC spike is around 0.001 BTC, worth $60.40.
Next up is Cosmos, a project that seeks to become the "internet of blockchains." The crypto strategist highlights three potential entry points for Cosmos in its Bitcoin pair (ATOM/BTC).
"You can start scooping in between 0.00056 BTC to 0.00058 BTC ($33.83 -$35.03). If it depends on me, 0.00052 BTC ($31.41) is the next one and then finally, around 0.00045 BTC ($27.18)."
Another coin on the trader's radar is Curve (CRV), the governance token of stablecoin-focused decentralized exchange Curve Finance. According to Van de Poppe, Curve is trading within a wide range between 0.000036 BTC and 0.000086 BTC ($2.17 and $5.19) for almost a year.
However, the crypto trader says that a breakout from the range will ignite a massive rally to his target at 0.00022 BTC, worth $13.29.
The fourth coin on the list is decentralized oracle network Chainlink, which Van de Poppe says he's still interested in even though it has gone through a deep correction against Bitcoin (LINK/BTC).
"Given the heavy correction that Chainlink has still been making during this year and has not been showing too much strength yet and DeFi (decentralized finance) is probably going to wake up, this is going to grant a massive opportunity."
The last altcoin is The Graph, a platform that indexes and organizes blockchain data. Van de Poppe says The Graph could carve a bottom against Bitcoin (GRT/BTC) if it holds immediate support at 0.000013 BTC, worth $0.79.
"We're seeking for a higher low here, and if that takes place, this entire trend reversal is going to happen."
MicroStrategy's Michael Saylor Drops Important Announcement About Scams
It seems that MicroStrategy's Michael Saylor has an important announcement to make and he used his Twitter account to tell the following to his followers.
Check out his tweet below.
Public Service Announcement: Every hour my team reports 10-15 scammer YouTube videos impersonating me or @MicroStrategy that offer free bitcoin rewards. They pop up as fast as we can have them removed. ☹️

Only trade #bitcoin on a legitimate exchange you trust. pic.twitter.com/SuwlBcWEbx— Michael Saylor⚡️ (@saylor) November 28, 2021
Anthony Pompliano hopped in the comments and said: "We have also been reporting that specific video scam to no avail. Very frustrating."
Someone esle wrote: 'I have specifically reported this to @YouTube several times, and kept track of it afterwards, it was not taken down. But 10+ seconds of copy right music on your live stream and a robot will notify you…"
Another commenter said: "@YouTube are only great at shutting down legitimate accounts but are useless against scam accounts especially if you point it out to them. They do not have good intentions."
Saylor is praising Bitcoin
Not too long ago we were revealing that MicroStrategy's Michael Saylor continues to support Bitcoin after his firm accumulates the king coin in all moments.
Check out the latest tweet that he shared about the king coin.
#Bitcoin is the first decentralized, universally available asset on an open monetary network.That means that at any given time, someone, somewhere is working to add value using all the financial & technical assets at their disposal to the benefit of all the other bitcoin holders.— Michael Saylor⚡️ (@saylor) November 15, 2021
At the moment of writing this article, BTC is trading in the green, and the coin is priced above $64k.
It's been just revealed that the popular on-chain analyst Will Clemente thinks certain metrics indicate Bitcoin (BTC) is just now entering the main phase of the bull market.
Here's What's Next for Polkadot, The Sandbox and Three Low-Cap Altcoins, According to Crypto Analyst
A popular crypto strategist and trader is mapping out the levels where Polkadot, The Sandbox and three other low-cap altcoins could bounce and potentially carve out bottoms.
The crypto analyst known in the industry as Altcoin Sherpa tells his 152,600 Twitter followers that interoperable blockchain Polkadot (DOT) might see an influx of demand once it taps the 200-day exponential moving average (EMA), which is currently hovering at $32.
"DOT: More consolidation expected at the $30-$40 range. 200-day EMA should be support here."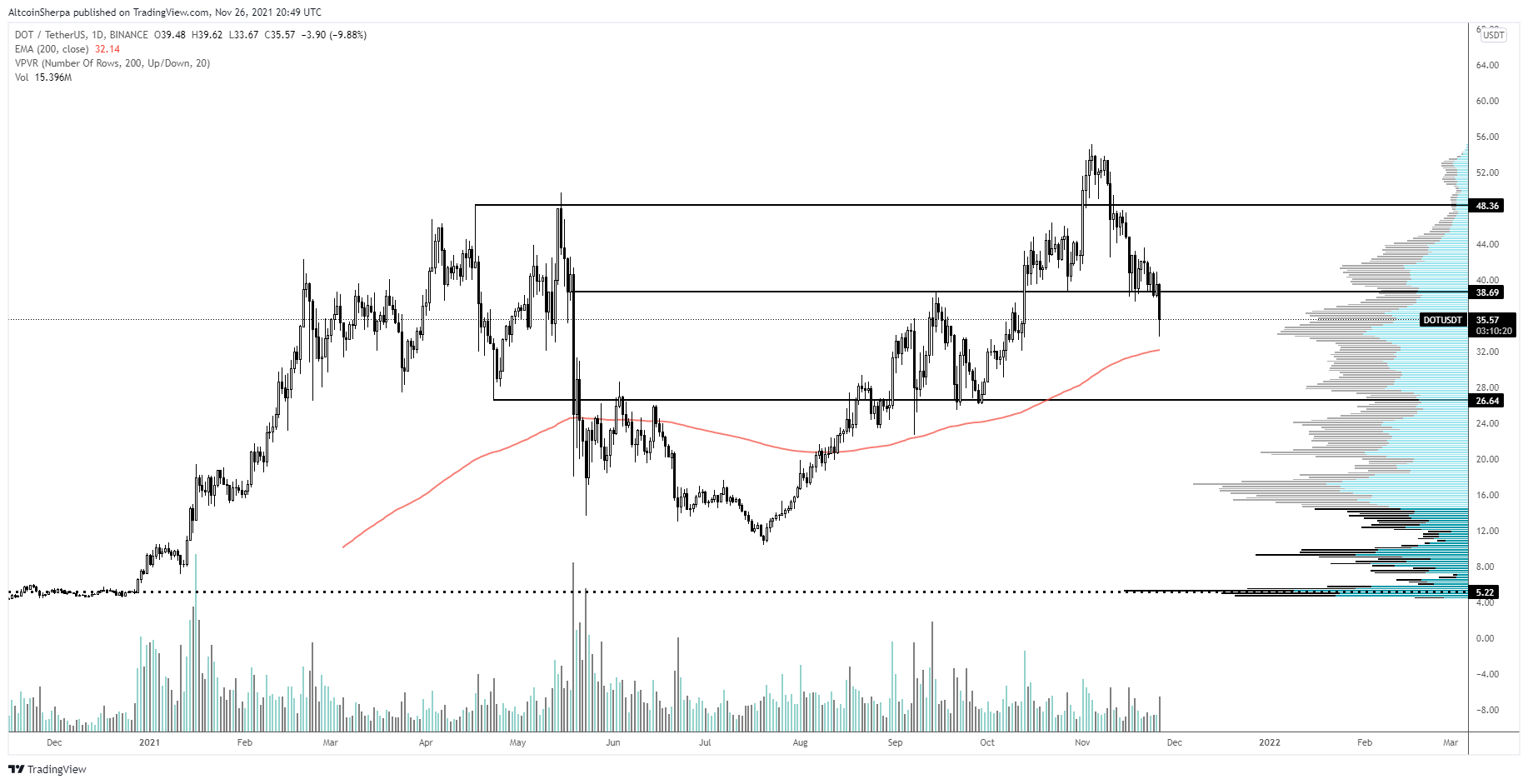 Next up is blockchain-based gaming ecosystem The Sandbox (SAND). According to Altcoin Sherpa, he's looking for SAND entries around $5.
"Probably one to buy the dip on. The strongest coins get bought back up the fastest."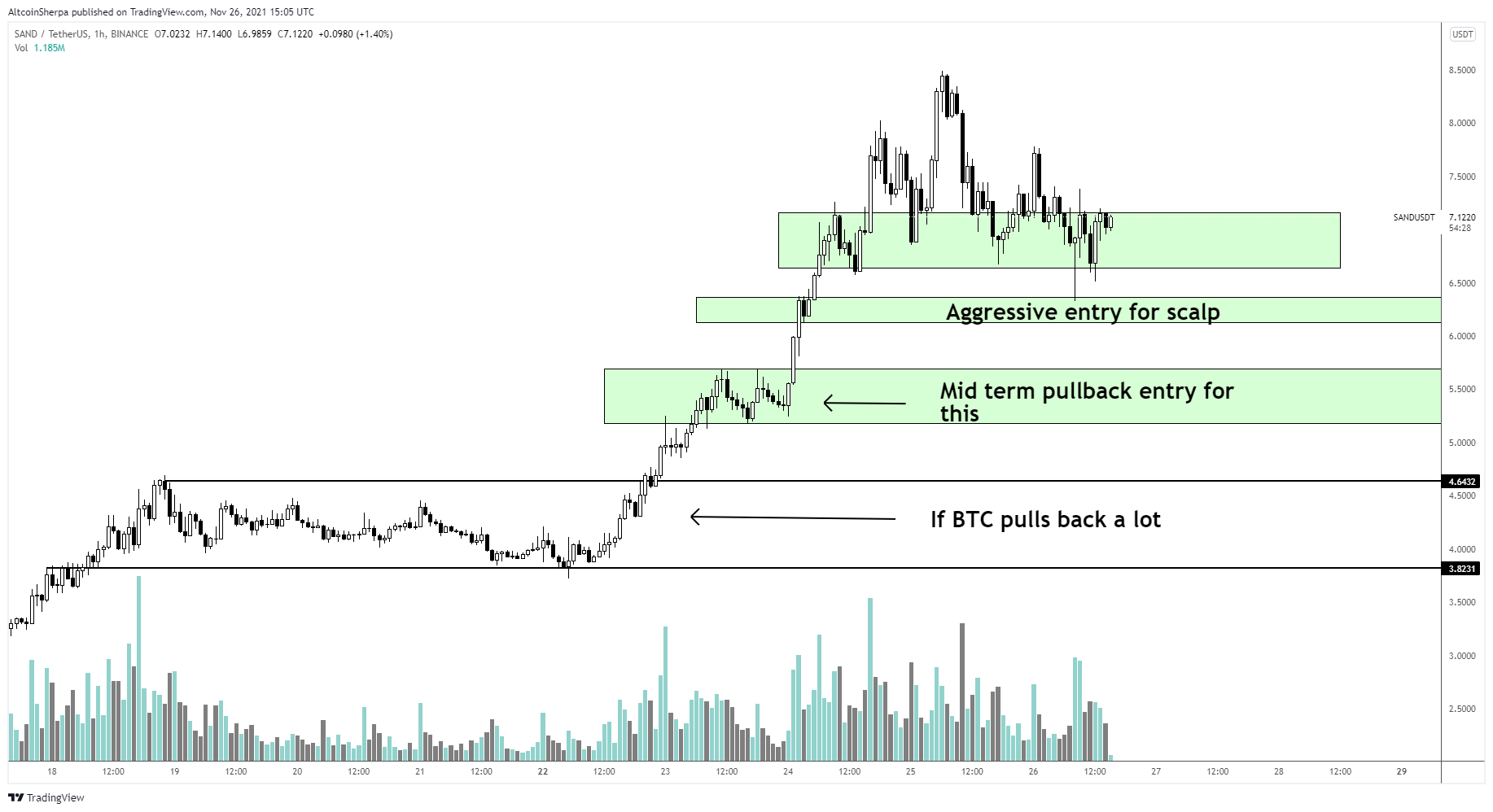 The third altcoin is CRO, the cryptocurrency that powers the Crypto.com payment, trading and financial services platform. According to Altcoin Sherpa, a low timeframe support might provide some relief for CRO.
"CRO: patiently waiting for $0.60."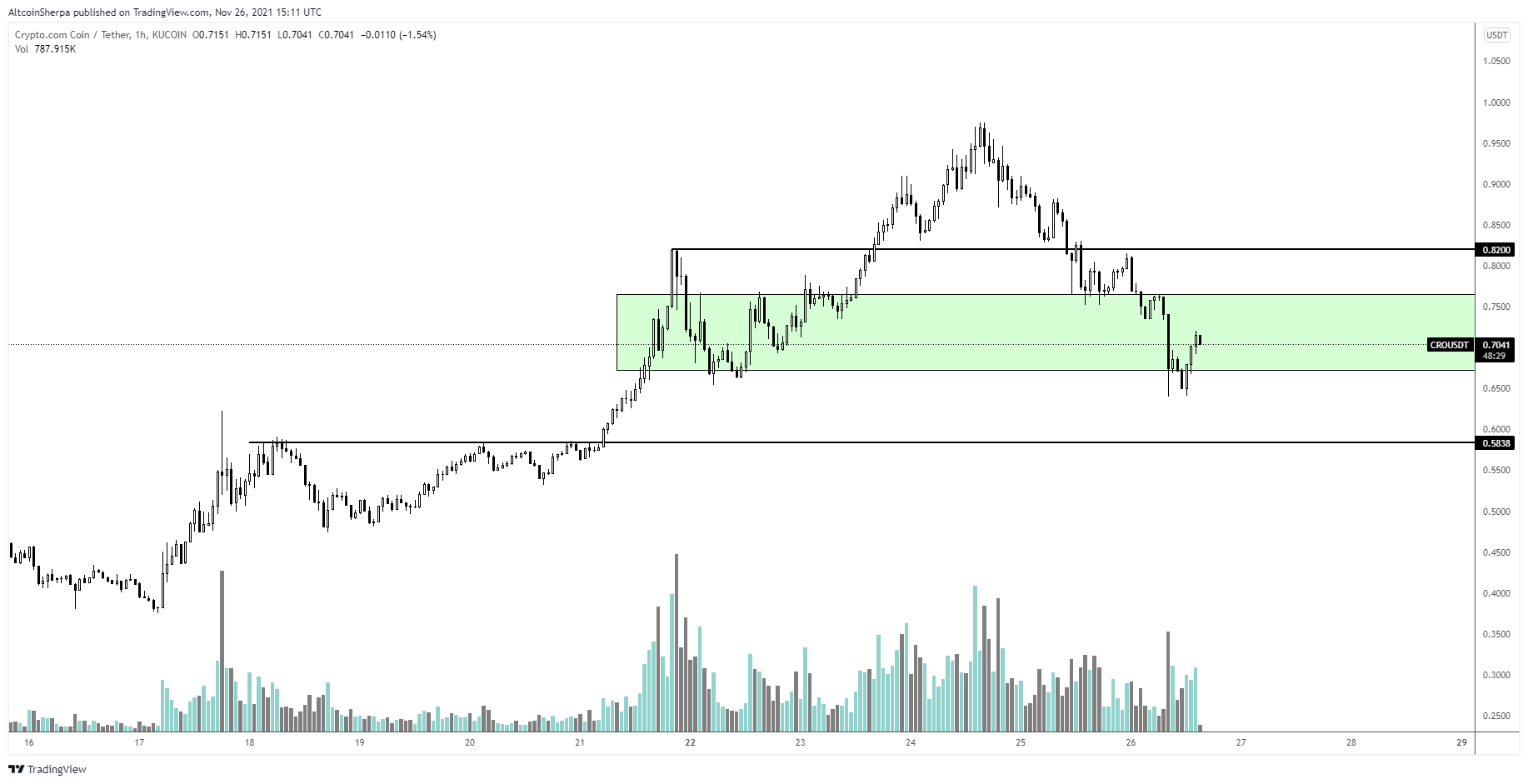 Another coin on the trader's list is Oasis Network (ROSE), a smart contract platform that prioritizes privacy for open finance. The crypto analyst says he's expecting ROSE to carve out a bottom around $0.29.
"Good first reaction to the 0.618 [Fibonacci level]. It's likely this makes a lower high if it continues up strongly. I would rather see this consolidate for a bit at 0.618 and then form a solid bottom for continuation."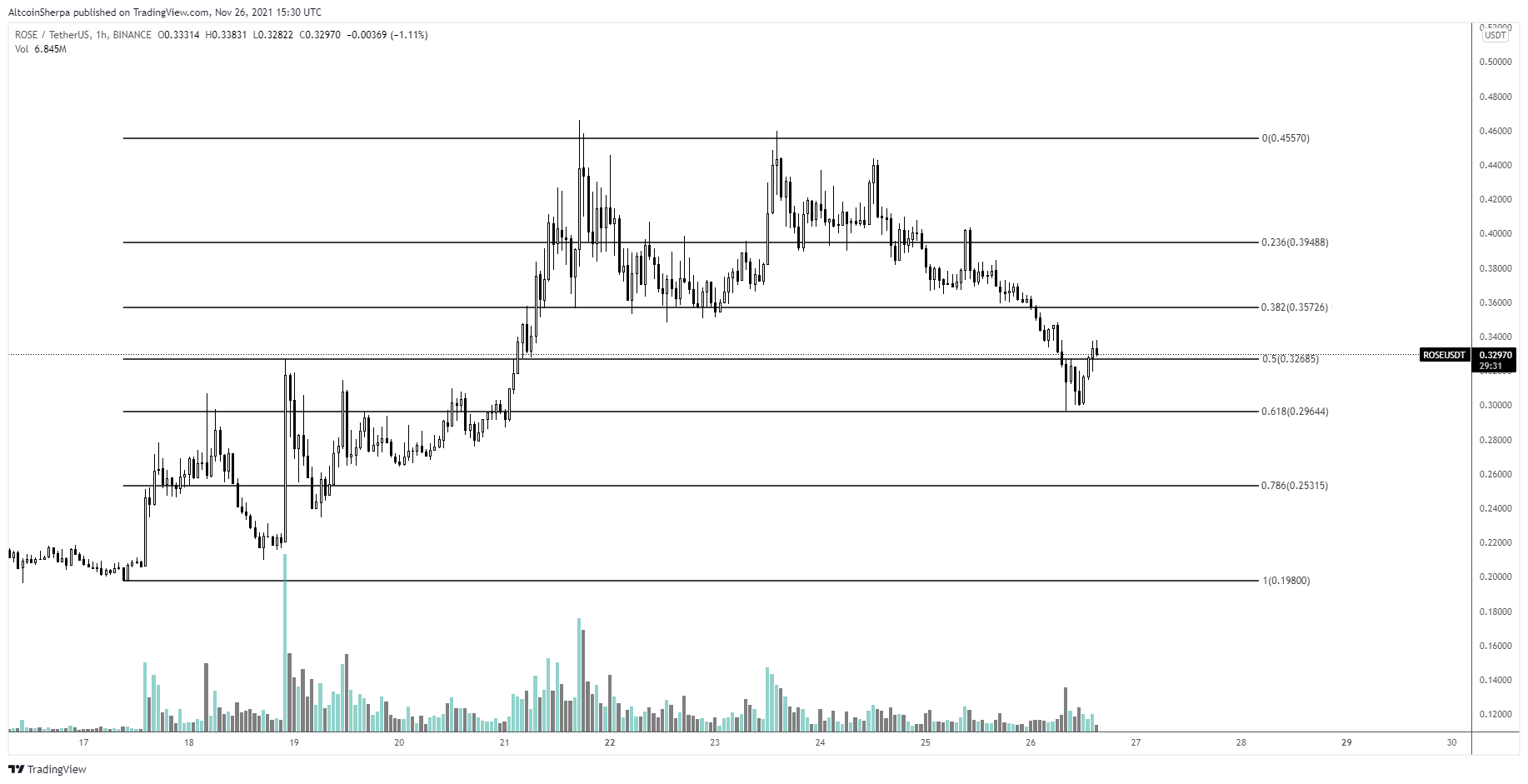 The last coin on Altcoin Sherpa's radar is payments infrastructure platform COTI. The crypto analyst says that COTI is currently respecting the 200-day EMA as support ($0.37) but adds that a new sell-off event can push the token down to $0.30.
"First good tap of the 200-day EMA. I think that this one will find a short-term bottom around here. More support at the 0.618 [Fibonacci level] though."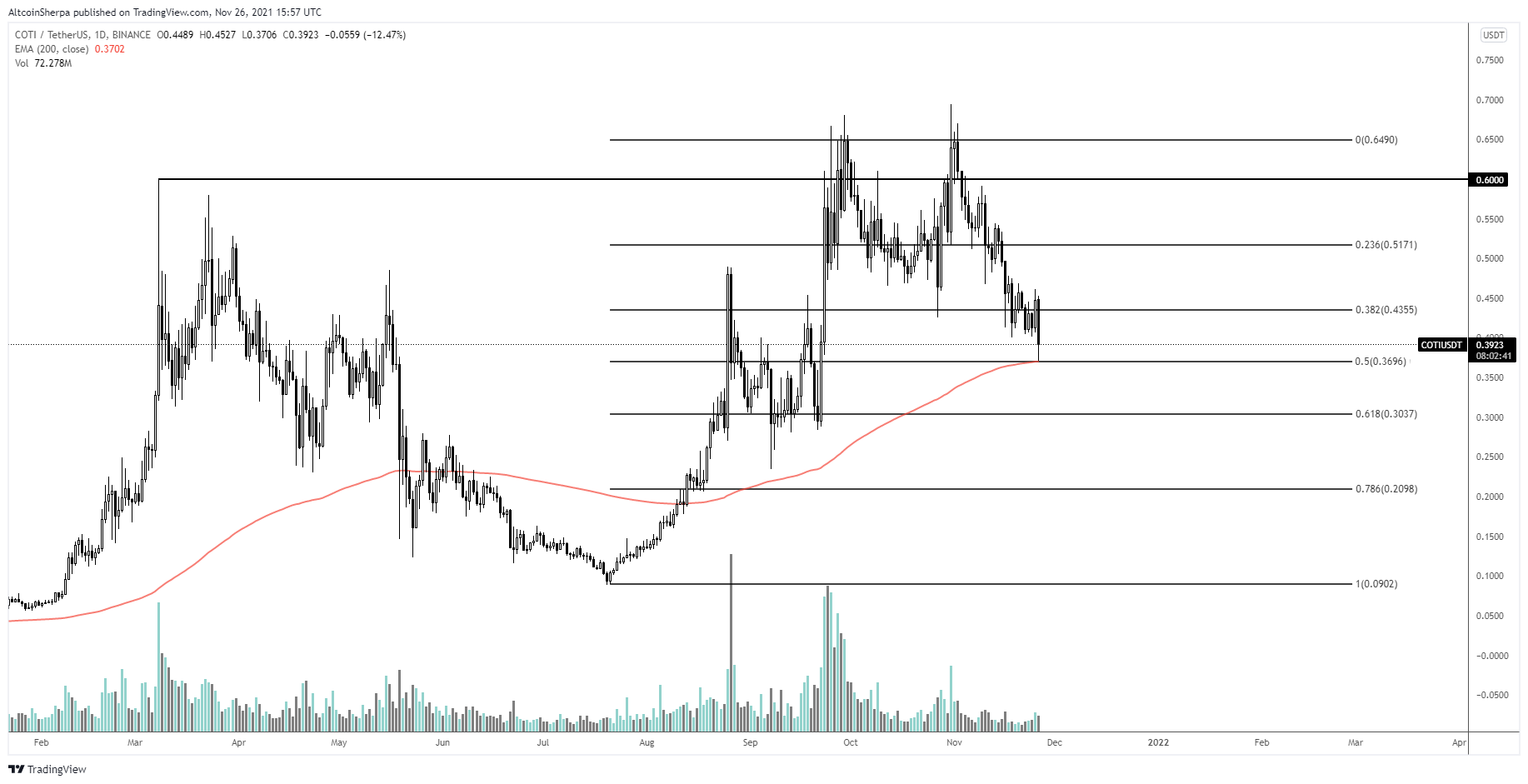 Elon Musk's Brother Claims Web3 Could Unlock $100 Billion Per Year for This Segment
Restauranteur, chef and entrepreneur Kimbal Musk indicates yet another unusual use case for decentralized industry.
Innovator and visionary, baord member of Tesla Inc. and SpaceX, Kimbal Musk is certain that Web3's ethos and practices can be of great use in philanthropy.
"$100,000,000,000 per year just in America"
Kimbal Musk has taken to Twitter to share that the implementation of Web3 in philanthropy could unlock twelve-digit funds for the philanthropy segment.
Using Web3 to decentralize philanthropy has the potential to unlock $100 Billion per year, just in America, spent on bureaucracy 🤠— Kimbal Musk (@kimbal) November 26, 2021
This jaw-dropping sum can be added to the volume of money in this sphere just in the United States, let alone in other countries. Bringing decentralized instruments to charity can significantly advance its resource-efficiency.
Namely, Web3 tools are going to eliminate the unnecessary elements of bureaucracy from this trending sphere.
Mr. Musk's Twitter audience agreed with his statement, while some commentators added that Web3 instruments could eliminate corruption—not only bureaucracy—from philanthropy.
Crypto and charity: long road ahead
In 2021, numerous charity initiatives somehow utilize Web3 instruments. Typically, major charity foundations add mainstream cryptocurrencies as payment tools.
As covered by U.Today previously, DeFi project Munch created a purpose-made platform for The Giving Block charity conglomerate that features 200 non-profits.
Also, many NFT products are conducting charity giveaways. Namely, Binance and Tron-backed APENFT co-hosted the Charity Mystery Box event to support environmental charities One Tree Planted and Koala Clancy Foundation.