Polygon Price Prediction – Will MATIC Price Hit $5 in 2021?
Bullish MATIC price prediction ranges from $2.26 to $2.72.
MATIC price might also reach $5 this 2021.
MATIC's bearish market price prediction for 2021 is $1.48.
This Polygon (MATIC) Price Prediction 2021 article is based on technical analysis alone. Below, you will see the key measures that we have taken into consideration upon coming up with our MATIC price analysis and prediction.
There are many cryptocurrencies that skyrocketed to a new all-time high during this 2021 bull run. In contrast, some crypto also had a decline in price. Therefore, many crypto traders and investors are confused about whether it is time to hold or sell crypto for a good price. For MATIC, the former may be the case.
Moreover, the crypto market is in a bearish movement lately, and most cryptos are losing their previous profits. Is the scenario the same as the MATIC price? We'll find out shortly in this MATIC price analysis 2021 article. But first, let's have a look at what MATIC is.
What Is Polygon (MATIC)?
Polygon is the first well-regulated, easy-to-use platform for Ethereum scaling and infrastructure development. Its core element is Polygon SDK, a modular, flexible framework that supports building multiple types of applications.
MATIC, the native token of Polygon, is an ERC-20 token based on the Ethereum blockchain. Moreover, the tokens are utilized for payment services on Polygon and as a settlement currency between users who operate within the Polygon marketplace.
Now that we have an idea about MATIC, do you think MATIC will be profitable crypto in 2021? Or, are you curious to find out? Join me and let us see the charts in this MATIC price analysis and MATIC price prediction.
Polygon (MATIC) Current Market Status
According to CoinMarketCap, MATIC trades at $1.88 with a 24-hour trading volume of $1,283,651,241, as of the time of writing this Polygon price analysis. The price of MATIC has decreased by 4.16% in the last 24 hours.
Furthermore, MATIC has a current circulating supply of 6.78B MATIC. Currently, the top cryptocurrency exchanges for MATIC are Binance, OKEx, FTX, CoinTiger, and Mandala Exchange.
Now, let's proceed to the next part of this MATIC technical analysis for 2021.
Polygon (MATIC) Price Analysis 2021
Polygon is an Ethereum startup seeking to bring an end to the problems disturbing the Ethereum network. Furthermore, the two significant problems faced by the Ethereum blockchain are high transaction fees and slow transaction time. On the other hand, Polygon seeks to address the low transaction time of Ethereum.
Would the recent development and changes in MATIC's blockchain help the cryptocurrency price to grow higher? Let's look at the charts in this MATIC price prediction article.
As shown above, at the beginning of this month, MATIC turned from its bear-to-bull trend. A high volume of trades occurred during this period. Moreover, in the daily time frame, MATIC showed an Ascending Scallop pattern.
Typically, this pattern accompanies an uptrend, but there are some instances when it can change and become a downtrend. In fact, the formation of this pattern in the chart above took place over the past month.
Furthermore, the Relative Strength Index (RSI) is at 64.29, which means that MATIC is already at an overbought state. As a result, this may lead to a price reversal at any given time.
Let us also look down for the Simple Moving Average (SMA) and the Exponential Moving Average (EMA) of MATIC.
MATIC is one of the potential cryptocurrencies this year. Since the start of 2021, MATIC's price has seen many bullish moves which are higher than the previous one. More so, these are followed by fluctuations and corrections right away. Moreover, some crypto experts predict March will be altcoins season.
Polygon (MATIC) Price Prediction 2021
Currently, MATIC holds 19th place on CoinMarketCap. In fact, MATIC's price reached an all-time high price of $2.68 on May 18, 2021, after Coinbase Pro listing. More so, it also reached a 24-hour trading volume of over $1,276 million.
Would this market performance be enough for MATIC to maintain its bullish position in 2021? Are you excited to know the results? Well, what are we waiting for? Let's get to the bottom of it in this MATIC price prediction 2021.
In the short-to-mid term scenario for our MATIC price prediction 2021, MATIC has to break past the retracement level at $2.72. To do this, it has to establish more support at the Fib level at $2.26. If not, bears may gain the upper hand and drag MATIC to their territory.
Meanwhile, our long-term MATIC price prediction for 2021 is bullish. Even more, it has a high possibility of reaching a new all-time high this year. However, that will only happen if it breaks past a number of psychological resistances.
Polygon (MATIC) Price Prediction 2022
If this bullish trend continues, MATIC will reach $7.5 by the end of 2022. Moreover, the first half of 2022 is going to show fast growth, up to $8. Then this rise will slow down, but no major falls are expected. With upcoming, partnerships, and developments reaching $7.5 is quite optimistic in the price point of view but undoubtedly feasible for the near future.
Polygon (MATIC) Price Prediction 2023
If MATIC holds the support level around 200-MA, the long-term moving average of 200 days firmly, buyers will then have ample time and stability to forge the next attack mission on the vital level at $12, making it not plummet but play consistently.
Polygon (MATIC) Price Prediction 2024
As per the latest upgrades, developments, MATIC price prediction, and new project forecasts of the platform, MATIC investors could expect many partnerships and integrations around 2024. Moreover, this might boost the price of MATIC in the crypto market, and it will be the best investment as the price can spike and reach around $20.
Polygon (MATIC) Price Prediction 2025
In the next four years, MATIC prices could race up to $35. However, reaching this level could not be so difficult for MATIC as additional medium, short-term, and long-term price targets could be found to purchase or sell orders. This indicates that MATIC has a high possibility of reaching a new ATH soon in the next five years as per the prediction.
Conclusion
MATIC has a bright future ahead of it in 2021. With ongoing developments happening within the MATIC ecosystem, as well as in the overall crypto market, we may see MATIC reach new heights.
Even more, the bullish MATIC price prediction for 2021 is $2.72. As said above, it may even reach a new ATH if investors have decided that MATIC is a good investment in 2021 along with mainstream cryptocurrencies like Bitcoin and Ethereum. Moreover, it has a chance to reach $5 in the latter parts of this year as well.
FAQ
What is MATIC?
MATIC is an ERC-20 token based on the Ethereum blockchain. However, it seeks to bring an end to the issues that disturb the Ethereum network.How to Buy MATIC Tokens?
Users can obtain MATIC tokens by purchasing them from cryptocurrency exchanges such as Binance or Huobi Global.Will MATIC Surpass its Current ATH?
MATIC is a good investment in 2021. However, MATIC has a high possibility of surpassing its current ATH at about $2.68 this year.Can MATIC reach $5?
Yes, it's very much possible that MATIC might reach $5 in the near future as per the current bullish trend.Is MATIC a good investment in 2021?
MATIC is considered one of the top-rising cryptocurrencies this year. Also, along with the recorded achievements of MATIC in the past few months, we can say that MATIC is indeed a potentially good crypto to invest in this year.What will be the MATIC price by 2022?
Polygon (MATIC) price is expected to reach $8 by 2022.What will be the MATIC price by 2023?
Polygon (MATIC) price is expected to reach $12 by 2023.What will be the MATIC price by 2024?
Polygon (MATIC) price is expected to reach $20 by 2024.What will be the MATIC price by 2025?
Polygon (MATIC) price is expected to reach $35 by 2025.
Will Polygon's [MATIC] epic rise fetch an ATH?
After the November lull, things look good for Polygon's native token, MATIC. While top cryptocurrencies looked for a decisive direction, MATIC went on to score a six-month high record as it rose by 34.94% over the past week. What's driving the growth?
Earlier this year, MATIC underwent a parabolic rally. It may sooon mimic a similar movement once again. The 15th-largest crypto-asset successfully broke the long-standing resistance level on 3rd December.
At the time of writing, the crypto-asset was exchanging hands at $2.28 after registering daily gains of 9.05%. However, the latest price action coincides with a major development.
The prominent Ethereum layer 2 solution had recently introduced new open-source javascript library, dubbed matic.js, that is aimed in offering APIs for deposits, withdrawals, and other types of transfers on the network.
The rapid addition of new protocols in the Polygon network is yet another major factor that's driving not just MATIC's price but also its on-chain activity.
MATIC hits 6-month high; What's next?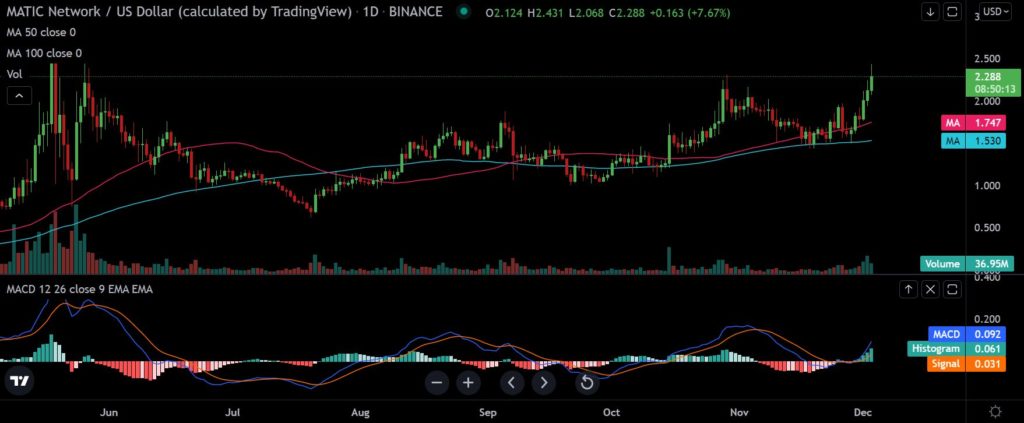 Afte days of retracement, the overall technicals look optimistic as the green candles made a swift recovery this week. So far, the rising volume is cushioning the uptrend. The MACD also aligned with bulls while the daily moving averages 50 [Pink] and 100 [Blue] supported the price candles from a market downtrend.
The closing green bars of Awesome Oscillator [AO] also exhibited growing bullish momentum in the coin market. The volatility, as depicted by the diverging Bollinger Bands [BB], has also amplified following the latest price action which has pushed the Relative Strength Index [RSI] towards the overbought zone. MATIC buyers are dominating the scene.
The above charts clearly depict that odds are in favor of the token.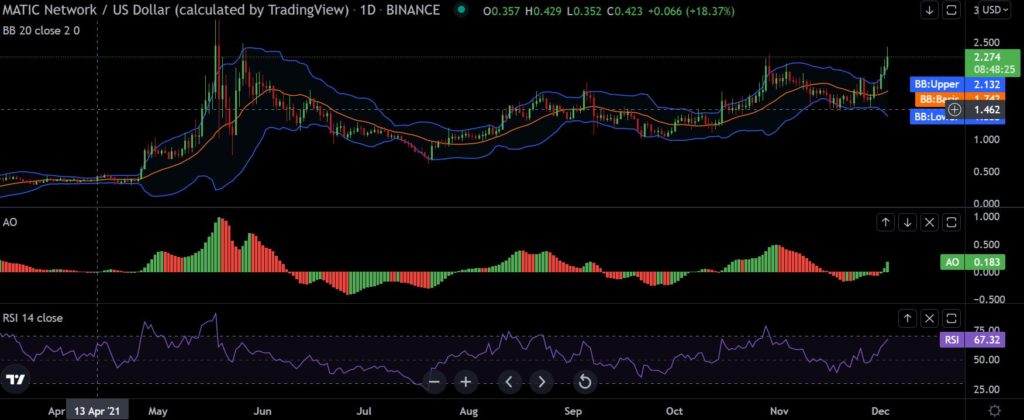 How long till the ATH breach?
The crypto-analytic platform, IntotheBlock's IOMAP chart, well over 99% of all addresses holding MATIC are in profits. Meaning there are no substantial supply barriers ahead which could boost the token in breaching its previously established peak.
ITB also noted,
"Increasing institutional support, the rapid expansion of the ecosystem, and the focus on ZK scaling solutions are just some of the reasons why Polygon token MATIC is soaring. And on-chain data backs these fundamentals, as our actionable signals are showing a bullish momentum."
According to crypto analyst Ali Martinez, as long as MATIC manages to hold its fort above the crucial $1.82-$1.89 zone, "there is a good chance price will advance higher."
Polygon MATIC Reaches $2 Following 25% Price Rally
While Matic reaches a new local high, almost 100% of its holders are now holding in profit
According to data provided by IntoTheBlock, the IOMP indicator shows that almost every single holder of Polygon tokens remains in profit with 99.22% of positions staying open in profit.
Matic's price action
But the idyll on the market could not last any longer, and Matic faced a rapid retrace by losing almost 9% of its value in a matter of minutes. With a strong retrace on the market, 3% of holders that were previously in profit now remain "in the money" or are breaking even.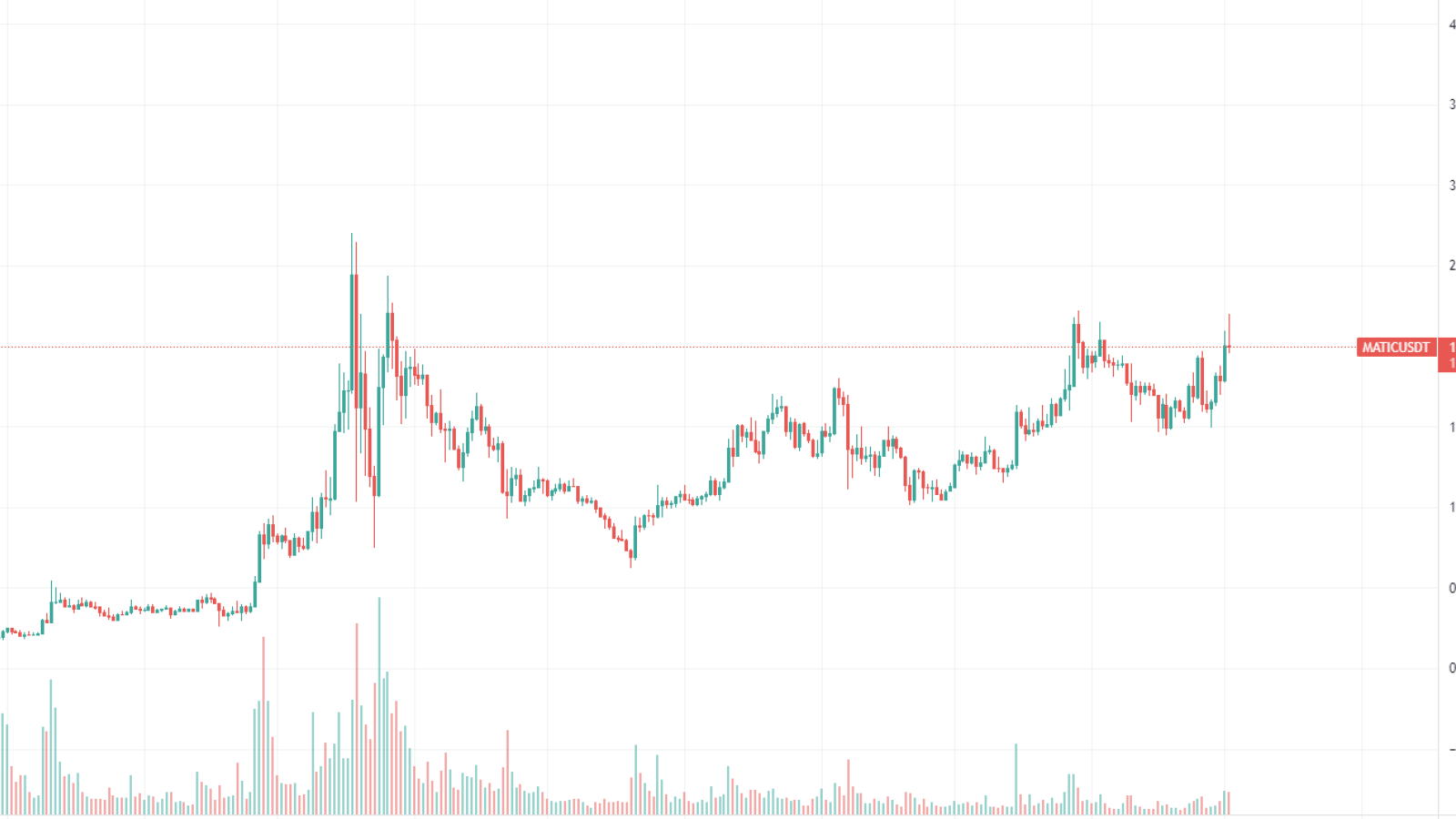 Matic is currently moving in the local uptrend that began on Nov. 19 and lasting until now. More globally, Matic has been moving in the rangebound since it is the most recent ATH reached on May 18.
Indicator's functionality
The In/Out of money indicator shows the percentage and volume of positions that are trading at a profit, loss or breakeven. A large number of positions in profit is being considered a bullish indicator, while the losing majority is a defective sign for an asset.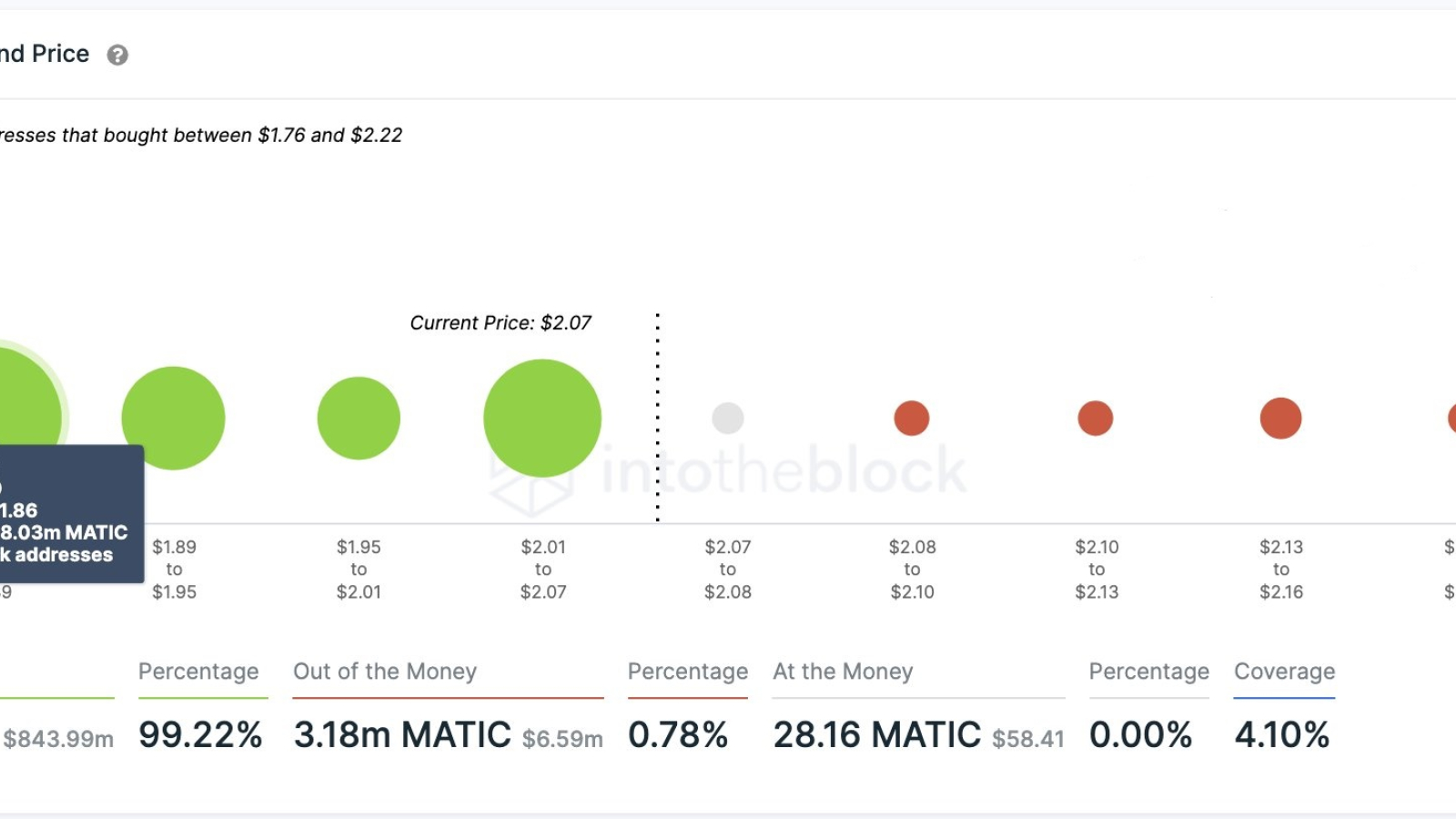 The indicator is also being used to determine resistance and support zones according to the investor's price action. According to IOMP, the current possible support zone remains in the $1.83-$1.89 zone with an average price of $1.86.
The strong resistance zone that was confirmed by the price action was also located close to the value of $2.22.
Polygon's [MATIC] impressive feat with revenues hitting ATH
Polygon has had great days with green daily candles and increasing revenues hitting new ATHs in the network revenues. Other metrics are also increasing for the Polygon blockchain, and it seems to have good times in terms of growth and revenue. All of these factors show a promising future for this blockchain, and its native token, MATIC that can hit new ATHs in the price chart soon.
Twitter account @RaphaelSignal posted a new analysis about the Polygon network describing the details of metrics on the blockchain. The most important metric is the network revenues that have had new ATHs in the past few days. According to the analysis, the network had its revenue propped 16.6%, recording the third week of double digits growth. A new ATH of $93.8K revenue per day is recorded for MATIC. It shows 11.86% growth. It's the first time that revenues have passed $90K in Polygon.
Another important metric for analyzing the stats and growth of networks like Polygon is the active addresses. The growth in this metric continues slightly in the network, recording the 4th consecutive week with more than 300K active addresses. Daily active users or DAU has recorded growth, too. With a 10.4% growth, there we about 340K active addresses per day in the network.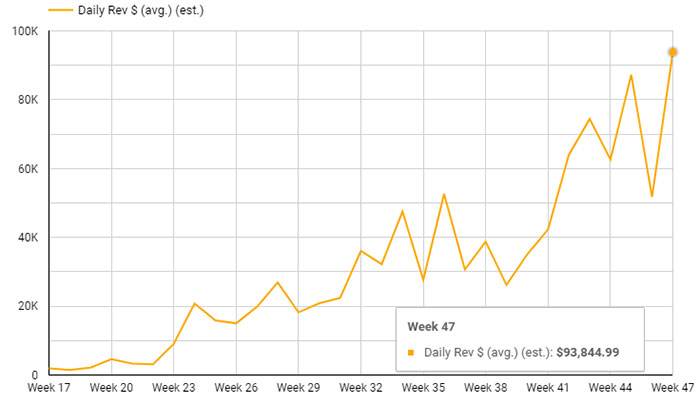 Comparing the metrics of the Polygon network to Ethereum is interesting. Polygon is somehow becoming an alternative for developers and users of smart contracts, resulting in various migrations from Ethereum. Compared to Ethereum, Polygon has 64% daily active users. It was about 50% in the past month.
The number of transactions on the Polygon network isn't rising significantly. It's somehow ranging, and there can be many factors resulting in this kind of movement in the tx chart. The network recorded a 10.39% jump in the last week and is currently at the top of the range and the second-highest number in the last two months.
Another promising metric for the Polygon network is net bridge inflows that more than doubled in the last week recording $212mm. Besides, the bridge outflows recorded the third consecutive week of decreasing.
Raphael believes Polygon is becoming a reliable solution in the gaming sector. Pegaxy is one of the new games launching in this network resulting in more active users. Besides, NFT sales are helping the network grow. We can expect more growth for Polygon as more games and NFT marketplaces are joining the community bringing more users with them.