The bias that propels Shiba Inu and Dogecoin
may be the alpha dog of crypto, but for many small retail investors, these days, dogecoin and Shiba Inu are the picks of the litter.
Binance subsidiary WazirX, India's largest exchange, suffered outages as traders jumped into the fray, buying Shiba Inu and stressing out the platform's servers to the point that trade executions were delayed this past Wednesday. Over half a billion dollars worth of trades were done on WazirX that day, the highest of any crypto exchange in India, CEO Nischal Shetty tweeted.
"It basically brought down our exchange," Siddharth Menon, one of WazirX's co-founders and its chief operating officer, said on CoinDesk TV's "First Mover" program Thursday morning. "The kind of active numbers and the active users that we saw in the last 48 hours has actually shocked us. We were not ready for it. We were all ready for the bitcoin move, but we were never ready for Shiba Inu."
Menon suspects that there is some amount of unit bias at play. That's where a novice trader is prone to buy a lot of one kind of cryptocurrency because the price of one unit of it is relatively small compared with, say, bitcoin even though one can buy the same dollar amount in bitcoin as the low-priced coin.
For investors who are dipping their toes in the water with a relatively small amount of money, a low-priced coin can make one feel a little richer. For example, as of this writing, $620 buys 0.01 BTC. On the other hand, it buys about 10 million SHIB.
What the data show
And while some "smart money" is starting to appear to be trading Shiba Inu and dogecoin, "whales," or large investors, remain in the more familiar seas of bitcoin and ether.
That can be seen in average trading volume.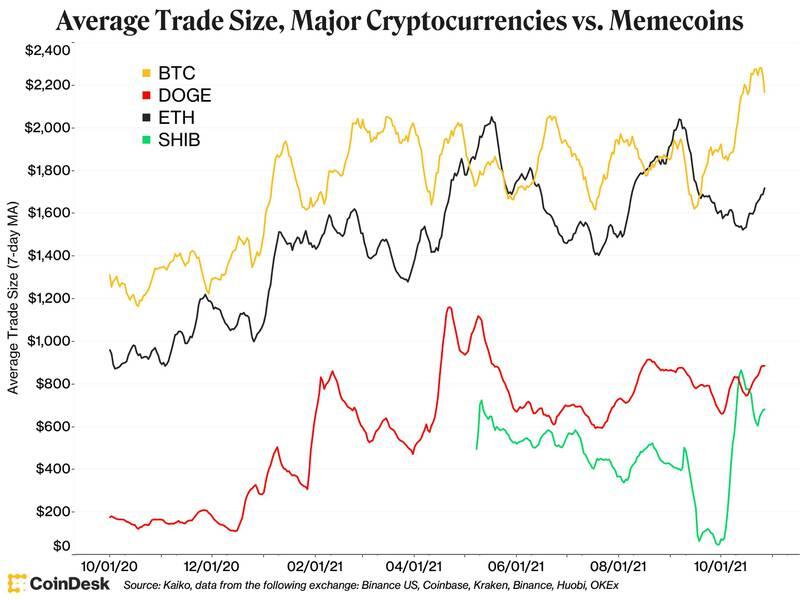 Bitcoin and ether average trade sizes are larger than those of dogecoin and Shiba Inu on almost every exchange. On Coinbase, bitcoin's average trade size is hovering at around $2,000, while ether trades average $1,600. On the other hand, the exchange sees average trades for dogecoin and Shiba Inu of roughly $800.
"This suggests price action is mostly retail-driven," said Clara Medalie, strategic initiatives and research lead at digital asset data provider Kaiko, adding that on Binance, the average trade for bitcoin and ether is about $2,000. That figure is $1,200 for dogecoin and $900 for Shibu Inu.
"While average trade size isn't a perfect gauge for institutional investment – most large traders break apart their orders into smaller sizes – we can still observe clear trends that correspond with waves of interest," she said.
Dog days
Yet the data shows that meme coins face their own cycle, Medalie noted.
"It is interesting to note that average trade size for nearly all assets has increased considerably since the start of the bull run last November," Medalie said. "With meme tokens such as DOGE and SHIB, we can observe spikes during the initial fervor and then sharp declines once the excitement wears off."
And all crypto moves at least somewhat together, including how large trades get. "We can also observe that bitcoin, ethereum, and doge seem to have similar trend lines for average trade size, strongly correlated to mini-bull runs," Medalie said, pointing out that trade sizes for all assets spiked right before the May crash.
Meanwhile, meme coins serve another purpose.
Retail traders test out the experience of buying, holding, and selling a small amount of cryptocurrency on new platforms by placing different types of orders and seeing how they get filled – or not. While holding $100 worth of bitcoin can be bought just the same, if not more easily, than $100 of dogecoin or Shiba Inu, it may take newbies a little bit of time to wrap their heads around that concept. What's more, their experience with wild swings in meme coins will prime them for the volatile, though relatively "safer," major cryptos like bitcoin or ether.
And when those novice traders finally realize that a single, low-priced meme coin will never surpass the price of bitcoin or ether as they currently trade (if Shiba Inu traded near bitcoin's at around $62,000, its total market cap would be $36.5 quintillion or 7,313 times the value of the earth's estimated $5 quadrillion price tag), they may finally gain a little perspective, rid themselves of unit bias and use those meme coins instead to develop proper trader discipline.
Meme coins thus can be seen as the gateway for retail investors to become more experienced crypto traders.
An obedience school, if you will.
Shiba Inu Remains Top Holding in Whale Wallets After Market Drops by 25%
While most traders are selling their holdings amid cryptocurrency market correction, SHIB remains one of the strongest positions on whale-tier addresses
Shiba Inu meme token has been the most popular token among whales during both local bull and bear cycles on the cryptocurrency market. With the current bloodbath continuing on both the Bitcoin and altcoins markets, Shiba maintains its strong place on whale-tier addresses, according to WhaleStats.
Whale wallet holdings
According to the total whale holdings in the 1,000 largest Ethereum wallets, Shiba Inu still remains the largest position among whales with $2 billion worth of tokens held currently. While the USD value of holdings remains the same, the percentage (or the dominance) among whales has decreased significantly.
At press time, Shiba Inu holdings remain at 8% dominance, while "Other" smaller tokens account for 7.89% of all holdings coming closer to the dog-based meme coin.
Market performance
Unfortunately for its investors, Shiba Inu did not become a safe haven asset and lost approximately 15% of its value. Compared to the market in general, SHIB token was in the middle of the biggest losers leaderboard, sitting with tokens and coins like Doge, Ethereum and Avax.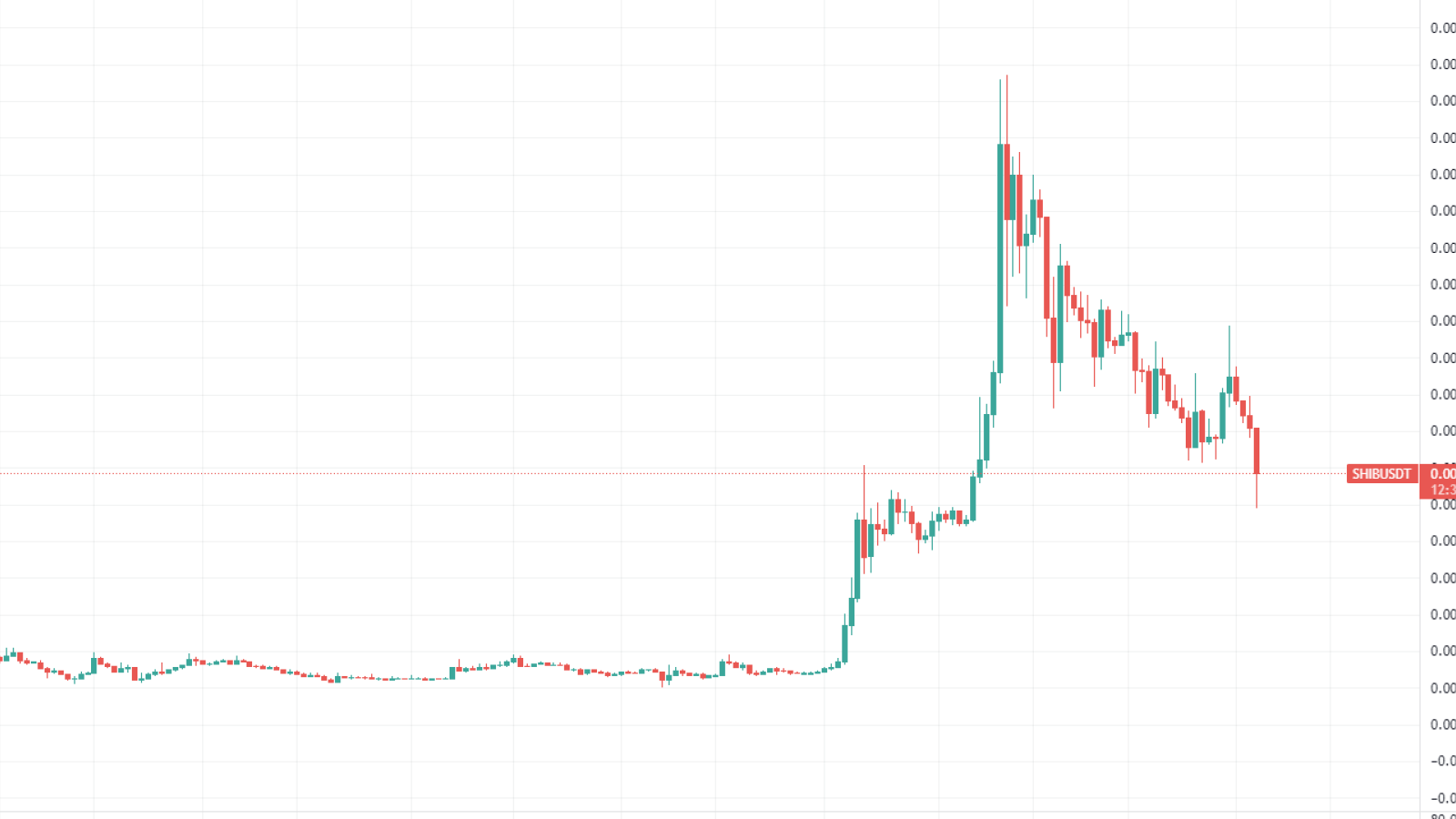 After a strong correction, Shiba Inu now remains at a total loss of 66% from its last peak. At the beginning of the week, a rapid and unexpected rally was initiated on the market, which led to a 40% short-term pump of the token's price.
At press time, SHIB token trades at $0.00003453, with 15% negative performance now and 26% minimum.
What are the chances for Dogecoin, Shiba Inu to be rescued by immediate recovery
Just like large-cap coins, the state of the market's meme-coins too has been in dire straits over the past few hours. DOGE and SHIB had in fact shed more value in the past day when compared to the past 7-days in total.
Despite the massive dip, both the meme-coins were seen exhibiting signs of recovery, at press time. As can be seen from the chart attached below, the past three odd hours have fairly been good for both these coins.
DOGE managed to pull up its socks and register two green candles in the aforementioned timeframe. SHIBA's recovery, on the other hand, looked even more concrete as it successfully managed to register three-successive green candles on its hourly chart.
Interestingly, their volumes too [depicted below the candlesticks] have been decently high over the last couple of hours. Thus, indicating that a fair share of participants has indeed started "buying the dip."
So, will they start barking louder now?
Less than a week back SHIB broke above its descending channel and registered consecutive green candles. It however did dunk in value right after. The latest dip, in retrospect, didn't seem to be too deep.
On the daily chart, SHIB was seen trading slightly below the 61.8% Fibonacci level, at the time of writing. If it continues to project green candles over the next couple of hours, it would manage to reclaim $0.00003798 as support.
However, if it fails to do so, then SHIB could fall to a level as low as $0.00002413. In such a scenario if bears manage to gain control over bulls, then HODLers can expect this coin to revisit any level around $0.00000648.
DOGE's prospects, on the contrary, looked slightly bleak. Over the past day, the largest meme-coin had broken below most of its supports and was seen trading at a level reminiscent of what was recorded way back in July. Earlier during the day it, in fact, crawled to a low level that was last seen only in April.
So, if the downtrend continues for DOGE on its charts, and it manages to break below its $0.158 support level, then there are high chances of it paying a visit to $0.101.
Nonetheless, it managed to uphold its green-candle trend on the lower timeframe, it would gradually be able to negate its losses and inch back to $0.2 after crossing $0.182.
Community 'pats'
Well, the community usually plays a key role in helping meme-coins recover. At the time of writing, the sentiment data from Santiment projected quite an interesting trend.
Over the last couple of hours, DOGE mentions on social media have, by and large, been positive. In fact, the positive sentiment has successfully been able to out shadow the negative sentiment. If the trend heads in the same direction, then community members might successfully be able to aid the coin recovery, despite the sluggishness on its price chart.
A similar trend was observed with SHIB too. Now, this essentially means that the community members are still backing both DOGE and SHIB, despite whatever has happened over the past few hours.
Well, even though meme-coins usually tread on Bitcoin and other large-cap alts' pre-carved path, they've managed to defy that trend a host of times in the recent past. So, irrespective of the state of the broader market at this stage, these two coins might end up surprising market participants. The odds of their recovery seem to slightly outweigh the odds of them continuing with their respective downtrends at this point.
SHIB Community Burned About 2 Billion SHIB in November
There have been a total of 7,409,202 $SHIB tokens burned and two transactions in the last hour.
According to shibburn, the SHIB community, dubbed the "SHIB Army," burned about two billion SHIB in November. A total of 410,298,489,440,804 of the one quadrillion initial supply has been burned. Tokens that are burned are permanently removed from circulation. The decrease in circulating supply is predicted to raise the price of Shiba Inu in this instance.
According to Shiba Inu's burn tracker, shibburn, a total of 410,296,586,422,853 SHIB tokens (41.02966%) have been burned from the initial supply of one quadrillion at the beginning of November.
As of Dec. 1, this number had grown to 410,298,449,011,405 (41.02984% of the initial supply), representing a near 1.9 billion increase in tokens burned within the time frame.
Shiba Inu is about to undergo significant alterations that are likely to increase its value and boost its price. Shytoshi Kusama, the SHIB team's lead developer, recently discussed the potential of Shiba Inu's gameplay expanding into the "Metaverse."
Gaming will also facilitate the burning process, as in-app purchases made from the Shiba Inu game will be used to burn a large amount of SHIB to lower the token's supply. Currently, the SHIB supply is burned only when the owner of a Shiboshi NFT pays $100 in SHIB to change the NFT's name.
SHIB is trading at $0.00004230 as of press time.