Composable Finance's Canary Network Picasso Will be the 13th Kusama Parachain
Composable Finance's canary network Picasso will now be onboarded as Kusama's 13th parachain at the start of the next lease period as it has won the 12th parachain auction.
Kusama's Twitter handle made the announcement on Monday, November 1st. According to the announcement, more than 10.3K participants locked KSM to help Composable Finance win the 12th Kusama parachain auction. It reads:
"Welcome to the cₕₐₒₛ @ComposableFin's #Picasso!
After winning the 12th parachain auction, Picasso is now being onboarded as my 13th parachain [12-auction winning parachains, plus #Statemine]. Over 10.3K network, stakeholders locked up KSM in favor!"
According to the auction tracker Polkadot.js, these network stakeholders locked 115,080.7288 KSM tokens on Picasso's crowdloan. With the conclusion of the 12th parachain auction, the next auction has also begun on Monday, November 1, which will end on November 8.
Unlike the previous 11 auctions where winning parachain were connected to slots immediately, Picasso, along with the next three winners, will be connected to its Kusama parachain slot at the beginning of lease period 17. As Crypto reported earlier, this is the third batch of Kusama parachain auctions in which 24 auctions will be held the winner be onboarded in groups of 4,5,5,5, and 5 at the start of lease periods 17,18,19,20, and 21 respectively.
To participate in a parachain auction, users require to lock the KSM tokens on a crowdloan created by the project. However, it requires users to purchase the native tokens of these parachain networks, which are projected to become very expensive. The best thing about Picasso's crowdloan was that it allowed users to deposit stablecoin on its crowdloan, instead of having to purchase and deposit KSM tokens.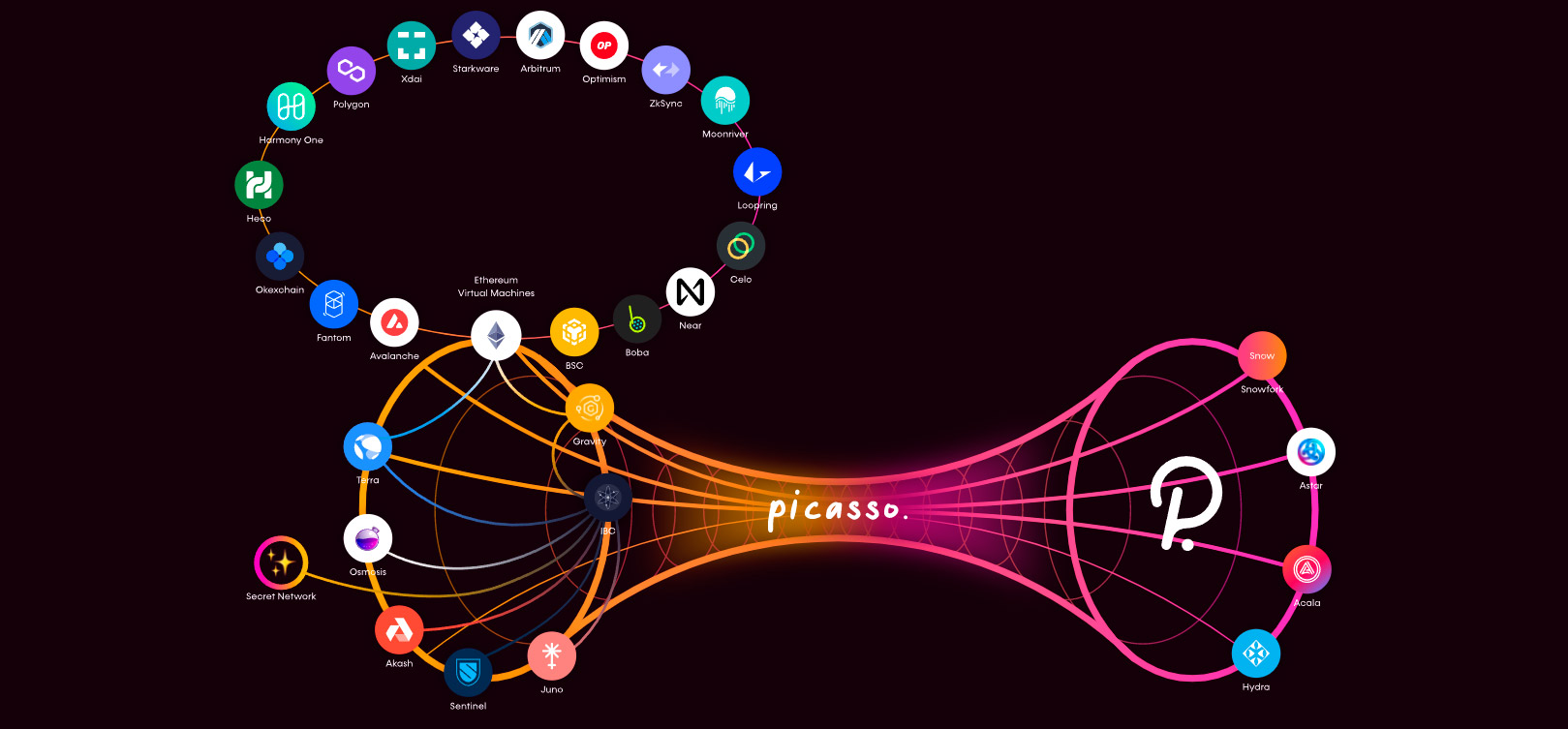 If a user desired to deposit a stablecoin into Composable's crowdloan, they simply locked it up in a Composable vault for 48 weeks with a standard 1% fee. Composable itself then converts these stablecoins into KSM for participation in the crowdloan. Now the crowdloan has ended, stablecoin depositors get back KSM, in addition to the native token of Picasso, PICA.
Composable Finance is a DeFi infrastructure project aiming to provide liquidity infrastructure for DeFi assets powered by Layer 2 Ethereum and Polkadot. The project is devoted to making DeFi truly interoperable, user-friendly, and flexible. At its core is an "Innovation Availability Layer (IAL)" that will "serve as a new and powerful fabric that can orchestrate and compute smart contract functions across a multitude of L1 and L2 technologies seamlessly and without compromising security."
The most important product from Composable Finance is Mosaic Bridge that has integrated Arbitrium, Avalanche C-Chain, Polygon, Ethereum Mainnet, and Moonriver network, which allows users to transfer assets between any of these networks.
Encointer to Become a Common Good Parachain on Kusama, what it is?
Encointer, a Substrate-based project focused on digital identity and an idea called universal basic income (UBI), is going to be a common good parachain on Polkadot's canary network Kusama.
Kusama's official Twitter handle on Wednesday, December 1st, announced that the proposal to become Encointer a common good parachain on Kusama had been passed by the Kusama Council and now requires a public referendum to achieve this. The announcement reads:
What is Encointer?
Encointer is a substrate-based parachain that is working on a unique idea called universal basic income (UBI). While all other cryptocurrencies like Bitcoin to date are global units of value, Encointer enables local community currencies. The project describes itself as "an ecological, egalitarian, and private cryptocurrency and digital personhood system."
Encointer is a unique identity system that enables every human to maintain a unique proof of personhood (PoP) through pseudonym key-signing parties or meetups. These PoP identities are given to the attendees of Encointer key signing meetups that require physical presence at meetups. One person can only maintain one PoP identity because meetups are designed to make it impossible to attend two meetups physically as they happen in different places concurrently.
The holders of these PoP identities can create a local community and their own currency. Members of this community can then use this newly created currency among themselves. Watch this video to see how
How is it Good for Kusama?
According to Kusama, "Encointer enables a form of online democracy— on a local to global scale —" as one person can only have one proof-of-personhood (PoP) identity. This means this one person can have only one vote.
Kusama is governed by free-market capitalism where the person holding more coins has more voting power. According to a blog post presenting the case for a common good parachain, this typical governance is a good governance design but some applications require democratic governance, where every human should have one vote.
This is where Encointer's PoP identities come into play. Furthermore, Encointer also offers a strong defense against Sybil attacks. Once a parachain on Polkadot and Kusama, other parachain can Polkadot's XCMP to benefit from Encointer Sybil defense and PoP for their token airdrops or faucets.
What are Common Good Parachains?
Common good parachains are parachain slots reserved for functionality that benefits the ecosystem as a whole. They are not allocated via the parachain auction process but by the on-chain governance system. Their lease doesn't expire as they are only removed via governance.
Kusama Parachain Auctions: DeFi Protocol Genshiro Wins the 15th Auction
Kusama parachain auctions are running smoothly, and the team has announced the conclusion of the 15th auction with DeFi conglomerate Equilibrium's sister network Genshiro as the winner.
The official Twitter account of Kusama made the announcement on Monday, November 22. With the conclusion of the 15th parachain auction, Genshiro will be onboarded as the 16th Kusama parachain at the start of lease period 17 on November 27.
The announcement reads:
According to the data provided by auction tracker Polkadot.js, these more than 4.8K stakeholders locked 47,425.5262 KSM tokens in Genshiro crowdloan. The 16th has also begun on Monday in which 6 parachain projects are competing for the next parachain slot.
As Crypto Economy reported, these auctions are part of the third batch of parachain auctions, in which 24 auctions will be held on a weekly basis. Winning parachains will be connected to their slots at the beginning of the next lease period. Now the auctions for parachain slots 12 to 15 have ended, Picasso, Bit.Country, Quartz, and Genshiro will be onboarded at the beginning of lease 17 on November 27, for the period ending on November 7, 2022. The next 5 parachains will be connected at the start of lease 18.
Genshiro is a sister network of Polkadot-based DeFi conglomerate Equilibrium. The protocol is comprised of a money market and a cross-chain DEX and aims to be a cross-chain DeFi one-stop shop to allow users to lend, borrow, stake, swap, trade, and earn.
On the other hand, parachain auctions for the main Polkadot chain have also begun. As reported, the first auction commenced on November 11 and ended on November 18 with Acala, the DeFi hub of Polkadot, reserving the first Polkadot parachain slot. In the auction, over 81K participants contributed more than $3.2 worth of DOT tokens to the Acala crowdloan.
The Polkadot and Kusama architecture will be composed of as many as 100 parachains that are connected to and secured by a central Relay Chain. Parachains are independent purpose-built blockchains connected to the Polkadot or Kusama Relay Chains via an open, permissionless auction. To win a place on Realy Chain, parachains must outbid each other in auctions to earn a lease, both for the initial launch and again for renewal once the lease period expires.
Kusama price analysis: Bearish slope indicates downfall in price up to $418 low
Price has declined up to $417.85.
Kusama price analysis shows bearish trend.
Support is still secured at $337.84.
The latest Kusama price analysis confirms that a bearish trend has been following for the past few days. The price has been devalued to a great extent, which has brought unfavorable consequences for the cryptocurrency. A drop in price was recorded in the last 24 hours as well, and the KSM/USD coin value has been lowered to $417.85. The bulls also made a failed attempt to regain their position, but the bearish trend proved overpowering.
KSM/USD 1-day price chart: Bears restrict price movement above $417.85
The one-day Kusama price analysis is showing a bearish trend for the day as the price has covered downward movement. The latest bearish attack has resulted in the price going below the $417 edge. This has cast quite a negative impact on the overall market value of KSM/USD. The price has been constantly declining since the past week, and today's trend has been no different. The moving average (MA) in the one-day price chart is $452.44.
The short-term trending line is also moving descendingly; a further indication of a downtrend. The upper and lower Bollinger band values have been altered due to the shift in trends as well, as now the upper value is $503 and the lower value is $338. The Relative Strength Index (RSI) score has moved down to 51 as well.
Kusama price analysis: Price takes bullish turn hinting at further recovery
The four hours Kusama price analysis is showing slightly positive results for the cryptocurrency. The price has increased in the last four hours and has returned to its former height i.e. $418.45. The bearish trend had been at its peak during the past few hours, but the last four hours have proved encouraging for the buyers. The moving average value is standing at $433 whereas the Bollinger bands average is at $442.3.
The SMA 50 curve is still traveling higher than the SMA 20 curve as the dominating trend has been bearish. The upper Bollinger band is now touching the $472.05 position whereas the lower Bollinger band is at $412.5. The improvement in price has increased the RSI score to 38.31.
The overall indication regarding the price trends is towards the neutral side, as the number of indicators on the selling and buying sides are balancing each other out. We can see 10 indicators standing on the neutral position, while eight indicators each are present on the selling as well as buying position.
The moving averages indicator is displaying slightly encouraging results for the cryptocurrency. There is a buying signal with eight indicators at the buying level, six indicators at the selling level, and only one indicator at the neutral level. The Oscillators, on the other hand, are showing a negative trend as there are two indicators on selling position, nine indicators on neutral position, and zero indicators on buying position.
Kusama price analysis conclusion
The one-day and four hours Kusama price analysis is confirming that a downtrend has been dominating the market since the past week. The same trend has continued for today as well, as the price has been devalued to $418. Although the four hours price chart is giving a positive hint, the overall market trends have been bearish.