Shiba Inu to get listed on Kraken Before Robinhood, Here's How it Can Impact $SHIB Price

Shiba Inu ($SHIB) is currently consolidating in the $0.00007-$0.000075 range, looking for another catalyst to rediscover the next bull rally. Many believe a Robinhood listing could the much-needed catalyst for Shiba Inu to rise to new all-time highs (ATH). Although there is no confirmation from the fintech trading app, another prominent crypto exchange has decided to list $SHIB amid its rising popularity. Kraken posted a tweet claiming if the post gets over 2K likes they would list $SHIB token
🐶♥️🐶♥️🐶♥️🐶♥️🐶@brianchoffman said if we get 2,000 likes we will list $SHIB tomorrow – but he doesn't think we can do it.#SHIBArmy where you at?

👇 👇 👇
💬 🔁 ♥️— Kraken Exchange (@krakenfx) November 1, 2021
The tweet has garnered over 57K likes since it was posted more than 50K ahead of the required number of likes for the listing. However, the tweet was more of a marketing gimmick as the exchange as a 2K-like target was more than achievable given Shiba Inu's strong social media hold. The exchange already gave other subtle hints earlier. Not just Kraken, even Binance announced a direct $SHIB/$DOGE pair to help traders easily move their money between the two meme currencies.
Everyone asks wen $SHIB but nobody ever asks how's Shib 😓 pic.twitter.com/Bg0P5yiTYm— Kraken Exchange (@krakenfx) November 1, 2021
Shiba Inu became the ninth-largest cryptocurrency by market cap in October as it was among the biggest gainers, rising nearly 1,000% to eliminate a zero from its price. The mammoth rise came despite Elon Musk revealing he doesn't hold any $SHIB and a massive dump of 31.04 billion tokens. Both these factors which otherwise would have tanked a meme token had little to no impact as $SHIB price as it overcame the price slumps within hours.
Will Shiba Inu ($SHIB) Surge Post Kraken Listing?
Shiba Inu is relatively a new token in the crypto market as it came into existence in 2020 and became popular only after Dogecoin's mammoth rise in the first quarter of 2021. Being a meme currency, the price does respond to market news and a Kraken listing will definitely give it momentum as new traders join in from the crypto exchange.
$SHIB is currently trading at $0.00007038 with a 1% decline over the past 24-hours, however, its weekly gains still stand above 50%, thanks to its mammoth rise last week.
Shiba Inu price edges closer to another 50% upswing
Shiba Inu price has dropped 18% into a high probability reversal zone, hinting at a new leg-up.
Investors can expect SHIB to shatter intermediate resistance levels and tag the $0.0000625 resistance level.
A breakdown of the $0.0000362 support will invalidate the bullish thesis.
Shiba Inu price looks ready for a reversal as it enters a crucial support area that is likely to trigger a massive uptrend. This move has a high chance of occurrence as it allows sidelined buyers who missed the initial run-up to get in on the next leg-up.
Shiba Inu price prepares for liftoff
Shiba Inu price rose 50% in under two days as it triggered an upswing on November 28. This rally set up a swing high at $0.0000543 and has dropped 23% to where it currently trades – $0.0000422.
Interestingly, SHIB has entered the high probability reversal zone, extending from $0.0000400 to $0.0000431. This is an oversold area that is likely to trigger an inflow of buying pressure from investors that missed the initial spike in price.
Therefore, market participants can expect Shiba Inu price to reverse its downtrend soon. The resulting uptrend will take a jab at the range high at $0.0000543 and attempt to move higher. In this case, SHIB will revisit the $0.0000579 and $0.0000625 resistance barriers.
In total, this run-up from $0.0000415 would indicate a 50% gain for Shiba Inu price.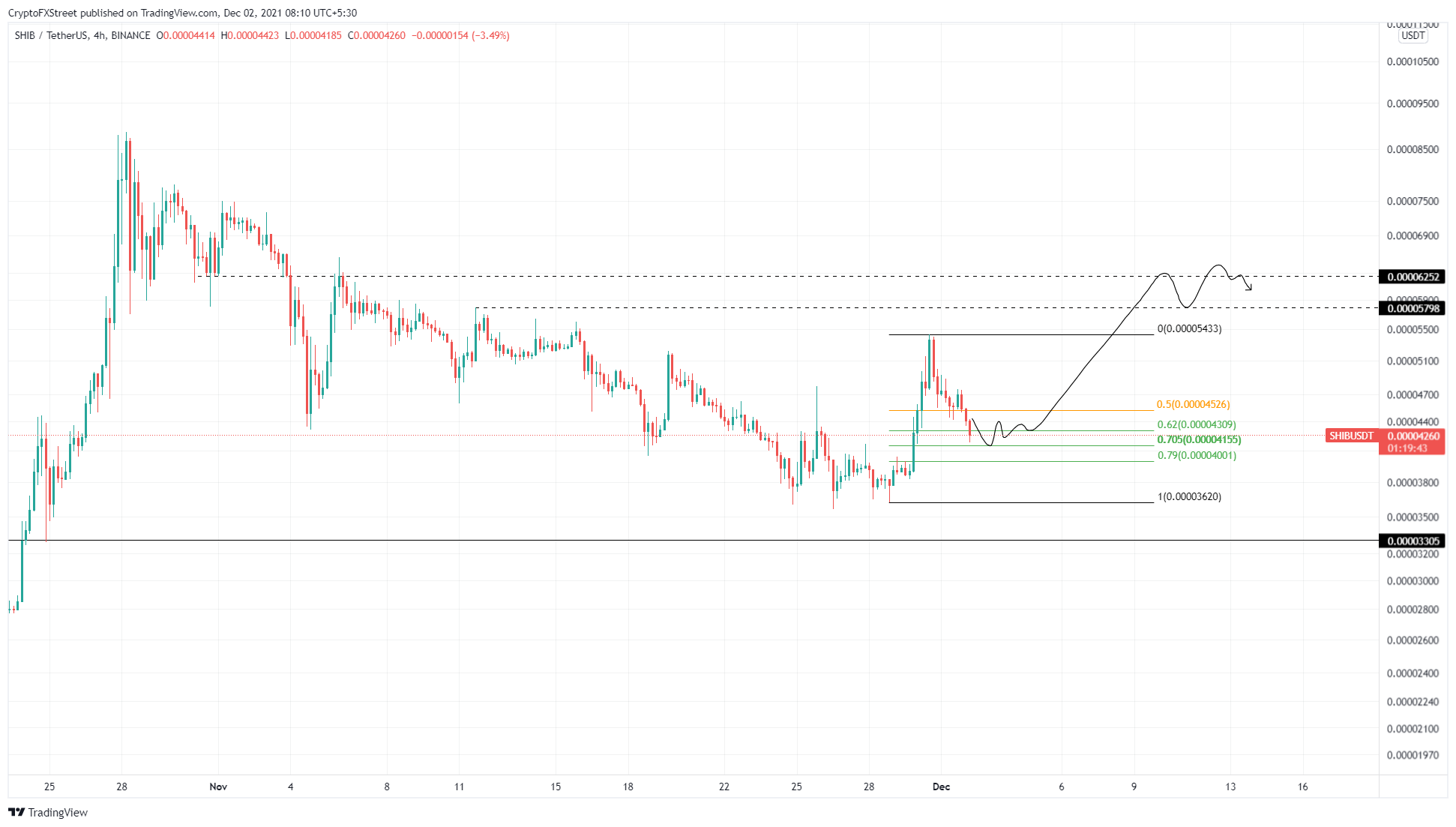 SHIB/USDT 4-hour chart
While things are looking gloomy at the moment, investors can expect a decent bounce from Shiba Inu price soon. A failure to do so could result in a breakdown of the 79% Fibonacci retracement level at $0.0000400 and a revisit of the range low at $0.0000362.
A daily close below this level will create a lower low and invalidate the bullish thesis. In such a case, Shiba Inu price could tag the $0.0000330 support level.
Healthcare Company Adds Shiba Inu to Its Balance Sheet
A Toronto-based healthcare company now holds Shiba Inu on its balance sheet.
Ask The Doctor, a Canadian online healthcare company, has added $1.5 million worth of Shiba Inu to its balance sheet, according to an announcement posted on its Twitter account.
Kraken facilitated the seven-figure buy. As reported by U.Today, Shiba Inu started trading on the San Francisco-based cryptocurrency exchange on Tuesday.
Ask The Doctor has added ~$1.5M USD (approx 31B $shib) to our balance sheet via Kraken.

We are 72 hours away from accepting #SHIB with our healthcare partners. pic.twitter.com/NHG17druCh— Ask The Doctor ® 🇺🇸🇨🇦 (@askthedr) December 1, 2021
The medical information website will also begin accepting the meme cryptocurrency with its healthcare partners within the next three days.

It already allows clients to pay with Dogecoin for certain services in the U.S. and Canada.   

The Toronto-based company was launched in 2010, allowing its clients to connect with medical professionals via text messages or video streaming. Notably, its list of co-founders includes former NBA player Israel Idonije and former NBA star Dikembe Mutombo.
In 2016, Ask The Doctor started accepting Bitcoin payments, becoming the first healthcare company around the globe to embrace crypto.
The reason for adding the new payment option was to offer customers who share sensitive medical data more privacy.
Shiba Inu Coming to Brazil's Largest Crypto Exchange
BBrazil's Mercado Bitcoin is set to add support for Shiba Inu on the first day of December.
Mercado Bitcoin, the largest cryptocurrency exchange in Brazil, has announced that Shiba Inu will become available for trading starting from Dec. 1.
The token is yet to be added to the trading platform at the time of writing.
The announcement was accompanied by a video of a Shiba Inu dog in military gear.
Uma das moedas que mais valorizaram em 2021 e que acumula um verdadeiro exército de seguidores💪😮

É isso aí! Amanhã, $SHIBA estará disponível no MB, com um histórico de valorização de mais de 18000%, até agora neste ano.

🚨 01/12 #shibarmy @shibtoken #shibainu pic.twitter.com/24HuhiBymA— Mercado Bitcoin (@MercadoBitcoin) November 30, 2021
After listing SHIB, Mercado Bitcoin will also add support for Cosmos (ATOM), Polkadot (DOT) and Loopring (LRC) later this week.
2TM, the parent company of the number one exchange in Latin America, raised another $50.3 million in late November. This occurred just months after raking in $200 million in July during a Series B investment round spearheaded by Japanese conglomerate SoftBank.
Last month, Korbit became the first cryptocurrency exchange to list Shiba Inu in South Korea.
Kraken, one of the world's top exchanges, also added support for the top token earlier this week.