Bitcoin whales set 2021 record after snapping up 142,000 BTC as digital gold narrative takes root
Bitcoin whales snapped up 142,000 coins in the past week and are now at an all-time high in BTC ownership, a report has revealed.
With inflation fears rising, Bitcoin as digital gold and an inflation hedge seems to be taking root.
---
Bitcoin has recently set a new all-time high, and even though it retraced slightly, this didn't seem to move whales at all. In fact, according to a new report, they have added to their stashes to set a new all-time record. The report by Chainalysis shows that whales gobbled up 142,000 coins in the past week even as Bitcoin being digital gold continues to take root.
The Chainalysis Market Intel report revealed that whales, which are addresses that hold at least 1,000 BTC ($62.5 million), now hold more BTC than they have in all of 2021. In February, they set a record at 185,000 BTC but they sold towards the start of the May bull market. In the week of October 25, they added 142,000 BTC to now hold over 200,000 BTC.
Chainalysis notes, "So investment seems to be the use case for bitcoin beyond trading. This has been clear for some time, and is a confirmation of the view that bitcoin is seen as digital gold."
Bitcoin as a hedge against inflation
Inflation has been one of the biggest topics in recent days, especially in the U.S. Some like tech investing guru Peter Thiel blame the Federal Reserve's reckless policies for inflation, claiming we face a global crisis.
In the U.S, consumer prices have shot up by 5.4 percent in September from a year prior. That's the highest level since the economic disaster of 2008.
Bitcoin has emerged as one of the best hedges against inflation.
According to America's largest bank JPMorgan, gold is slowly losing its appeal to investors who are now turning to BTC. This year, investors have pulled $10 billion from gold and put most of it in Bitcoin. The bank stated in a recent note:
We believe the perception of bitcoin as a better inflation hedge than gold is the main reason for the current upswing, triggering a shift away from gold ETFs into bitcoin funds since September.
Even in India, which is one of the world's biggest gold markets, Bitcoin is winning. According to Bloomberg, households in India hold more than 25,000 tonnes in gold, one of the highest reserves globally. However, since April last year, investment in cryptocurrencies has shot up from about $900 million to $6.6 billion according to Chainalysis.
While the race is on with gold, Bitcoin won its battle against fiat currency years ago. The printing of money at the face of the COVID-19 pandemic has further entrenched people's skepticism against fiat and made BTC even more appealing.
Mati Greenspan, the founder of Quantum Economics and former eToro executive summed it up, "Government-backed fiat money is intentionally designed to lose value over time in order to promote consumerism. Bitcoin, on the other hand, was created as a deflationary asset, which is intended to rise in value over time."
Whales dominate DEXs as high Ethereum fees keep retail investors at bay
Decentralized finance (DeFi) came into existence to democratize finance, much like the internet made content accessible to everyone.
However, according to digital assets data provider Kaiko, the adoption of decentralized exchanges (DEXs) that facilitate peer-to-peer transactions without an intermediary, remains restricted mainly to large traders or whales.
"Average trade sizes have increased on all DEXs over the past few months while the actual number of trades has stayed flat, which suggests that the profile of the average trader now skews more whale," Kaiko said in a weekly research note published on Monday.
The average trade size on Curve Finance ranges from $500,000 to $1 million, while deals on other prominent DEXs like Uniswap V3, Uniswap V2, SushiSwap, and Balancer V1 average between $10,000 – $20,000. That's nearly ten times larger than the average trade size of $2,000 – $4,000 seen on centralized exchanges (CEXs).
However, daily trade count on CEXs tallies into millions while major DEXs process less than 50,000 deals per day, with Curve and Balancer V1 averaging less than 1,000 traders per day.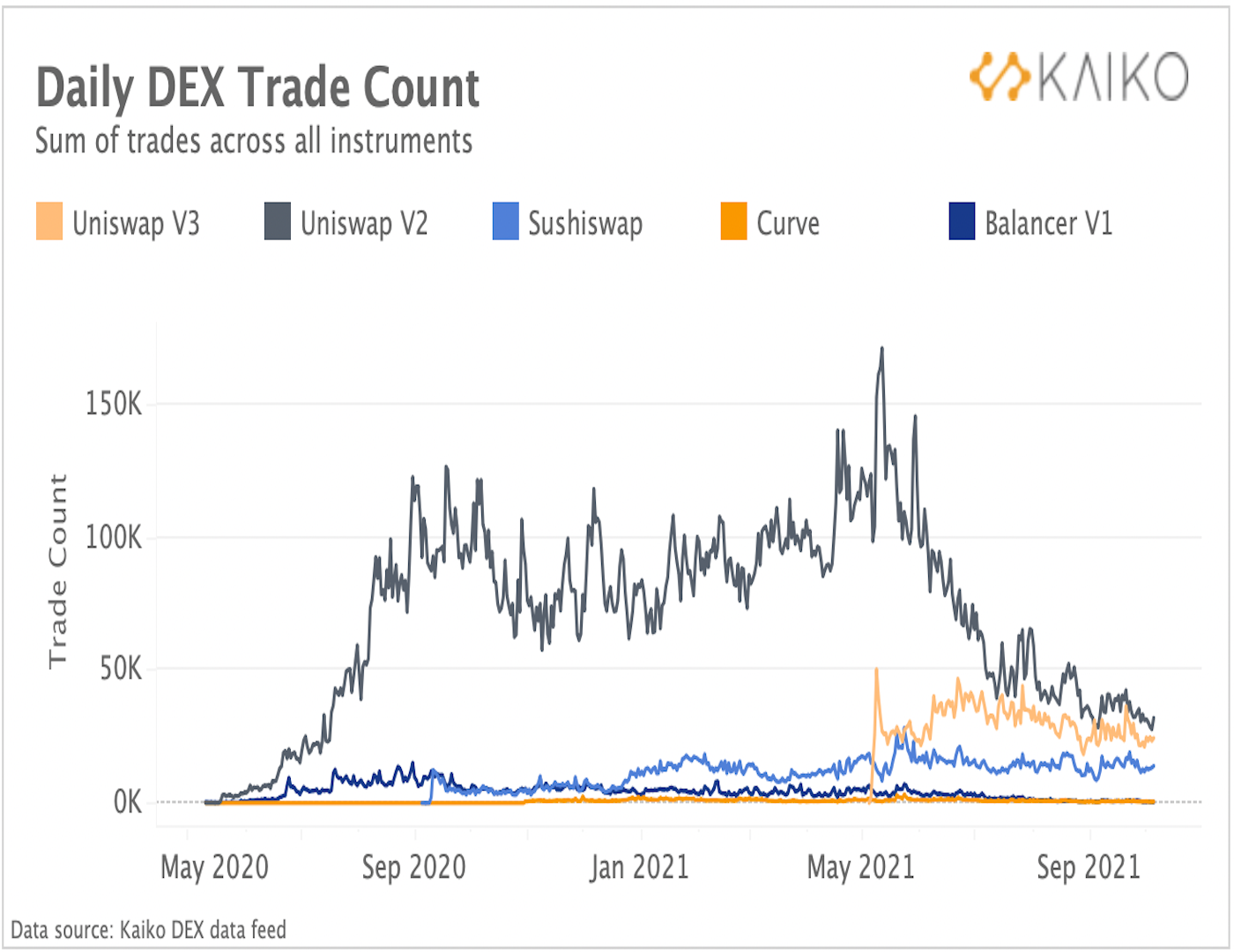 Kaiko analysts attributed whale dominance to high transaction costs on , the world's largest smart contract blockchain.
"The large trades are likely due to Ethereum's high transaction fees, which prevents more retail traders from using DEXs," Kaiko's weekly research note said. "Every trader on a DEX must pay Ethereum transaction fees for each trade, which frequently surpass $100 due to congestion and scalability issues."
According to blockchain analytics firm Chainalysis, DeFi's growing popularity in wealthier countries is the main reason for DEXs processing much larger transactions than centralized platforms.
While several smart contract platforms facilitating cheaper and faster transactions like Binance Chain, Solana, Polkadot, Avalanche have emerged over the past 12 months, Ethereum still leads the pack.
Whales Drop SHIB Holdings, Moving Their Funds into USDT
Whales are dropping Shib and other tokens to "tether out"
The correction on the cryptocurrency market concerns all types of investors, including whale-tier traders and holders that are also losing money when the market drops by another 5-10%. In cases like this, investors redistribute their funds and "tether out," leaving their tokens behind.
According to the WhaleStat service, Shiba Inu has now reached 18% of the total Erc-20 holdings of the 1,000 biggest Ethereum wallets on the network. Previously, more than 22% of all holdings on large wallets were Shiba Inu tokens. For now, that number has declined by approximately 4% and totaled 18%.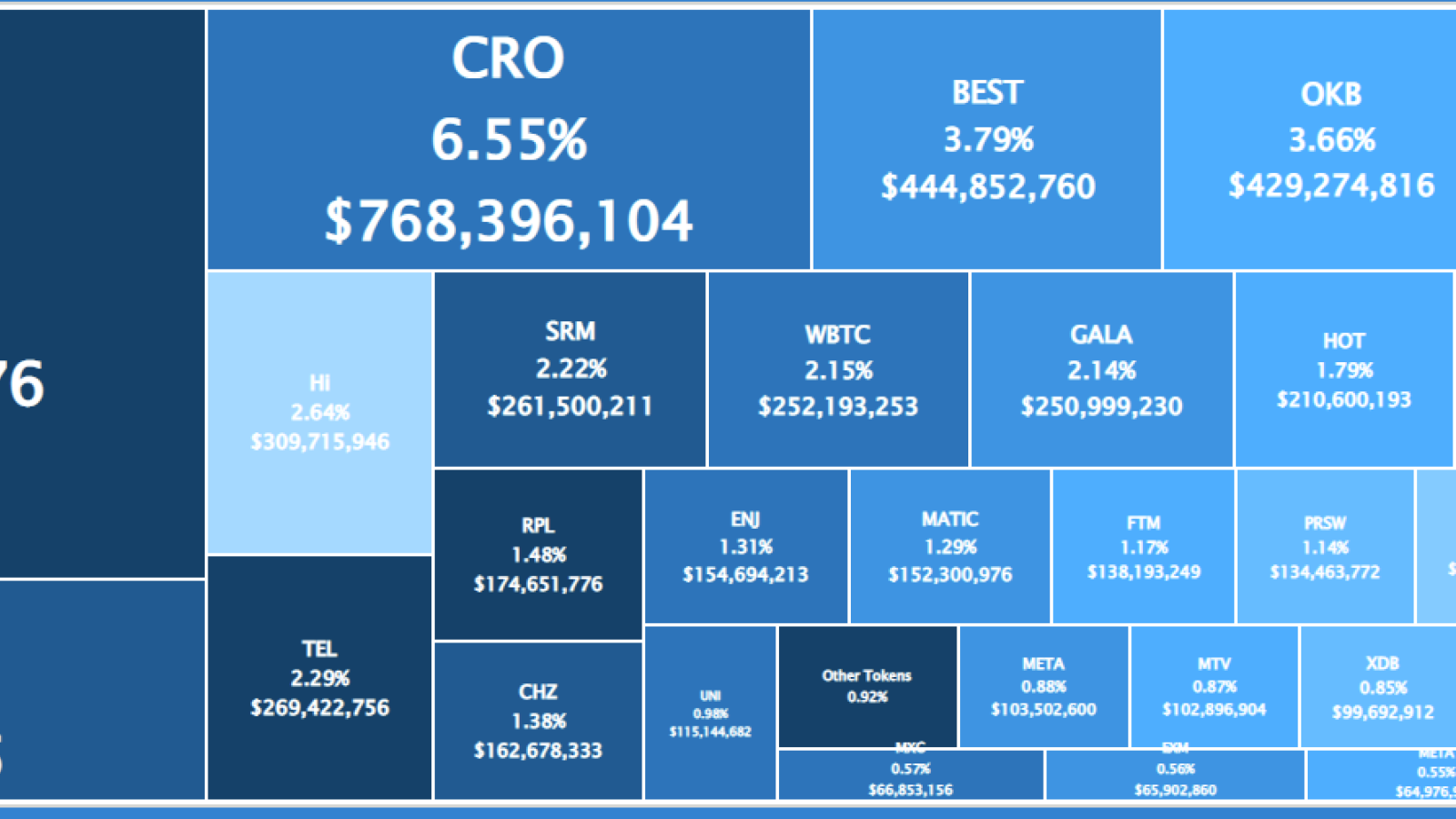 Whales have also gone through a trading direction shift and have now focused on trading different altcoins like Chainlink or BitPanda token. But at the same time, more than 7% of whales' funds went into "fiat" in order to hedge from the continuous correction happening on the cryptocurrency market.
The most popular token among whales is currently the Elon meme-currency, which received the most buying power in the last 24 hours. The biggest position in the USD value still remains the Shiba Inu token that has for now lost around 50% of its value from the ATH.
The closest non-fiat SHIB competitor is the CRO token, with 6.5% dominance among the largest Ethereum whales. But at the same time, the most-purchased token after USDT and Ethereum among whales was the GALA token, with $47,000 of the average purchase amount.
At press time, Shiba Inu is being traded at $0.00004497 while gaining 2% in the last 24 hours. Previously, the doge-based token lost 7.7% in the last two days after spiking for 22% on Nov. 19.
The Bitcoin Whale Who Seems to Ace the Market Top and Bottom Has Accumulated 4K BTC

The cryptocurrency market is down nearly 20% from its top in October as the overall market cap slumped from $3 trillion to $2.53 trillion. Barring a few tokens, especially metaverse tokens and gaming tokens defied market trends. However, top cryptocurrencies be it Bitcoin (BTC) or Ether (ETH) all were trading in red.
The ongoing market correction has also instilled fear among Bitcoininvestors who were hopeful of a bullish final quarter after the May-June market crash. The fear and greed index which was at "Extreme Greed" level at the start of the month has sharply fallen in the "Fear" catogery.
The current market downturn is being attributed to the recent approval of the controversial Infrastucture bill and another wave of crypto crackdown in China. Amid growing fear in the crypto market, one Bitcoin whale has managed to attract a lot attraction over the past couple of weeks. The whale in question is believed to be have aced crypto market tops and bottoms in the past with their buying and selling pattern. The same BTC whale has accumulated over 4,000 BTC over the past week, which is a highly bullish sign.
Feeling bearish as we are on support before weekly close?

The single biggest non-exchange Bitcoin wallet added over 4k BTC during this dip.

And he has a good track record of nailing local tops & bottoms.

Whoever that is, they know what are they doing.

Do you? pic.twitter.com/Ug5DT5b10m— Bloodgood (@bloodgoodBTC) November 19, 2021
Bitcoin Whale in Possesion of Biggest Non-Exchange BTC Wallet
The Bitcoin whale is in possession of the biggest non-exchange Bitcoin wallet and has been on a buying spree during the current market correction. Tracking whale activity has been one of the biggest market tend indicator, and looking at the growing accumulation along with their past record many market pundits belive traders should be following on the same footsteps instead of panicking.
Bitcoin is currently trading just above $57K with a 3% loss over the past 24-hours and over 10% loss in the past week. The market volatility has come back to haunt the crypto market again, however, people need to realise that the same volatility often helped them to make 10X on their investment in just couple of months.