Ethereum Hits New All-Time High Above $4,600 as CME Announced Micro ETH Futures
Ethereum prices have soared to new peaks during the Wednesday morning Asian trading session shortly after CME launched Micro ETH Futures.
Ethereum prices have hit an all-time high of $4,635 during the Asian trading session on Wednesday morning, according to CoinGecko.
The world's largest smart contract network has built on weekly momentum to tap the new peak and notch up a 6% gain on the day. Over the past seven days, ETH has added 10%, and it is up 34% over the past month. At the time of writing, Ethereum prices had cooled off to trade at $4,580.
PrimeXBT partner "₿yzantinΞ General" commented that there probably wouldn't be many tokens that outperform ETH over the next couple of months.
$ETH making new all time highs while funding rates are low, meanwhile the rest of the market has very high rates.

I think the most important question right now is "what's going to outperform ETH next couple months?".

And the answer is probably: "not much". pic.twitter.com/CAQCrunEwI— ₿yzantinΞ General (@ByzGeneral) November 3, 2021
Ethereum Fundamentals
The popular analyst believes Bitcoin could tap a new ATH first and suck liquidity from the rest of the market as has occurred in previous market cycles. But the momentum is currently with Ethereum as many new participants are being onboarded into DeFi and NFTs.
He added that there are two ways this market pumps, either BTC or ETH drags the rest of the market up.
"Right now it's basically a tech (ETH) versus money (BTC) argument. I'm not saying tech is worth more, I'm just saying the market values the tech more at this point in time."
Ethereum reserves on exchanges have dropped more than Bitcoin recently. This suggests investors are hodling ETH and using it to generate yields in DeFi. Naturally, there were plenty of arguments to his sentiment, with others stating that rival Blockchain tokens such as SOL, AVAX, DOT, and RUNE will outperform ETH.
As reported by CryptoPotato, the Ethereum network settled a record $536 billion during Q3, 2021.
Deflationary Economics
Ethereum's monetary economic model is also likely to keep prices rising. Over the past week or so, Ethereum issuance has actually been deflationary because more has been burnt by EIP-1559 than has been mined.
According to the Ultrasound.Money fee burning tracker, 741,000 ETH, has been destroyed since early August. At current prices, this is equivalent to $3.4 billion going up in smoke. At current burn rates, the Ethereum network destroys 15,000 ETH, or $68.7 million, every day.
When central banks are still printing and devaluing fiat currencies, a deflationary one based on technology becomes very attractive.
CME Launched Micro ETH Futures?
The most recent price pump came shortly after the Chicago Mercantile Exchange announced a new ETH initiative. According to a press release from PR Newswire, Micro Ether futures are sized at a mere tenth of the asset's size. However, they still retain the features and benefits of CME's existing Ether futures.
The product comes months after CME's launch of Micro Bitcoin futures, which are respectively sized at one-tenth the size of BTC. Over 2.7 million of those contracts have been traded since being launched in May. Meanwhile, Ether futures have traded 675 000 contracts since launch, amounting to about 33.8 million ETH.
Both Micro Ether and Micro Bitcoin Futures allow organizations to fine-tune their trading for each cryptocurrency. As both Ether and Bitcoin have recently reached all-time highs, trading each at full value can be rather imprecise.
Tim McCourt – CME Group Global Head of Equity Index and Alternative Investment Products.– recognizes why this makes Micro Ether futures necessary.
"Since the launch of Ether futures in February, we have seen steady growth in liquidity in these contracts, especially among institutional traders. At the same time, the price of ether has more than doubled since these contracts were introduced, creating demand for a micro-sized contract to make this market even more accessible to a broader range of participants."
Micro Ether Futures will be cash-settled, as determined by the CME CF Ether-Dollar Reference Rate, which adjusts daily.
EIP-4490, EIP-4488 can help lower transaction fees on Ethereum and more, but…
While most people might be busy with holiday shopping, Ethereum core developers are also seeing a packed schedule as the Merge nears. With updates to be announced and proposals to be discussed, Ethereum developer Tim Beiko shared a thread summarizing the events of the most recent All Core Devs meeting.
Do you 'node', what's going on?
Naturally, the Merge was on everyone's minds and Beiko reminded the community that the second and third devnets would be taking place the following week, with a last devnet on 14 December.
Next, Beiko admitted that fees were high not just on the Ethereum mainnet, but also when using rollups. He spoke about two solutions – EIP-4490 and EIP-4488. Both proposed reducing calldata costs to reduce transaction fees. However, participants were reportedly divided as to whether this should happen before or after the merge.
Beiko explained,
"Also, the amount of work here is fairly small: change a gas price, add a validity check and (hardest!) implement a new txn pool sorting algorithm."
He added,
"If we do want to ship this before the merge, though, we need to act fast: the fork would have to hit mainnet in February at the latest, and we only have one more ACD [All Core Devs meet] before the end of this year!"
What's more, Beiko suggested that client prototypes might come during the next two weeks.
Not just a case of "Ether" this or that
Beiko summarized some other problems that the developers discussed during the meet. One major challenge was to make Ethereum sustainable in the long term. For this, Beiko said there were conversations about EIP-4444, which is meant to deal with Ethereum's historical data and the storage issues caused by the same.
Beiko also reminded users about the Arrow Glacier upgrade around 8 December, which would push back the difficulty bomb.
Running out of space
Notably, historical data from past blocks on the Ethereum chain are growing, and validators reportedly have been forced to use bigger and bigger hard disks. In a Reddit AMA, Vitalik Buterin admitted he faced the same problem. While introducing historical expiry, he said,
"…instead of all full nodes having to download and serve the full chain from genesis, and needing to have ever-increasing technical complexity to deal with both old and new versions, the core Ethereum protocol would only be responsible for holding and serving the most recent ~1 year of historical blocks, transactions and receipts/logs."
Vitalik Buterin proposes calldata limit per block to lower ETH gas costs
Ethereum co-founder Vitalik Buterin has proposed a new limit on the total transaction calldata in a block to decrease the overall transaction calldata gas cost over the ETH network. 
Buterin's post on the Ethereum Magicians forum, EIP-4488, highlights concerns regarding high transaction fees on layer-one blockchains for rollups and the considerable amount of time to implement and deploy data sharding:
"Hence, a short-term solution to further cut costs for rollups and to incentivize an ecosystem-wide transition to a rollup-centric Ethereum is desired."
While the entrepreneur cited an alternative wherein the gas costs parameters could be decreased without further adding a limit to the block size, he foresees a security concern in decreasing the calldata gas cost from 16 to 3:
"[This] would increase the maximum block size to 10M bytes and push the Ethereum p2p networking layer to unprecedented levels of strain and risk breaking the network."
Some think layer 2 fees on ETH are too high, because each byte of data a rollup uses cost 16 gas. To lower fees, the gas cost could be reduced to 3. This should be a large benefit, with 5x lower fees. However, in the long term, this may mean blocksize is a new network constraint pic.twitter.com/ffbTQ4zXOz— BitMEX Research (@BitMEXResearch) November 26, 2021
Buterin issued a decrease-cost-and-cap proposal, which aims to achieve the goal of reducing unprecedented levels of strain and risk breaking the network, and believes that "1.5 MB will be sufficient while preventing most of the security risk." As for advice to the Ethereum community, he wrote:
"It's worth rethinking the historical opposition to multi-dimensional resource limits and considering them as a pragmatic way to simultaneously achieve moderate scalability gains while retaining security."
If accepted, the implementation of the proposal will require a scheduled network upgrade, resulting in a backward-incompatible gas repricing for the Ethereum ecosystem. This upgrade will also mean that miners will have to comply with a new rule that prevents the addition of new transactions into a block when the total calldata size reaches the maximum. "A worst-case scenario would be a theoretical long-run maximum of ~1,262,861 bytes per 12 sec slot, or ~3.0 TB per year," the proposal read.
However, the community is discussing other options like the implementation of a soft limit. Others raised concerns about the congestion during nonfungible token (NFT) sales, which may require users to compensate for the lack of execution gas by paying a higher total fee.
Rising gas fees have resulted in an outflow of users from the Ethereum network to lower the cost of Ethereum Virtual Machine-compatible networks.
As Cointelegraph reported on Nov. 4, Etherscan data shows that approving a token to be transacted on Uniswap decentralized finance protocol can cost as much as $50 worth in Ether (ETH).
Additionally, layer-two solutions, which were billed as the protocols that would help solve the fee issue, have been charging high fees due to network congestion amid the onboarding of new users.
isnt arbitrum supposed to be cheap lol what a joke pic.twitter.com/v839tZ4nch— satsdart 🔺 (@satsdart) November 2, 2021
Ethereum price could easily double as ETH long term outlook screams bullish
Ethereum price has formed a chart pattern on the weekly chart that indicates an optimistic outlook of a 97% ascent.
ETH must clear a few critical resistances before the bullish forecast could be validated.
Holding above $3,917 is crucial for the token's rise toward $10,000.
Ethereum price continues to consolidate and discover reliable support above $4,000. ETH appears to be preparing for a massive bull run, as a technical pattern suggests that the second-largest cryptocurrency by market capitalization is looking to double its value in the longer term.
Ethereum price eyes $10,000
Ethereum price has printed a bull pennant pattern on the weekly chart, suggesting that ETH is eyeing higher prices. The prevailing chart pattern suggests that if the token slices above the upper boundary at $5,252, a 97% ascent toward $10,418 is on the radar.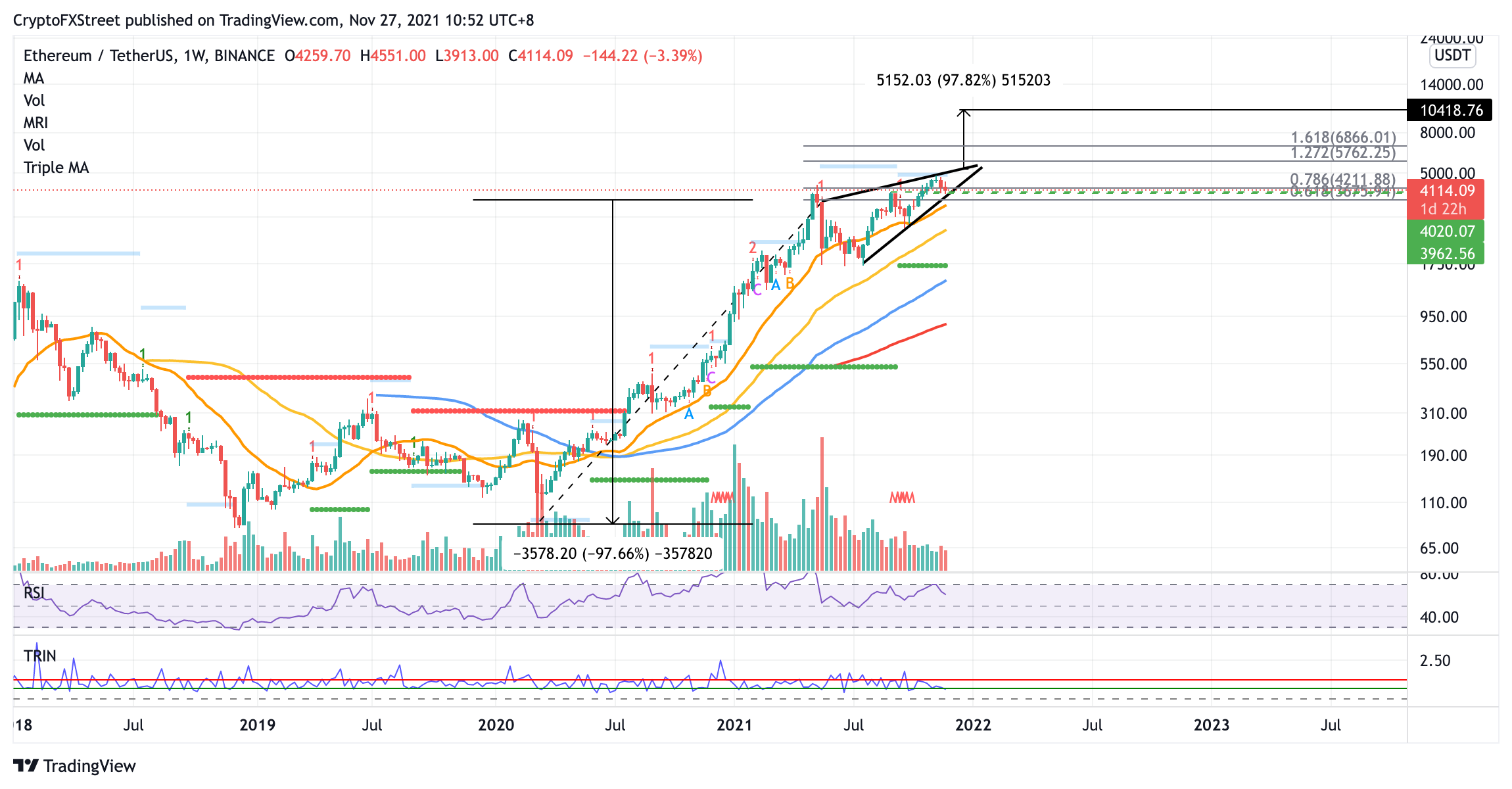 ETH/USDT weekly chart
The first area of resistance for Ethereum price appears to be at $4,211, where the 50-day Simple Moving Average (SMA) and the 78.6% Fibonacci retracement level coincide. Additional resistance will emerge at the 21-day SMA at $4,421. 
The token's all-time high at $4,884 will then act as an additional obstacle for Ethereum price, but slicing above this level could unravel further bullish intentions for ETH.
If Ethereum price manages to break above the aforementioned resistances, ETH may target the last remaining obstacle before the bullish outlook is validated, at the upper boundary of the bull pennant at $5,252. The 97% climb toward $10,418 would then be on the radar, but the token would be confronted by several hurdles, including the 127.2% Fibonacci retracement level at $5,762, then at the 161.8% Fibonacci retracement level at $6,866.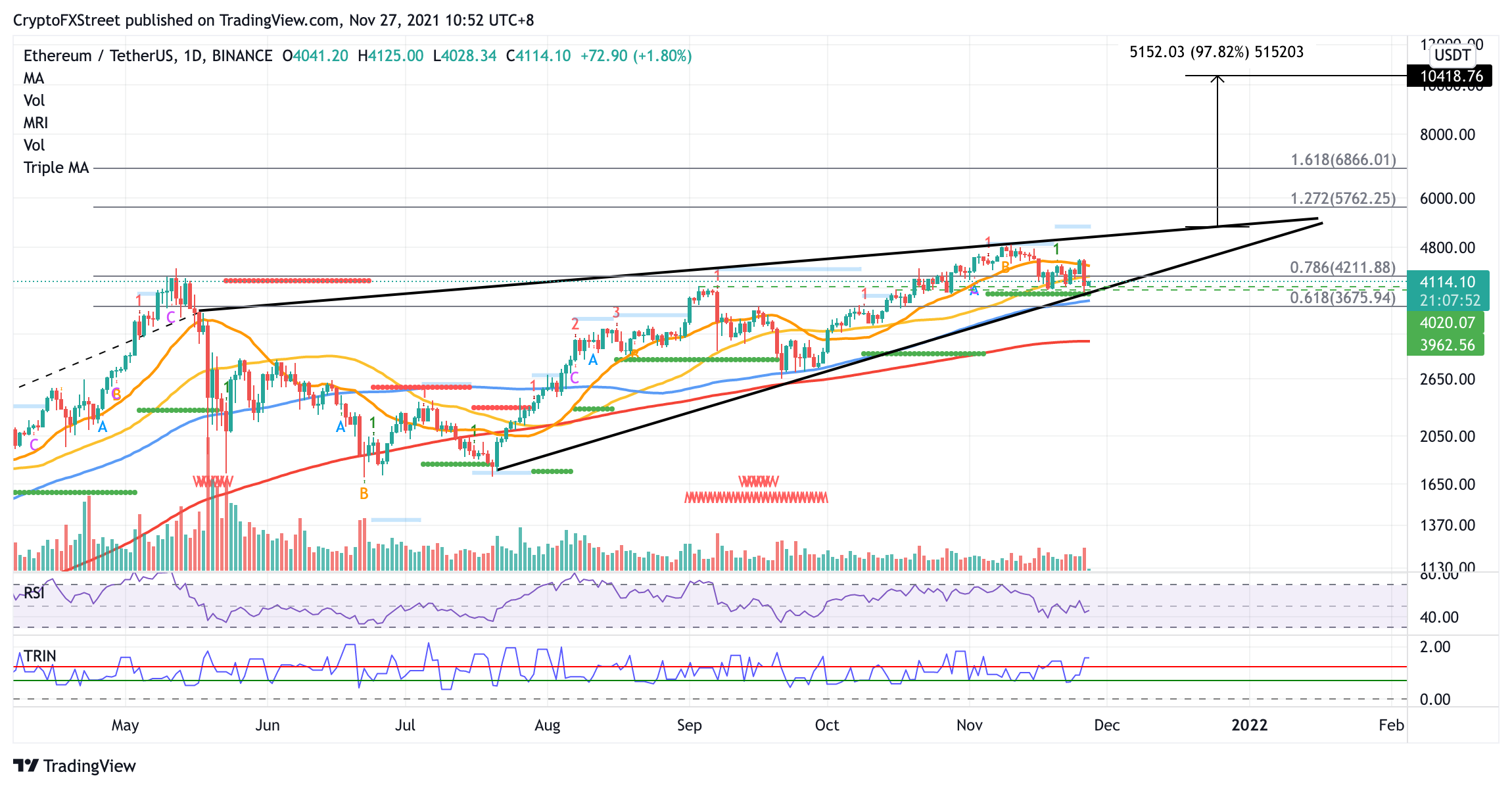 ETH/USDT daily chart
However, if Ethereum price faces profit-taking, ETH would discover the first line of defense at the September 3 high at $4,020, then at the October 16 high at $3,962. The lower boundary of the governing technical pattern at $3,917, coinciding with the support line given by the Momentum Reversal Indicator (MRI).
Investors should note that if Ethereum price slices below the aforementioned foothold, the bullish thesis may be invalidated and ETH could continue to slide lower, as it searches for reliable support at the 100-day SMA at $3,762, then at the 61.8% Fibonacci retracement level at $3,675.