XRP Price to Break out of the Rut! 80% Upswing Predicted
October was a relatively dull month for the Ripple price. XRP went nowhere as Bitcoin, Ethereum, and meme coins like Shiba Inu and Dogecoin skyrocketed. The price of XRP climbed to a high of $1.2285 before plummeting by more than 22% to $0.9470. It is now trading at $1.1057, with a market capitalization of more than $51 billion.
For nearly two months, the price of XRP has been consolidating below a critical trend line. However, as Ripple is pinched between critical support levels and resistance hurdles, a breakout appears to be on the horizon.
The next breakout will be interesting to watch since it might signal the start of a rally that could take the market back to 2018 levels.
Over a longer time period, the price of XRP has been forming many bullish patterns, indicating a promising future. Between August 9 and November 2, the remittance token's price activity produced six lower highs and about five higher lows. 
XRP Price Set to Upswing 80%?
A symmetrical triangle design is formed by connecting these swing points with trend lines. As the price of XRP proceeds through this pattern, it becomes increasingly compressed, indicating a significant reduction in volatility. By adding the distance between the initial swing high and swing low to the breakout point, this technical setup predicts an 80% upswing.
The commencement of an uptrend will be confirmed by a decisive closing above $1.137, which coincides with the 50% Fibonacci retracement level. The price of XRP will rise to the supply zone, which ranges from $1.237 to $1.417.
While the initial leg-up is critical, a daily close decisively above $1.417 will set the stage for a run toward $2. The XRP price will retest the 161.8 percent Fibonacci extension mark at $2.324 in a highly bullish scenario, representing a 104 percent increase from $1.137.
While the technicals suggest a daring price target for XRP, the on-chain measures support this assertion with a bullish prognosis.
XRP Whale Moved $20 Million Coins Away from Exchange
XRP whale moves large funds volume in few hours amid global cryptocurrency market correction.
While the trading activity on the market plunges after a 10% correction, some whales have decided to move their XRP holdings away from various exchanges, which is considered a good signal for holders.
The set of similar transactions
According to the blockchain data, the anonymous wallet has moved approximately $20 million worth of XRP coins from Bitstamp exchange to the unknown wallet. The future of those coins remains undisclosed.
The wallet that received approximately 20 million coins is now holding a total of 51 million XRP. Previously, the same wallet moved to Bitstamp the same amount of coins but divided it into two transactions each worth 10 million coins.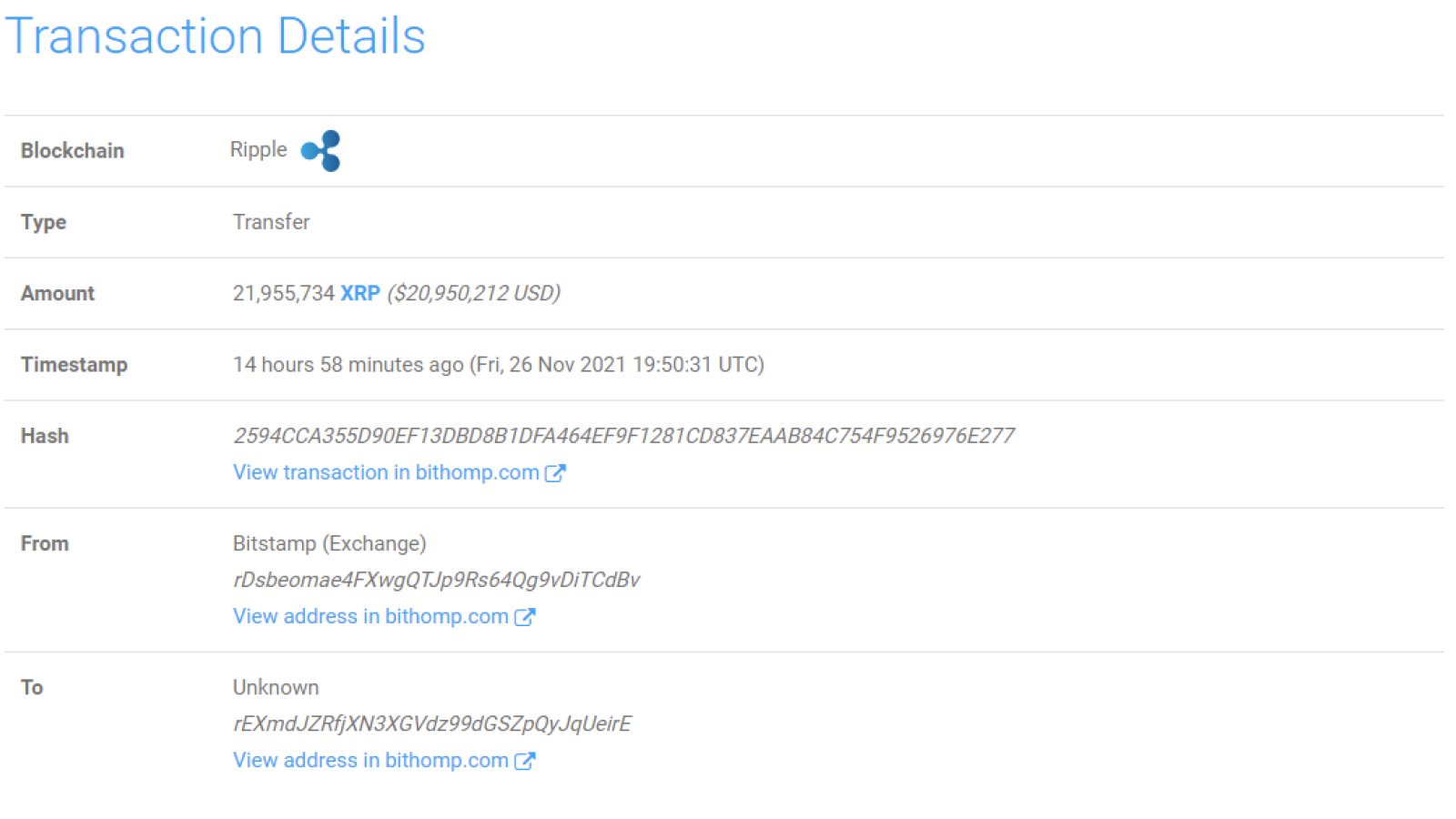 The unknown wallet does seem to move large amounts of funds to the exchange and then withdraw almost the exact same amount of funds back. Some users suggested that the wallets are being used in a mixing scheme, which is considered illegal.
But the more likely outcome is that the wallet is officially tied to the Bitstamp exchange and is being used to either provide liquidity or as an exchange's cold wallet. But at the same time, all wallets that are owned by exchanges should be labeled.
XRP's performance during market dip
In comparison with other market performers, XRP followed the general trend by losing 10% of its value while recovering approximately 2% today. The more unfortunate fact for holders is that Ripple broke the two-month trend by dropping below the $1 mark. At press time, XRP is trading at $0.95.
XRP holds key support while indicators point to short-term recovery
Ripple started a recovery wave above a key support level of $1.024.
XRP price started an upside correction as indicators suggest a short-term recovery.
The coin may initiate a fresh downtrend upon a breakout of the $1.024 support level.
XRP is in the process of forming a triple bottom price pattern boding more upside, for the pair priced against the US dollar., XRP price recently found support at the pattern's base during the formation of the third bottom. Now, Ripple is at a crossroads – a spike in selling pressure may drive a bearish breakout, whilst technical indicators signal a bullish reversal. It all depends on whether or not a critical support level holds.
XRP rejected above the triple bottom at $1
XRP has found support above $1.024 and started a bullish recovery similar to peer altcoins. The XRP price has found footing at the $1.024 level for the third time making it a triple bottom pattern.
If there is increased demand at the current price level it will push the XRP price towards its double top level at $1.108. However, the 20 and 50-period exponential moving averages may act as minor hurdles at $1.076 and $1.108.
The MACD has closed the first histogram above the 0 mark, indicating a bullish reversal. While the RSI is still holding at 44, a crossover above 50 may encourage investors to go long. In that case, the XRP price might spike towards $1.165. Additional gains could lift the price towards the next key hurdles at $1.218 or $1.284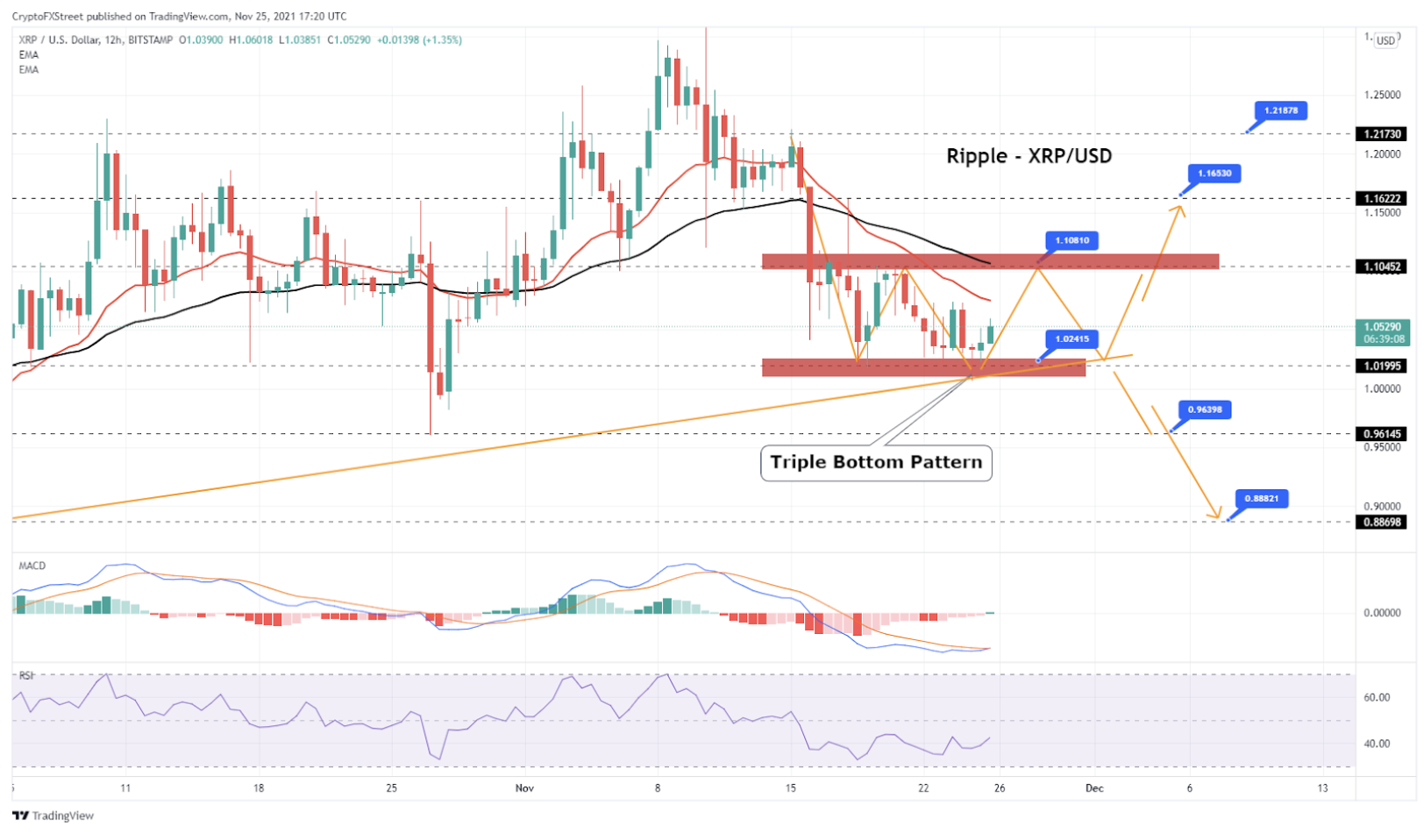 XRP 12-hourly chart – Triple bottom to drive uptrend
If XRP disappoints to start a new spike above the $1.081 level, it could extend losses. Initial support on the downside is near the $1.024 level.
The upward trend that started on September 21 also extends to significant support at the $1.024 mark. Therefore, a break below the $1.024 support level might push the price further down. The next critical support level is near $0.963, below which the price may fall to the $0.888 level.
XRP price consolidates as Ripple bulls eye a 15% run-up
XRP price is hovering above the $1.01 support level, anticipating a potential retest before an upswing originates.
A breakdown of this level could lead to a buy opportunity at $0.98 before Ripple rallies to $1.17.
A daily close below the $0.92 foothold will invalidate the bullish thesis.
XRP price has been on a downtrend for roughly two weeks and shows that a short-term reversal could be near. Market participants need to watch for two immediate support levels that are likely to facilitate this bullish outlook.
XRP price to pull a 180
XRP price has dropped roughly 23% since November 10 to where it currently trades – $1.04. The downswing is likely to retest the $1.01 support floor formed by the November 18 swing low. This will create a triple tap setup, suggesting that a short-term reversal in momentum is likely. 
In this scenario, the XRP price could attempt to retest the 50% retracement level at $1.17. This run-up would constitute a 15% ascent from $1.01.
While this scenario makes sense, a breakdown of the $1.01 support floor will suggest that a further downswing is possible. However, this move does not invalidate the bullish thesis but provides investors with a buy opportunity at $0.98. Investors can expect a bounce off this level to propel XRP price to the same level as before at $1.17. This move would constitute a 19% climb.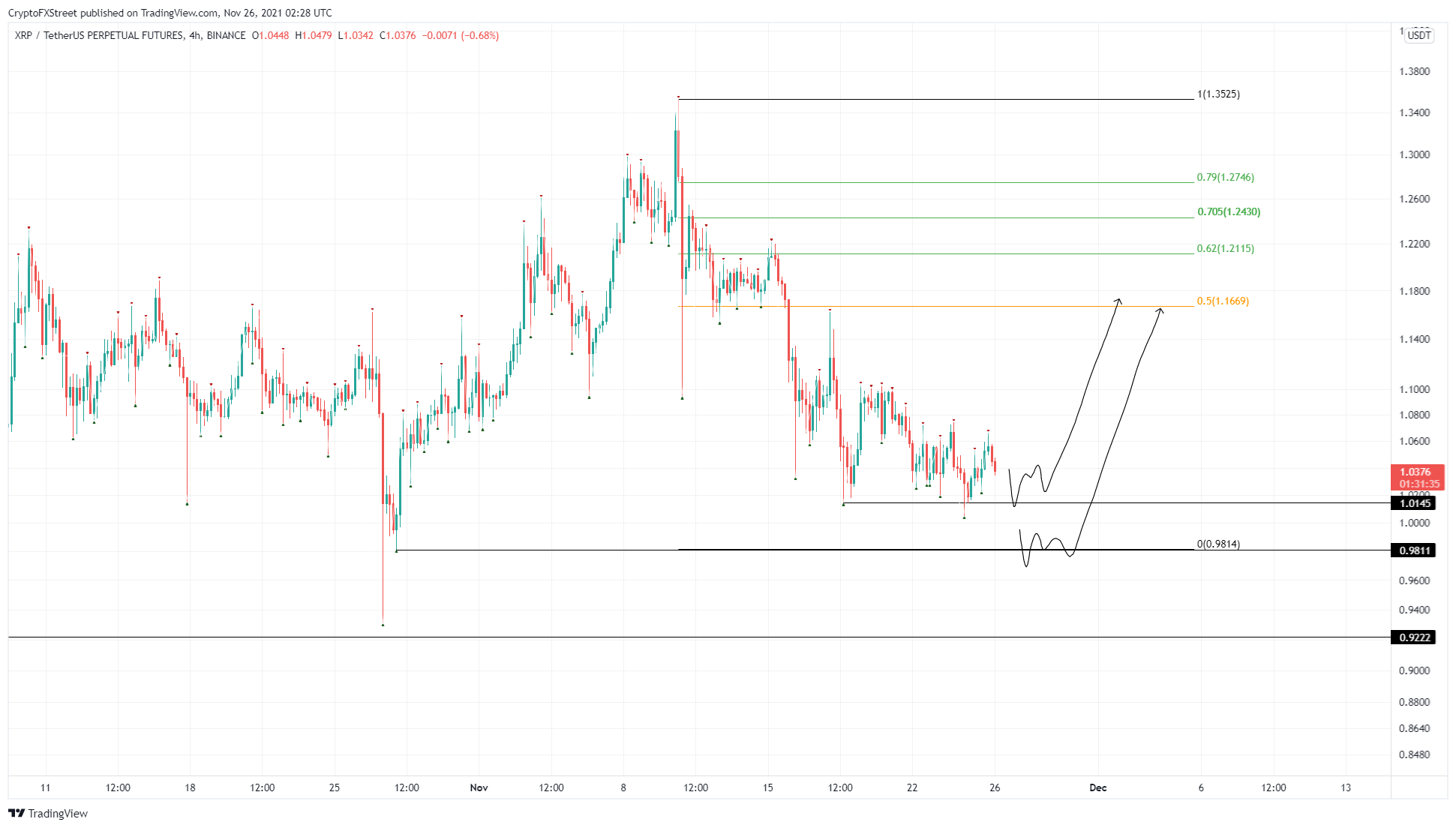 XRP/USDT 4-hour chart
While things are looking up for the remittance token, a breakdown of the $0.98 support level will create a lower low and invalidate the bullish thesis. This move would also suggest a weakness in buying pressure and set the stage for further losses. In this situation, market participants can expect XRP price to drop by about 6% to $0.92.