Ethereum Is Now a Superior Investment to Bitcoin, According to JPMorgan – Here's Why
US banking giant JPMorgan is calling leading smart contract pltform Ethereum (ETH) a better bet than Bitcoin (BTC) this market cycle.
Business Insider reports that analysts from JPMorgan say the Federal Reserve's plans to raise interest rates could pose a big problem for Bitcoin.
On Thursday, the Bank of England said that interest rates would have to rise over the coming months. The Fed reportedly will begin tapering its $120 billion per month spending on bond purchases.
Market strategist Nikolaos Panigirtzoglou says that the downward pressure being put on BTC and typical inflation hedges like gold make ETH a more attractive investment, as its value is primarily derived from its high number of decentralized applications and use cases.
"The rise in bond yields and the eventual normalization of monetary policy is putting downward pressure on Bitcoin as a form of digital gold, the same way higher real yields have been putting downward pressure on traditional gold.
With Ethereum deriving its value from its applications, ranging from DeFi to gaming to NFTs and stablecoins, it appears less susceptible than Bitcoin to higher real yields."
The bank's analysts say that Ethereum could also prove to be the better long-term bet as environmental concerns continue to grow more relevant to investors.
"The greater focus by investors on [environmental, social and governance investing] has shifted attention away from the energy-intensive Bitcoin blockchain to the Ethereum blockchain."
Earlier this week, JPMorgan challenged the popular $100,000 Bitcoin price target for Q4, citing too much volatility in the markets currently. From the bank's perspective, BTC's price has been rising primarily due to investors' concerns over rising inflation in the US.
Both crypto assets have been hovering near their previous all-time highs over the past week. Currently, Bitcoin is trading at $61,242, according to CoinGecko, while Ethereum is sitting right above its previous all-time high, trading at $4,498.
Ethereum out performs Bitcoin, ETH regains the majority its flash-crash losses
Ethereum price, like the broader cryptocurrency market, suffered a massive flash-crash during the early midnight trading on Saturday.
17% losses at one point were measured.
Throughout the remainder of Saturday, buying pressure wiped out nearly all of the overnight losses.
Ethereum price performance on Saturday has been nothing short of spectacular. Considering that most of the altcoin market is down fifteen to twenty percent, Ethereum's daily close of down only 4% is a testament to its strength.
Ethereum price regains nearly all of its flash-crash loss, handily outperforming the broader market
Ethereum price experienced one of the fastest and deepest flash-crashes since May. The timing of the collapse couldn't have been more perfect: midnight Eastern Standard Time (New York). Bears could push Etheruem to the $3,503 price level before a bullish reversal occurred.
The two primary support levels holding Ethereum price up are Senkou Span B at $3,700 and the third-highest volume node in the 2021 Volume Profile at $3,410. While highly bullish in the short-term, indecision remains and downside risks.
Despite the massive recovery, Ethereum price remains inside the daily Cloud – an area rife with indecision, volatility, and whipsaws. The Cloud is the place where trading accounts go to die. Etheruem needs a daily close at or above the $4,650 price level to convert to a full-blown bull market.
Ethereum price is tilted more bearish here, especially with the Chikou Span below the candlesticks and in open space. Adding to the bearish outlook is the bear flag breakout on the Relative Strength Index. However, the final oversold level at 40 in the Relative Strength Index might yield some support.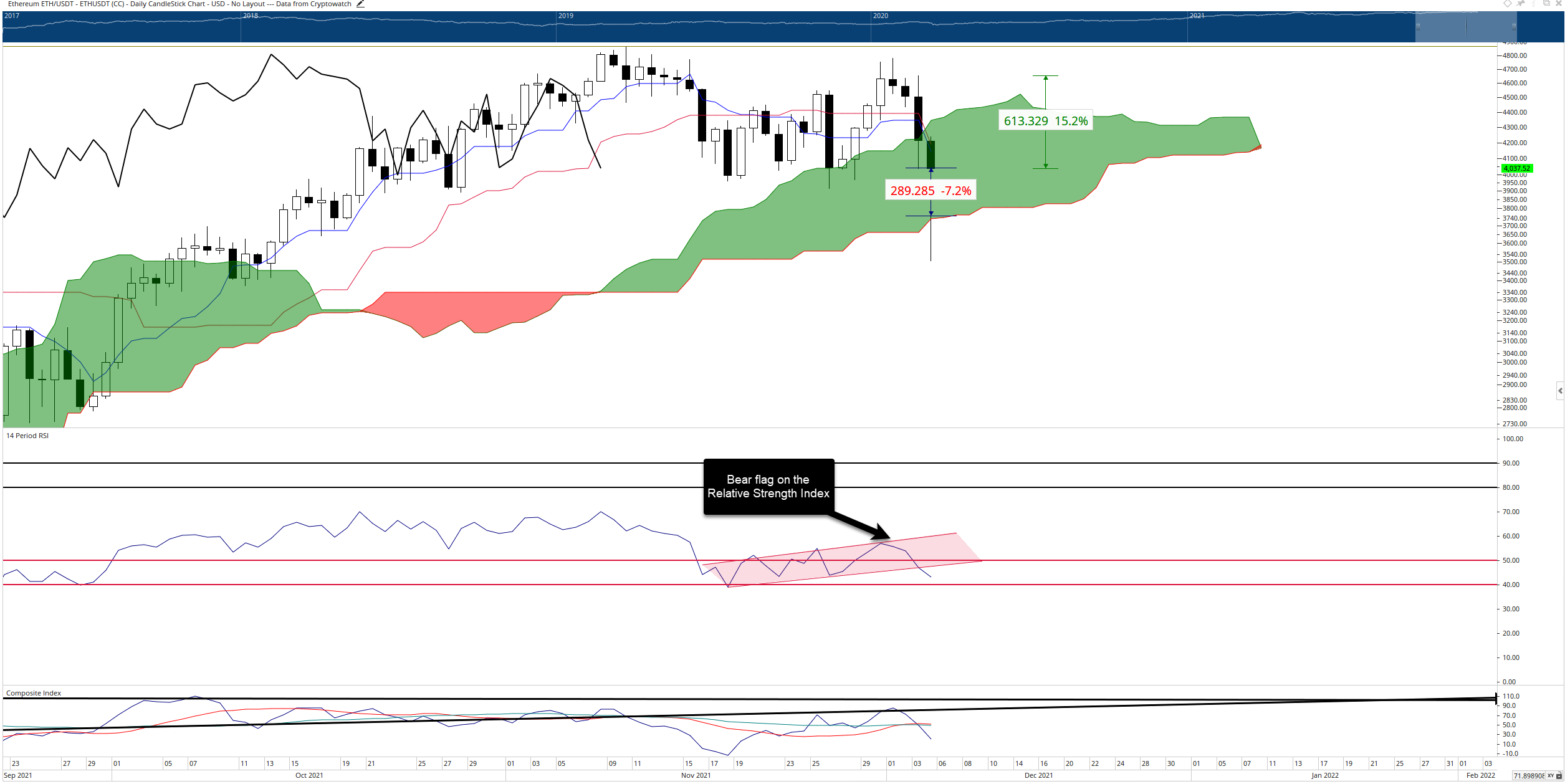 ETH/USD Daily Ichimoku Chart
The threshold that bears need to achieve to convert Ethereum price into a bear market is a much more manageable price range than converting to a bull market. For example, whereas Ethereum needs a 15% move above $4,000 to convert into a bull market, short-sellers only need a 7% move below $4,000 to convert Ethereum into a bear market.
Any daily close at or below $3,700 would position Ethereum below the Cloud and into bear market territory.
Here's What's Next for Ethereum Rivals Solana and Avalanche, According to Analyst Nicholas Merten
Prominent crypto analyst Nicholas Merten is taking a look at two layer-1 digital assets stacked up against the Ethereum (ETH) trading pair.
In a new strategy session, the host of DataDash tells his 486,000 YouTube subscribers where he thinks smart contract platforms Avalanche (AVAX) and Solana (SOL) are headed.
According to Merten, it is better to compare both coins to ETH rather than the US dollar or Bitcoin (BTC) as Ethereum's greater success in recent years makes it a better barometer than Bitcoin.
"If you're really looking to see if your play is outpacing others in the market, you want to take a look against Ethereum. It is the second-largest cryptocurrency in this space and it has been outpacing Bitcoin around 380% to 400% in this cycle alone since 2019.
So we want to be able to find plays that are outpacing Ethereum because Ethereum is a really solid bet. It's a really good medium-risk, medium-reward play."
Looking at Avalanche, Merten says that a local top might be in for the AVAX against ETH after the altcoin's massive rally in the last few months.
"Avalanche has done phenomenally well against Ethereum. If you take a look back here since August, it's up 422% against Ethereum. Great rally, even after the [recent] pullback here…
When I look at this chart I definitely like seeing an asset that performs well against Ethereum, but each time it's come up to this range [0.034 ETH or $139.21] historically, it's been dragged down…
I think that again we might see some kind of repetition, or at least a revisit down to the previous support range [0.014 ETH or $57.32], which means that's it probably going to go down a little over 35% to 40% against Ethereum. A pretty decent decline.
At time of writing, AVAX is down 1% on the day to $107.20.
As for Solana's price action against Ethereum, Merten notes that the pair is flashing a bearish pattern after printing massive rallies in the last 18 months.
"But to be completely frank as a trader, Solana's had many rallies in the past. It's had one back here [from July to August of 2020], 336% rally in price. Then back here [December of 2020], if you want to take from the lows, in this case, 1,000% move, massive multiples in price.
We take a look here as well, from the recent rally here [August 2021] into September, very similar to history, a little over 350% to 400%. Not a bad rally.
But to be completely frank, we've been stagnant since September generally. The trend is starting to fade here. We don't have that same momentum, and it's seeing if it can hold out against Ethereum.
If you break below this range here [0.046 ETH or $188], I think it's very favorable that Ethereum is going to start to outpace Solana as well as other major layer-1 plays."
Solana is currently down nearly 10% and trading at $203.79.
Ethereum's rival token price soars and approaches higher cryptocurrencies
LUNA, the Earth network's native cryptocurrency, developed at Cosmos, reached a record high of US$69.56. The price increase brought the token closer to the top ten list of cryptocurrencies by market capitalization, losing tenth place only to dogecoin (DOGE).
LUNA's price is up 10.4% in the last 24 hours, according to data from the CoinGecko website.
Terra is a blockchain developed using Cosmos' Software Development Kit (SDK). The network is used to create algorithmic stablecoins backed by various fiat currencies, such as the dollar or euro.
LUNA is used to issue these stablecoins, as well as to pay network fees and participate in governance, ie to vote on the network.
Right now, Terra is the fifth largest first-tier blockchain, behind Polkadot, Cardano, Solana and Ethereum.
The increasing price hike for LUNA comes amid new initiatives in the Terra ecosystem. Most notable is the Columbus-5 protocol update.
Ethereum's rival
Released last Tuesday (30), this update activated a burning mechanism that removes LUNA from circulation, making the cryptoactive scarcer.
Previously, when Terra's dollar-backed stablecoin (UST) started trading above $1, the protocol encouraged arbitrators to issue more UST by burning a portion of LUNA coins. By increasing the supply of UST, the price would fall.
When the opposite happened, a portion of UST would be burned to emit more LUNA. In this way, the ballast maintains its stability.
Only a portion of LUNA and UST would be burned before the upgrade; the other portion was transferred to a community pool. Now, with Columbus-5, all the coins in the community pool are burned, creating a much more dramatic deflationary environment.
Along with this update, demand for UST soared. Since the only way to issue more UST is to burn LUNA, the native currency continues to reach record highs.
In terms of market capitalization, UST is the fifth largest stablecoin on the market, with $7.8 billion. As of Oct. 1, when Columbus-5 was activated, that number was just $2.6 billion.
For context purposes, the two largest stablecoins, Tether (USDT) and USD Coin (USDC), have market caps of $74.9 billion and $39 billion, respectively.UST market capitalization between June 7th and December 3rd (Image: CoinGecko)
Earth's ecosystem is growing rapidly
Decentralized Finance (or DeFi), an umbrella term for financial products that allow users to trade, lend, and borrow with cryptoactives without intermediaries, is also taking off on Terra.
Anchor Protocol, a money market project, has reached $6 billion in total blocked value (or TVL), a metric used in DeFi to approximate the amount of money flowing through any particular product.
As of July, Anchor had yet to hit $1 billion, according to DeFi Llama.
Terra users are also eagerly awaiting the launch of Astroport, a decentralized brokerage (like Uniswap), and Mars Protocol, a lending and borrowing platform (similar to Ethereum's Aave protocol).
Of course, to use any of these decentralized applications (or dapps) on Terra, you'll need LUNA, which explains the recent surge in demand.