How a trader lost everything after buying 200 bitcoins on Coinbase
Imagine losing all your cryptocurrencies 10 minutes after buying the equivalent of $12.3 million in Bitcoin (BTC) on Coinbase, the largest cryptocurrency exchange in the US, considered one of the safest on the market.
That's what happened in April this year to an investor identified by the initials GR, victim of a false notification scam.
According to Business Insider, minutes after buying the million dollar amount of bitcoin on Coinbase, the investor received an alert informing him that his account had been blocked for security reasons.
The notification passed as an official communication from the brokerage, but in fact it came from the scammers and marked the first stage of the coup.
The fraudulent message said the user needed to contact Coinbase support to unlock their account. In it, there was a telephone number that would put the user in direct contact with the scammers.
Untrusting of the fraud, the investor made the call and an individual on the other end of the line, posing as a Coinbase employee, instructed him to provide remote access to his account.
From that moment on, the user was about to hand over all his funds into the criminals' hand.
With access granted, the attacker made a series of changes to the account. For example, it disabled Coinbase's veridical security notifications and increased the daily transaction limit.
Then, the user's wallet at the brokerage began to be emptied. In all, there were $11.6 million in Bitcoin and Stellar (XLM) stolen from the investor, including all newly purchased cryptocurrencies.
The stolen bitcoin trail
It is unclear how the scammers found out that the user had just made the million-dollar purchase of bitcoin at Coinbase, and the brokerage also declined to comment on the case to Business Insider.
However, the investor is struggling to recover the lost money and has already managed to track where some of the money ended up through a private investigation.
After leaving the Coinbase account, the cryptocurrencies were spread on the blockchain through a series of transactions made by an unknown person. About 10.2 bitcoins ended up in a Huobi Global account.
The attorney representing the investor, Dan G. Boyle, filed a request in September in the US District Court to try to block $600,000 worth of bitcoin that was found at the Chinese brokerage.
In early October, Judge Dolly M. Gee approved the lawyer's request and issued a confiscation order, forcing Huobi Global to block the cryptocurrencies. The exchange did not respond to a request for additional information from Business Insider.
However, a representative of the US Attorney in Los Angeles confirmed the blocking for the US portal: "Huobi has agreed to maintain the freeze on funds pending resolution of the confiscation action. No one has been arrested or charged, but our investigation is ongoing."
Rich Dad Poor Dad Author Issues Dire Warning on Inflation, Says He's Buying Bitcoin, Ethereum and Two Additional Assets
Rich Dad Poor Dad author Robert Kiyosaki is concerned that working-class Americans will be wiped out by rising inflation unless they invest in several key assets.
In a YouTube video on The Rich Dad Channel, the widely known author says that true capitalism has been abandoned, and the government instead intervenes on behalf of banks.
"The reason they're talking about inflation or deflation is because, way back when, in the 70s, a true capitalist would let a business fail. According to [Austrian political economist Joseph] Schumpeter, capitalism destroys inefficient companies.
If you look at one example, not too long ago there was Blockbuster Video. Then Netflix came along and they're toast. They're just gone. A true capitalist wipes out the inefficient or the obsolete.
But for the last so many years, since 1907 really, they've been saving the banks. The banks are so corrupt, and the reason the Federal Reserve had to come in was to protect the rich bankers.
And what they did was, back in 2008 there was quantitative easing, which is a very complex subject, but basically the Fed just prints money and gives it to banks to prevent them from failing. That's not capitalism, that's Marxism. That's socialism, that's communism. It's called central banks."
Kiyosaki warns that unlimited money printing as part of official government policy will eliminate the working class.
"The reason inflation is going to wipe out people is because the average person is a consumer. Everybody talks about, 'T-bone steak [costs] this now, and gasoline's this and toilet paper is that.'
That's because… Everything's to protect the bankers. And that's why I feel for the working-class people. I think it's criminal that our school system is part of Marxism. There's no financial education in the schools and it's not a mistake.
To the people who are complaining about inflation, just know it's because the Federal Reserve Bank, the U.S. Treasury… they're as corrupt as they come."
The author tells his 1.8 million followers on Twitter that the recent 25% price increase at discount retail chain Dollar General is a bellwether event signaling that investors should protect themselves by picking up some cryptos like Bitcoin (BTC) and Ethereum (ETH), as well as gold and silver.
"Dollar Tree becomes $1.25 Tree. Inflation is a tax on the poor and middle class. Inflation makes the rich richer.
Get smart. Get richer. I am buying more gold, silver, Bitcoin, Ethereum, rental real estate, and oil. What are you buying?"
CNN Business reported this week that Dollar Tree cited rising inflation and the ongoing supply chain crisis as reasons why it planned to permanently abandon its longstanding $1 price point on all products.
At time of writing, Bitcoin is valued at $55,190, Ethereum is exchanging hands for $4,367, gold is going for $1,781, and silver is worth $22.44. Kiyosaki also issued a warning in September that a major stock market crash would occur in October of this year.
Top 3 Price Prediction Bitcoin, Ethereum, XRP: Crypto markets may hit the brakes
Bitcoin price congestion and indecision continue, but opportunities on both sides develop.
Ethereum price fails a bullish breakout above its bear flag, threatening continuation moves south.
XRP price is positioned at a make-or-break point, hovering above final support that could thrust Ripple below $0.80
Bitcoin price remains inside the Cloud within the Ichimoku Kinko Hyo system, indicating continued volatility and uncertainty. Ethereum price failed to close above the bear flag on Tuesday, but the bullish structure remains. XRP price barely holding support, could drop lower.
Bitcoin price develops opportunities on its Point and Figure charts
Bitcoin price remains stuck inside the Cloud on the daily Ichimoku chart, providing little opportunity or guidance when viewed from that chart style. However, Point and Figure charting reduces the 'noise' associated with Japanese candlestick charts and focuses only on price action, giving a clearer picture of Bitcoin's behavior and what kind of trading opportunities exist.
A theoretical long trade setup exists with a buy stop order at $60,000, a stop loss at $58,000, and a profit target at $66,000. This hypothetical entry is exceptionally bullish for two reasons. First, the entry is a breakout above a triple-top, and second, the entry confirms a powerful bullish reversal pattern in Point and Figure known as a Bearish Fakeout.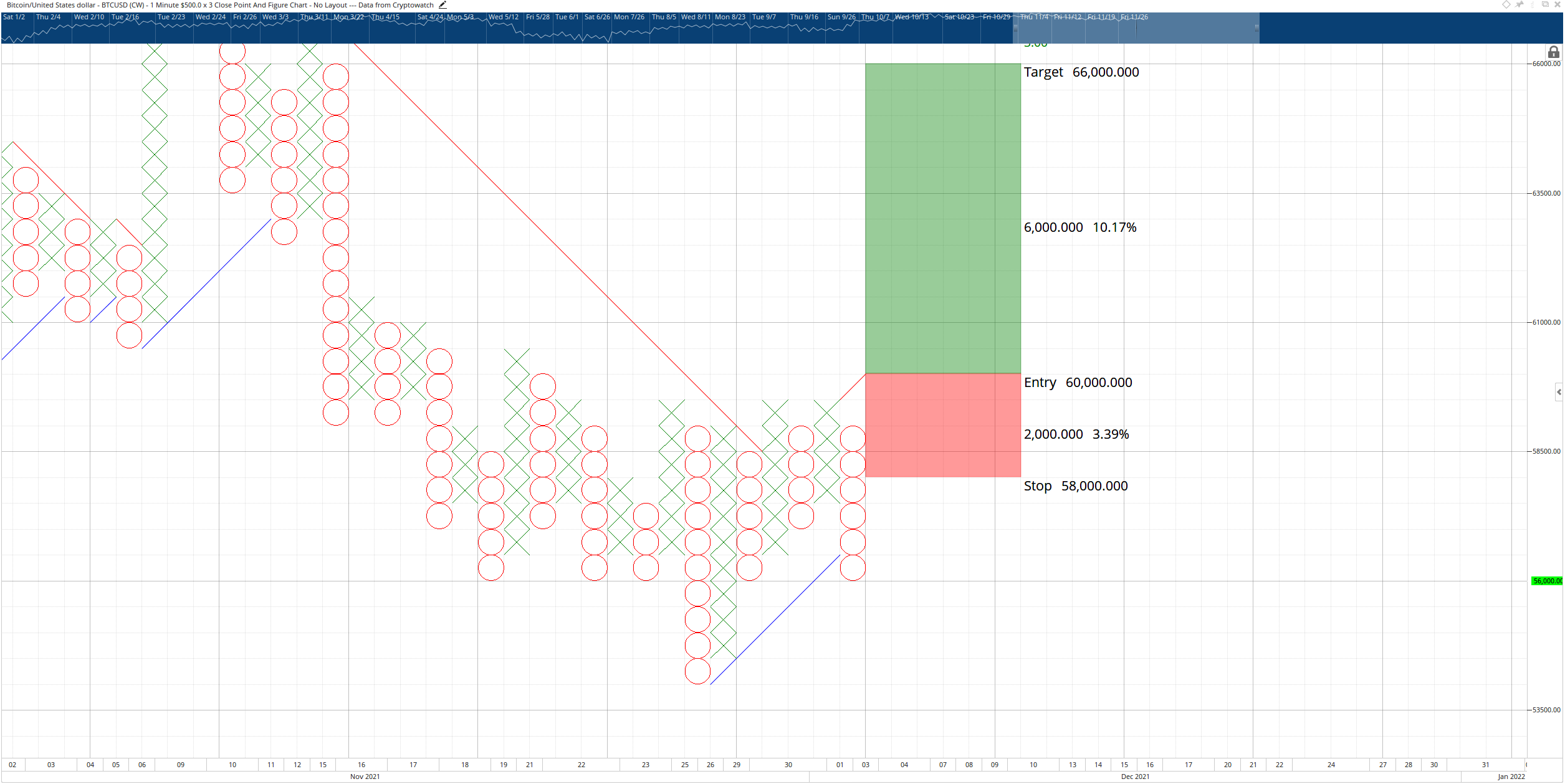 BTC/USD $500/3-box Reversal Point and Figure Chart
The theoretical long idea is invalidated if the current O-column moves below $55,000.
On the short side of the trade, a hypothetical short idea is a sell stop order at $53,000, a stop loss at $56,000 and a profit target at $44,000. The entry confirms one of the most sought-after short entry patterns in Point and Figure, a Bearish Catapult. In addition, a trailing stop of one to two boxes to protect any implied profits would help mitigate any whipsaws in price action that may occur.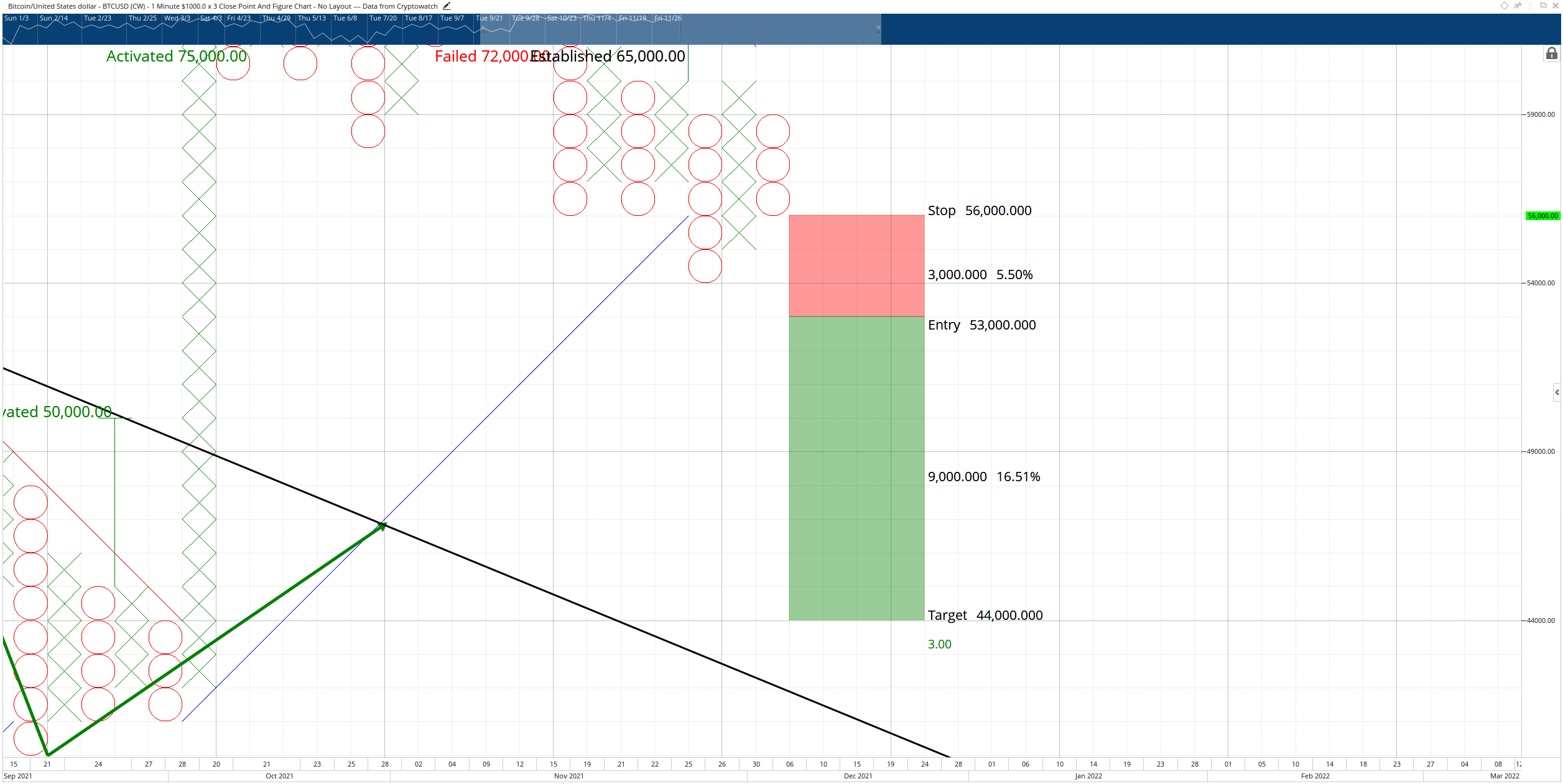 BTC/USD $1,000/3-box Reversal Point and Figure Chart
The hypothetical short setup is invalidated if the long idea above is triggered.
Mercado Pago: it will not be possible to transfer Bitcoin purchased on the platform
Mercado Pago announced the launch of a service that will allow Brazilians to buy, reserve and sell cryptocurrencies.
As announced by the payments arm of Mercado Livre, this is an initiative in partnership with Paxos.
The collaboration will allow integration with the Mercado Pago account and the management of operations, with blockchain technology.
Thus, without leaving the app, users will be able to track the price, as well as buy and sell Bitcoin, Ethereum and USDP; stablecoin from Paxos.
"This is an important milestone for Mercado Pago, which continues its trajectory by democratizing and massifying operations with cryptocurrencies. From the account, we want to accompany our users as they enter the crypto paradigm, which is gaining more and more relevance in the financial world. Based on the experience of quick and secure use of our platform, we will offer simplified access to these assets", says Osvaldo Giménez, CEO of Mercado Pago.
Transactions with Bitcoin, Ethereum and USDP can be carried out with money available in the Mercado Pago account. The minimum purchase price is R$1.
However, at this first moment, users who buy cryptocurrencies will not be able to transfer them to external wallets.
Cryptocurrencies in the Paid Market
According to Tulio Oliveira, vice president of Mercado Pago in Brazil, with this first step towards the crypto universe, the company wants to contribute to a great leap in education and financial inclusion of the Brazilian population.
"We will monitor our users closely. Let's help them improve their cryptocurrency trading experience. In addition, we will offer all educational support for them to make the best decisions", he said.
Walter Hessert, head of Strategy at Paxos, said that this is a transformative moment for Latin America.
"Mercado Pago is offering a perfect experience in crypto and stablecoins, reaching millions of Brazilians. This will accelerate the conventional adoption of cryptocurrencies and stablecoins across the continent. We are excited to partner with Mercado Pago to make this possible", he concluded.
Also Read: Adidas' First Metaverse Partnership Includes NFTs
Also read: Meta reviews policy and enables cryptocurrency ads on Facebook and Instagram
Also read: After quitting Twitter, Jack Dorsey changes Square's name to Block