Overtime, we will see the NFT market broaden,' says Ripple's CTO David Schwartz
Nonfungible tokens, or NFTs, have been dominating the crypto market this year. With sales topping over $2.5 billion during the first half of 2021, it shouldn't come as a surprise that both the crypto community and mainstream creators are launching NFTs in hopes of driving revenue and engagement. The rise of the Metaverse has also pushed the adoption of NFTs, demonstrating the value of nonfungibles for major brands and social media platforms alike. 
While NFT sales soar, the Ethereum blockchain continues to rule the space. For instance, a recent report from Cointelegraph Research found that Ethereum represented at least 97% of every NFT market sector, which includes games, collectibles and marketplaces. It's also interesting to point out that blockchain analytics firm Moonstream found that around 17% of addresses control more than 80% of all NFTs on Ethereum, demonstrating the vast inequality that still exists in the NFT market.
Although this is the case, it's important to note that nonfungible tokens are still a very new and early concept. Even though Ethereum is currently dominating the market, there are significant competitors.
For example, blockchain payments firm Ripple recently announced an investment in the NFT marketplace Mintable, which would allow the platform to integrate with the XRP Ledger (XRPL) to enable creators to securely and efficiently sell their NFTs. In addition, in September this year, Ripple launched a $250 million creators fund to foster innovation in tokenization, specifically focused on nonfungible tokens.
Given Ripple's recent involvement in the NFT space, Cointelegraph spoke to David Schwartz, Ripple's chief technology officer, during NFT NYC to learn more about the company's growing interest in nonfungible tokens. Schwarz also discussed other topics including the rise of central bank digital currencies, or CBDCs, the goals behind a Wrapped XRP (wXRP) token and Ripple's upcoming roadmap.
Cointelegraph: Thanks for joining me, David. First off, what did you discuss during your talk at NFT NYC?
David Schwartz: My talk at NFT NYC was mostly about carbon-neutral NFTs and solving the energy consumption problem. Obviously, we aren't going to solve climate change in the blockchain space, but the least we can do is not make it a lot worse. It's not a technical problem — we know how to not consume that much energy, it's just a matter of convincing people to adopt the technologies that are more climate-friendly.
Cointelegraph: Ripple is now letting people create NFTs on the XRP Ledger. Can you discuss this in detail?
DS: We were a little late to the party, but not too late. If NFTs are successful, then we are all still early. We initially started to look at how people wanted to use NFTs and realized that a lot of the challenges people were facing were due to the technology being very primitive.
"Every company wanting to get into the space needed a tremendous amount of specific expertise, which isn't a good way to grow. So, building that tooling is what we've been focused on. Also, sometimes money is the obstacle."
When someone has a good idea with the right tooling and the right team, sometimes they just need more money to scale. We can help them overcome this to prove the technology will work the way they want it to.
Cointelegraph: You also mentioned that the XRP Ledger is energy efficient. Could you explain why this is the case?
DS: Yes, the reason why proof-of-work, or PoW, systems like Bitcoin (BTC) and Ethereum (ETH) consume energy is that they are specifically designed to create artificial scarcity. You'd want artificial scarcity if you are trying to profit from something that has to be scarce. You also need artificial scarcity for something to be valuable, and you need to convince customers that the scarcity is not artificial.
So, PoW creates artificial scarcity by using something scarce, which is energy. When energy is purely used to create artificial scarcity though, it drives up cost. The only reason you'd want to do this is if you are getting a cut of the money. Only the people getting those fees are promoting that technology.
In the XRP Ledger, no one gets transaction fees, so no one wants high fees. The fee literally covers the cost of processing the transaction. The fact is that the XRP Ledger works just as well without artificial scarcity.
Cointelegraph: Are there any other benefits of using the XRP Ledger for NFTs versus Ethereum?
DS: Yes, one of them is the scalability, or the number of transactions per second. There are things you can do on Ethereum though that you can't do on the XRP Ledger. That's why a lot of decentralized finance (DeFi) work today is happening on Ethereum. You can do almost anything you can envision, like things with loans, or TradeFi, or mortgages and staking. We don't have those capabilities on the XRP Ledger today, but you can mint NFTs.
We don't have those capabilities on the XRP Ledger today, but you can mint NFTs. We also have a decentralized exchange (DEX), and you can issue new tokens. Payments are cheap and fast, so to some extent, it's a fundamental engineering tradeoff.
"If you want to do everything, then you can't be very good at anything. The XRP Ledger has a list of things it does really well. If one of those are the things you need, that's great. But, if one isn't what you need, then you need to move to something more general."
Part of Ethereum's low transaction speed and cost is due to the fact that you can build more flexible technologies on the blockchain. Most people who build on the XRP Ledger are doing complex things, but for technical reasons, they don't need these to be right on the ledger.
Cointelegraph: What are the best use cases for someone wanting to mint an NFT on the XRP Ledger?
DS: Today, the use cases are mainly collectibles. On the XRP Ledger, the cost is a lot lower, so if you are building an NFT on Ethereum it would have to be worth at least $500, and even then the fees would be close to $100. The fees are much less on the XRP Ledger and that allows for a broader range of use cases.
I think most of the use cases today are collectibles broadly speaking, like works of art, things that connect to digital art, things that connect to musicians. But I think over time, we will see the NFT market broaden.
Cointelegraph: I also wanted to discuss Wrapped XRP. Could you go into detail about that?
DS: Wrapped XRP is an asset that is designed to track the price of XRP. For every Wrapped XRP, there is an XRP somewhere tied into an ecosystem that keeps that XRP locked until the Wrapped XRP is free. The idea here is they should track close in price. Wrapped XRP will behave similarly to XRP. For instance, if all you are using XRP for is moving value, and you have something whose value is the same, then these should serve as substitutes in the market.
"The disadvantage of Wrapped XRP is that you can't move it cheaply and quickly on the XRP Ledger like XRP. But, the advantage is that you can use it in DEX on Ethereum."
For instance, if you have 500 XRP to use in a DEX and you just can't do it today at any price, then Wrapped XRP would allow you to get the tokenomics of XRP and the semantics of Ethereum. That will help keep XRP from getting locked out of features. We can expect to see the Wrapped XRP launch in December.
Cointelegraph: What's next for Ripple?
DS: We've been pushing hard for CBDCs. What's exciting is that there are a lot of people in the space who don't really know what CBDCs are capable of. Our vision is to imagine that every financial institution in the world is able to settle every fiat currency with every other financial institution in seconds. That's huge, but it takes interoperability and security.
"If you are going to build a payment system that big, then you need a security model that isn't what swift uses, and blockchains pretty much don't have security problems."
Another feature is interoperability. For instance, the United States couldn't build such a system because Saudi Arabia wouldn't use it. But, if Saudi Arabia built a system, and the U.S. built a system, then there has to be a standard for interoperability. Otherwise, banks in the U.S. wouldn't be able to settle euros with banks in Europe.
Another thing we are working on is federated side chains that allow assets to move freely between blockchains. Wrapped XRP is an example of this since it allows XRP to move between the XRP Ledger and Etherem, but these are point solutions to specific problems. The advantage of solutions to a specific problem is that it allows a type of innovation that is currently not possible.
Today, if you want Ethereum smart contracts, you have to build on a blockchain with Ethereum smart contracts. You also have to follow rules like how big a smart contact can be. Therefore, you can't innovate at the level of changing those rules. What federated sidechains do is it allows you to innovate at the lowest level, so users can build a blockchain with whatever fees they want and whatever assets they want. It can be public or private, and it can be live in a short period of time with real money.
This is great for developers who need to solve specific problems, or who want to make changes to other blockchains and need to convince people that those changes work and are safe. Federated sidechains provide a recipe today to build live blockchains that allow users to innovate in the blockchain itself.
Top 3 Price Prediction Bitcoin, Ethereum, Ripple: ETH outperforming its peers, BTC struggles and XRP bearish
Bitcoin refrains from making new highs as Tuesday's gap-fill kills uptrend continuation.
Ethereum outpaces its peers by barely hitting new all-time highs.
XRP price again looking for direction as investors interest wanes.
The Bitcoin bull rally got stopped in its tracks this week after BTC price came under more pressure from the Omicron story, and the resulting market turmoil. Ethereum price, however, came just $16 away from making a new record high, making gains in contrast to the other two majors. XRP saw investors buying the dip, but the uptrend hit a wall and got stopped in its tracks.
Bitcoin price on the backfoot after a slowdown that made it lose bullish momentum
Bitcoin (BTC) price popped higher at the beginning of the week, shrugging off investors' concerns about the new Covid variant.On Monday, BTC price opened up much higher than where it closed on Sunday, forming a gap in the chart. As a general rule, gaps get filled sooner rather than later, and this was the case on Monday, when bulls saw their early gains lost as BTC price retraced to fill the gap. 
Bears have seized the opportunity to defend the new monthly pivot for December at $59,586, which coincides with the start of a Fibonacci retracement.. Evidence of this weakening can be found in the Relative Strength Index (RSI), dipping back below 50, showing that bullish demand is starting to wane.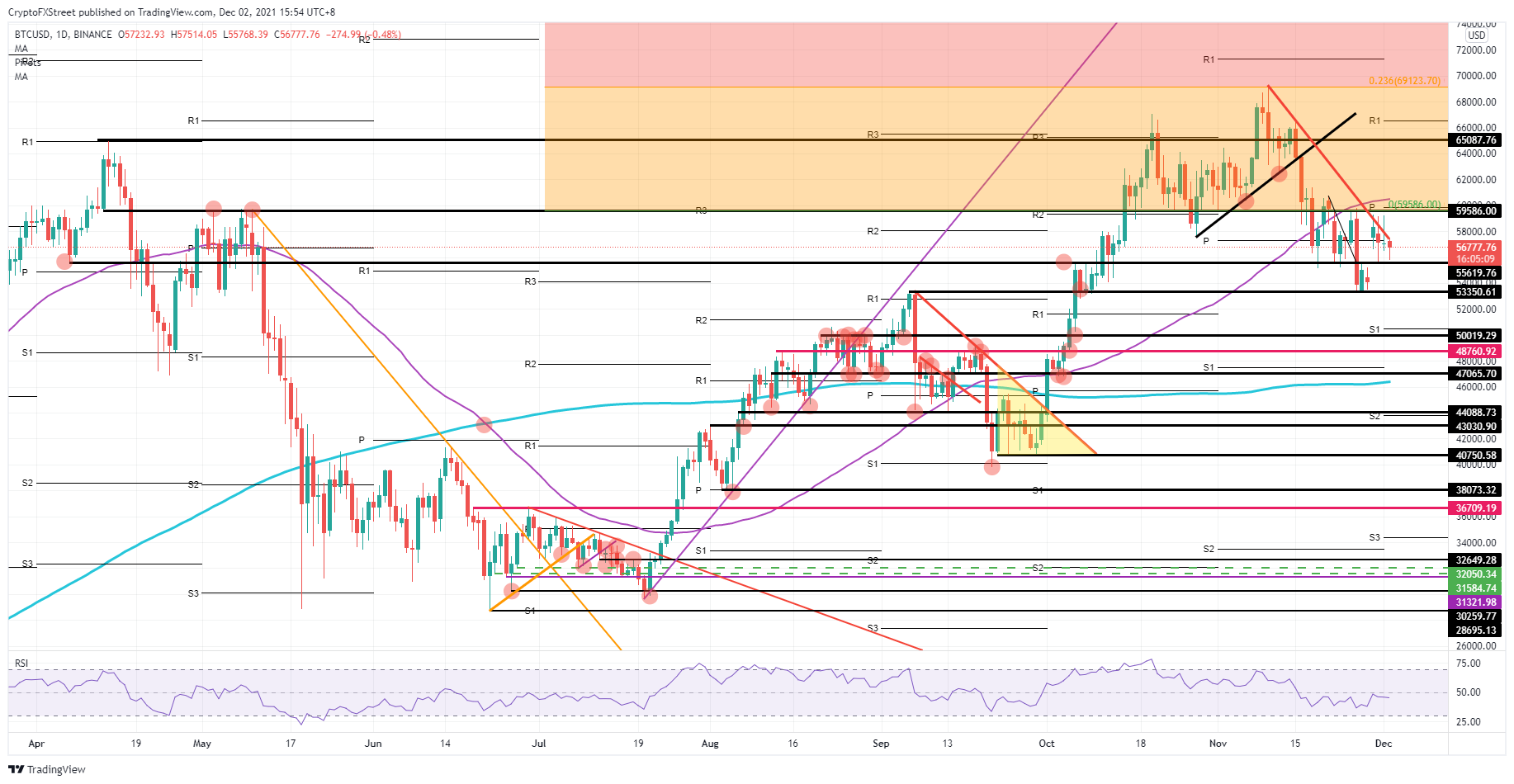 BTC/USD daily chart
As a result of current market uncertainty, expect potential investors to stay on the sidelines. Although the red descending trend line has been broken a little, it still holds importance and investors will probably only step in following a break back above it,  helped, perhaps, by breaking news about vaccine effectiveness  against the new strain. Either that or investors will sit on their hands and wait for another bounce off $53.350. Should that level fail to hold, however, and there is more bad news,, expect a quick 6% drop towards the $50,000 psychological level and previous historical support. At that level bulls will likely mount a defence against a further downturn.
Ethereum price outpaces its peers and could make new highs by the end of this week
Ethereum (ETH) price, unlike Bitcoin and XRP, saw bulls run a tight and steep rally from $4,000 towards $4,936 in just five days. That was in a troubled market facing considerable headwinds. That said, bulls now need to keep a tight stop on current ETH price action in order for a bull trap not to form, after the pull-back on profit-taking that occurred in the wake of price barely hitting an all-time high. 
ETH quickly reversed from its highs on Wednesday and tested the December pivot at $4,481. That is just $16 above the historical technical level marked up on the chart from November 12. This is a level of great importance and it will be very interesting to see if bulls can maintain price action above it, perhaps, helped by a possible bounce off the red top line that has so far been  successfully capping price action to the upside.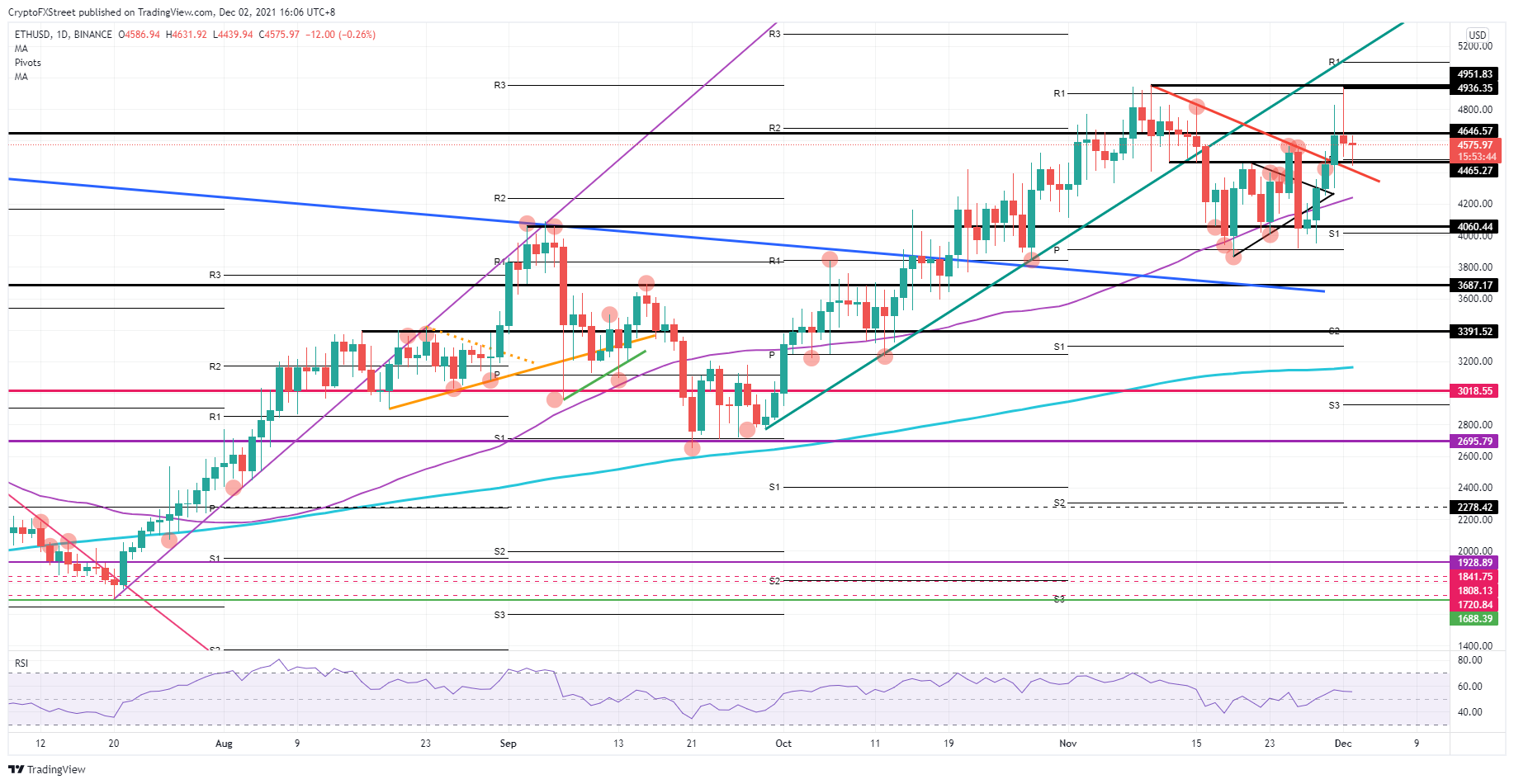 ETH/USD daily chart
That red descending trend line, on the other hand, should support a break below $4,465, but if bulls flee the scene, expect a bull trap to form and price to run down lower. The first support tested in that decline is the historical double top at $4,060, with the monthly S1 support level at $4,000 just below there. The correction could already hold 18% of accrued losses from the highs of Wednesday, which would attract investors interested in the buying opportunity at those levels.
XRP price sees bulls rejected at $1.05, pushing price back towards $0.88
Ripple (XRP) price saw sparks fly in a nice uptrend on Wednesday, but then hit a bump in the road after the $1.05 level held firmly, following two failed tests to the upside. The rejection that squeezed prices to the downside on Tuesday, probably washed out quite a lot of investors and technical traders, and caused the lack of momentum and drive in XRP price action to tackle that $1.05 resistance. As the price fades further to the downside today, expect current market uncertainty to weigh further on XRP and see a possible retest of the short-term double bottom at $0.88.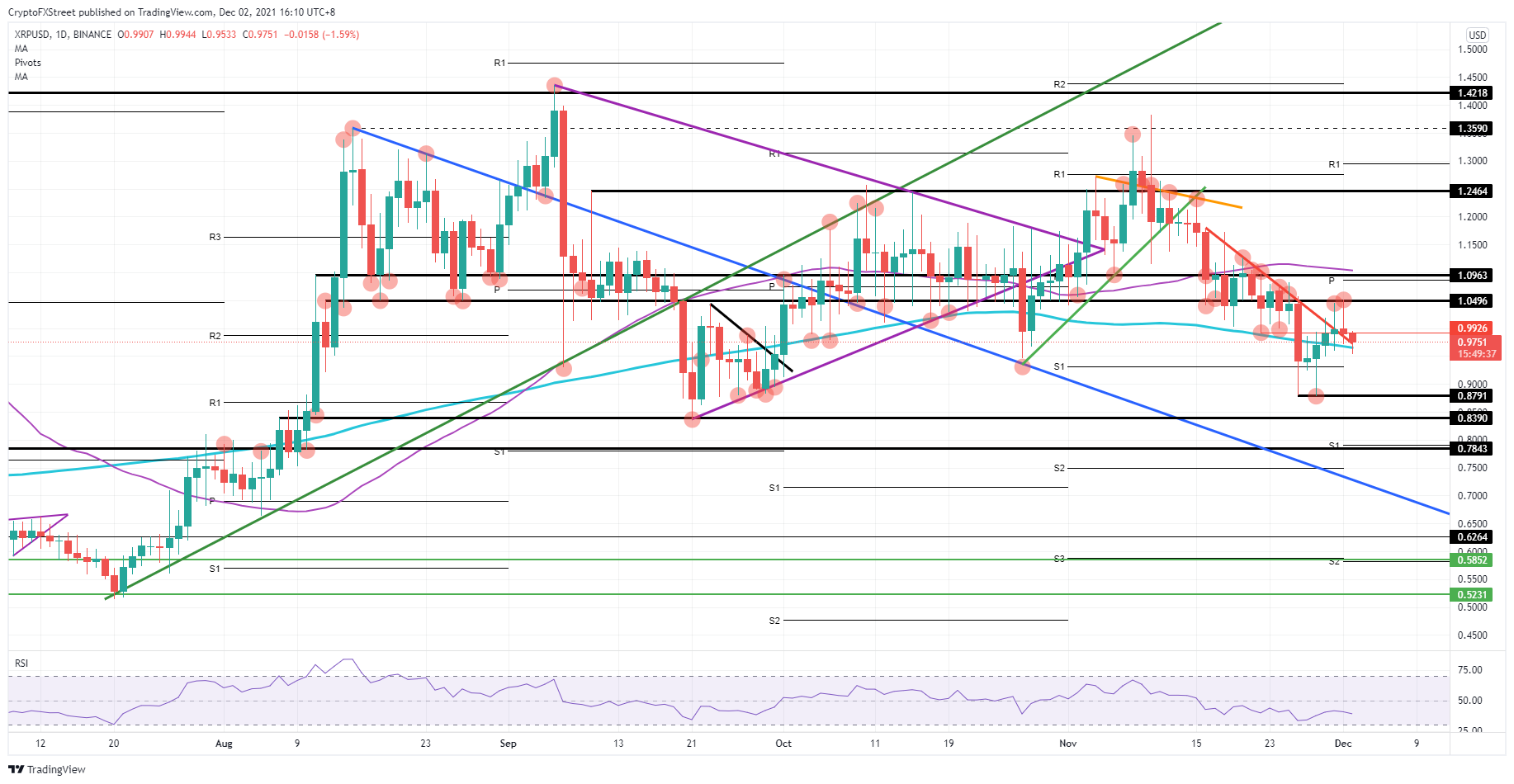 XRP/USD daily chart
On a retest of that double bottom, a break looks more than likely, as the level holds no historical or other significance. That would hand bears the opportunity to push XRP price down towards either $0.84, for the third test of support at that level, or breakthrough and run down to $0.80, which is a prominent figure and the level of the monthly S1 pivot support level, combined with a historical significant support level at $0.78, originating from June 8. This  would provide the perfect zone for a fade-in trade for XRP traders.
XRP Whale Withdraws 150 Million Coins from Binance
Another XRP whale moves his or her funds from the exchange, now storing $150 million in a private wallet
The transaction made only a few hours ago was one of the largest non-exchange transactions made on the XRP blockchain in the last few months, according to Whale Alert.
The $150 million transaction
According to the transaction page, an anonymous whale has moved 150 million XRP coins worth approximately $150 million from Binance exchange to an unknown wallet that is currently holding 150 million coins.
Previously, the same wallet has been making small, insignificant transactions to various exchanges worth approximately $20-$30. The first large transaction has been made.
After receiving significant funds, the wallet spent approximately 100,000 coins by transferring them to UpBit exchange. The purpose behind such unusual funds redistribution remains undisclosed.
Ripple's price action
Ripple's price does not seem to consider major funds moving in a market with the price continuously moving in the same trend. The asset has broken the four-day uptrend by dropping below $0.98.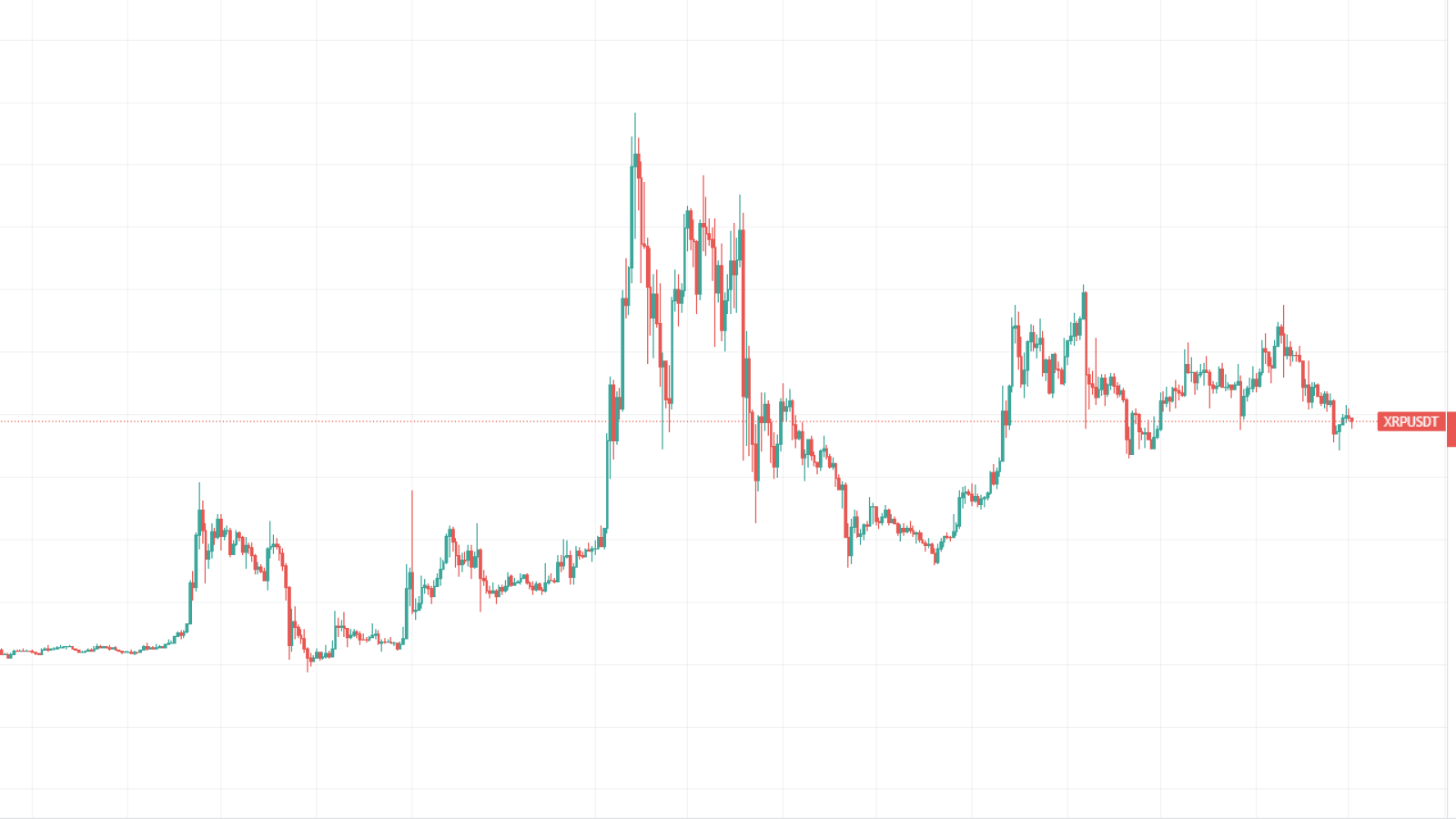 XRP was one of many victims of the global cryptocurrency market correction that took place on the market due to a rise of risk-off tendencies after the aggravation of the pandemic all over the world.
Previously, U.Today reported that numerous whales have made large transactions from various centralized exchanges back to their wallets. Such a trend is tied to overall outflows tendencies on the cryptocurrency market.
At press time, XRP is trading at $0.97 while losing 1.2% of its value. The price of the asset gained 6.2% in the previous local uptrend.
XRP and Other Top Cryptocurrencies Now Accepted by Croatia's Largest Supermarket Chain
Crypto is becoming mainstream in Croatia because of Konzum
Konzum, the largest supermarket chain in Croatia, which was founded all the way back in 1957, has begun accepting cryptocurrencies in its online store, according to a Dec. 1 report by Zagreb-based newspaper 24sata.

The lineup of supported digital currencies includes Ether (ETH), Bitcoin (BTC), XRP, Stellar Lumen (XLM) and Bitcoin Cash (BCH), as well two stablecoins (Tether [USDT] and DAI).

Shoppers are now able to buy groceries, hygiene items, household supplies and other items with the aforementioned cryptocurrencies.

Konzum partnered with Croatian fintech company Electrocoin to use its PayCek system to facilitate crypto payments.

They spent several weeks testing the service before the official rollout in the run-up to Christmas.
Crypto is coming to Konzum's physical stores
Crypto payments will also gradually become available in Konzum's physical stores throughout the country.

The company will begin with 60 locations that have self-checkouts. After that, new payment options will be introduced in 630 stores of all sizes throughout Croatia.