Axie Infinity and Fantom Among the Top Altcoin Gainers This Year With Growth of 13,428% or More: CryptoDiffer
Blockchain news and updates outlet CryptoDiffer is revealing that blockchain-based game Axie Infinity, along with smart contract platforms Fantom and Solana are among the top altcoin performers this year.
CryptoDiffer tells its 258,000 Twitter followers that Axie Infinity (AXS) is the hottest altcoin this year, printing gains of over 26,000% in just 10 months. AXS is followed by OMI, the native asset of digital collectibles platform ECOMI, growing more than 20,000% in 2021 alone. Other top altcoin performers this year are video-sharing blockchain Verasity (VRA), Fantom, automated market maker BakerySwap (BAKE) and Solana, generating gains of 17,863%, 15,753%, 13,728% and 13,428%, respectively.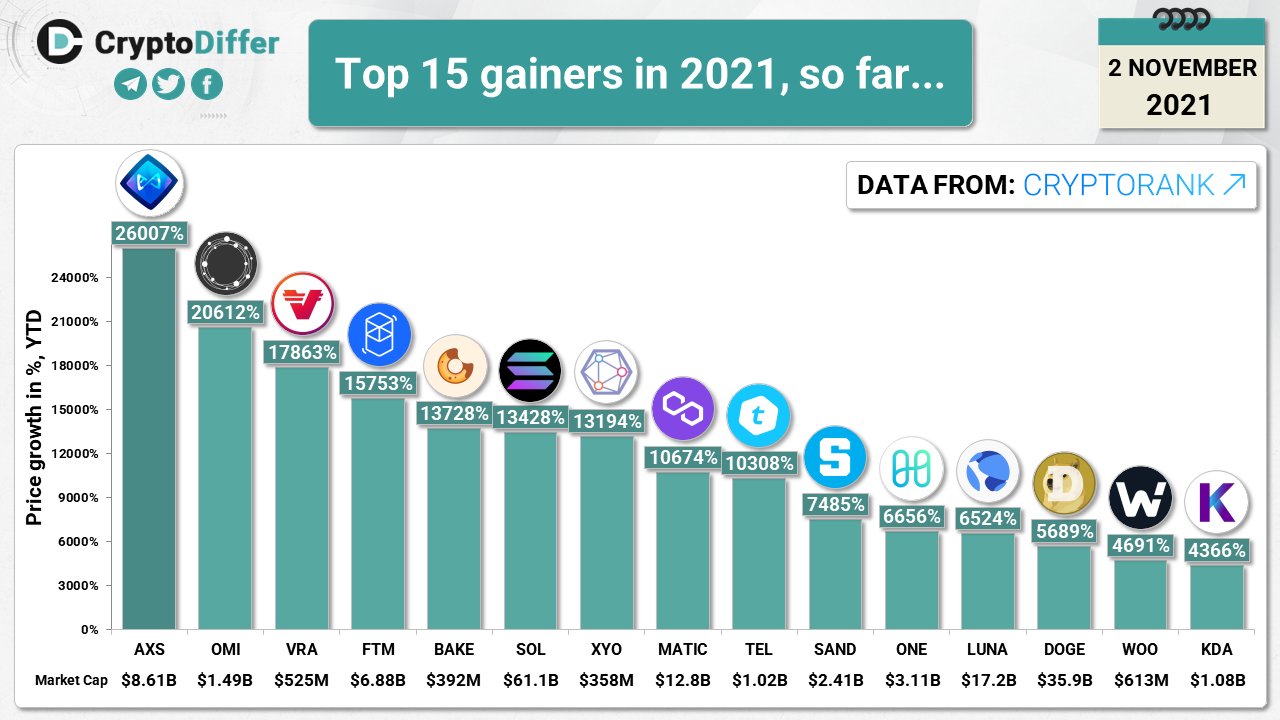 CryptoDiffer also unveils the top blockchains by average daily development activity on code repository service GitHub over the last 30 days. According to the crypto news outlet, interoperability project Polkadot (DOT) and its canary network Kusama (KSM) are at the top of the list with 131 daily average GitHub commits. The two are followed by smart contract platform Cardano (ADA) and decentralized prediction market Gnosis (GNO) with 118 and 112 daily average GitHub commits, respectively.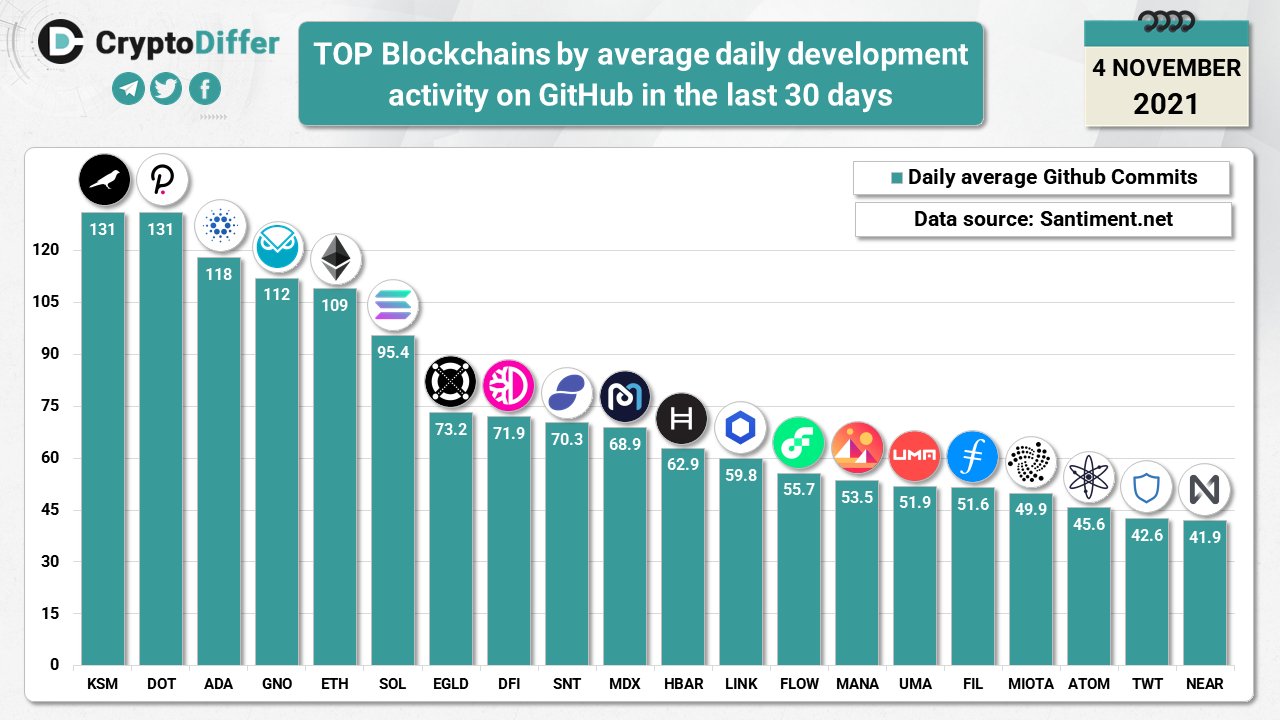 Looking at the performance of centralized exchange tokens this year, CryptoDiffer says KuCoin Token (KCS), the native asset of KuCoin crypto exchange, is 2021's biggest gainer with growth of over 2,600%. BNB, the utility token of global crypto exchange Binance Coin, comes in at number five after posting gains of 1,393% this year. FTT, the native asset of derivatives crypto exchange FTX, takes the ninth spot with growth of 948%.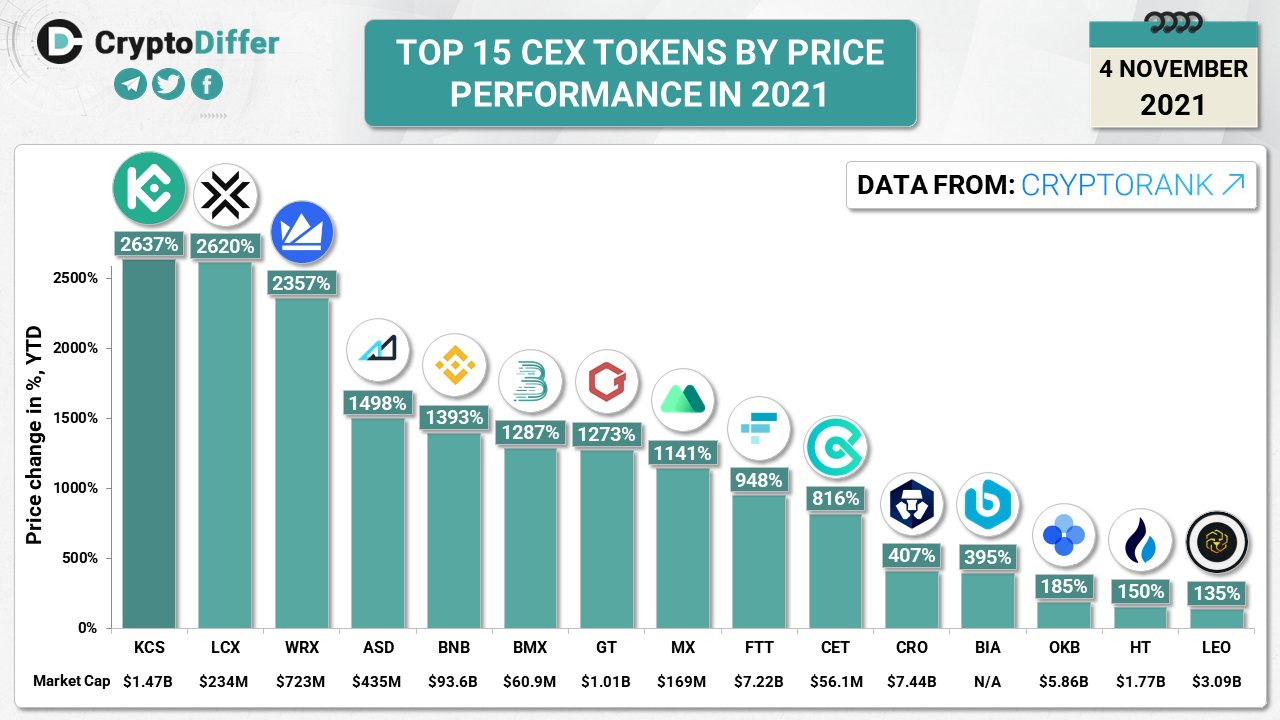 Axie Infinity's digital land sells for $2.5 million, boosting AXS price uptrend
Axie Infinity is the most traded NFT collection in Q3 2021, emerging as the second most popular blockchain gaming token.
Digital land plot on Axie Infinity metaverse sold for 550 ETH, a record high in the play-to-earn gaming ecosystem.
Sky Mavis, developers of Axie Infinity, plan to sell 90,000 plots of land to create news games within the ecosystem.
Axie Infinity is one of the most popular blockchain games among Ethereum whales. AXS token has posted 85% gains over the past 90 days. The game developers plan on nurturing the play-to-earn gaming ecosystem by powering new games on digital plots of land. 
Digital plot of land sells for 550 ETH on Axie Infinity
Axie Infinity, the play-to-earn game, rewards players with tokens for winning battles and conquests. The blockchain game relies on the addition of new players in the ecosystem for the Axie economy's growth, therefore analysts question the sustainability of the game.
Sky Mavis, the Axie Infinity developers, plans to sell 90,000 plots of digital land in the game's ecosystem. Developers have an opportunity to buy these digital plots and build their blockchain games in the Axie Infinity ecosystem. 
The popular metaverse game recently hit a milestone, selling a digital plot for 500 ETH, or the equivalent of $2.5 million. Axie Infinity has confirmed that this is the highest price for a digital plot of land in the metaverse. 
Yesterday, an Axie Genesis Plot sold for 550 ETH!

This was the largest sale ever for a single plot of digital land ✨🔥

Learn about Land 👇https://t.co/6zPh0roPqG pic.twitter.com/4h5yERCwwO— Axie Infinity🦇🔊 (@AxieInfinity) November 25, 2021
Back in February 2021, Axie Infinity sold nine plots of digital land for $1.5 million.
AXS token has struggled to recover from a nearly 20% drop below its all-time high of $164.90. Eric Krown, a cryptocurrency analyst, is bullish on AXS price and expects a recovery. Krown has set a target of $180 for AXS price. In his recent YouTube video, Krown said:
Axie Infinity has more or less a bullish setup… A daily closure above $150 or so will imply a target above $180, a little bit higher than that actually.
Axie Infinity ($AXS) Surpasses SAND in Daily Sales, Sells Virtual Land NFT For Record 550 ETH

Despite the Sandbox's SAND gaining massively across the month of November, the native token of Axie Infinity ($AXS) has now surpassed it in daily sales volume.
Axie Infinity ($AXS) Tops SAND on Daily Sales Volume Chart
According to data from Cryptoslam, AXS traded the hands of roughly 35,000 buyers over 90,000 transactions — a 3.4% increase in daily sales compared to the previous day. That's more than 100 times the transaction that SAND has seen in 24 hours, with only 485 buyers, trading 842 times in the same 24 hours timeframe. With this, Axie Infinity easily becomes top of the log on the list of NFTs with the highest daily sales volume — over $24 million of sales — within the last 24 hours.
NFTs Daily sales volume chart. Source: Cryptoslam
What Virtual Land Sells For 550 ETH?
NFT-based online videogame, Axie Infinity has confirmed late Thursday, that it has sold a slot of its virtual lands for 550 ETH (over $2.3 million). According to the developers of the game, this is a record amount, and the highest ever paid for virtual real estate.
Meanwhile, the obviously excited Axie Infinity could not conceal its joy at the sales, as the firm took to its official Twitter page to share the story, claiming that its digital nation has continued to shock the world.
Axies are non-fungible tokens (NFTs), or unique collectibles, which can either be minted, bought, or sold across different exchanges outside of the game.
According to the game, Axies live in a world called Lunacia. Now, in Lunacia, is a 301×301 square grid that has separate sections — with each representing a tokenized plot of land known as Terra. Game players have a right to either sell, or buy, or other times even rent out these plots of land to other players as they so desire. But according to reports, the particular land that was sold yesterday is under the 'Genesis' class — reportedly the rarest form of virtual land available in the Axie Infinity ecosystem.
Could this be the reason for the increased activity around Axie Infinity in the past 24 hours?
Top Ethereum Whales Accumulating Axie Infinity, Shiba Inu and 7 Additional Altcoins: Report
Whale-watching bot WhaleStats is revealing which altcoins are popular purchases among Ethereum's (ETH) top 1,000 holders.
According to the whale-surveilling bot, deep-pocketed Ethereum holders bought an average of $296,737 worth of stablecoin USD Coin (USDC) in the last 24 hours to top the list. It is followed by smart contract platform Ethereum and top stablecoin Tether (USDT) with average purchase amounts of $288,215 and $231,936, respectively.
Next are player-controlled blockchain gaming platform Gala (GALA), with an average purchase amount of $47,669, followed by decentralized finance (DeFi) protocol Yearn.finance (YFI) at $18,765.
Meanwhile, stablecoin Binance USD (BUSD), popular blockchain-based game Axie Infinity (AXS), decentralized exchange Uniswap (UNI), decentralized oracle network Chainlink (LINK) and meme crypto Shiba Inu (SHIB) all have average purchase amounts below $7,000.
Looking at the overall holdings of the top Ethereum wallets minus their ETH, one altcoin has separated itself from the rest of the pack: dog-themed meme coin Shiba Inu.
Data shows that the top 1,000 ETH wallets combined hold over $2.36 billion worth of SHIB tokens.
Coming in at second is USDT as the largest ETH whales hold over $652 million worth of Tether, while third place goes to CRO, the native token of digital assets financial services platform Crypto.com, with holdings worth more than $651 million.
Ethereum is exchanging hands at $4,330 as of writing, an 11% decrease from its 14-day high of $4,849.