Terra Price Prediction: LUNA bulls to set new highs at $60
Terra price has recently flipped the $48.39 resistance barrier into a support floor, indicating the start of a new uptrend.
This move will soon follow a 20% upswing to $61.92, where LUNA will set a new all-time high.
A breakdown of the $46.20 support floor will invalidate the bullish thesis.
Terra price was stuck under a crucial resistance level for roughly a month, preventing it from any gains. However, on November 4, LUNA breached this barrier, kick-starting an upswing. This move will likely continue, helping the altcoin set a new all-time high.
Terra price to enter unexplored territory
Terra price set up a new all-time high at $49.57 on October 4 but closed the four-hour candlestick at $48.39. Since then, LUNA tried to overcome this barrier four times but failed each time, making it a stiff resistance level.
However, on November 4, Terra price saw a massive surge in buying pressure that pushed it past this hurdle, kick-starting a 15% ascent that set up a new high at $53.29. Since then, LUNA has dropped 10%, but the recovery is going well and shows promise of continuing this uptrend.
In this case, investors can expect Terra price to make a run at the 161.8% trend-based Fibonacci extension level at $61.92 after a 20% ascent from its current position.
Although LUNA could extend its upswing, market participants should exercise caution as the volatility is typically high during the weekends.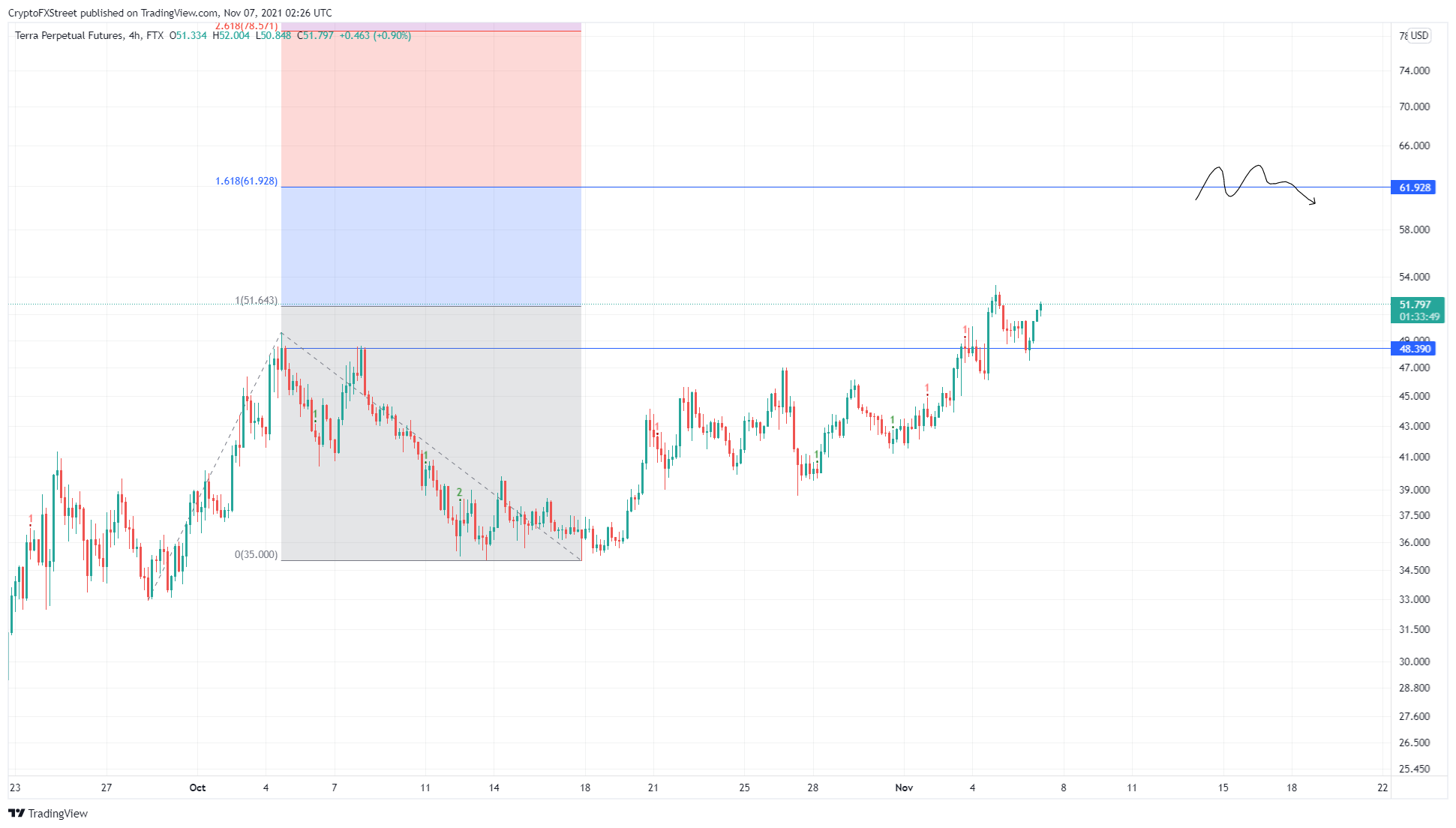 LUNA/USDT 4-hour chart
While things are looking up for Terra price, a breakdown of the $48.39 resistance barrier will indicate indecision and weakness among buyers. This move will suggest that a further downtrend is likely.
If LUNA bulls recover quickly to make a comeback, the upswing will likely continue. However, a breakdown of the subsequent support floor at $46.20 will invalidate the bullish thesis for Terra price.
Terra (LUNA) Pushes Dogecoin (DOGE) Out of Top 10
Dogecoin has left CoinMarketCap's top 10, with the native token of the Terra blockchain taking its place
Terra (LUNA) has kicked Dogecoin (DOGE) out of the top 10 on CoinMarketCap, the leading cryptocurrency ranking site.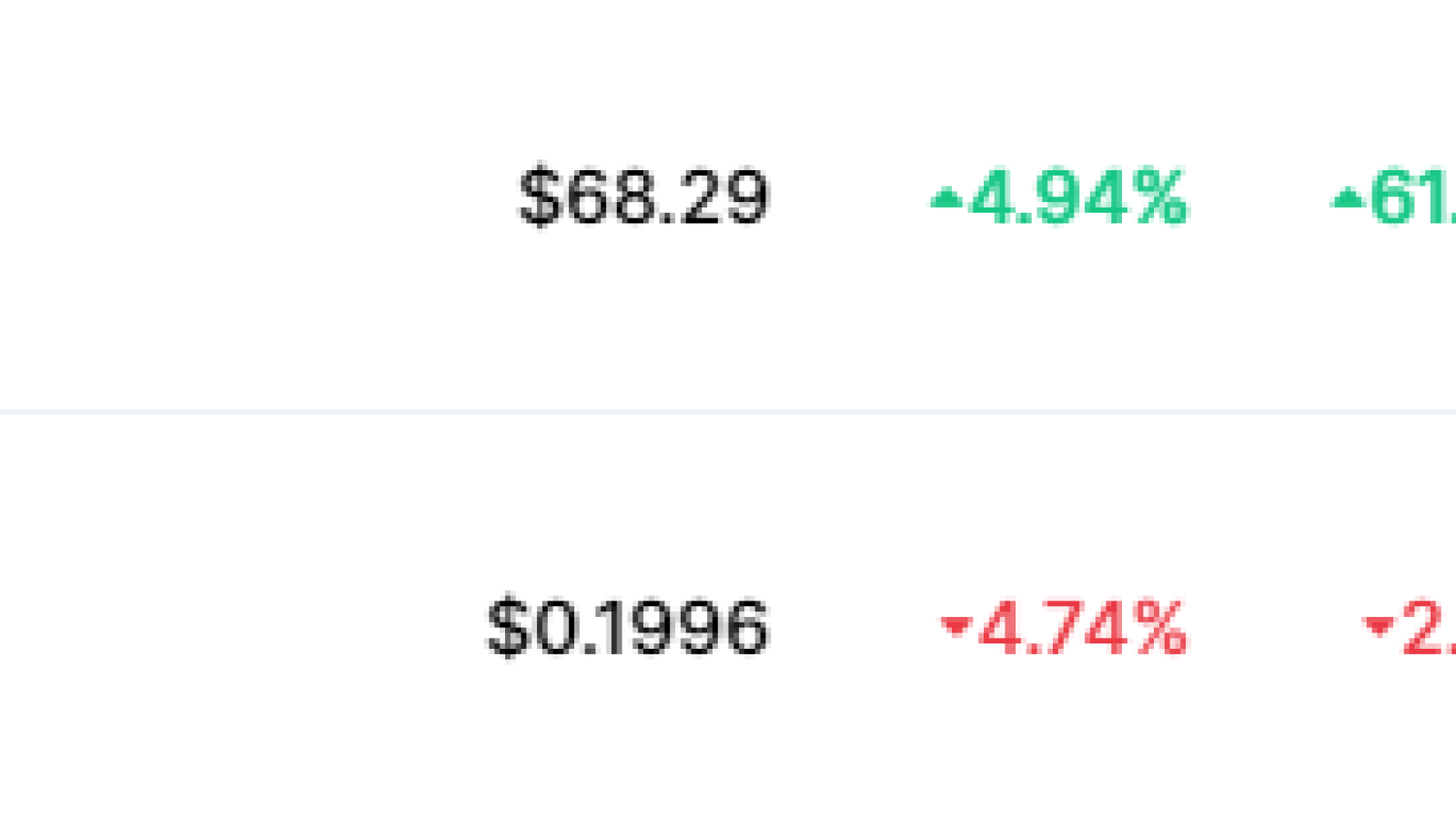 This comes just a day after it had trumped Shiba Inu, another meme coin sensation.  

The staking and governance token of the Terra protocol has been a massive outperformer over the past week, soaring by more than 60%.

This Friday, it is up by yet another 5% despite virtually all major coins being in the red. The LUNA token has set a record high of $69.56.

Bitcoin is down 1% today, continuing its streak of lethargic price action.
The largest cryptocurrency is trading in tandem with the U.S. stock market, which is currently under pressure after a November jobs report suggested that the Federal Reserve would be emboldened to act more aggressively on tapering.
After its show-stopping rally in early 2021, Dogecoin managed to break into CMC's top 5 in mid-August, surpassing the Tether stablecoin. In early May, it peaked at number 4, with its market cap surpassing a staggering $90 billion dollars.
However, the cryptocurrency infamously crashed during Elon Musk's hosting debut on "Saturday Night Live." It is now down 72.53% from the lifetime peak of $0.731578.
LUNA breaks out to new all-time highs as Terra's DeFi dollar gains traction
LUNA price has posted a 56% rally over the last 7 days, hitting a new all-time high at $67.87.
The algorithmic-backed stablecoin UST is the largest of its kind, driving Web3 adoption.
Anyswap protocol has announced a partnership with Terra, powering a cross-chain bridge between TerraUSD and Fantom.
As Web3 adoption gathers steam, Terra-powered LUNA hit a new all-time high. LUNA's daily trade volume has exploded, hitting $2.26 billion today. The Terra ecosystem has announced new partnerships to bridge TerraUSD with layer-2 tokens.
Terra's LUNA hit a new all-time high
Stablecoins play a key role in the crypto ecosystem. Though controversial, these assets bridge the gap between fiat and cryptocurrencies on exchanges. Terra's stablecoin TerraUSD (UST) has a market capitalization that has crossed $1.2 billion.
UST is the first algorithmic stablecoin built for e-commerce andhas been dubbed the DeFi dollar. Terra's ecosystem aims to offer next-generation digital commerce and money through UST and LUNA.
LUNA hit fresh all-time highs three times in the past 30 days, offering holders over 55% gains.
As Web3 adoption increases, Terra's stablecoin becomes more relevant. 
Terra announced the news of its partnership with Anyswap Network. The trustless protocol bridges layer-1 and layer-2 blockchains. UST is now connected to FTM through a cross-chain bridge. 
🔵 @Terra_money Partnership with @AnyswapNetwork

🔵 The cross-chain bridge service between Terra and Fantom is available on https://t.co/ova71Pc3I5!

⬇️ INFO :https://t.co/PfpJ7J1K6E#FantomSpacd— 𝐅𝐚𝐧𝐭𝐨𝐦 𝐒𝐩𝐚𝐜𝐞 (@Fantom_Space) December 2, 2021
A new proposal on Injective, a layer-2 decentralized exchange protocol, proposes to enable Terra ecosystem price feeds. The exchange proposes to launch UST pairs for LUNA, Mirror Protocol (MIR) and Anchor Protocol (ANC). 
Analysts have a bullish outlook on Terra's LUNA. @BigCheds, a pseudonymous cryptocurrency analyst, is bullish on the coin. 
$LUNA (USDT) though incredibly bullish we must observe:

Note the decreasing size of the real candle bodies of the last 3 completed candles. Representative of decreasing trend strength according to Japanese candlestick theory

Can also argue last 2 candles are high wave pic.twitter.com/r9KJBx4ua5— Cheds (@BigCheds) December 3, 2021
Over 7.2 million LUNA has been burned in the last week of November, fueling the altcoin's price rally.
Hayden Hughes, CEO of Alpha Impact, a social-trading platform, told Bloomberg,
Luna's economics are built to be deflationary, and over the past month we've seen 100 million Luna tokens be burned, which removes them from supply forever. This reduction in supply combined with the popularity of Luna staking has created a supply shock that has driven up the value.
Terra's LUNA Eyes A Spot In Top Ten With 60% Weekly Gains and New All-Time High

While the broader cryptocurrency has been showing a sideways movement, Terraform Labs' LUNA token has significantly climbed the ranks gaining 60% over the last week. Terra's LUNA token has toppled some of the recent top performers like Polygon (MATIC), Shiba INU, and Avalanche (AVAX).
As of press time, LUNA is trading 9.58% higher at a new all-time high of $69.38 with a market cap of 26.8 billion. LUNA is now looking to make its way into the top-ten crypto-list by surging past the only meme coin – Dogecoin – in this list.
The LUNA price rally comes on the backdrop of the optimism surrounding the potential for decentralized applications (DApps). Besides, the use of the LUNA coin in these blockchain applications is also the reason behind it. As on-chain data provider Santiment explains:
Terra has been on a tear for most of Q4, and is up an astounding +76% against the #Bitcoin's price since November 24th. Also encouraging is the upward long-term trajectory of $LUNA's development activity rate, with rising #github submissions over time.
Understanding Terra's Functioning and LUNA's Use
The Terra protocol works on an algorithm of deploying fiat-pegged stablecoins useful in a decentralized finance (DeFi) ecosystem. Terraform's DeFi ecosystem includes popular apps like Pylon, Mirror, and Anchor.
Besides, Terraforms recently introduced a governance proposal to destroy and burn nearly 88 million LUNA coins from the community pool, swapping it for Terra's native stablecoin UST. In less than a month's time, UST's market value has surged 3x from $2.9 billion to $7.7 billion. This reduction in supply and scarcity – a deflationary economic activity – of LUNA has pushed the price higher. Speaking to Bloomberg, Brian Curran, head of communications at Terraform Labs said:
"Mostly everything we do as a company supporting the Terra ecosystem and third-party projects that build and develop creates more demand for UST, closing the 'demand loop' with many use cases for UST ranging from payments, to savings, and investing.

As a result, Luna's price dynamics are mostly a function of the demand for UST, and by extension, the demand for using UST across various applications and blockchains."
Cross-chain bridges like Wormhole can further boost the demand for Terra's LUNA. This is because they might allow Terra to export UST to other blockchain networks.