Little-Known Ethereum Competitor Soars 175% in Just Seven Days, Reaching $3,000,000,000 Market Cap
An under-the-radar altcoin that utilizes key features from both Bitcoin and Ethereum just broke into the top 100 crypto assets by market cap.
Hybrid blockchain platform Kadena (KDA) reached a $3 billion market cap on Sunday, surging 175% in just seven days. It is now the 69th largest crypto asset by market cap, currently trading at $17.45.
Kadena was created by former JPMorgan blockchain developers Stuart Popejoy and Will Martino.
The project's developers say they've built a safe and scalable way to implement smart contracts and compete with Ethereum while also utilizing the proof-of-work consensus model that was first introduced by Bitcoin.
The protocol's Pact software is designed to allow anyone to create a smart contract.
"Pact is the first truly human-readable smart contract language. It lets anyone write clearly, directly and safely onto a blockchain – a true advance for automated contracts.
Pact automatically detects bugs and keeps the purpose of code clear… freeing you from the exploits you'll face on Ethereum and other unsafe platforms."
Kadena also says they've found a way to scale the proof-of-work consensus model that was first introduced by Bitcoin.
"Unlike other platforms, Kadena is designed to power global financial systems. Our protocol continually scales to higher TPS (Transactions Per Second) as more chains are added to the network.
With its revolutionary multi-chain architecture, Kadena is the only scalable layer-1 Proof of Work (PoW) platform capable of scaling to settle the 9+ million trades executed on the NYSE [New York Stock Exchange] each day."
Other features of the Kadena platform include no-cost transactions, energy efficiency and industrial scalability.
ETH, BUSD, and MANA Market Activity Dominates Crypto Space
Top 10 crypto assets with a solid performance in the market.
Altcoins surge market positions.
The crypto world is now back on its feet and shows no sign of slowing down. In fact, many altcoins are currently surging their position right now in the market. The performance of these crypto-assets contributes a lot to the recent uptrend position of the space.
These made LunarCrush Social Intelligence for Crypto, an organization that gathers crypto information, react in a tweet post:
Real-time Top 10 Coins by AltRank™ with leading social + market activity.$eth #ethereum$dexe #dexe$luna #terramoney $any #anyswap$usdt #tether$mana #decentraland$sfund #seedifyfund$req #requestnetwork$busd #binanceusd$mx #mxtokenhttps://t.co/wjRPiDJS9g pic.twitter.com/XQLOKLLW46— LunarCrush 🪐 Social Intelligence for Crypto (@LunarCRUSH) December 4, 2021
In the tweet post, LunarCrush Social Intelligence for Crypto provides the top 10 crypto assets that are doing a solid performance in the market. This solid performance includes the social and market activity of the virtual assets. The cryptos that are listed in the top ten list include Ethereum, Decentraland, and Binance USD, to name a few.
In terms of the latest trend in the crypto industry, the metaverse remains to be one of the most talked-about topics. Decentraland is one of the crypto assets that integrated its blockchain with metaverse technology. Through this, the activity in the Decentraland network keeps increasing along with the mass adoption of its tokens.
On the other hand, the king of crypto assets, Bitcoin, remains the favorite crypto of investors worldwide. As a result, Bitcoin keeps its position as the number one crypto in the market, with a huge market cap of almost $1 trillion.
Ethereum out performs Bitcoin, ETH regains the majority its flash-crash losses
Ethereum price, like the broader cryptocurrency market, suffered a massive flash-crash during the early midnight trading on Saturday.
17% losses at one point were measured.
Throughout the remainder of Saturday, buying pressure wiped out nearly all of the overnight losses.
Ethereum price performance on Saturday has been nothing short of spectacular. Considering that most of the altcoin market is down fifteen to twenty percent, Ethereum's daily close of down only 4% is a testament to its strength.
Ethereum price regains nearly all of its flash-crash loss, handily outperforming the broader market
Ethereum price experienced one of the fastest and deepest flash-crashes since May. The timing of the collapse couldn't have been more perfect: midnight Eastern Standard Time (New York). Bears could push Etheruem to the $3,503 price level before a bullish reversal occurred.
The two primary support levels holding Ethereum price up are Senkou Span B at $3,700 and the third-highest volume node in the 2021 Volume Profile at $3,410. While highly bullish in the short-term, indecision remains and downside risks.
Despite the massive recovery, Ethereum price remains inside the daily Cloud – an area rife with indecision, volatility, and whipsaws. The Cloud is the place where trading accounts go to die. Etheruem needs a daily close at or above the $4,650 price level to convert to a full-blown bull market.
Ethereum price is tilted more bearish here, especially with the Chikou Span below the candlesticks and in open space. Adding to the bearish outlook is the bear flag breakout on the Relative Strength Index. However, the final oversold level at 40 in the Relative Strength Index might yield some support.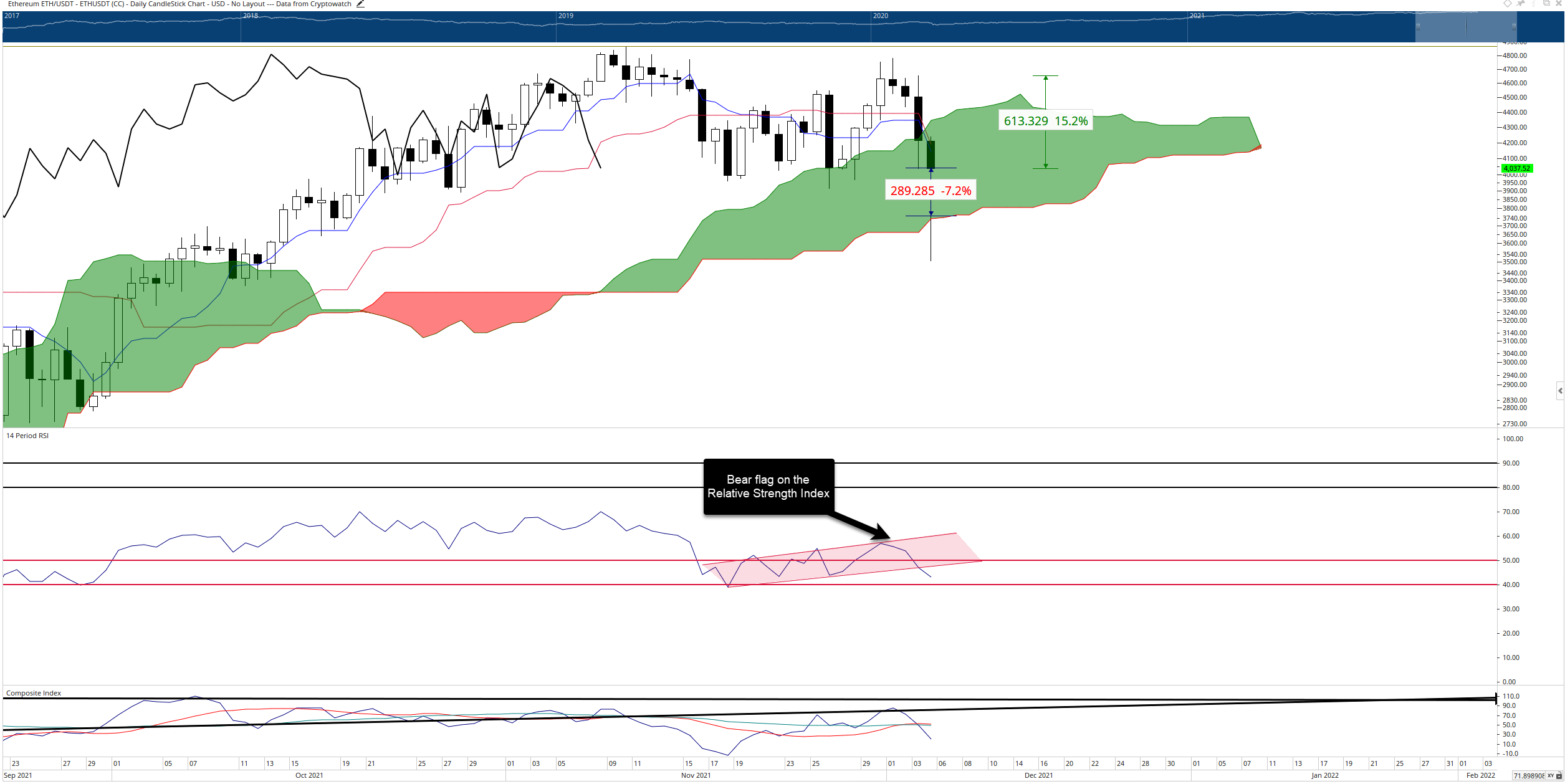 ETH/USD Daily Ichimoku Chart
The threshold that bears need to achieve to convert Ethereum price into a bear market is a much more manageable price range than converting to a bull market. For example, whereas Ethereum needs a 15% move above $4,000 to convert into a bull market, short-sellers only need a 7% move below $4,000 to convert Ethereum into a bear market.
Any daily close at or below $3,700 would position Ethereum below the Cloud and into bear market territory.
Here's What's Next for Ethereum Rivals Solana and Avalanche, According to Analyst Nicholas Merten
Prominent crypto analyst Nicholas Merten is taking a look at two layer-1 digital assets stacked up against the Ethereum (ETH) trading pair.
In a new strategy session, the host of DataDash tells his 486,000 YouTube subscribers where he thinks smart contract platforms Avalanche (AVAX) and Solana (SOL) are headed.
According to Merten, it is better to compare both coins to ETH rather than the US dollar or Bitcoin (BTC) as Ethereum's greater success in recent years makes it a better barometer than Bitcoin.
"If you're really looking to see if your play is outpacing others in the market, you want to take a look against Ethereum. It is the second-largest cryptocurrency in this space and it has been outpacing Bitcoin around 380% to 400% in this cycle alone since 2019.
So we want to be able to find plays that are outpacing Ethereum because Ethereum is a really solid bet. It's a really good medium-risk, medium-reward play."
Looking at Avalanche, Merten says that a local top might be in for the AVAX against ETH after the altcoin's massive rally in the last few months.
"Avalanche has done phenomenally well against Ethereum. If you take a look back here since August, it's up 422% against Ethereum. Great rally, even after the [recent] pullback here…
When I look at this chart I definitely like seeing an asset that performs well against Ethereum, but each time it's come up to this range [0.034 ETH or $139.21] historically, it's been dragged down…
I think that again we might see some kind of repetition, or at least a revisit down to the previous support range [0.014 ETH or $57.32], which means that's it probably going to go down a little over 35% to 40% against Ethereum. A pretty decent decline.
At time of writing, AVAX is down 1% on the day to $107.20.
As for Solana's price action against Ethereum, Merten notes that the pair is flashing a bearish pattern after printing massive rallies in the last 18 months.
"But to be completely frank as a trader, Solana's had many rallies in the past. It's had one back here [from July to August of 2020], 336% rally in price. Then back here [December of 2020], if you want to take from the lows, in this case, 1,000% move, massive multiples in price.
We take a look here as well, from the recent rally here [August 2021] into September, very similar to history, a little over 350% to 400%. Not a bad rally.
But to be completely frank, we've been stagnant since September generally. The trend is starting to fade here. We don't have that same momentum, and it's seeing if it can hold out against Ethereum.
If you break below this range here [0.046 ETH or $188], I think it's very favorable that Ethereum is going to start to outpace Solana as well as other major layer-1 plays."
Solana is currently down nearly 10% and trading at $203.79.