Top 3 Price Prediction Bitcoin, Ethereum, Ripple: ETH leads crypto market rally with new all-time high
Bitcoin price makes a strong comeback after rallying 9% over the past 48 hours.
Ethereum price struts toward $5,000 after a brief bounce from the $4,380 support level.
Ripple price rallies 11% with hopes of flipping the $1.31 to $1.41 supply zone.
Bitcoin price has been on a steady uptrend for the past two days and shows signs of continuing. Ethereum and Ripple are following the big cryptic and are heading higher. This trend is likely to translate to other altcoins in the market soon.
Bitcoin price and volatility resurface
Bitcoin price was stuck consolidating under the $63,757 resistance barrier and the $60,000 support level for roughly 16 days. However, the sudden uptick in buying pressure on November 8 has propelled BTC by 4% so far.
If this ascent continues, allowing the Bitcoin price to produce a daily close above $65,000, it will confirm the start of an uptrend. In such a situation, BTC will make a run at the $70,000 psychological barrier and set a new high here.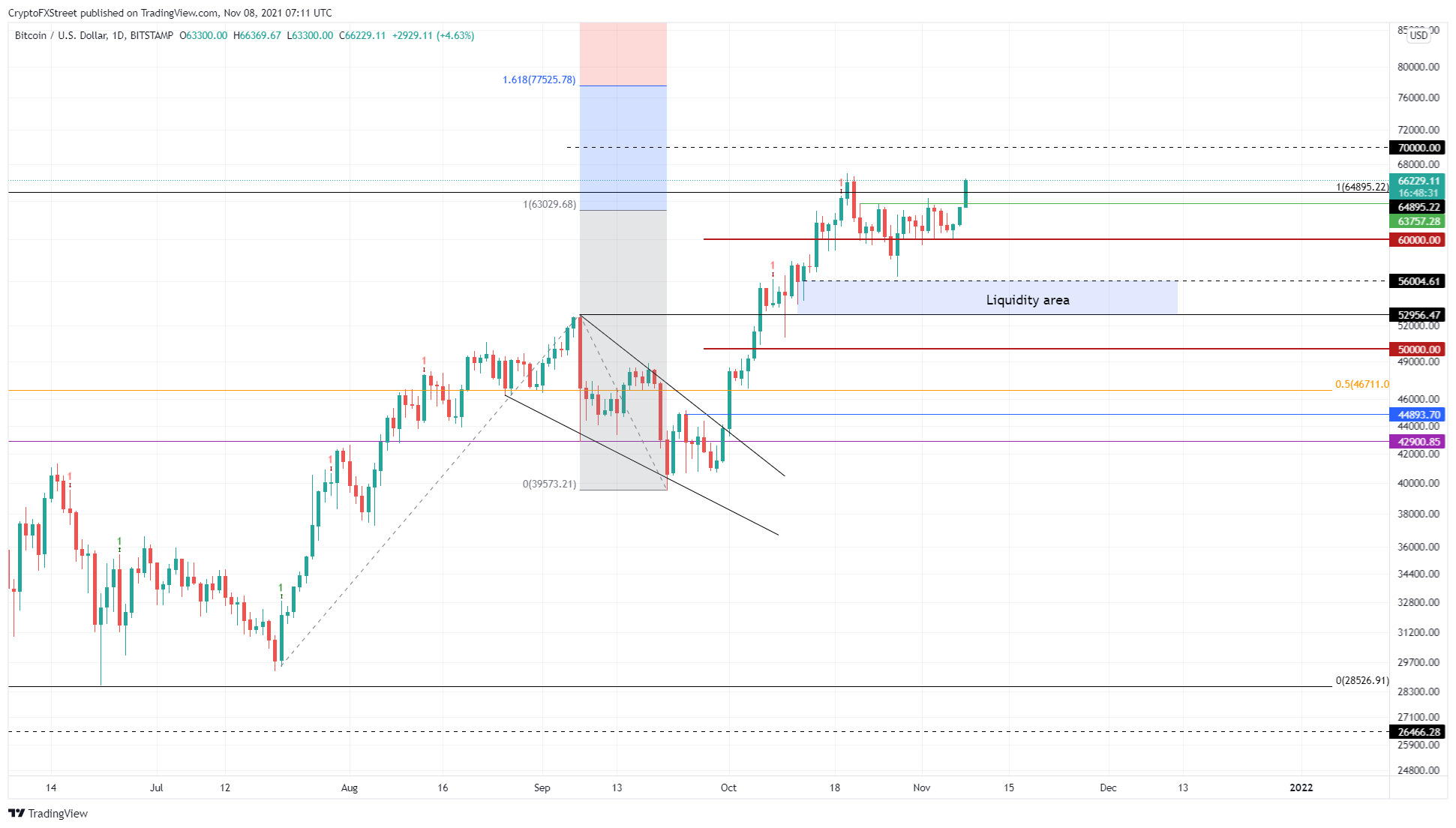 BTC/USD 1-day chart
If Bitcoin price fails to break above the $65,000 barrier, it will likely slide into consolidation. A daily close below $60,000 will invalidate the bullish thesis and knock BTC down to the liquidity area ranging from $52,956 to $56,004.
Ethereum price makes its way up
Ethereum price has been on a slow but unwavering uptrend since October 1. The recent slowdown in Bitcoin price action did not stop ETH as it set up a new record high at $4,460. The replenished bullish momentum in BTC seems to be rippling out to ETH as it is currently in the price discovery phase with a new all-time high at $4,768.
If the bullish outlook persists, there is a high chance ETH will tag the $5,000 psychological level and make a run for the next level at $6,384.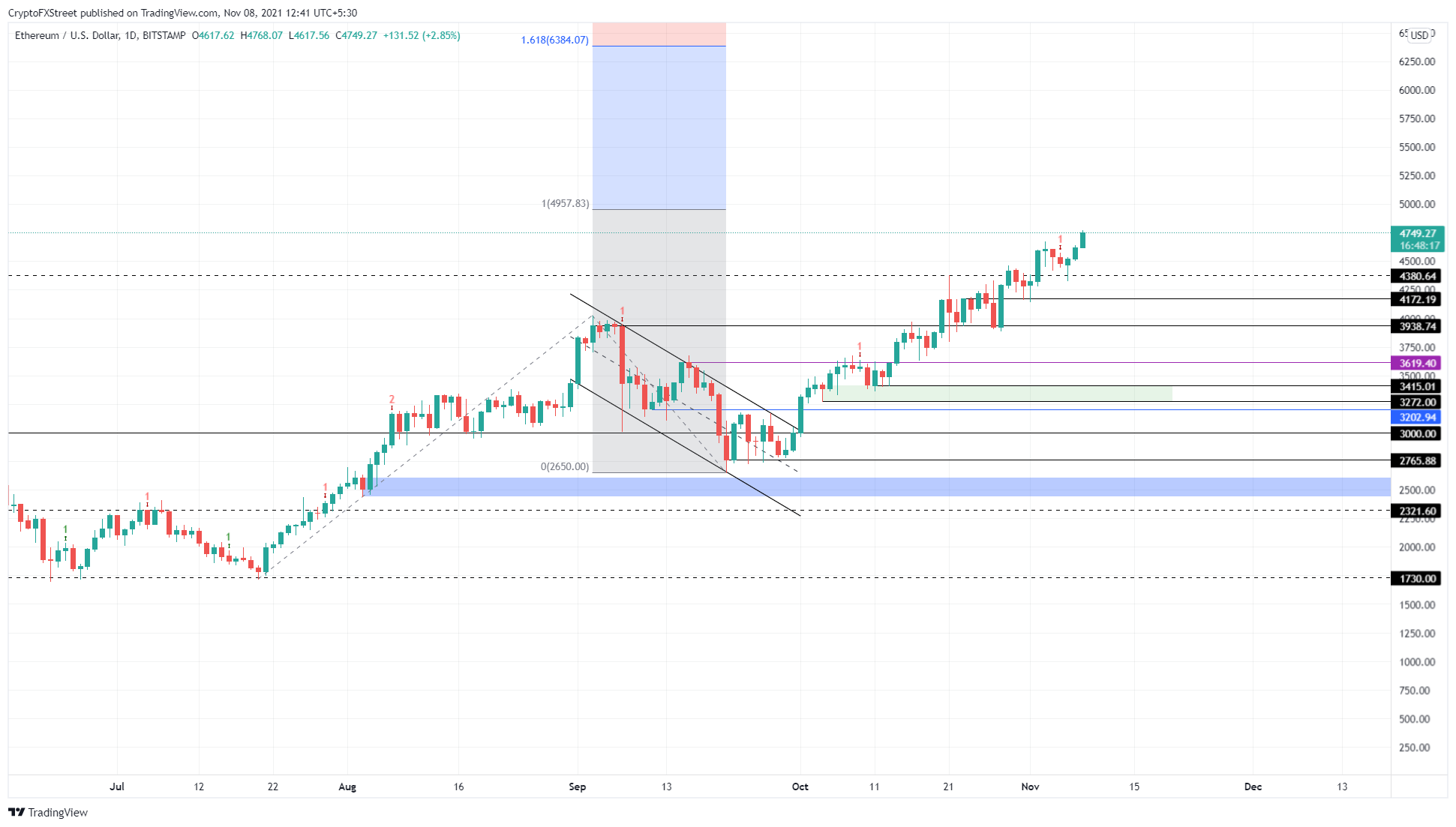 ETH/USD 1-day chart
Regardless of the bullish outlook, if Bitcoin price crashes to $51,000, investors can expect Ethereum price to respond by retracing to $4,000 or $3,600 support floor.
Ripple price looks ready to tackle hurdles
Ripple price set up multiple lower highs and three higher lows from August 9. Connecting these swing points using trend lines reveals the formation of a symmetrical triangle. This technical formation forecasts a 79% ascent to $1.97, determined by adding the distance between the first swing high and low to the breakout point at $1.1.
XRP price breached the pattern's upper trend line on November 2 and has rallied 19% so far. A continuation of the upswing will put Ripple in front of the supply zone that extends from $1.31 to $1.41. 
A daily close above this level will suggest the continuation of the uptrend to roughly $2.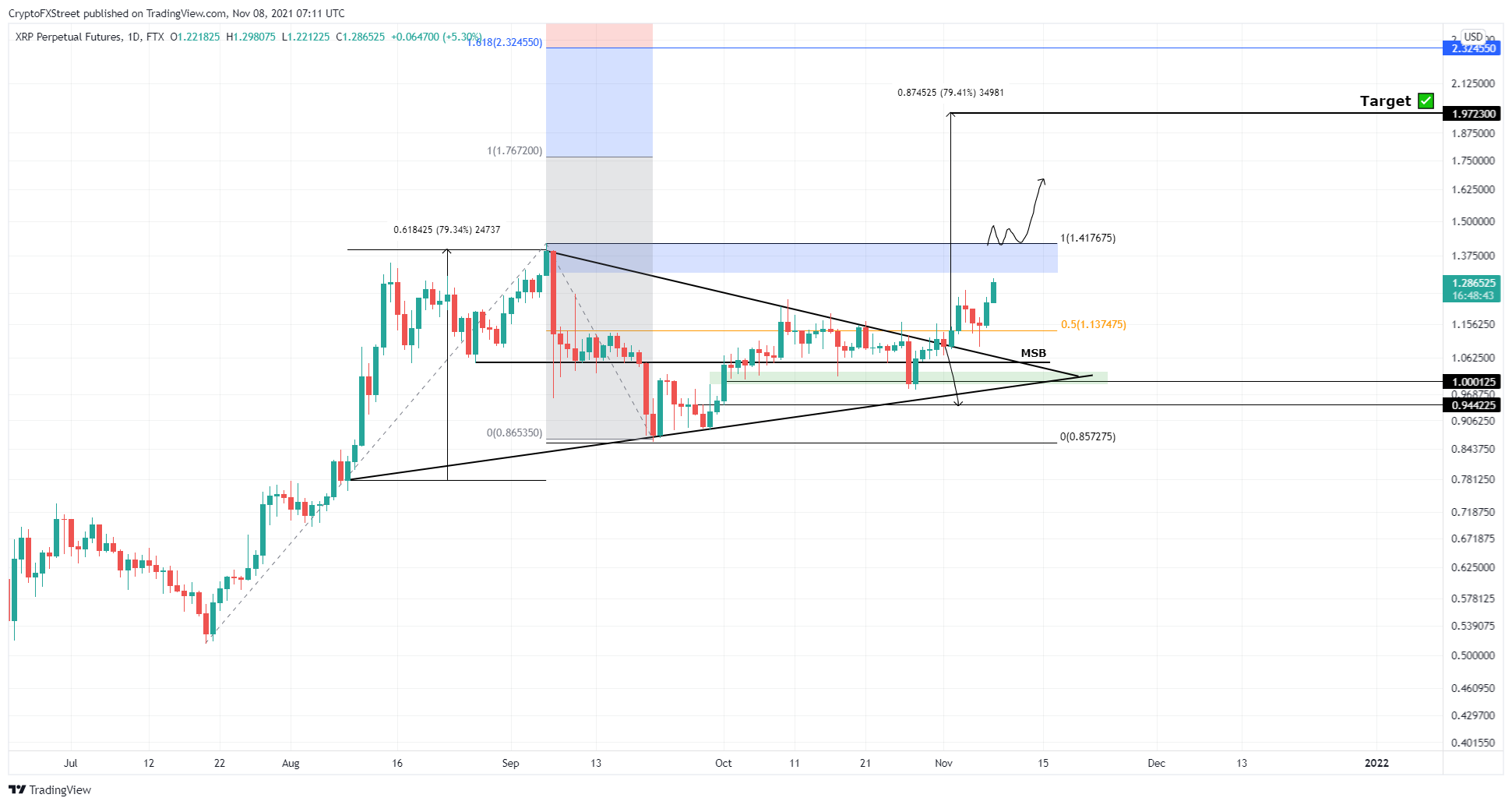 XRP/USD 1-day chart
On the other hand, if Ripple price fails to breach the said supply zone, investors should expect a pullback to the 50% Fibonacci retracement level at $1.13. A breakdown of this barrier will jeopardize the upswing and open the possibility of a retest of the $1.05 support level.
Expert calls El Salvador's Bitcoin volcano bonds, 'Michael Saylor playbook for a country'
El Salvador's "Bitcoin City" and the proposed $1 billion Bitcoin volcano bond have ignited a range of reactions across the world. These are ambitious plans, no doubt, but they come as the crypto market is seeing a downturn and major economies are fighting inflation.
During an episode of the What Bitcoin Did podcast, host Peter McCormack spoke to macroeconomist Lyn Alden about El Salvador's Bitcoin volcano bonds and whether they make sense.
Fire up the oven
To be issued in 2022, the first volcano bond will have a BTC booster coupon rate of 6.5% and a decade-long duration. Interestingly, $500 million will reportedly be used for Bitcoin mining, while the other $500 million is ideally for buying BTC, which will be stored for five years. If it goes up in value, investors stand to make gains.
Alden called the volcano bonds the "Michael Saylor playbook for a country," and said,
"It's a very similar play to what a lot of entities do with real estate, where you never sell the real estate, you just keep refinancing it over time as it goes up in value. And, Bitcoin is basically a more volatile version of that. Obviously, it's got less track record – 13 years. But the potential gains, if you're right, are massive."
However, Alden stressed the need for experts in the Bitcoin mining process. She said,
"Now, my understanding is that obviously, geothermal is very attractive energy to use. The climate [in El Salvador] is not super ideal for Bitcoin miners. And, so overall, you generally would want to have experts there who make sure that it makes financial sense at the end of the day…"
But what if…
McCormack asked if generating $65 million per year was enough to pay investors. For her part, Alden was cautious and reminded viewers to consider credit risks, interest payments, and the market's reaction. However, she noted,
"And this is kind of the game theory of, say, different countries, where El Salvador has less to lose in some sense. They, you know, they basically..have already had economic issues."
McCormack and Alden agreed that the success of the volcano bond hinged on Bitcoin rallying for the next five years.
Bitcoin below $60,000
El Salvador's President Nayib Bukele might be bullish, but the market has been seeing bearish momentum, as Bitcoin fell to $54,729.53 at press time. What's more, the market was hovering around the fear or neutral territory for several days.
El Salvador Buys the Bitcoin Dip Amid "Black Friday Sale"
El Salvador took advantage of the sell-off, adding more coins to the country's treasury
El Salvador's President Nayib Bukele has taken to Twitter to announce that the country has added 100 Bitcoin ($5.4 million) to its treasury.
El Salvador just bought the dip.

100 extra coins acquired with a discount 🥳#Bitcoin 🇸🇻— Nayib Bukele 🇸🇻 (@nayibbukele) November 26, 2021
The Bitcoin price plunged by more than 9% earlier today amid the global market sell-off.  

The fact that the plunge took on Black Friday, the day retailers slash prices to attract deal-hunters and cause shopping bonanza, prompted many corny and tired jokes about Bitcoin being actually on sale. Hence, many holders are being encouraged to buy the dip. 

In late October, El Salvador bought 420 Bitcoin that was worth roughly $26 million at the time when the purchase was announced by Bukele on Twitter.
Earlier this month, the tropical country also announced its plan to build the first Bitcoin city in the world, which will be situated at the base of a volcano. It has partnered with blockchain company Blockstream in order to raise $1 billion via a "Bitcoin Bond" and fund the highly ambitious project.           
In early September, El Salvador made history by becoming the first country to adopt Bitcoin as its official currency.        
Is Bitcoin Entering a Bear Market? Top Analyst Updates Outlook After Sharp Crypto Pullback
Popular crypto strategist and trader Michaël van de Poppe is looking at where Bitcoin (BTC) might be headed as markets worldwide nosedive amid the discovery of a new coronavirus variant.
In a new strategy session, Van de Poppe tells his 148,000 YouTube subscribers that it's a combination of concern about more lockdowns as well as a cyclical correction that has investors seeing red.
"Not only the crypto markets are showing weakness at this point, as also the European stock markets opened significantly red today… and also the US stock markets are going to open in the red. But there are certain fears about the coronavirus lockdowns coming again. But there are also discussions about tapering happening at this point, and actually, the markets were due for a correction too. We have been grinding up heavily while the actual impact of a potential lockdown was not visible yet.
Right now we do see one, and we still have a very natural and healthy corrective move which we haven't been seeing in the past few months. In September we've had one, but since then no real correction has been taking place.
So finally we're getting it, and when the dollar is showing strength it would make sense that the equities are going to have some pain too. Bitcoin has been seeing this correction already. Equities are following suit in the past week now too."
The analyst goes on to assess Bitcoin's latest price dip, going so far as to conclude that while he doesn't think BTC is entering a bull market, he's doubtful about relying on traditional four-year models for predicting future price action.
"I really believe the reason why Bitcoin is dropping right now is because of the macroeconomics taking place. But regardless of that, I'm still very sure that the markets are not going to have a bear market at this stage. I think we are still eager for continuation in a bullish manner, but I do realize that the lengthening cycle's most likely going to take place. A healthy correction is also happening at this point, in which the question becomes, where is Bitcoin going to bottom out? And how are altcoins going to perform out of that?
We can throw away the four-year cycles, we can throw away PlanB's stock-to-flow model with these predictions because it's not valid anymore. We are in a different environment when it comes to the markets right now. Clearly, we are currently having a harsh corrective move… but it shows that the markets are not predictable and expecting Bitcoin to run in four-year cycles is just not the case."
Moving on to specific BTC price analysis, Van de Poppe is eyeing $55,000 as an important support level, but also thinks the leading crypto asset could fall as low as $48,000 – without signifying an end to the bull run.
"When we're looking at Bitcoin against [the US dollar], at this point we still have a very important support level [approximately $55,000] that we are acting on right now. The crucial thing when it comes to the daily time frame is that we are flipping this level with $66,000 as resistance and started to crack south.
Meaning that currently, we are into higher time-frame support, but definitely depending on how this daily's going to close, this is going to be weak going into the weekend, and especially going into next week, it will probably cause some more pain across markets.
In that case, when we're looking at levels that we should be watching, [$55,000 to $55,600] is the first real level that you should be looking out for. However, the crucial level to me is still this level around $48,000. Even if we get in that region, I still believe that we're bullish in markets and we're just having a very natural corrective move before we're going to accelerate again in 2022."
At time of writing, Bitcoin is down nearly 8% on the day and trading at $55,186.