Will SafeMoon Price, follow SHIB's rally to Surge to the Moon?
The crypto community is witnessing impressive growth in the fourth quarter. With several altcoins rising out of the odds. Meanwhile, the dominance of the star crypto is at 41.4%. Numerous newer and lesser-known coins in the crypto industry are giving out impressive returns, leaving out top-tier coins behind the dust. 
What does SafeMoon Hold For Investors and Traders?
SafeMoon is one such coin, which has been growing in popularity. And is gaining limelight across public platforms, garnering the interests of enthusiasts. It is a known fact that the protocol is community focussed and a fair launched De-Fi token. Substantial sources suggest that three simple functions occur during each trade. 
5% is reflected on to all holders for passive income.
5% is added to the liquidity pool.
A burn wallet receives a portion of the reflections to never be seen again.
The SafeMoon wallet, which is live on iOS has seen over 600,000 downloads. And the SafeMoon holders count has surpassed the 2,850,000 milestones. Meanwhile, the SafeMoon Exchange aims to bring tokenomics to all of the cryptos on its platform, which is in the pipeline. The makers refer to it as "Cryptonomics". SafeMoon ranks among the top De-Fi projects by social activity as of 04th November 2021.
⚡️TOP #DeFi Projects by Social Activity
4 November 2021$CAKE #SAFEMOON $CATE $NFTB $SLIM $FEG $YOOSHI $BSCX $LINK $FTM pic.twitter.com/6BCyllEQ3F— CryptoDep (@Crypto_Dep) November 4, 2021
SafeMoon Price Analysis
The digital asset at press time is trading at $0.00000424. While the market cap is around $2,402,538,956. The trading volume for the last 24-hours is at about $12,121,142. And about 428.16660 TR have been burned. The coin had peaked to $0.000006 levels on the 28th of October. And is witnessing a downfall ever since.
The price movements can be seen moving along a descending triangle on the charts. The digital asset can be seen accumulating currently, hinting at a breakout to higher highs. But a slight pullback to support levels can be expected. On the downside, a fall to the bottom can prevail, which is unlikely.
Collectively, newer emerging coins are making their presence felt in the crypto industry. Enthusiasts are expecting SafeMoon to rebound from its current levels, and follow a similar rally like that of SHIB. 
SafeMoon price gears up for upcoming V2 launch with drop in circulating token supply
Ahead of the SafeMoon V2 upgrade, there is a drop in the supply of circulating tokens.
SafeMoon price hit an all-time high seven months ago; since then, the token has plunged nearly 75%.
The petition to rename Jazz arena to "SafeMoon arena" gathered 4,878 signatures from the community.
Analysts note a bullish uptick in the RSI and target $0.000004 as the first target after a month of downtrend in SafeMoon price.
Despite being stuck in a downtrend, analysts predict a bullish breakout in the token. The shrinking supply of SafeMoon coupled with the upcoming V2 upgrade is likely to trigger a rally in the token.
SafeMoon price prepares for announcement of V2 upgrade launch date
The supply of SafeMoon has dropped to 571,000,000,000, and the shrinking supply is expected to drive the token's price higher. Historically, a drop in supply or implementation of burn policy fuels a bullish narrative in the token's price. 
SafeMoon hit a new all-time high several months ago; the token's price has plunged nearly 75% since then. Holders are awaiting the announcement of the V2 upgrade launch date. SafeMoon price has posted 16% losses over the past week and nearly 20% over the past two weeks. 
SafeMoon community added 4,878 signatures on a petition to rename Jazz Arena in Salt Lake City, Utah, to "SafeMoon Arena." SafeMoon plans to make Utah its future base of operations. Therefore SafeMoon HQ will be located in the Vivint Arena (Jazz Arena).
Cryptocurrency analysts at the YouTube channel "SafeMoon Army" have noted a bullish uptick in RSI. Analysts consider $0.000004 as the first target after nearly a month of downtrend in the token's price. 
The analyst has identified $0.00000271 as the base, and with the rise in interest from buyers, RSI is rising, providing support for a rebound in SafeMoon price. 
SafeMoon V2 countdown begins with prices ready to explode
John Karony, SafeMoon CEO shared an update on new developments in the project, announcing the transition to a new team.
Thomas Smith, SafeMoon's Chief Blockchain Officer has been replaced with a new team as part of the company's restructure and preparation for V2 launch.
The former Chief Blockchain Officer told David Gokhstein in a recent interview that he will make products that support SafeMoon from the outside.
SafeMoon is going through restructuring ahead of the V2 launch. CEO John Karony shared details of the team's progress and addition of new members to replace Thomas Smith. 
SafeMoon makes progress on V2 launch
SafeMoon's V2 upgrade will improve the security on the network. The upgraded contract brings utility features like reducing tax by 80% for ecommerce and wallet transfers. For SafeMoon users, the net value of their holdings will remain the same.
John Karony, CEO of SafeMoon explained that the net holdings of users will be divided by a factor of 1000, and the overall value remains the same. 
Transferring SafeMoon between two wallets is currently taxed at 10%, a drop by 80% makes it 2%. Users can migrate from V1 to V2 in two clicks, and a small amount of BNB to cover the transition fees.
Interestingly, SafeMoon recently announced that Chief Blockchain Officer Thomas Smith is now being replaced by a team. Karony shared details of the transition and revealed that the V2 upgrade is imminent, the handover process has started. There is no news of delay due to the transition.
The team has started a countdown and the upgrade is currently going through the final checks.
Thomas Smith told David Gokhstein of Gokhstein Media that he will support SafeMoon externally. 
Still here though, what if I create uses for it externally 🤷‍♀️ now is a great time to be excited— Thomas (@papacthulu) November 24, 2021
Earlier this month SafeMoon was recognized as the crypto community of the year. Analysts are bullish on SafeMoon based on the recent price trend.
SafeMoon ranks in one of the highest price gainers over the past 24 hours.
Adam Bergman, a cryptocurrency analyst at "The Adam Bergman Show" on YouTube is bullish on SafeMoon. Berg stresses on the role of centralized and regulated exchanges and SafeMoon's roadmap and community in pushing the asset's price higher.
Bergman expects SafeMoon price to explode, similar to Binance Coin, Shiba Inu token and Crypto.com (CRO). 
SafeMoon bulls return to the scene, preparing a bullish breakout to $0.000004
SafeMoon price is still stuck in a bearish triangle for over a month now.
The altcoin has seens a bullish uptick in the RSI, revealing bulls back on the buy-side.
Expect a breakout of the triangle, targeting $0.00000400 as the first profit target.
SafeMoon (SAFEMOON) price has been stuck in a downtrend for over a month now after peaking at $0.00000700. With the formation of a base at $0.00000271, buyers are now showing an interest in SafeMoon coins again. An uptick in the Relative Strength Index (RSI) has provided further support for a rebound. Expect a bullish breakout when some tailwinds flare-up in cryptocurrencies, that could lift SafeMoon price towards $0.00000400.
SafeMoon price sees bulls building momentum for a breakout
SafeMoon price has been falling in a sequence of  lower highs and lower lows for most of November. Bears got an unpleasant surprise, however, when Safemoon price hit the base level at $0.00000271, and bounced. Upside price action today has already witnessed two tests of the red descending trend line.
SafeMoon price could now start rising rapidly as a short squeeze sees bears closing their positions en masse and booking profits. This could temporarily increase demand for SafeMoon,  leading to a bullish breakout above the red descending trend line that has been capping reactions during the November descent, which, in turn, could see even further buying in from bulls.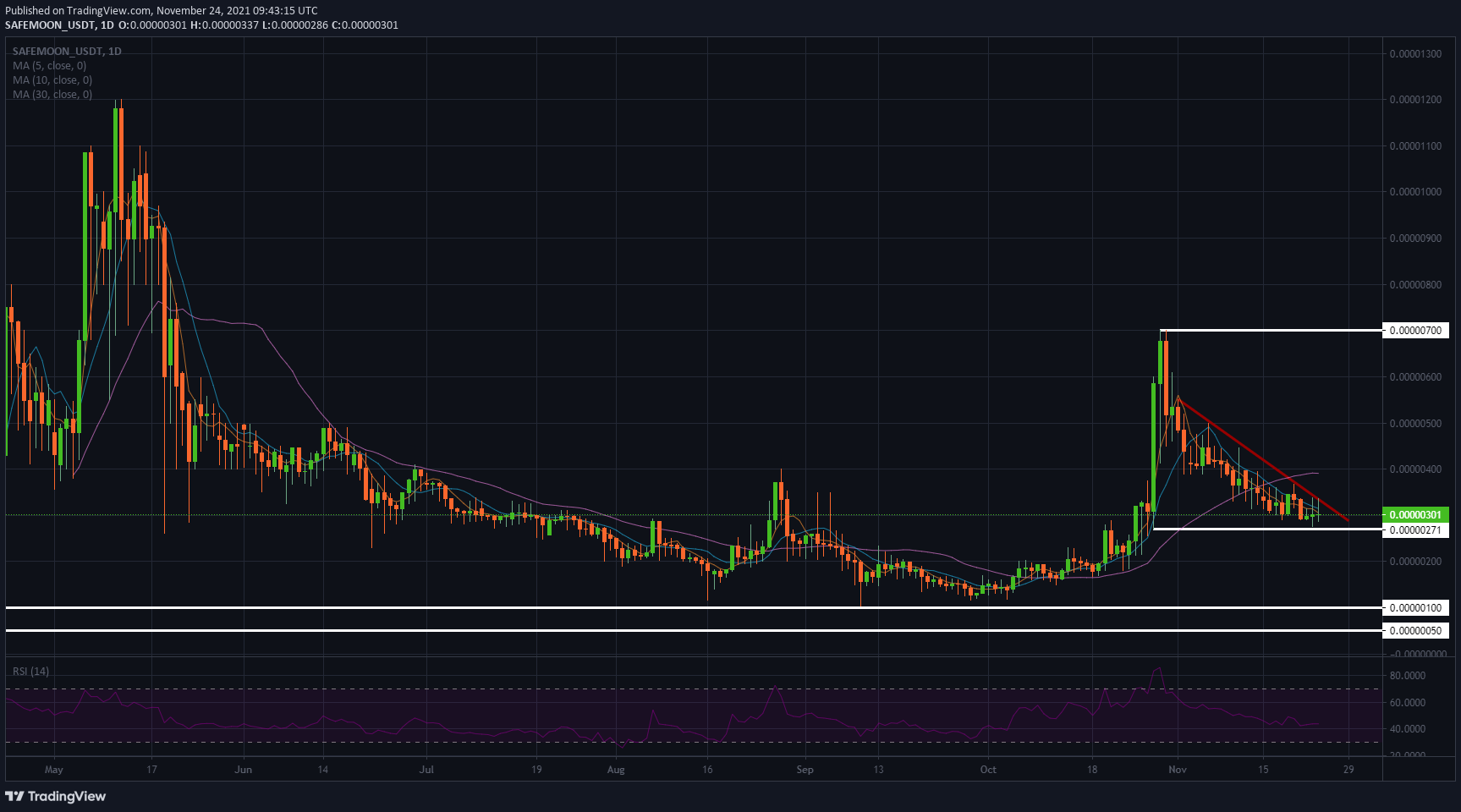 SAFEMOON/USD daily chart
Dreams of revisiting the $0.00000700 October high may be unrealistic in the short term  (such a move would also result in a double top reversal pattern, which might then be followed by a retracement to the downside). Rather expect SafeMoon price to find an initial limit at $0.00000400 where the  30-day Simple Moving Average (SMA) will provide resistance. Should bulls be able to push through this level, however – possibly helped by some additional tailwinds – a rally could go as far as $$0.00000500..