XRP price on cusp of 40% surge if Ripple overcomes last tough hurdle
XRP price is preparing for a 40% ascent if it is able to slice through and print a daily close above $1.27.
The last hurdle for Ripple is the resistance trend line that has barred the token from recording a higher high since mid-April.
However, a technical indicator suggests that XRP price may find its last obstacle challenging as it forms a top signal.
XRP price has been consolidating for over six months and is now on the edge of a 39% ascent as it nears a critical resistance level. If Ripple manages to slice above its last obstacle, a climb toward $1.77 is on the radar.
XRP price faced with stiff hurdle
XRP price appears ready for a massive breakout as Ripple has tagged the upper boundary of the prevailing symmetrical triangle pattern on the daily chart. The governing technical pattern suggests a bullish target of a 39% climb toward $1.77 if the cross-border remittance token can print a daily close above $1.27.
Adding credence to the bullish outlook is the Arms Index (TRIN), which gauges overall market sentiment, suggesting slightly more buyers than sellers in the market. 
The topside trend line of the symmetrical triangle has been acting as heavy resistance for XRP price, as Ripple was unable to slice above this trend line since April 16. Breaking above $1.27 could mean a massive move for the token toward the upside, fueled by bullish momentum.
However, if XRP price fails to slice and close above $1.27, Ripple could continue consolidating as it falls back within the prevailing chart pattern, trending sideways until further intentions are revealed.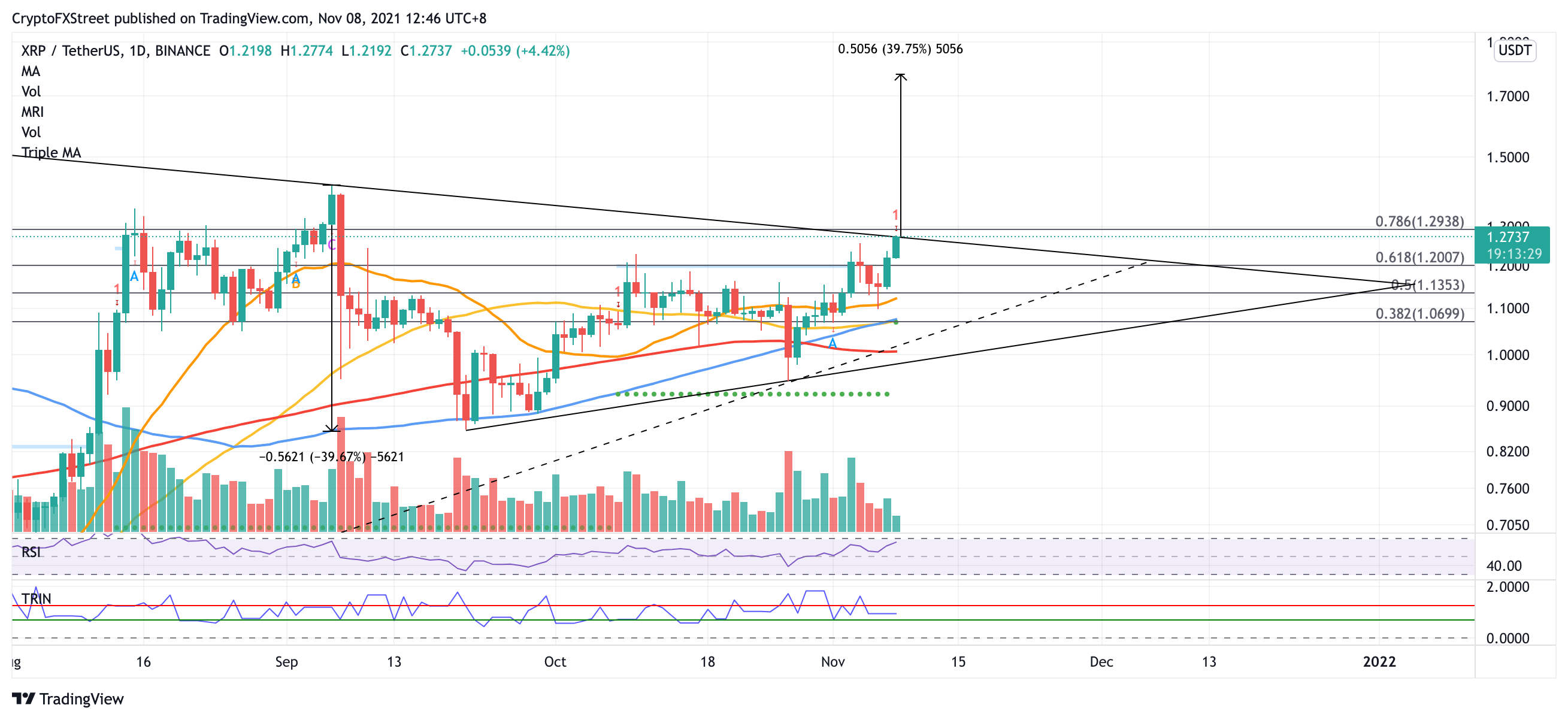 XRP/USDT daily chart
The first line of defense for XRP price is at the 61.8% Fibonacci retracement level at $1.20, then at the 50% Fibonacci retracement level at $1.13. Additional support for Ripple may emerge at the 21-day Simple Moving Average (SMA) at $1.12.
The strongest foothold for XRP price if selling pressure continues to increase is at $1.06, where the 38.2% Fibonacci retracement level, 50-day and 100-day SMAs and the support line given by the Momentum Reversal Indicator (MRI) intersect.
Investors should note that the MRI has also flashed a warning sign, suggesting a top signal that indicates XRP price could reverse and continue to consolidate. Any additional increase in bearish momentum could send Ripple down toward the 200-day SMA at $1, sitting near the multi-month support trend line.
XRP explodes more than 44% from flash crash lows, move to $2 upcoming
XRP price was annihilated during the Saturday flash-crash.
Massive recovery post-sell-off is likely a sign of reversing fortunes for XRP.
Follow through by bulls necessary to regain momentum higher.
XRP price action was sitting on the precipice of an impending flash-crash long before Saturday's sell-off occurred. The price levels XRP hit for the lows were expected as well. A new uptrend for XRP is likely to start next week.
XRP price collapsed from $0.92 to $0.57 but managed to close at $0.85
XRP price is positioned for a massive rally post-flash-crash. The daily and weekly candlesticks have likely developed one of the most substantial bear traps in XRP's history. FOMO will be piling into this cryptocurrency very soon, especially if XRP returns to the $1.00 value area.
Because XRP has already triggered the price levels previously forecasted, the move has been made, and XRP can begin its next leg higher. To do that, XRP price must first close at or above the daily Kijun-Sen at $0.98. To achieve an undeniable bullish breakout, XRP needs a daily close at $1.21. If $1.21 is reached, the projected target range is the $2.00 value area, followed by the $3.35 price level.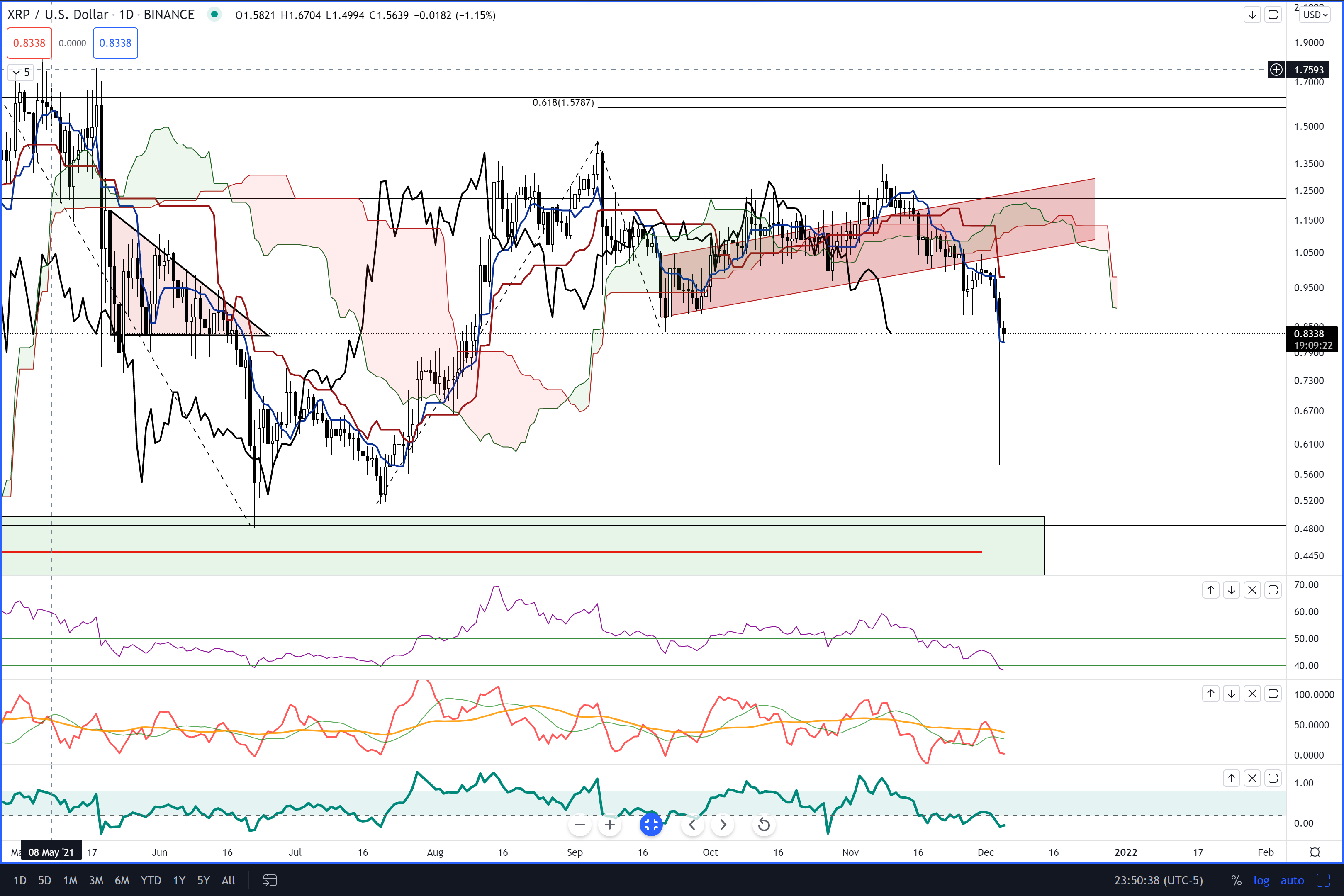 XRP/USDT Daily Ichimoku Chart
However, downside risks remain. XRP has the cloud of Ripple's SEC debacle hanging over it, and any hints of continued uncertainty or a negative outlook for Ripple may weigh heavily on how XRP trades. The downside risk for XRP price is the 2021 Volume Point Of Control at $0.45.
Ripple's XRP Price Prediction in 2022 Based on a Crypto Analyst Report
Ripple (XRP) is one of the oldest coins in the crypto space with the most insane rumors going around according to the crypto analyst, Michaël van de Poppe. He says he believes XRP will definitely have a big run as it did back in 2017.
He adds that XRP does not want to be just a payment system, it is building its own smart contract with a goal to create side chains and NFTs. He says that as the Ripple-SEC lawsuit is still in progress, he is very much interested to know what the outcome will be.
He adds that he expects the lawsuit to come to an end in no time and if eventually it does, it could trigger the market to start hitting up again. Although, there are possibilities that it will not.
Michaël explains that the SEC lawsuit against Ripple was a result of price manipulation on the side of Ripple and insider trading. He affirms that XRP has made many millionaires back when it had a big run back in 2013, and another explosive between 2014 to 2015. But since 2017, it has not been doing too much except for fights on social media, criticism, negativity, and toxicity.
As per Ripple's price action, Michaël says that the XRP market has been correcting for the past 4 years and it is facing a potential breakout once again. He continues that any reasonable target for XRP to rise in the market if a bull circle ensues will shoot up the price up to $2.87 and $4.33.
With this said, despite the current bear position of XRP in the past few days, some traders are still affirmative about a bull happening soon. At press time, XRP is up 6.83% and 0.8317 in the last 24 hours.
Ripple Price Analysis: XRP finds resistance at $0.85, a test of downside to follow?
Ripple price analysis is bearish today.
XRP/USD recovered 44 percent from the previous low.
Resistance was found at $0.85 overnight.
Ripple price analysis is bearish today as we expect another test of downside to follow after a strong retracement to $0.85. Since XRP/USD has formed consolidation overnight, we expect bulls to be exhausted, leading to another move lower later today.
The overall market traded in the green over the last 24 hours as the market recovered from the strong selloff on Friday. The market leader, Bitcoin, gained 3.53 percent, while Ethereum 6.85 percent. Terra (LUNA) is the top performer, with a gain of almost 40 percent.
Ripple price movement in the last 24 hours: Ripple recovers to $0.85, starts to consolidate
XRP/USD traded in a range of $0.7545 – $0.8638, indicating strong volatility over the last 24 hours. Trading volume has declined by 37 percent, totaling $3.78 billion, while the total market cap trades around $38.74 billion, ranking the coin in 8th place.
XRP/USD 4-hour chart: XRP looks to test downside today?
On the 4-hour chart, we can see the $0.85 mark preventing further upside over the past hours, likely leading to a retest of downside later today.
Ripple price has seen a steady decline over the last weeks. From the previous major swing high at $1.35, XRP/USD has retraced over 55 percent to the $0.59 low, indicating that we might see a major reversal soon.
However, for now, the overall market structure is still bearish as we saw a strong drop lower on Friday. Support at $0.59 offered strong support, leading to a quick rejection higher Yesterday.
The Ripple price action found resistance at $0.85 as it recovered over 40 percent by the end of the day. Overnight, XRP/USD consolidated, indicating we should see a reversal back to the downside later today.
Ripple Price Analysis: Conclusion
Ripple price analysis is bearish today as we saw the $0.85 slow down the recovery. Therefore, XRP/USD is likely ready to test downside again, likely leading to a higher low set.
While waiting for Ripple to move further, see our articles on the Best Crypto Wallet 2021, Decred Wallet, and Ripple vs SEC.