Bitcoin Mining Firm Argo Blockchain To Raise $57.5M Via Senior Notes Offering
The bitcoin mining firm Argo Blockchain filed a registration statement with the U.S. Securities and Exchange Commission (SEC) for a proposed public offering due November 30, 2026, with an interest rate of 8.75% Senior Notes. The UK-based firm plans to raise a total of $57.5 million through the Notes sales to the public, offering them in increments of $25. They intend to use the funds for the construction of Argo's Texas crypto mining facility, which aims to power 90% of operations through renewable sources and is estimated to cost around $2 billion.
Our mining strategy is to cost-effectively acquire and deploy the most advanced mining technology solutions in North American facilities that utilize predominantly renewable and inexpensive power.
The Company will also use the net proceeds "for general corporate purposes" and "potentially acquisitions of, or investments in, complementary businesses" as they are exploring "strategic initiatives in software and other technologies in the wider cryptocurrency and blockchain sectors."
In connection with the Offering, Argo has applied to list the Notes on the Nasdaq Global Select Market ("Nasdaq") under the symbol "ARBKL." If approved for listing, trading on Nasdaq is expected to commence within 30 business days after the Notes are first issued.
The filing states that Argo Blockchain completed its U.S. Initial public offering of 8,525,000 American Depositary Shares on September priced at $15,00 per share, having net proceeds of approximately $114.8 million. Later in the month, they held 1,836 Bitcoin and Bitcoin Equivalent "valued at approximately £58.7 ($79,5) million based on prices as of such date", with total revenue of £50.4 ($68,3) million, which translated into a growth rate of 238% "over £14.9 ($20.2) million in the nine months ended September 30, 2020".
Bitcoin Mining Revenue And Strategy
Argo's mining revenue rose 32%, a total of $9,75 million in October, having mined 167 bitcoin or bitcoin equivalent, compared to 165 in September with revenue of $7,59 million. The month's income was generated at a Bitcoin Mining Margin of roughly 84%. The firm reported a total of 1,646 Bitcoin mined year-to-date and owned 2,128 Bitcoin or Bitcoin equivalent by the end of October. They also announced a mining expansion that comes from adding 220 PH/s to its total capacity, "bringing the Company's mining capacity to 1.295 EH/s". Recently, Argo Blockchain announced they are investing in the construction of an 800-megawatt crypto mining facility in Texas that could cost between $1.5 and $2 billion. It is being built on 320-acre land purchased for $17.5 million. Questions were raised about Argo's lack of clarity around the costs of the mining facility, but Argo declared the estimated cost of building and kitting based on "numerous assumptions" and defended the investment.Our investments in mining facilities are designed to significantly expand our mining capacity and provide us with meaningful control over our mining operations. We are taking these steps as part of a broader strategy to shift our business from contracting for hosting of our mining machines in facilities to owning and operating our facilities.
Argo Blockchain is listed in NASDAQ Global Market, and its market capitalization is approximately $863 million.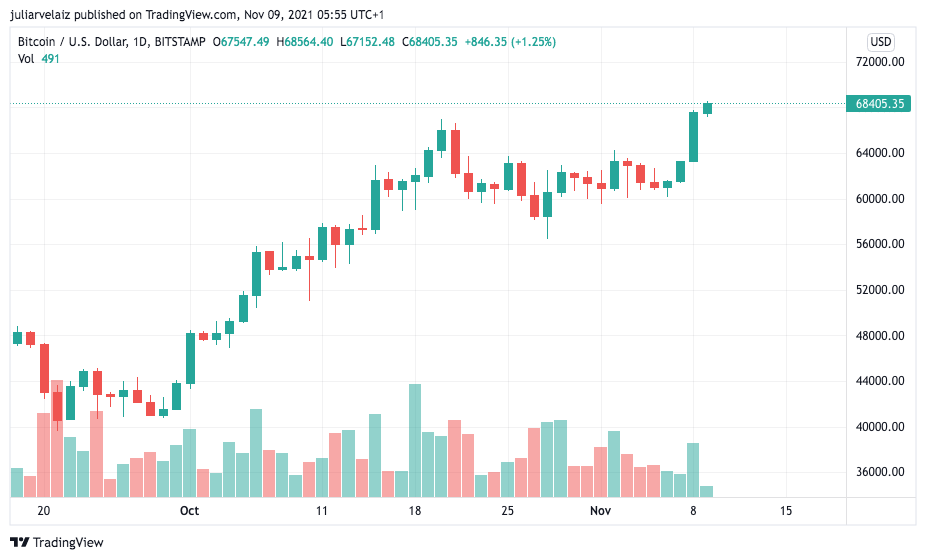 Bitcoin Price Rallying Above $68,000 on Tuesday | Source: BTCUSD TradingVie
Foundry USA becomes second-largest Bitcoin mining pool amid China ban
New York-based crypto-mining service provider Foundry USA takes the lead to become the world's second-largest Bitcoin (BTC) mining pool after taking up a 15.42% share of the network.
Data from BTC.com shows that Digital Currency Group-owned Foundry USA stands behind the pool leader AntPool by a hash rate of just 4,000 PH/s, which contributed to a 17.76% network share at the time of writing.
The rise in the participation of American entities can be attributed to China's recent blanket ban on crypto trading and mining activities. The ban forced a large-scale migration of local Bitcoin miners, who now reside in crypto-friendly jurisdictions including the United States, Russia, and Kazakhstan.
According to https://t.co/1YRYr4QCmY, DCG's mining pool Foundry has become the second largest Bitcoin mining pool. China's severe crackdown on Bitcoin mining and the transfer of mining industry to the United States are the core reasons. https://t.co/VjtWgD9Hsp pic.twitter.com/XK9Y19QDrg— Wu Blockchain (@WuBlockchain) November 20, 2021
Out of the top five mining pools in terms of hash rate distribution, Foundry USA charges the highest average transaction fees of 0.09418116 BTC (nearly $5,500) per block. American businesses have also picked up China's slack in terms of crypto ATM distribution.
Coin ATM Radar data shows that Georgia-based Bitcoin Depot has overtaken its Chinese counterparts to become the world's biggest crypto ATM operator. Interestingly enough, a majority of the crypto ATM operators are run by American companies, a trend more prominent after China's proactive ban on crypto activities.
Despite the clear intent to pursue an in-house central bank digital currency (CBDC), the Chinese Communist Party has also sought public opinion on the Bitcoin mining ban on Oct. 21, which has sparked conversations around the amendment of the government's negative stance on Bitcoin and cryptocurrency mining activities.
However, Statista's data confirms that China's contribution to the Bitcoin mining hash rate has been on a steady decline since September 2019. Two decades ago, China represented over 75% of Bitcoin's mining hash rate, which by April 2021 reduced to 46% prior to banning cryptocurrencies.
As the United States inches towards Bitcoin's mainstream adoption, the regulators seek clarity in relation to the new reporting requirements put forth by the Biden administration.
Members of the Republic and Democratic party have appealed, in different occasions, to amend the crypto tax reporting reforms along with a plea to redefine the word "broker" in crypto transactions.
Starting from 2024, the bipartisan infrastructure bill requires the general public to declare digital asset transactions worth more than $10,000 to the Internal Revenue Service. The bill currently considers miners and validators, hardware and software developers and protocol developers as brokers.
China Crypto Ban: Authorities to Hike Power Prices for companies disobeying Crypto Mining Ban
mid the ongoing crypto ban in China, the authorities are isolating specific categories of companies to clamp down on any crypto operations taking place in the nation, and this time around the Chinese regulators have targeted their own, state-owned entities. The government has warned the enterprises to quit cryptocurrency mining and could potentially impose a hike in electricity prices on companies that continue to disobey the Chinese Crypto Ban.
NDRC "Unsustainable" argument against Crypto Mining
Meng Wei, a spokeswoman for the nation's chief economic planner, the National Development and Reform Commission (NDRC) confirmed that the commission will soon begin working towards the closure of industrial-scale Bitcoin mining activities along with cracking-down state companies that have participated in the same. Meng Wei emphasized crypto mining's unsustainable nature, noting that it "consumes lots of energy" and "produces lots of carbon emissions." The authorities have levied crypto mining as an "extremely harmful" practice, which threatens to jeopardize China's Carbon Neutral ambitions.
Additionally, last week, the NDRC called for a special meeting to discuss the issues of crypto ban defiance by provinces and municipalities, and further investigate and shut down State-owned enterprises indulged in crypto mining. Given China's anti-crypto stance, it was unsurprising when the officials accused crypto mining and trade of deliberately creating "prominent risks," and called the industry "blind and disorderly."
Chinese Crypto Mining Ban History
Despite the hard-hitting ban on crypto businesses in China, the country continues to see Bitcoin trades nearing record highs. Last month, the Beijing authorities issued new guidelines regarding the country's crypto ban, including the highly intrusive tracking of the IP address of citizens to check whether or not they were mining crypto. Followed by that, the authorities in Zhejiang province also reportedly began investigating government employees and their illegal use of public places to mine cryptocurrencies.
The government then issued an official warning, noting that virtual currencies consume an eminent amount of energy. However, despite the crypto ban the energy consumption did not reduce, which further led to the launch of a joint rectification program.
"In order to thoroughly implement the national work deployment on rectification of virtual currency mining and trading hype issues, orderly promote carbon peaking and carbon neutralization, and prevent and resolve risks in key areas, our province has recently launched a joint special rectification action to comprehensively combat the use of public Resources participate in virtual currency mining and trading activities."
Bitcoin Miners See High Prices as 'Opportunity,' Become Sellers
Bitcoin (BTC) miners have once again turned into net sellers of bitcoin, with miner inventories dropping to levels not seen since early September. However, miners aren't necessarily turning bearish "en masse," although some are looking to offload "excess inventory," according to an analyst.
According to the bitcoin data and research platform ByteTree, about 30% more BTC was sold than mined on Thursday, as more Bitcoin miners sent part of their holdings to the market.
The difference between the two lines above is shown here. At 130, this means the miners have distrubuted (likely sold) 30% more BTC than they mined. pic.twitter.com/6Kkvk7zraC— Charlie Morris (@AtlasPulse) November 12, 2021
The fresh round of selling from miners was also visible in data that tracks miner inventories. As of Friday at 13:03 UTC, miners' inventories fell to their lowest level since September 11 this year, with BTC 1,521,397 currently held by miners.
The current number represents a drop from a peak of BTC 1,523,766 reached on November 8, when the bitcoin price stood at around USD 45,000.
Worth noting, however, is that about BTC 1.5m were mined during the early days of bitcoin, and have never entered the market.
Bitcoin miners' inventory, last 12 weeks:
Commenting on the findings, Charlie Morris, Founder of ByteTree and Chief Investment Officer of ByteTree Asset Management, told Cryptonews.com that the selling now comes after a period of accumulation for miners.
"The miners have been accumulating BTC since early September which has served them well," Morris said. He added that "some have decided to take profits," while noting that this is "not huge, but tells us sentiment is shifting."
"Miners sell BTC every day as they have costs to pay and want to bank profits. Prices are high and so they see an opportunity," Morris said.
And given that the bitcoin price earlier this week just barely managed to reach a new all-time high, Morris said that the selling could also be related to some miners who had bet on a higher price spike now finding themselves on the wrong side of that bet.
"Perhaps they assumed the recent [all-time high] would see a price spike. It hasn't happened and so they are selling more than they recently have," the ByteTree founder said. "They aren't turning bearish en masse, just at the margin. Recall they have been building excess inventory," Morris noted, adding that the selling could potentially tell us something about what to expect next:
"Historically they have been good market timers."
At 13:03 UTC, BTC traded at USD 64,082, down 1.8% for the past 24 hours and up 4% for the week.