Cardano Dev IOHK Had "Secret Meetings" on Zanzibar: Details
Charles Hoskinson indicated the way forward for the transformation of Tanzanian autonomous region Zanzibar
The team of Input Output Hong Kong, the development studio behind Cardano (ADA) blockchain solutions, had a meeting with high-ranking officials of Zanzibar, an insular autonomous region of Tanzania located on an eponymous archipelago.
From fishing boats to digital infrastructure
World Mobile Team, a pioneering network focused on bridging blockchain and telecommunications solutions, shared a short video of its meetup with IOHK on Zanzibar.
Zanzibar, October 2021. World Mobile hosted secret meetings with @InputOutputHK.

Over four days, the teams visited rollout sites and met with government officials, making plans for a #StrongerConnected future for Zanzibarians.

Watch the full film: https://t.co/s8nRCuitg7 pic.twitter.com/iQylBd7Vbt— World Mobile (@WorldMobileTeam) November 8, 2021
In early October 2021, the two teams visited the island to see the process of digital transformation and to discuss strategies to enhance the social development of the citizens of Tanzania.
IOHK's CEO and founder Charles Hoskinson checked the installation of the telecom station and solar battery module himself. He also spoke to a number of local ministers.
Discussing the decision by local authorities and NGOs to provide fishmen with their own boats, Mr. Hoskinson stressed that in terms of "deliberation for everybody," the efforts of this campaign are aligned with what IOHK does.
Cardano (ADA) strengthens its positions in Africa
Mr. Hoskinson also stated that such programs can trigger the transformation of business models and the entire way of life for local populations:
You can talk about the idea that the telecommunications infrastructure may actually through its use belong to the users. Just like the transformation of Hawaii, transformation of Switzerland, Singapore and Hong Kong.
As covered by U.Today previously, the Cardano founder just returned from his African tour. He had meetings with several presidents and introduced Web3 economics to them.
Africa is among the most crucial spheres of interest for Cardano (ADA). Its solutions can help in creating cheap and transparent payments infrastructure for unbanked societies.
What Happened To ADA Price? Is Nothing Been Built On Cardano?
The crypto space is preparing to leap long after the recent sell-offs and if following a steady approach to pull the next leg up. However, one such crypto which appears to be pretty happy and contented at its current levels is Cardano. The ADA price after a steep downfall has yet again initiated with consolidation within a narrow trend. 
Today, Ethereum price surged with a notable margin and many altcoins also followed the second largest crypto. Terra(LUNA), Solana(SOL), Avalanche(AVAX), etc have been raised, but Cardno still remained within the same levels. The Cardano remained distinct without following the ETH price. And also showcases the asset behaving similar to that of a stable coin.
Amid the fresh plunge, it was believed the asset may revist the strong support levels at $1. However, the asset managed to pause the downtrend for some time and began with a healthy accumulation. The ADA price in order to register its name in the upcoming altseason needs to coil up notably and pierce through the $1.98 levels.
On the other hand, the traders may also have remained much distinct from the platform. As no notable change with the ADA price may rise the possibilities of no major developments happening on the platform. And hence Cardano price has to flip the consolidation and thrive through the local resistance at $1.8 to march towards its highs. However, the huge target still remains pretty much distant.
Cardano-Based DEX Announces Date of Testnet Launch
A major Cardano-based decentralized finance protocol is about to launch its testnet
Cardano-based decentralized exchange SundaeSwap has announced that its testnet launch is going to take place on Dec. 5. 

Thousands of users will be able to try out one of the most notable projects on the Cardano network.  

The purpose of the testnet is to discover some bugs and inefficiencies ahead of the upcoming mainnet launch.

It will also help the Input Output team to adjust the performance metrics of the network so that it can work smoothly under heavy load:
Our testnet is the perfect opportunity to put the new parameters under load so they can assess performance and further raise these limits.
Implementing such incremental changes will be crucial for making Cardano scalable enough for the decentralized finance sector.  
In late September, SundaeSwap forged a partnership with Nervos, China's top public blockchain. 
Here's What's Next for Cardano, Shiba Inu, Terra and Two More Altcoins, According to Crypto Analyst
A popular crypto strategist and trader is plotting what could be ahead for Cardano (ADA), Shiba Inu (SHIB), Terra (LUNA) and two other altcoins.
Pseudonymous cryoto analyst Altcoin Sherpa tells his 154,100 Twitter followers that he is short-term bullish on ADA after the smart contract platform managed to stay above support at $1.48.
"ADA: Not a bad place for a long. Support/resistance level, 0.50 Fibonacci level too. I still wouldn't hodl (hold on for dear life) this though. It would be a swing trade."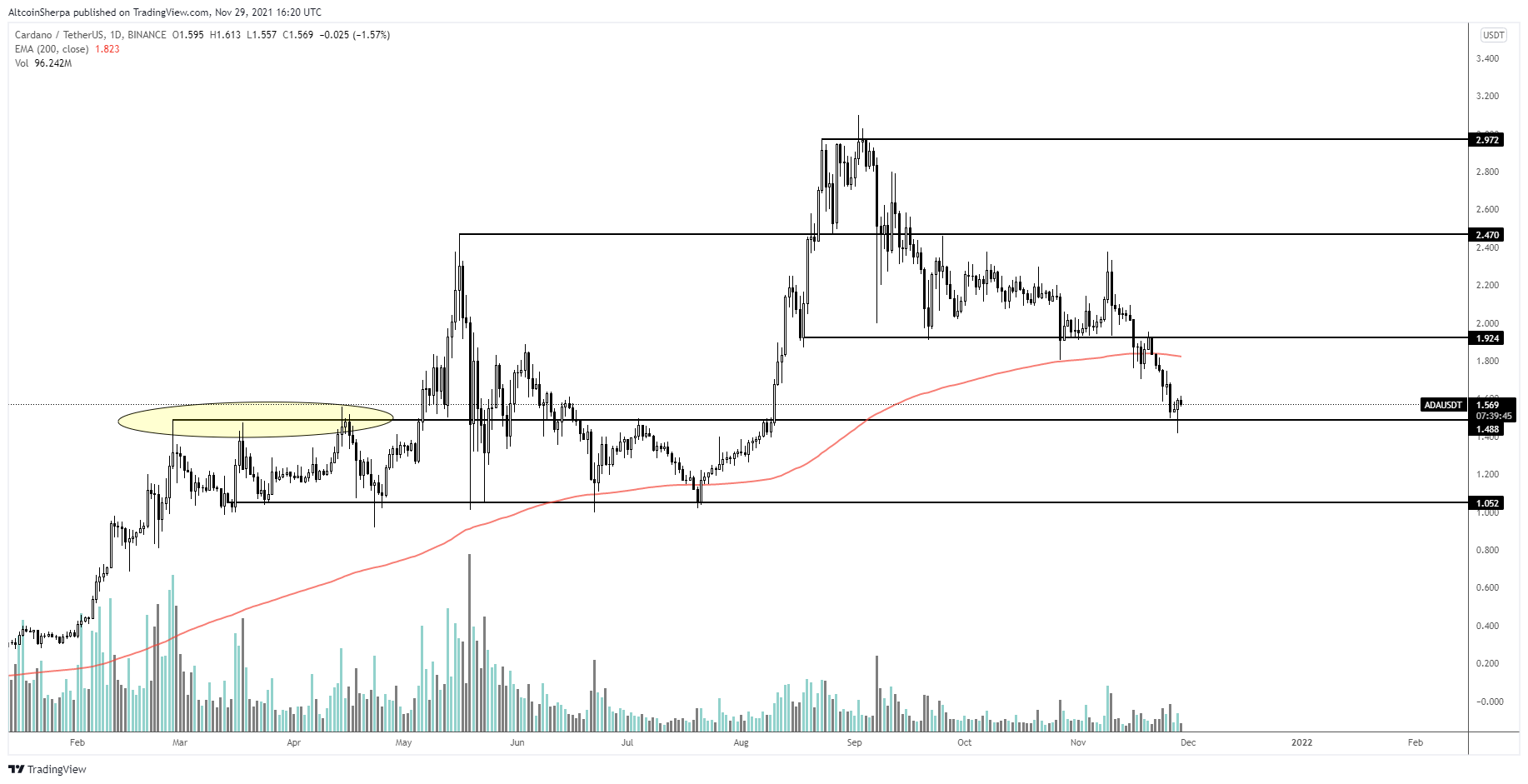 At time of writing, Cardano is trading at $1.56, down 2.85% in the last 24 hours.
Next up is popular meme coin Shiba Inu. According to the crypto strategist, he's expecting SHIB to ignite a quick bounce before resuming its downtrend unless the Dogecoin competitor manages to consolidate around $0.000047.
"SHIB: Short-term bottom is probably in. Expecting some sort of lower high to form. If this consolidates at the 0.50 [Fibonacci level], a more explosive move will come (But it's going to take a much longer time in my opinion)."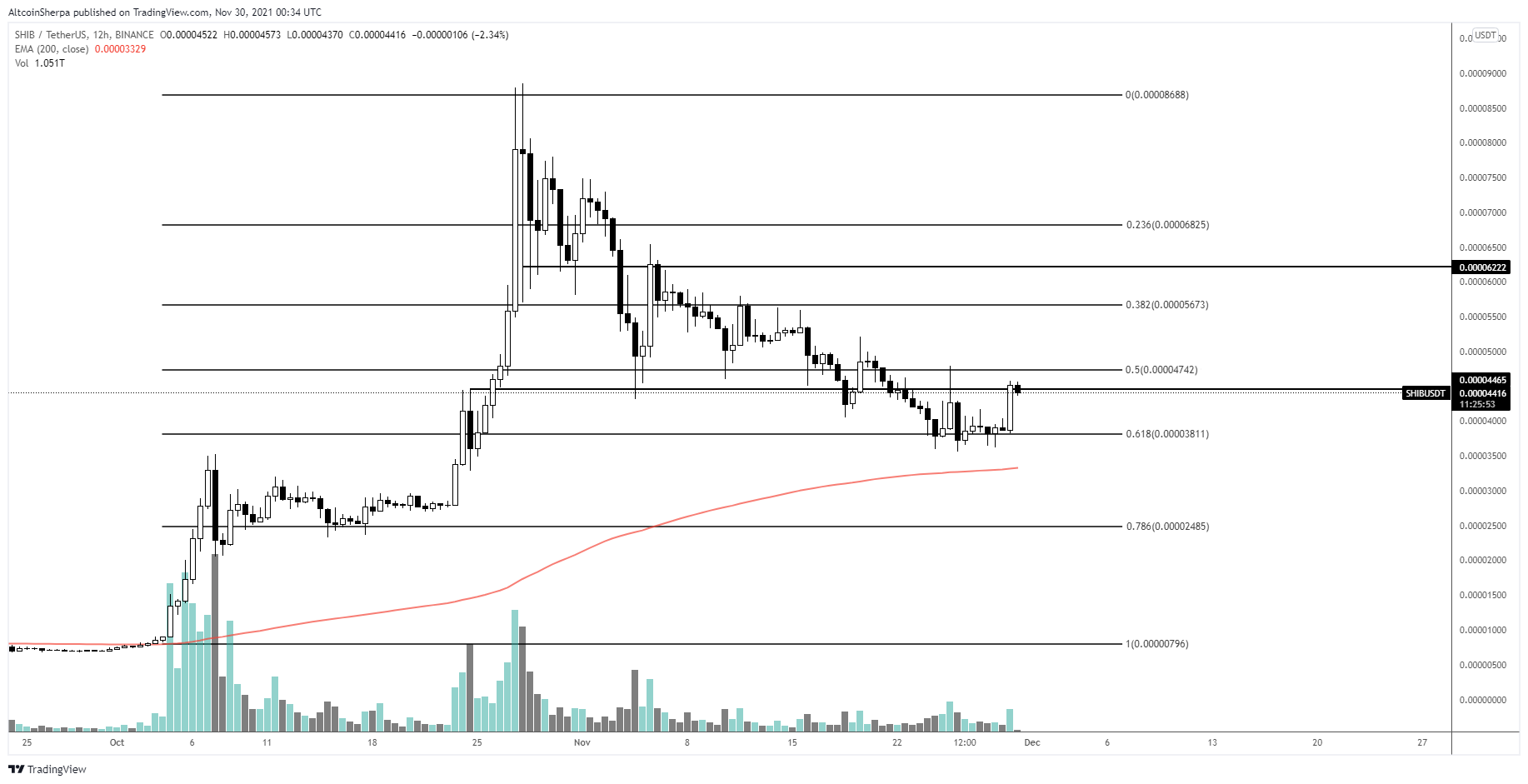 SHIB is currently exchanging hands at $0.000048.
Another coin on the trader's list is decentralized finance (DeFi) payment network Terra, which Altcoin Sherpa says is poised to erupt to new record highs.
"LUNA: Still a high time frame bullish [market structure], send to all-time highs."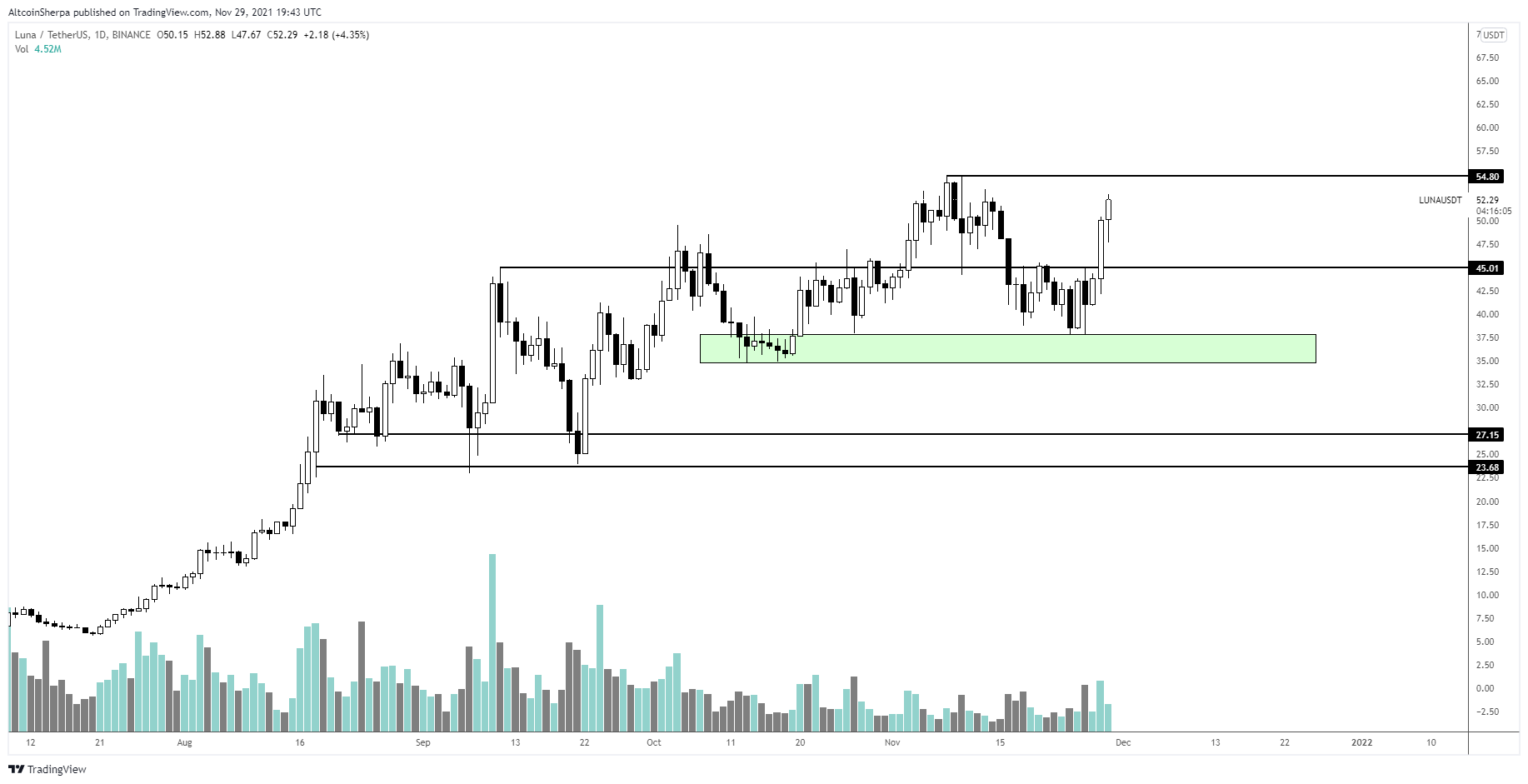 The fourth coin on the analyst's radar is the blockchain-based game ecosystem The Sandbox (SAND). Altcoin Sherpa maps out two potential scenarios for SAND after the coin printed a bearish lower high structure.
"SAND: My plans are below. Let's see where this goes. In general, I personally think a lower high just got printed, and we're going to go lower. If a higher low comes, we will enter some consolidation, and then I'm guessing another push higher."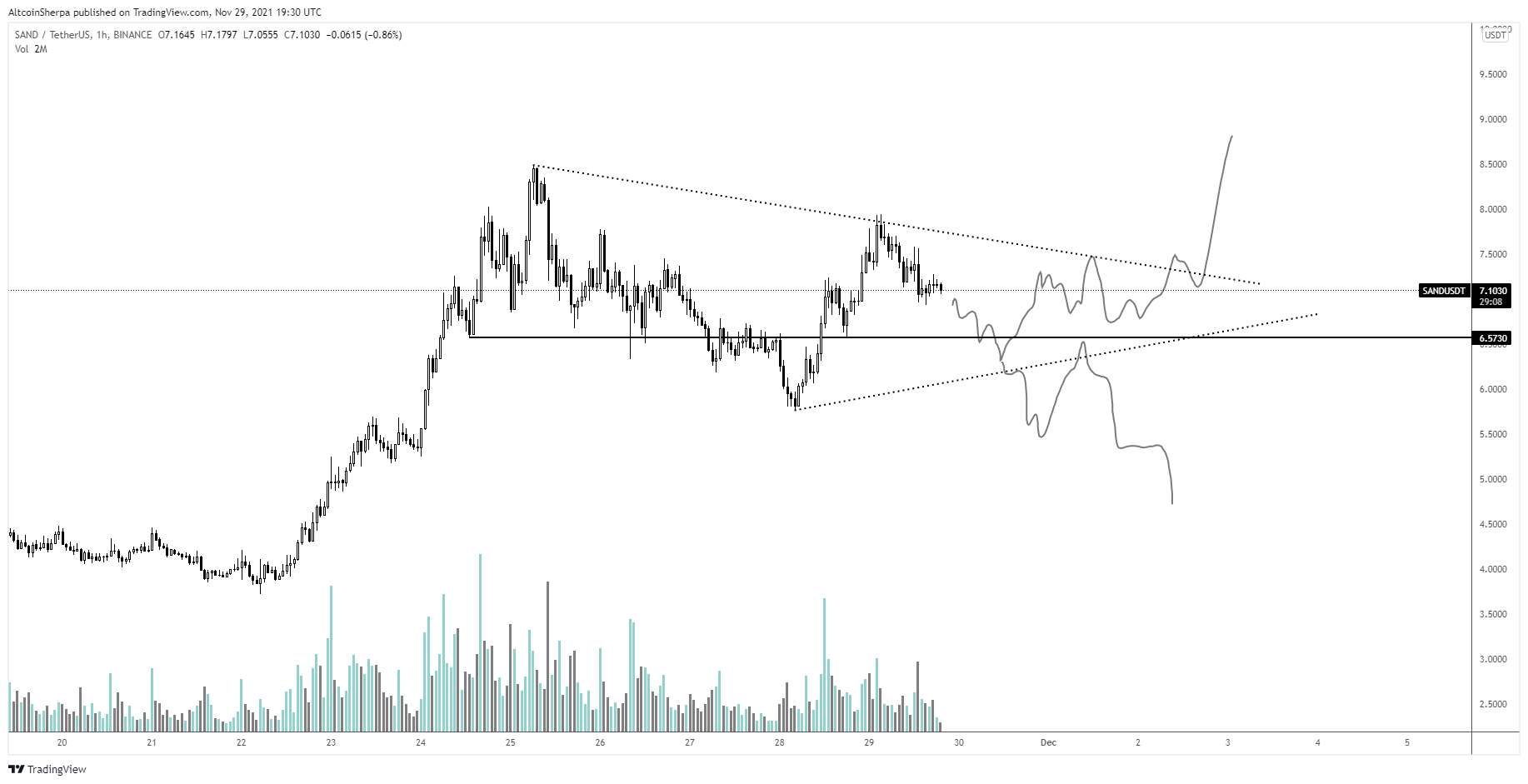 The last coin is Theta Network (THETA), a peer-to-peer distribution platform for video content. According to Altcoin Sherpa, THETA can launch a massive rally once it takes out resistance at $9.61.
"THETA: When this moves it will be explosive. It's been ranging for quite some time, and I think that this one usually has its own market cycle. I would not buy this as an active trade though."