Most powerful axies are depreciated by speculation, is it worth buying?
Speculation of a possible nerfing of some Axie Infinity cards in an upcoming update has left powerful axies cheaper on the market.
Axie Infinity is a game where all characters are represented by NFTs and players receive tokens while winning matches. It is currently the biggest blockchain game on the market.
The monsters used to play Axie Infinity, called axies, are traded on an open marketplace and the price of each character type can vary according to player demand.
Stronger axies get cheaper, does it make sense?
Anyone who plays Axie Infinity is likely to know the fearsome "terminators," axies with cards that repeatedly slow down and stun enemies.
The combination shown in the image above proved to be very efficient to win matches against various types of teams. It soon became common to find players using at least one terminator on their team.
Generally, they are seen in the "reptile" type, one of Axie Infinity's races. However, some experienced players managed to create "dusk" type terminators, which in addition to all the strong combinations, are even faster.
These are found in high ranking matches, accounts with 1800 trophies and up. Their main advantage over reptile-type terminators is that they generally outrun fish and birds with only a speed debuff on them.
However, in the official marketplace of axies something happened that caused strangeness in players: the most powerful terminators were cheaper than the more common ones.
We cannot say that a buying opportunity has opened, as speculation can explain the movement. In games, it is common that if a combination becomes stronger than expected, an upcoming update will weaken cards to rebalance the game.
Some players, however, do not believe that this will be the case, as there are already several strategies and good axies to contain the terminators and even disable them.
It's also worth remembering that the developers of Axie Infinity said that morale and skill will be more important attributes in future updates. So the speed might not be enough anymore to decide which terminator is the best.
But if you prefer to play Axie Infinity without worrying about the axies market, count on the help of Coingoback Play to get a team formed by experts to play and earn money.
Play is a Coingoback school formed to help users take advantage of the best of the world of NFT-based games to accumulate bitcoin, learn more by reading the article "How to play Axie Infinity and earn money without investing".
See other texts I've written about my journey with Axie Infinity:
Buy and sell Bitcoin and other cryptocurrencies on Coinext
The complete brokerage to invest safely and conveniently in the most traded cryptocurrencies in the world.
News Source
Axie Infinity price upside potential limited as AXS struggles to tackle tough hurdles
Axie Infinity price could see its rally hindered by various headwinds ahead.
There are two key hurdles for AXS to overcome to target higher prices and revisit its all-time high.
A major decline could be on the radar if Axie Infinity falls below $122
Axie Infinity price sees little hope of trending higher as a few obstacles emerged, prohibiting AXS from targeting bigger aspirations. The gaming token must hold above $122 to prevent a massive sell-off.
Axie Infinity price to confront key obstacles
Axie Infinity price has formed a parallel channel on the daily chart, as it continued to consolidate since October 4. After AXS reached its all-time high at $165 on November 6, trading activity waned as the token tests the reliability of the support at the lower boundary of the governing technical pattern.
The fact that Axie Infinity price has been able to hold onto the downside trend line of the parallel channel as support at $122 suggests that AXS is unlikely to fall further unless a catastrophic sell-off takes place. However, the token's upside potential is severely limited unless it tackles several obstacles ahead.
Axie Infinity price sliced below the 21-day Simple Moving Average (SMA) on November 16 and the 50-day SMA on November 18, as AXS momentum weakened. The 50-day SMA at $133, and the 21-day SMA at $136 currently act as stiff resistance for the gaming token.
Another hurdle for Axie Infinity price may appear at the 78.6% Fibonacci retracement level at $140. Only if AXS is able to overcome the aforementioned challenges will see the token rise toward the middle boundary of the prevailing chart pattern at $145.
An increase in buying pressure may push Axie Infinity price higher toward the October 4 high at $155.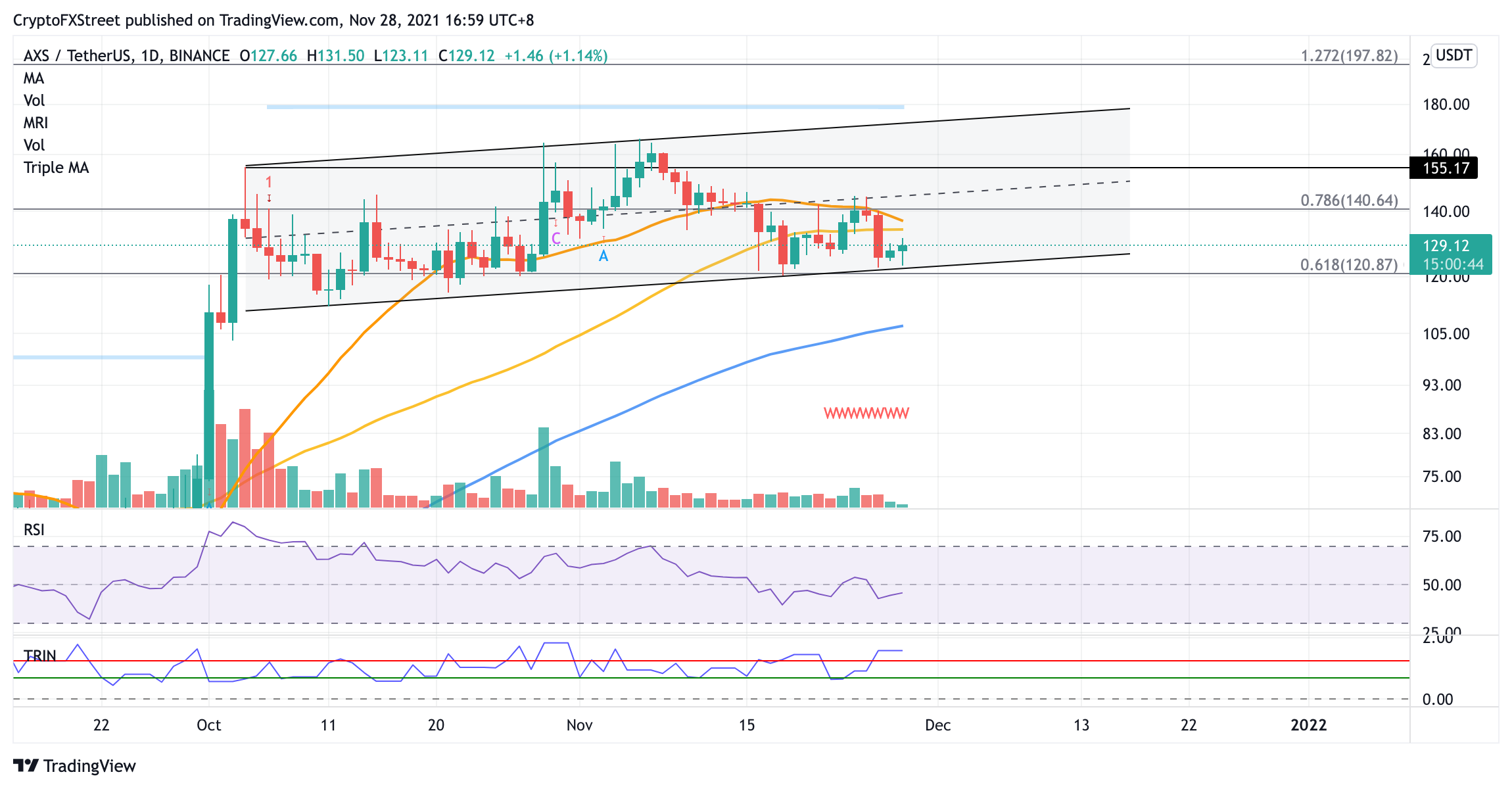 AXS/USDT daily chart
If the bears continue to control the market, Axie Infinity price may discover its first line of defense at the lower boundary of the chart pattern at $122. Additional support may appear at the 61.8% Fibonacci retracement level at $120.
Although the two aforementioned support levels will act as meaning footholds for Axie Infinity price, a significant increase in sell orders may see AXS slide toward the 100-day SMA at $106.
Live about Axie Infinity to give away 10 spots for Coingoback school on Black Friday
To celebrate Black Friday, Coingoback's Axie Infinity School will raffle 10 people in the live from today (11/25) at Cointimes Twitch, that starts at nine-thirty at night (9:30 pm).
Axie Infinity is the best known game of the play-to-earn model, and Play is a "school" of Coingoback that opens up opportunities for its users to play for free.
Created to offer cashback to users who usually buy online, Coingoback is a Cointimes platform that now gives you the chance to earn money by playing, just apply to Play and receive your Axie Infinity account.
Play is a product within Coingoback, but it's not called a school by accident, there's a team ready to teach you everything you need to know about the game and how to be efficient at SLP farming.
Every fortnight, players receive their share (30% to 50% of the SLPs earned, depending on their performance) converted to bitcoin in their Coingoback accounts, where they can withdraw to any wallet whenever they like.
There are currently about 200 players earning money with Play. But, as expected, there is a large queue of users who also want to join.
Therefore, the easiest way to get a seat on Coingoback Play is by watching the lives on Twitch, which usually has a lot raffle. This Thursday (25), the draw is a special Black Friday and ten places will be awarded.
Axie Infinity's digital land sells for $2.5 million, boosting AXS price uptrend
Axie Infinity is the most traded NFT collection in Q3 2021, emerging as the second most popular blockchain gaming token.
Digital land plot on Axie Infinity metaverse sold for 550 ETH, a record high in the play-to-earn gaming ecosystem.
Sky Mavis, developers of Axie Infinity, plan to sell 90,000 plots of land to create news games within the ecosystem.
Axie Infinity is one of the most popular blockchain games among Ethereum whales. AXS token has posted 85% gains over the past 90 days. The game developers plan on nurturing the play-to-earn gaming ecosystem by powering new games on digital plots of land. 
Digital plot of land sells for 550 ETH on Axie Infinity
Axie Infinity, the play-to-earn game, rewards players with tokens for winning battles and conquests. The blockchain game relies on the addition of new players in the ecosystem for the Axie economy's growth, therefore analysts question the sustainability of the game.
Sky Mavis, the Axie Infinity developers, plans to sell 90,000 plots of digital land in the game's ecosystem. Developers have an opportunity to buy these digital plots and build their blockchain games in the Axie Infinity ecosystem. 
The popular metaverse game recently hit a milestone, selling a digital plot for 500 ETH, or the equivalent of $2.5 million. Axie Infinity has confirmed that this is the highest price for a digital plot of land in the metaverse. 
Yesterday, an Axie Genesis Plot sold for 550 ETH!

This was the largest sale ever for a single plot of digital land ✨🔥

Learn about Land 👇https://t.co/6zPh0roPqG pic.twitter.com/4h5yERCwwO— Axie Infinity🦇🔊 (@AxieInfinity) November 25, 2021
Back in February 2021, Axie Infinity sold nine plots of digital land for $1.5 million.
AXS token has struggled to recover from a nearly 20% drop below its all-time high of $164.90. Eric Krown, a cryptocurrency analyst, is bullish on AXS price and expects a recovery. Krown has set a target of $180 for AXS price. In his recent YouTube video, Krown said:
Axie Infinity has more or less a bullish setup… A daily closure above $150 or so will imply a target above $180, a little bit higher than that actually.