Robinhood Hacked with Over Seven Million Users Affected
Over seven million accounts of popular crypto-friendly trading app Robinhood have been compromised in a recent data breach.
The popular investment app Robinhood announced recently that it experienced a data security breach on November 3, 2021. The incident gave the attackers access to personal information belonging to millions of users on the platform.
The "unauthorized party" gained access to the customer support system via a social engineering technique, Robinhood stated in a blog post.
Although the security threat has been contained according to the investment platform, the attackers had already gained access to a limited amount of customers' information.
Caleb Sima, Robinhood Chief Security Officer, said:
"As a Safety First company, we owe it to our customers to be transparent and act with integrity. Following a diligent review, putting the entire Robinhood community on notice of this incident now is the right thing to do."
Seven Million Customers Affected
The investment app, which has multiple cryptocurrencies available on its platform, noted that following its investigations, the hackers successfully obtained email addresses belonging to approximately five million customers. Additionally, another two million users had their full names compromised.
According to Robinhood, approximately 310 customers had more than their names and email addresses revealed, as their zip codes and date of birth were also accessed by the malefactors.
In addition, ten customers had extensive details of their accounts getting compromised in the breach.
Robinhood disclosed that following its investigations, it is certain that the unauthorized party did not gain access to customers' bank account details, debit, and credit card information. Furthermore, none of its users had experienced any financial loss as a result of the incident.
Hackers Demand Ransom
Moments after the situation was contained, the attackers contacted Robinhood, demanding an undisclosed ransom in exchange for the information.
Instead of meeting their demands, the company said it contacted relevant law enforcement agencies to weigh in on the issue. Robinhood is also working with Mandiant, a leading security firm, as the investigation into the matter continues.
Attacks on Robinhood Not New
Meanwhile, it is worth noting that this is not the first time that Robinhood has been successfully attacked. The commission-free trading app was compromised last year, with almost 2,000 users affected.
Although the attackers gained access to customers' login details outside of the application, the details were later used to siphon the affected users' funds out of the platform.
Robinhood shows off Wallets Alpha with Dogecoin transfer, does Shiba Inu stand a chance
If things go right, those trading on the Robinhood platform could soon send a certain meme coin from their Robinhood wallet to an external one.
Christine (Hall) Brown, Robinhood's Crypto COO, shared a screenshot that showed a transfer of 420.71 DOGE [$94.10 at press time], to the excitement of crypto watchers.
#WalletsAlpha update! Last week we sent our first alpha transfer from a Robinhood wallet to an external wallet.

Here is a screenshot of our test #DOGE transfer: pic.twitter.com/Bn4wQlvkwP— Christine (Hall) Brown (@christine_hall) November 22, 2021
Speaking about the Wallets Alpha program, which had specially chosen customers test the crypto wallets, Brown earlier said,
"One alpha tester expressed wanting to use wallets to potentially receive crypto as payment for their business, while another wants to use crypto instead of dollars to split bills with friends (which will be made possible by sending the dollar value amount, but in crypto)."
A happy pupper
Dogecoin creator Billy Markus was also suitably impressed by Robinhood's update, if his tweet was anything to go by. Markus also took the opportunity to point out the relatively low DOGE fee.
yo, this is huge

0.02 DOGE fee also 🔥🔥 https://t.co/n2k6lF8XxI— Shibetoshi Nakamoto (@BillyM2k) November 22, 2021
For her part, Brown added,
"As this is transfer off of Robinhood, there is a network fee which is dictated by the network (this fee goes to DOGE miners who verify transactions). The fee = 0.02 DOGE (just $0.005) Transfers between Robinhood wallets/customers will not incur a network fee (or any fee)."
Well, why is the fee such a talking point? It's important to note that the Dogecoin Core 1.14.5 version upgrade finalized the minimum recommended transaction fee, setting it at 0.01 DOGE/kb.
On a related note, the same update caused issues for the crypto exchange Binance, which stopped DOGE network withdrawals earlier in the month. In addition to this, users reported getting free DOGE from previous failed transactions – probably due to the new minimum fees.
Following a tweet from billionaire Elon Musk, Binance put out a thread explaining its technical issues. The exchange said that it was rebuilding the wallet, and that the process might take another week.
Doge holders using Binance should be protected from errors that are not their fault— Elon Musk (@elonmusk) November 23, 2021
At press time, the market was down and DOGE was finding new homes at $0.2243.
To SHIB or not to SHIB?
Whenever DOGE comes up in conversation, you can bet SHIB isn't too far behind. However, members of the SHIB army were disappointed when reportedly, Brown made it clear that DOGE being listed on Robinhood didn't mean free entry for SHIB.
However, crypto researcher Max Maher had earlier predicted,
"So if I were to guess, Shiba will calm down a little bit for a period, and then Robinhood will make their big announcement, and that will shoot up the price 10 to 18% in a single day, from wherever it's sitting at that point."
"This Is Huge": Robinhood Is Testing Dogecoin Wallet
Robinhood has sent Dogecoin to an external wallet for the first time to test the much-anticipated feature
Christine Brown, chief operating officer at Robinhood Crypto, has offered a sneak peek at the app's much-anticipated cryptocurrency wallet feature. 
In her recent tweet, she attached a screenshot of a test Dogecoin transfer that took place last week.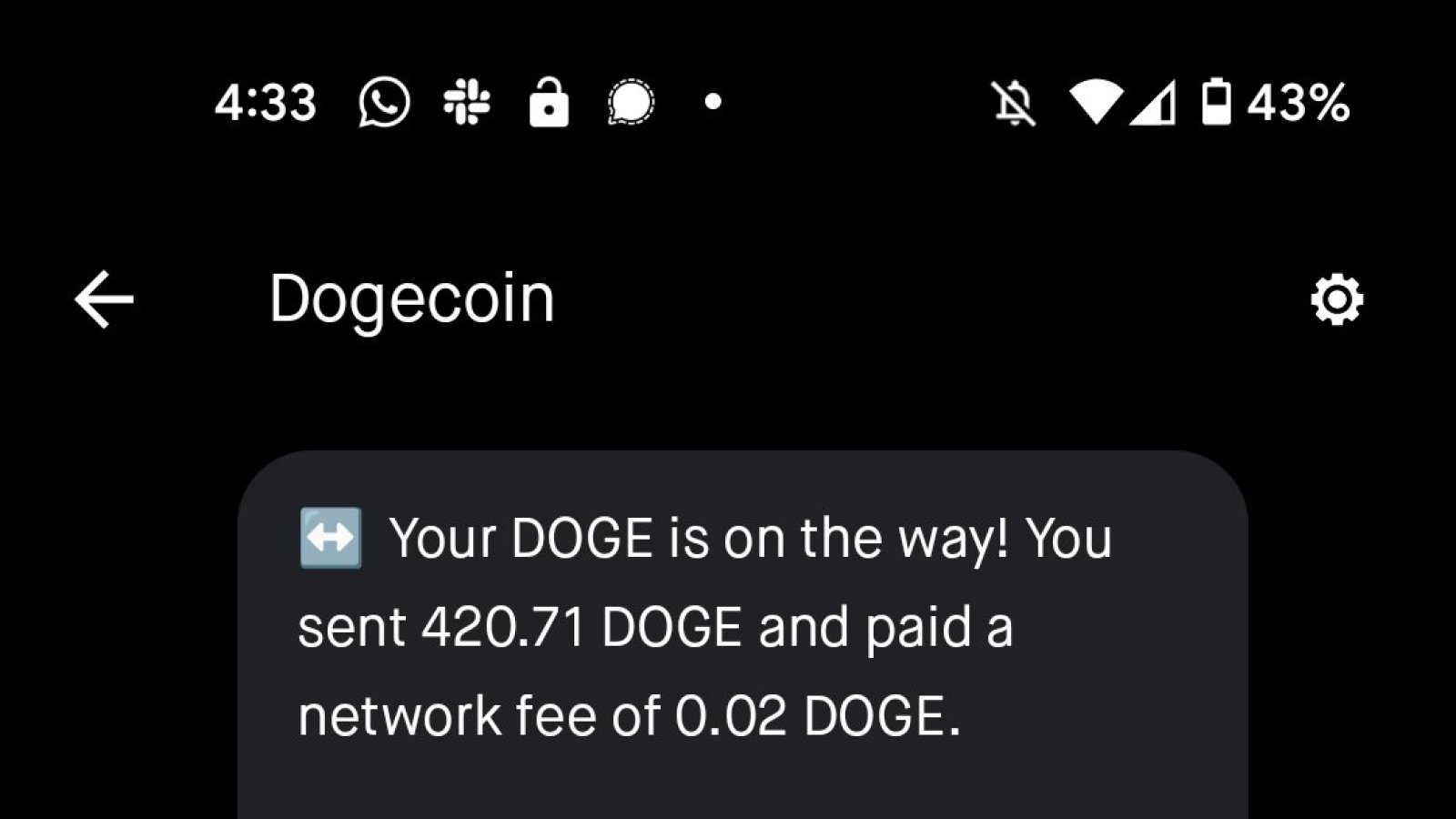 It shows a 420.71 DOGE ($91.82) transaction being processed for a 0.02 DOGE ($0.0044) fee. Payments on the network of the flagship meme coin have become significantly more affordable following the much-talked-about release of Dogecoin Core 1.14.5. 
Dogecoin co-founder Billy Markus said that the development was "huge" for the meme coin in a tweet while praising the coin's cheap transaction fees. 
yo, this is huge

0.02 DOGE fee also 🔥🔥 https://t.co/n2k6lF8XxI— Shibetoshi Nakamoto (@BillyM2k) November 22, 2021
The company announced that it was adding cryptocurrency wallets in late September to the great delight of its customers.
Earlier this month, Brown revealed that 1.6 million users had already joined the waitlist.  
News Source
Robinhood executive criticizes Coinbase's proposed regulation: "Ridiculous"
In October, American cryptocurrency broker Coinbase proposed what it saw as the ideal solution to the regulatory problem in crypto: a new federal regulatory body.
Dan Gallagher, General Counsel for Robinhood, Coinbase's adversary, believes it's not feasible. "It's one of the stupidest ideas I've heard in this industry lately," he told Georgetown University Financial Markets Quality conference attendees.
He said attempts to transfer authority from agencies such as the Securities and Exchange Commission (or SEC) and the Commodity Futures Trading Commission (CFTC) would likely be incomplete and would only add more people.
Coinbase's "Digital Asset Policy Proposal", published on October 14, presented a way to minimize the number of agencies that crypto market participants could face.
"To avoid fragmented and inconsistent regulatory oversight of these unique and competing innovations, responsibility over the cryptoactive markets must be assigned to a single federal regulator," he said. "His authority would include a new registration process designed for digital asset markets (MDAs) and providing adequate data to inform buyers of digital assets."
Pillar 2: Designate One Regulator for Digital Asset Markets

Responsibility should be assigned to a single federal regulator and a new registration process established for MDAs. A dedicated self-regulatory organization should also be established.

Together they set rules.— Coinbase (@coinbase) October 14, 2021
In response to Gallagher's comments, Coinbase issued a new statement:
We welcome any discussion of how to reform a system that is not adequate when it comes to crypto. However, to be clear, our proposal never called for a new regulator: it is regulator agnostic.
It calls for crypto-focused proposals, not the use of old precedents for new technology. We welcome the debate and if others have concrete ideas, share them. There is space for everyone to contribute.
Currently, several agencies are eyeing the cryptoactive sector.
The SEC is charged with regulating securities (tradable investments in companies trying to generate profits).
In October, Gary Gensler, chairman of the SEC, declared that Coinbase had "dozens of tokens that can be securities" even if it is not licensed to operate as a stockbroker.
There is also the CFTC. In October, during his confirmation hearing, President Rostin Behnam urged the Senate to be "the chief prosecutor" for digital assets, despite his agency's traditional mandate to regulate derivatives markets, not commodities themselves.
And a variety of other government officials are frequently involved in the industry, including the Office of Currency Control (OCC), banking regulator formerly headed by former Coinbase executive Brian Brooks, as well as the Financial Crimes Combat Network (FinCEN).
In addition, the Federal Deposit Insurance Corporation (FDIC), the Federal Reserve Bank, and the OCC have joined an interagency team to coordinate crypto policies for banks.
Gallagher, who served as the SEC's representative during the Obama administration, cited well-intentioned legislation introduced after the financial crisis between 2008 and 2009, precipitated by defaults on high-risk mortgages.
"[A Lei] Dodd-Frank started limiting the number of agencies and providing clear jurisdiction, so they got rid of one agency and added three," he said.
"So we ended up with a balance of two [agências] more after Dodd-Frank and with even more confusion about jurisdiction. The idea of ​​adding a new regulator is completely ridiculous."
Gallagher was referring to the Dodd-Frank Consumer Protection and Wall Street Reform Act, which ended the Treasury Department's Office of Oversight of Savings and Loan Associations (OTS), merging its tasks with the OCC, FDIC, and Federal Reserve and the newly created Department of Financial Consumer Protection (CFPB).
Dodd-Frank also created the Financial Stability Oversight Board (FSOC) and the Office of Financial Research (OFR).
Robinhood and Coinbase were targeted for being the two largest platforms for acquiring cryptocurrencies in the US. However, both took different steps.
Brian Armstrong, CEO of Coinbase, promised to list every legal asset, prompting the broker to quickly add dozens of new currencies and tokens this year.
In contrast, Christine Brown, chief operating officer of Robinhood Crypto insisted on a more cautious approach that limits the trading app to just seven cryptoactives.
Last week, she told Decrypt: "We want to ensure that we are working on evaluating everything very well from a regulatory perspective."
Even if Coinbase's plans are "ridiculous", other people are thinking about the juggling crypto participants, as well as possible loopholes in the current environment.
In testimony to the US Congressional Board of Economic Committee this Wednesday, Tim Massad, a researcher at the Harvard Kennedy School, told lawmakers: "The CFTC can regulate bitcoin futures the same way it regulates cattle futures, but the CFTC does not regulate the purchase and sale of cows. Nobody regulates the buying and selling of bitcoin beyond the states – that's a very light approach."