SafeMoon price ready for an explosive breakout to all-time highs
SafeMoon price is likely to bounce off the $0.00000377 support floor before kick-starting a 150% upswing.
SafeMoon wallet continues to expand to different platforms, indicating a rising interest from retail.
The project is also teasing the launch of version 2 with major implications on contract sizing, accessibility and speed.
SafeMoon price is having trouble breaching through crucial barriers as it undergoes correction after a massive upswing. This development is the buy opportunity that the bulls will need before the token decides to double again.
New wallet adoption and SafeMoon v2
The much-awaited SafeMoon wallet was released on October 28, with the beta 2 version made available on the Google Play store. This update for the Android devices comes three weeks after the iOS version was released on October 7.
On November 1, Safemoon reported that the wallet received roughly 500,000 downloads in just under 50 days, with more than 100,000 new holders in the last week. The official Twitter account stated that more additions to the wallet would be arriving soon.
Four days after this announcement, the team revealed that users could hold Shiba Inu, Chainlink and Aave in their wallet.
On a much different topic, the project noted that SafeMoon V2 would be launching soon. This update will bring three main changes to the network: Upgraded contract implementing a 1000:1 consolidation, increased quality, security and accessibility of SafeMoon and increased speed.
Other noteworthy updates include V2 consolidation on track with Unicrypt partnership and the Chrome plugin version of the wallet.
While these two updates bolster the fundamentals of SAFEMOON, the technicals are indicating a bullish future for the altcoin.
SafeMoon price to come full circle
SafeMoon price set up an all-time high at $0.00000966 on May 12 and dropped roughly 88.6% in the next four months or so. This correction was brutal and was analogous to the ones seen during a full-blown bear market.
However, things started gaining traction on September 28, and the SafeMoon price started reversing its downtrend. Since this point, SAFEMOON market value has grown by 461% as it set up a swing high at $0.00000615 on October 29. This massive rally was naturally met with a corrective phase, and SAFEMOON has dropped roughly 31% to where it currently trades. 
While this downswing is natural, investors can expect SafeMoon price to stabilize between the $0.00000377 and $0.00000470 immediate support and resistance levels. A build-up of buying pressure in this region will eventually lead to a bullish breakout that shatters any and all resistance barriers to tag the $0.00000774 and $0.00000915 ceilings.
Clearing these two hurdles will open the path for a retest of the all-time high at $0.00000966. This run-up would constitute a 150% climb from the current position.
SafeMoon V2 countdown begins with prices ready to explode
John Karony, SafeMoon CEO shared an update on new developments in the project, announcing the transition to a new team.
Thomas Smith, SafeMoon's Chief Blockchain Officer has been replaced with a new team as part of the company's restructure and preparation for V2 launch.
The former Chief Blockchain Officer told David Gokhstein in a recent interview that he will make products that support SafeMoon from the outside.
SafeMoon is going through restructuring ahead of the V2 launch. CEO John Karony shared details of the team's progress and addition of new members to replace Thomas Smith. 
SafeMoon makes progress on V2 launch
SafeMoon's V2 upgrade will improve the security on the network. The upgraded contract brings utility features like reducing tax by 80% for ecommerce and wallet transfers. For SafeMoon users, the net value of their holdings will remain the same.
John Karony, CEO of SafeMoon explained that the net holdings of users will be divided by a factor of 1000, and the overall value remains the same. 
Transferring SafeMoon between two wallets is currently taxed at 10%, a drop by 80% makes it 2%. Users can migrate from V1 to V2 in two clicks, and a small amount of BNB to cover the transition fees.
Interestingly, SafeMoon recently announced that Chief Blockchain Officer Thomas Smith is now being replaced by a team. Karony shared details of the transition and revealed that the V2 upgrade is imminent, the handover process has started. There is no news of delay due to the transition.
The team has started a countdown and the upgrade is currently going through the final checks.
Thomas Smith told David Gokhstein of Gokhstein Media that he will support SafeMoon externally. 
Still here though, what if I create uses for it externally 🤷‍♀️ now is a great time to be excited— Thomas (@papacthulu) November 24, 2021
Earlier this month SafeMoon was recognized as the crypto community of the year. Analysts are bullish on SafeMoon based on the recent price trend.
SafeMoon ranks in one of the highest price gainers over the past 24 hours.
Adam Bergman, a cryptocurrency analyst at "The Adam Bergman Show" on YouTube is bullish on SafeMoon. Berg stresses on the role of centralized and regulated exchanges and SafeMoon's roadmap and community in pushing the asset's price higher.
Bergman expects SafeMoon price to explode, similar to Binance Coin, Shiba Inu token and Crypto.com (CRO). 
SafeMoon bulls return to the scene, preparing a bullish breakout to $0.000004
SafeMoon price is still stuck in a bearish triangle for over a month now.
The altcoin has seens a bullish uptick in the RSI, revealing bulls back on the buy-side.
Expect a breakout of the triangle, targeting $0.00000400 as the first profit target.
SafeMoon (SAFEMOON) price has been stuck in a downtrend for over a month now after peaking at $0.00000700. With the formation of a base at $0.00000271, buyers are now showing an interest in SafeMoon coins again. An uptick in the Relative Strength Index (RSI) has provided further support for a rebound. Expect a bullish breakout when some tailwinds flare-up in cryptocurrencies, that could lift SafeMoon price towards $0.00000400.
SafeMoon price sees bulls building momentum for a breakout
SafeMoon price has been falling in a sequence of  lower highs and lower lows for most of November. Bears got an unpleasant surprise, however, when Safemoon price hit the base level at $0.00000271, and bounced. Upside price action today has already witnessed two tests of the red descending trend line.
SafeMoon price could now start rising rapidly as a short squeeze sees bears closing their positions en masse and booking profits. This could temporarily increase demand for SafeMoon,  leading to a bullish breakout above the red descending trend line that has been capping reactions during the November descent, which, in turn, could see even further buying in from bulls.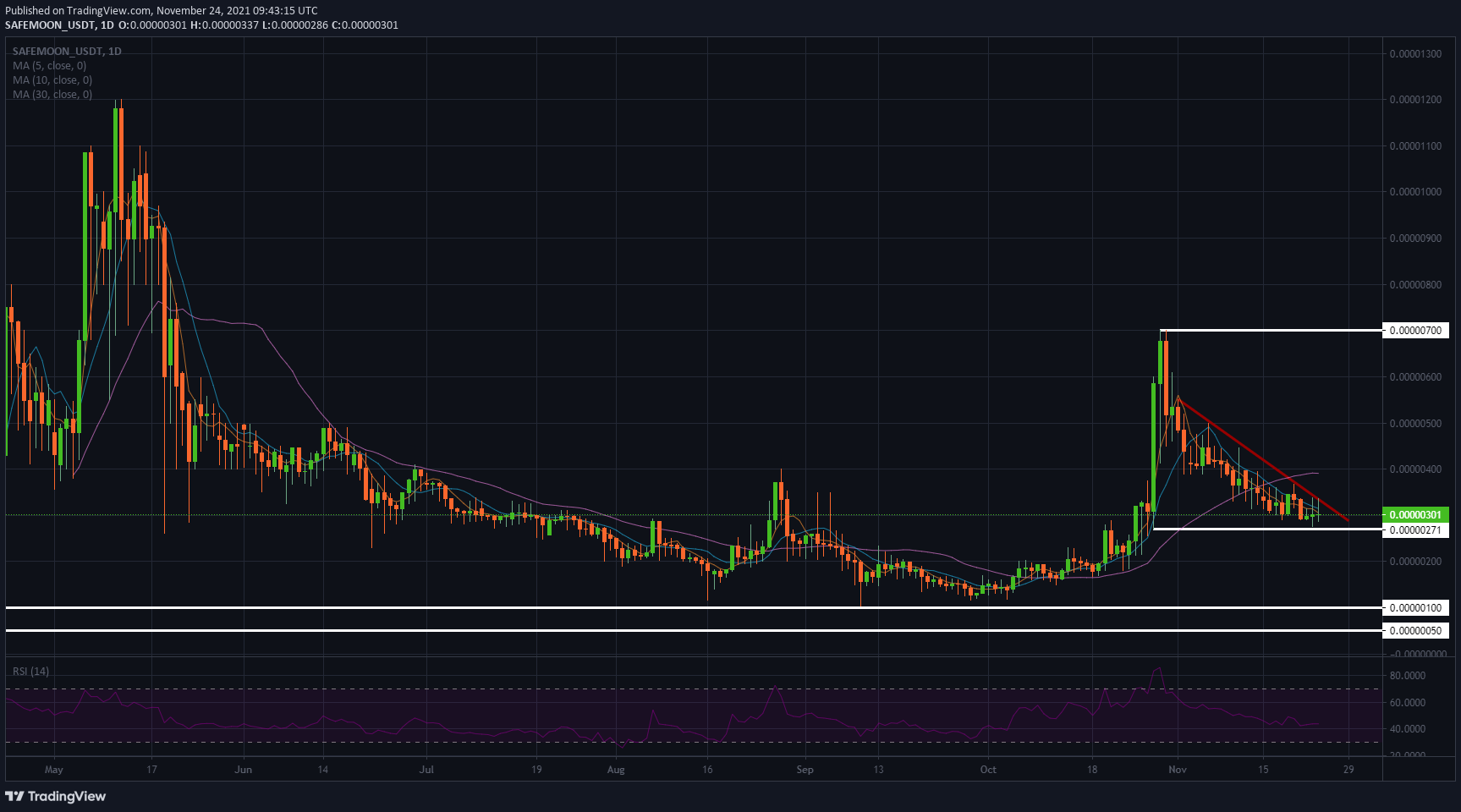 SAFEMOON/USD daily chart
Dreams of revisiting the $0.00000700 October high may be unrealistic in the short term  (such a move would also result in a double top reversal pattern, which might then be followed by a retracement to the downside). Rather expect SafeMoon price to find an initial limit at $0.00000400 where the  30-day Simple Moving Average (SMA) will provide resistance. Should bulls be able to push through this level, however – possibly helped by some additional tailwinds – a rally could go as far as $$0.00000500..
SafeMoon finds support floor, poised for a move to $0.000040
SafeMoon price stabilizes and finds support at the $0.000030 level.
Daily Ichimoku support could buoy SafeMoon higher.
A 34% move could occur over a very short period.
SafeMoon price is currently down by more than 57% from the all-time high it made back on October 29th. Some hints of price stabilization against Senkou Span B could trigger intense buying pressure. If not, an extensive dive south is likely.
SafeMoon finds support at Senkou Span B, could spike 34% to test previous resistance
SafeMoon price is currently at a make or breakpoint. Senkou Span B is the most substantial level of support and resistance within the Ichimoku Kinko Hyo system, and that is precisely where SafeMoon now finds itself. To maintain Senkou Span B as support, SafeMoon will need to spike higher over the next two days.
Senkou Span B is currently at $0.0000030. Tomorrow, November 24th, Senkou Span B shifts to $0.0000040. Because this is the first time SafeMoon price has tested Senkou Span B as support, there is an extremely high probability that it holds as support – but that means a massive 34% drive higher is necessary. Failure to do so could trigger disaster.
SafeMoon price is just one day from triggering an Ideal Bearish Ichimoku Breakout on the daily chart. The necessary conditions for SafeMoon price to enter into that bearish breakout pattern are present save one: the current daily close below the Cloud.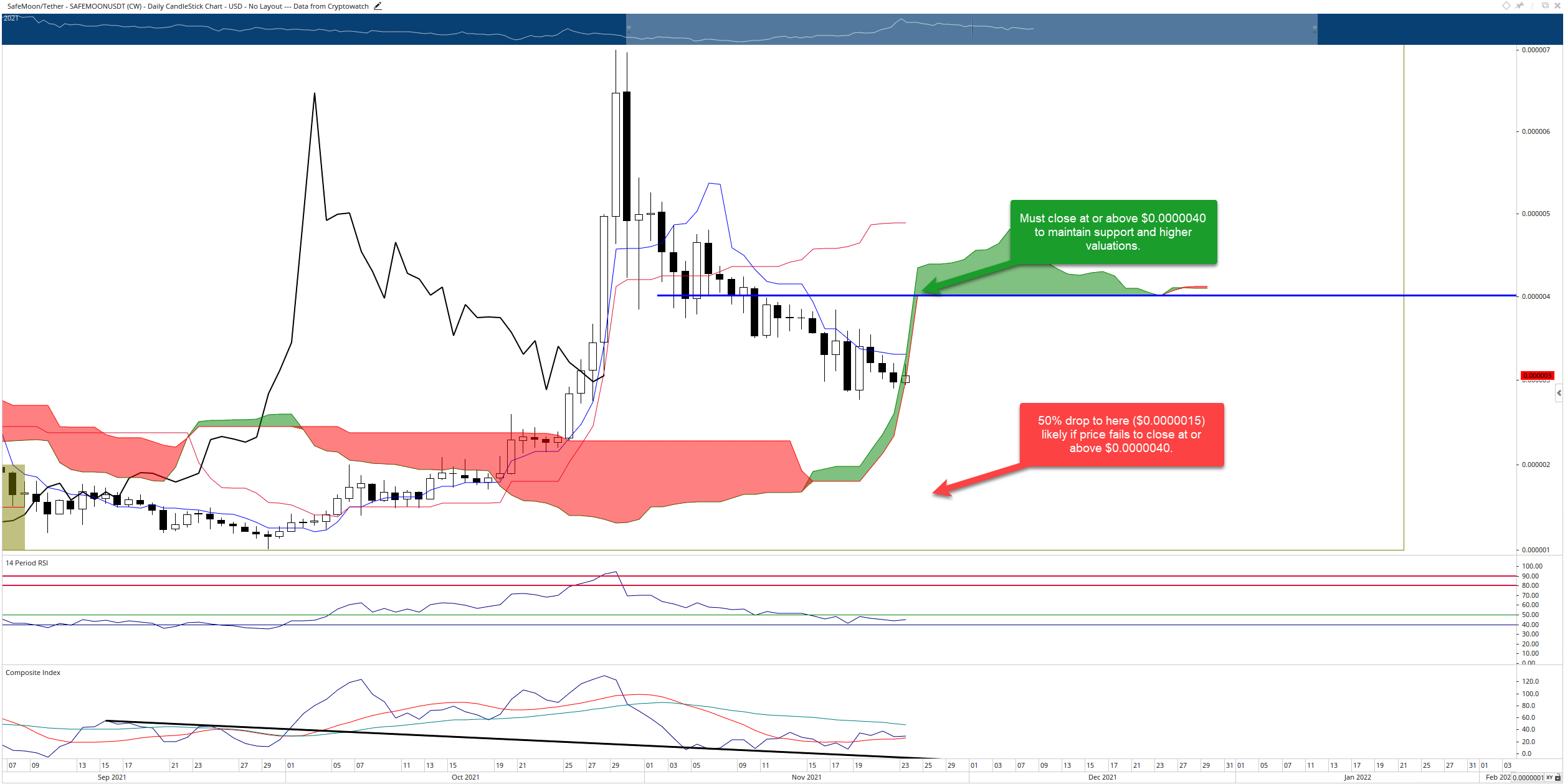 SafeMoon/USDT Daily Ichimoku Chart
If by tomorrow's trading day, SafeMoon price is not trading at or above $0.0000040, a 50% drop to the 2021 Volume Point Of Control at $0.0000015 is likely to occur.