VeChain, Loopring, And Litecoin in Limelight! These Would Be the Next 100xGem!
While the Bitcoin market cap has been attempting to hit $1.5 trillion, the total altcoin market cap stands toe-to-toe against it by holding $1.65 trillion. The majority of the altcoins across the space have claimed new highs in their recent bull cycle. This time altseason appears to be spreading across different sections of the space. Notably, the Memecoins, Metaverse, and Gaming tokens have experienced massive growth. 

With a rise in dominance of the star crypto, prime altcoins such as XRP, DOT, and AVAX have experienced a slightly negative gain of 2.62%, 1%, and 3.62% over the past 24 hours. On the other hand, VET, LRC, and LTC turned the tide with incredible gains. Yet these aforementioned coins appear to be holding the tank full of gas for another race. 
VeChain (VET) Price Analysis:
VeChain has been moving at a rapid speed with short breathers. Especially, VET price has maintained a steady upward trajectory since the start of the Q4 rising by more than 100%. The latest announcement by the community officials on the launch of Proof-of-Authority 2.0 scheduled for November 16th seems to be acting as a catalyst for the recent price action.
After facing rejection at $0.1539 in late September, the VET price has successfully broken out from that level post the latest announcement. Currently, the price has been trading around $0.1825 close to the immediate resistance line of $0.1867. As the altcoin has been moving by generating higher lows every couple of days, it would soon break out from $0.1886 to reclaim the previous ATH in the current run.
Loopring (LRC) Price Analysis:
Loopring has witnessed a historical move replicating the bull pattern of 2018. The altcoin is an inch close to entering the discovery mode as it stands close to the previous ATH of $2.11. As the ecosystem is hopeful of its collaboration with reputed gaming firms, it would soon surge by another 15 to 20%. 
➰ #Loopring's patient holders have been handsomely rewarded with another +59% price spike in the past 24 hours, & is now up +129% the past week and +443% the past 30 days. Crowd discovery has set in, indicating 16.4% of crypto forums are related to $LRC. https://t.co/AVvyr4YJoh pic.twitter.com/biVx3dytbB— Santiment (@santimentfeed) November 8, 2021
In addition, the latest report from Santiment has highlighted the same, it pointed out the rising interest towards the altcoin. The report further revealed the surge in the discussion rate of the asset by 16.4%, which indicates the largest spike of all time. With ever-rising social sentiment and trading volume, LRC possesses the solid potential to clinch new highs.
Litecoin (LTC) Price Analysis:
Bitcoin's brother Litecoin has finally decoupled from the prolonged bearish trap. The ongoing month has been phenomenal for LTC price as it has broken out from the crucial resistance of $199.32. With the latest move, the price of the coin stands at $248.86 with a 166.7% surge in the trading volume in 24 hours.   
⚡️ #Litecoin decoupled from the #crypto pack on Monday, and the #OG asset surpassed $245 for the first time since May. Notably, $LTC's circulation (1.25 tokens per day) continues to widen the gap on its lead from $ETH, which may come as a surprise to many. https://t.co/P0AZ5tpzI1 pic.twitter.com/ZoY1Lb1ytI— Santiment (@santimentfeed) November 9, 2021
Moreover, analytics from the Santiment highlights surge in the circulations of the unique addresses outpowering the Ethereum network. The platform is further hopeful of Litecoin to continue the momentum. Interestingly, in the September run as well the asset has dethroned Ethereum prior to claiming another high. At present the altcoin is pumping hard, if it manages to carry forward the momentum then LTC would break at immediate resistance around $300 to claim new ATH.
Collectively, as the global market cap is on the brink of a massive breakout, the aforementioned coins possess the solid potential to move in pace with it. However, traders are expected to trade by keeping in mind the bottom support to avoid the probable loss. 
Crypto Analyst Michaël van de Poppe Details Path Ahead for Polygon, Harmony and VeChain
Cryptocurrency analyst and trader Michaël van de Poppe is looking at three altcoins and outlining the path forward after the recent market correction.
Starting with Polygon (MATIC), Van de Poppe tells his 150,000 YouTube subscribers that the Ethereum (ETH) scaling solution could potentially hit a new high of $2.70.
"…Overall we are making higher lows. So we are building up the pressure and we are building up towards a new breakout above this all-time high [$2.62].
Right now we are getting into the last resistance point through which if there is an area that you want to look at for potential entries, you're looking at this green zone here [around $1.80] in which we can be dipping all the way there and still be bullish before we're going to make a breakout…
…we can be starting to expect $2.70 if this green zone is going to hold."
Polygon is currently ranging between 0.00002170 BTC ($1.23) and 0.00003500 BTC ($1.98). According to the crypto analyst, Polygon could potentially break out of the range and "start accelerating upwards" and hit 0.00005200 BTC ($2.94).
Next up is the native token of blockchain platform Harmony (ONE). Van de Poppe says that potential short-term buying opportunities exist around the 0.00000417 BTC ($0.24) and 0.00000344 BTC ($0.19) support levels.
"This is an area [0.00000417 BTC] where I want to seek for potential long entries. If this one is lost, I'm seeking for a long entry in this region [0.00000344 BTC]."
The cryptocurrency trader says he is bearish on Harmony and would target profits of between 0.00000090 BTC ($0.005) to 0.00000500 BTC ($0.28).
"…definitely only looking for a bounce play to watch for 0.00000090 BTC to 0.00000500 BTC as most likely we're going to make a lower high and continue to trend downwards."
Van de Poppe says that Harmony's key support levels lie between $0.21 and $0.23. The cryptocurrency analyst warns that Harmony is trending downwards and could plunge to $0.17.
"I think the only crucial support you should be looking at is this entire green zone [between $0.21 and $0.23] which is the range low. So if we dip here, I think you still want to look for potential longs.
However, we've already got a lower high taking place here, so potentially the trend is downwards. And if the trend is downwards, I'm also going to look around the area of $0.17."
Next up is the utility token of the supply chain blockchain VeChain (VET). Van de Poppe says that a potential buying opportunity for VeChain exists at around the 0.00000210 BTC ($0.12) level if the altcoin prints a higher low on the charts. A higher low usually indicates an uptrend in technical analysis.
The crypto trader and analyst says VeChain is sitting at the $0.11 support level but will wait for Bitcoin's price action to determine the direction of altcoins.
"When it comes to VeChain against USDT we are also back into support at this stage but still we're looking for confirmation from Bitcoin.
If that one is going to confirm that the market is ready for continuation, that is the moment where altcoins are starting to fire off. And at this moment, I'm not convinced about Bitcoin yet."
Future Altcoin Leader VeChain (VET) Sees Bullish Signals
HODLers await a massive crypto market recovery.
FXStreet explains how VeChain (VET) is setting itself up to be an altcoin market leader.
VET price will see a trifecta of bullish breakouts.
Presently, the crypto market looks to be in turmoil. Like always, every market has its up and down days, and the greatest ups come soon after the most astounding downs. According to CoinGecko and CoinMarketCap, the market is struggling as of now.
However, many long-term holders, seasoned investors, and expert crypto analysts are still HODLing for their long-awaited crypto bulls. For instance, many expect the price of Bitcoin (BTC) to surpass $100,000 by Christmas time.
Similarly, many expect the price of altcoins to follow suit. For example, many expect the price of Ethereum (ETH) to surpass $10,000 soon. Likewise, here is FXStreet's prediction for the price of VeChain (VET) to skyrocket.
In detail, the article speaks of how VET price is developing a trifecta of bullish breakouts. In fact, it talks about certain conditions that point to a significant drive higher. Specifically, the article stresses how VeChain will eventually become a leader in the altcoin market.
Currently, the price of VET is set for a huge bear trap. This will soon yield a spike of over 80%. This means that the time for existing and future short-sells will be over. To emphasize, the article highlights three main reasons on how VET will achieve this breakthrough.
In particular, the article mentions how VeChain is in a unique position to make the best of three powerful bullish signals. This comes from its Point and Figure chart. Right now, all three signals are set to trigger upon VeChain hitting the entry of the hypothetical long setup.
These three signals begin with the entry at $0.128. This will trigger an ascending triple-top breakout, confirm a Bear Trap Point and Figure pattern, and finally break the dominant bear market angle which will convert VET into a bull market.
Indeed, it will be quite a spectacle to see how the price of VeChain will play out in the next couple of days. On the positive, the price could go over $0.21. In contrast, the downside risk could take the price down to $0.07.
VeChain coiled and ready to break out to $0.21
VeChain price develops a trifecta of bullish breakout conditions pointing to a substantial drive higher.
VeChain is likely to become a leader in the altcoin market.
Limited immediate downside risks for VeChain exist.
VeChain price is positioned for a massive bear trap, which would yield a spike of over 80%. The $0.002/3-box Point and Figure chart show why a breakout above $0.126 could initiate a flash-spike higher.
VeChain price is ready to pop, shattering any hopes of existing and future short-sellers
VeChain price has a rare combination of three powerfully bullish signals on its Point and Figure chart. And all three signals are considered authentic or confirmed if VeChain hits the entry of the hypothetical long setup. The three signals are as follows:
An entry at $0.128 confirms an ascending triple-top breakout.
An entry at $0.128 confirms a Bear Trap Point and Figure pattern.
An entry at $0.1280 breaks the dominant bear market angle and converts VeChain into a bull market.
It is rare to have such a substantial collection of bullish reversal signals present at the same price level. Because of these three signals, they exacerbate the projected profit target from the Vertical Profit Target Method. Consequently, the profit target of $0.21 is just a hair below the 100% Fibonacci expansion at $0.212.
The theoretical long entry is a buy stop order at $0.128, a stop loss at $0.120, and a profit target at $0.21. The long trade idea is invalidated if VeChain price moves below the $0.106 value area.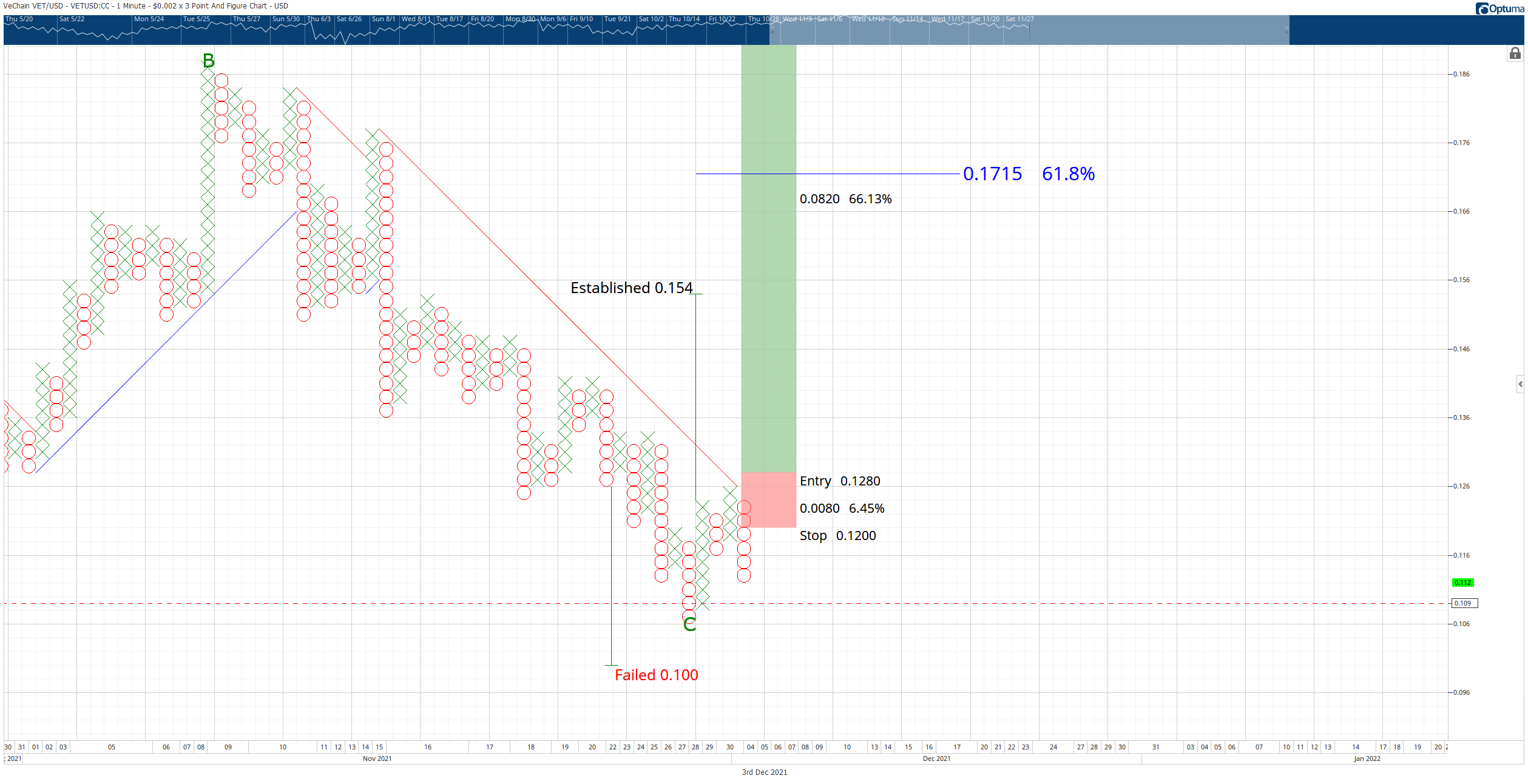 VET/USDT $0.002/3-box Reversal Point and Figure Chart
If any weakness over the weekend (which is always a possibility during the weekend trading sessions), the downside risk should be limited to the 38.2% Fibonacci retracement at $0.072.