Binance Lists Ethereum Name Service: Here's All You Need to Know About It
Ethereum name service becomes more popular and is now trading on Binance
The most recent news about the listing of the Ethereum Name Service on Binance may be a surprise for inexperienced users who have not heard about the trending technology that might become revolutionary for the industry.
Binance listing
Binance recently announced the listing of the Ethereum Name Service (ENS) that will open trading of ENS against BTC/BNB/BUSD/USDT pairs at 7 a.m. UTC. Deposits for users who are willing to prepare for trading are already open. Withdrawals of the token will be opened one day after listing.
What's Ethereum Name Service?
The ENS is an open-source naming system developed on the Ethereum blockchain. Its main goal is to create simple, convenient and—most importantly—readable names in the format "name.eth" that will replace common wallet addresses.
The project allows for simplifying the use of the Ethereum network which, for its part, can attract even more users to the blockchain industry.
Ethereum is quite similar to the DNS technology that is also being used as a naming technology that allows users to access websites via domain name rather than the IP address of a server.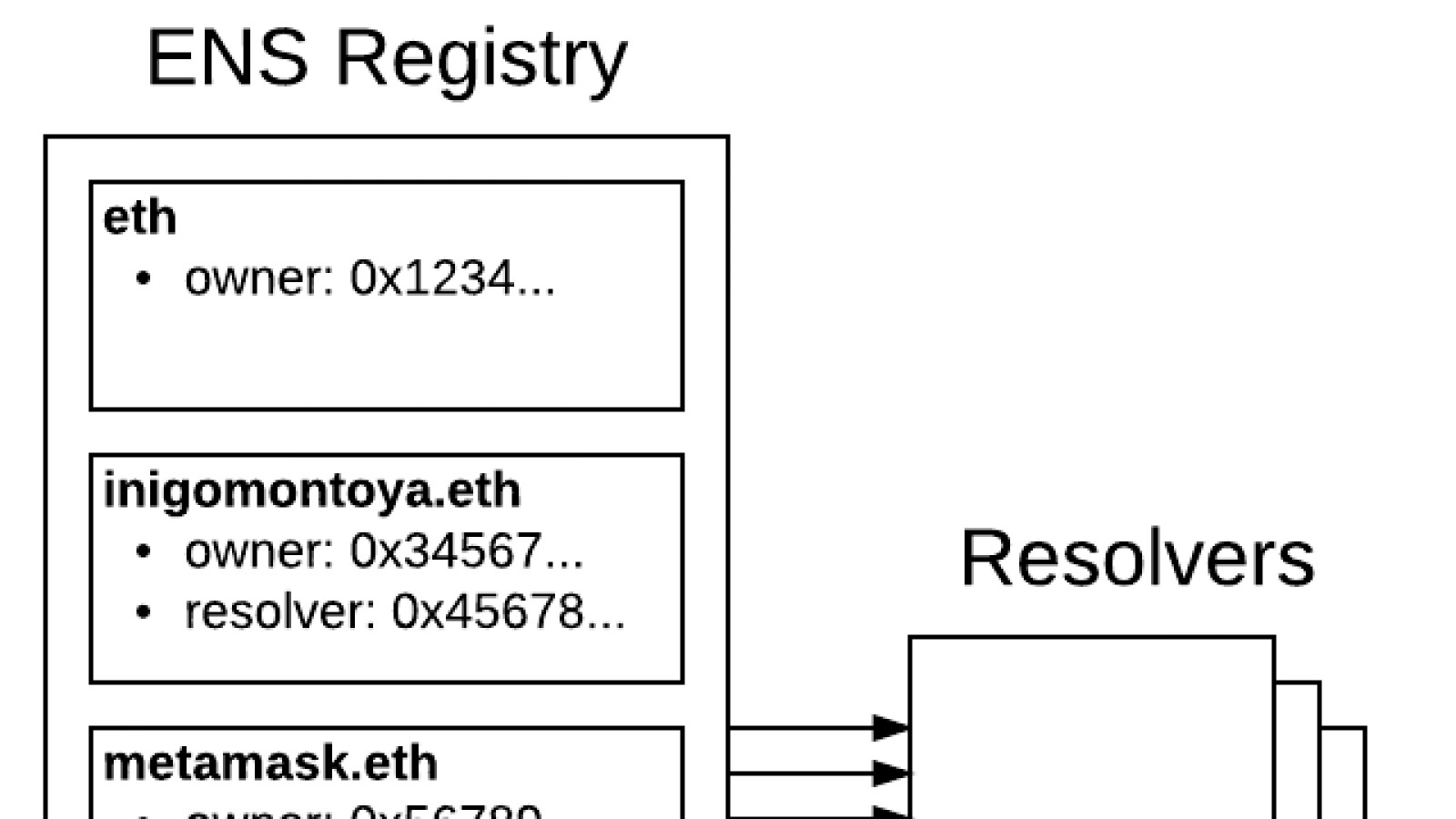 Behind every top-level domain (.eth and .test) is a smart contract that contains the specified rules of the subdomain. Any person is able to register his own domain that will follow the rules of the smart contract.
Why it is important for the industry
By creating your own Ethereum name server, users are able to receive payments or share their wallet data without going through copying, writing down and sending 42-character-long addresses for someone who then needs to copy and paste it somewhere. In the event that you have to manually type in the address, the ENS becomes even handier.
Proper naming of the address allows users to share it in a more simple way and makes the usage of Ethereum more convenient.
Here's What's Next for Ethereum Rivals Solana and Avalanche, According to Analyst Nicholas Merten
Prominent crypto analyst Nicholas Merten is taking a look at two layer-1 digital assets stacked up against the Ethereum (ETH) trading pair.
In a new strategy session, the host of DataDash tells his 486,000 YouTube subscribers where he thinks smart contract platforms Avalanche (AVAX) and Solana (SOL) are headed.
According to Merten, it is better to compare both coins to ETH rather than the US dollar or Bitcoin (BTC) as Ethereum's greater success in recent years makes it a better barometer than Bitcoin.
"If you're really looking to see if your play is outpacing others in the market, you want to take a look against Ethereum. It is the second-largest cryptocurrency in this space and it has been outpacing Bitcoin around 380% to 400% in this cycle alone since 2019.
So we want to be able to find plays that are outpacing Ethereum because Ethereum is a really solid bet. It's a really good medium-risk, medium-reward play."
Looking at Avalanche, Merten says that a local top might be in for the AVAX against ETH after the altcoin's massive rally in the last few months.
"Avalanche has done phenomenally well against Ethereum. If you take a look back here since August, it's up 422% against Ethereum. Great rally, even after the [recent] pullback here…
When I look at this chart I definitely like seeing an asset that performs well against Ethereum, but each time it's come up to this range [0.034 ETH or $139.21] historically, it's been dragged down…
I think that again we might see some kind of repetition, or at least a revisit down to the previous support range [0.014 ETH or $57.32], which means that's it probably going to go down a little over 35% to 40% against Ethereum. A pretty decent decline.
At time of writing, AVAX is down 1% on the day to $107.20.
As for Solana's price action against Ethereum, Merten notes that the pair is flashing a bearish pattern after printing massive rallies in the last 18 months.
"But to be completely frank as a trader, Solana's had many rallies in the past. It's had one back here [from July to August of 2020], 336% rally in price. Then back here [December of 2020], if you want to take from the lows, in this case, 1,000% move, massive multiples in price.
We take a look here as well, from the recent rally here [August 2021] into September, very similar to history, a little over 350% to 400%. Not a bad rally.
But to be completely frank, we've been stagnant since September generally. The trend is starting to fade here. We don't have that same momentum, and it's seeing if it can hold out against Ethereum.
If you break below this range here [0.046 ETH or $188], I think it's very favorable that Ethereum is going to start to outpace Solana as well as other major layer-1 plays."
Solana is currently down nearly 10% and trading at $203.79.
Ethereum's rival token price soars and approaches higher cryptocurrencies
LUNA, the Earth network's native cryptocurrency, developed at Cosmos, reached a record high of US$69.56. The price increase brought the token closer to the top ten list of cryptocurrencies by market capitalization, losing tenth place only to dogecoin (DOGE).
LUNA's price is up 10.4% in the last 24 hours, according to data from the CoinGecko website.
Terra is a blockchain developed using Cosmos' Software Development Kit (SDK). The network is used to create algorithmic stablecoins backed by various fiat currencies, such as the dollar or euro.
LUNA is used to issue these stablecoins, as well as to pay network fees and participate in governance, ie to vote on the network.
Right now, Terra is the fifth largest first-tier blockchain, behind Polkadot, Cardano, Solana and Ethereum.
The increasing price hike for LUNA comes amid new initiatives in the Terra ecosystem. Most notable is the Columbus-5 protocol update.
Ethereum's rival
Released last Tuesday (30), this update activated a burning mechanism that removes LUNA from circulation, making the cryptoactive scarcer.
Previously, when Terra's dollar-backed stablecoin (UST) started trading above $1, the protocol encouraged arbitrators to issue more UST by burning a portion of LUNA coins. By increasing the supply of UST, the price would fall.
When the opposite happened, a portion of UST would be burned to emit more LUNA. In this way, the ballast maintains its stability.
Only a portion of LUNA and UST would be burned before the upgrade; the other portion was transferred to a community pool. Now, with Columbus-5, all the coins in the community pool are burned, creating a much more dramatic deflationary environment.
Along with this update, demand for UST soared. Since the only way to issue more UST is to burn LUNA, the native currency continues to reach record highs.
In terms of market capitalization, UST is the fifth largest stablecoin on the market, with $7.8 billion. As of Oct. 1, when Columbus-5 was activated, that number was just $2.6 billion.
For context purposes, the two largest stablecoins, Tether (USDT) and USD Coin (USDC), have market caps of $74.9 billion and $39 billion, respectively.UST market capitalization between June 7th and December 3rd (Image: CoinGecko)
Earth's ecosystem is growing rapidly
Decentralized Finance (or DeFi), an umbrella term for financial products that allow users to trade, lend, and borrow with cryptoactives without intermediaries, is also taking off on Terra.
Anchor Protocol, a money market project, has reached $6 billion in total blocked value (or TVL), a metric used in DeFi to approximate the amount of money flowing through any particular product.
As of July, Anchor had yet to hit $1 billion, according to DeFi Llama.
Terra users are also eagerly awaiting the launch of Astroport, a decentralized brokerage (like Uniswap), and Mars Protocol, a lending and borrowing platform (similar to Ethereum's Aave protocol).
Of course, to use any of these decentralized applications (or dapps) on Terra, you'll need LUNA, which explains the recent surge in demand.
Bitcoin, Ethereum Rebound Sharply After Another Crash while El Salvador Misses 'the Bottom'
The crypto market saw another sharp correction on Saturday morning (UTC time), followed by a strong rebound, while over USD 2.5bn in derivatives trading positions were liquidated in the past 24 hours. El Salvador "bought the dip" once again.
At the time of writing (08:43 UTC), all top 100 cryptoassets by market capitalization are still in the red. Bitcoin (BTC) trades at USD 47,778, recovering around 10% from USD 43,530 reached earlier today. The price is still down 15% in a day, reaching the level last seen at the beginning of October. BTC is now down 24% in a month.
Meanwhile, ethereum (ETH) performed better during this crash and is now down by 13%, trading at USD 3,977. It recovered around 14%, after diving below USD 3,500 today. ETH is now down 14% in a month.
Other coins from the top 10 club are down by 12%-21% in a day.
Total liquidations in the crypto derivatives market surpassed USD 1.56bn in the past 4 hours and USD 2.5bn in a day, per Coinglass data. Over 400,500 trading positions were liquidated in a day.
"As usual, since crypto traders deploy leverage it results in cascading sell orders and liquidations," Antoni Trenchev, Co-founder of crypto lender Nexo, told Bloomberg. "We should find support around USD 40,000 to USD 42,000 and then rebound in line for a end-year rally. If that does not hold, we might revisit the July lows of USD 30,000 to USD 35,000."
Meanwhile, according to Vijay Ayyar, head of Asia Pacific with crypto exchange Luno, markets have also been jittery with all the uncertainty around the omicron variant of the coronavirus.
"It's hard to say what that means for economies and markets and hence the uncertainty," he was quoted as saying.
At the same, El Salvador's President Nayib Bukele said the country had again bought the dip, adding BTC 150.
Missed the f***ing bottom by 7 minutes 😂— Nayib Bukele 🇸🇻 (@nayibbukele) December 4, 2021
We asked for $69,420, but got $42,069 instead pic.twitter.com/HEG3WRyryS— Kevin Zhang (@SinoCrypto) December 4, 2021
ETHUSD
in all the drama, ETH "only" did a textbook 0.618fib level retracement.
Pretty standard, already bounced 15%

We can be in panic or just be happy these corrections don't take 3 months pic.twitter.com/ncu6Xkx583— Crypto_Ed_NL (@Crypto_Ed_NL) December 4, 2021
$ETH singlehandedly keeping the Dec. 2017/Jan.2018 climax alt-season dream alive— Loma (@LomahCrypto) December 4, 2021
This is the dip you're not going to buy.

But #Bitcoin didn't come this far only to stop here.— Mira Christanto (@asiahodl) December 4, 2021
pic.twitter.com/VzBBN9xni7— Crypto Rand (@crypto_rand) December 4, 2021
Net BTC long liqs Dec 4th: $2.159bn

Of course, this is very assumption-based, and it could be more violent, or less violent. Difficult to state with confidence, but given the severity of the crash, $2bn seems highly plausible. On April 18th we saw liquidation volumes of $4.8bn.— Vetle Lunde (@VetleLunde) December 4, 2021
Have to say it out loud, bears were most definitively right, some notable ones out there. Direction from here imo will continue to depend on equities, which is unclear, but for as long as funding remains this negative odds of another sharp correction are very low. pic.twitter.com/5CqgsKE0Uh— Alex Krüger (@krugermacro) December 4, 2021
Move appears to be lead by options market traders.

I thought the $50k level would hold for a decent mean reversion but I was definitely wrong on that aspect.

ETHBTC holding pretty well considering.

Big moves need time to digest and stabilize.

Spot buying > Lev trading— Jacob Canfield 🐸 (@JacobCanfield) December 4, 2021
So altszn turned out to be ETH crashing a bit less than BTC, only 15%. Don't worry Ethereals, it will catch up and overshoot. It always does.https://t.co/QTiVpZepLR— Joe007 alerts·groups·funds? Scam! (@J0E007) December 4, 2021