Elon Musk-Inspired Meme Coin Whiplashes From 20x Increase to 95% Decrease in Past 36 Hours
The Musk meme coin is a rebase token, which is supposed to supress volatility.
Most cryptocurrency "hodlers" are used to volatility within the space, barely batting an eye at a 15 percent swing up or down intraday.
Elon Musk meme coin has wild ride over the past 36 hours
However, the recently launched Elonomics (ELONOM) meme coin had more mercurial market movements over the past 36 hours, than any Twitter storm instigated by its inspirational namesake, Elon Musk. It's important to note that Musk has not acknowledged any direct connection with this project. That being said, the timeline of this annotated chart below, charts the highs and lows and highs and lows that occurred over the past day-and-a-half.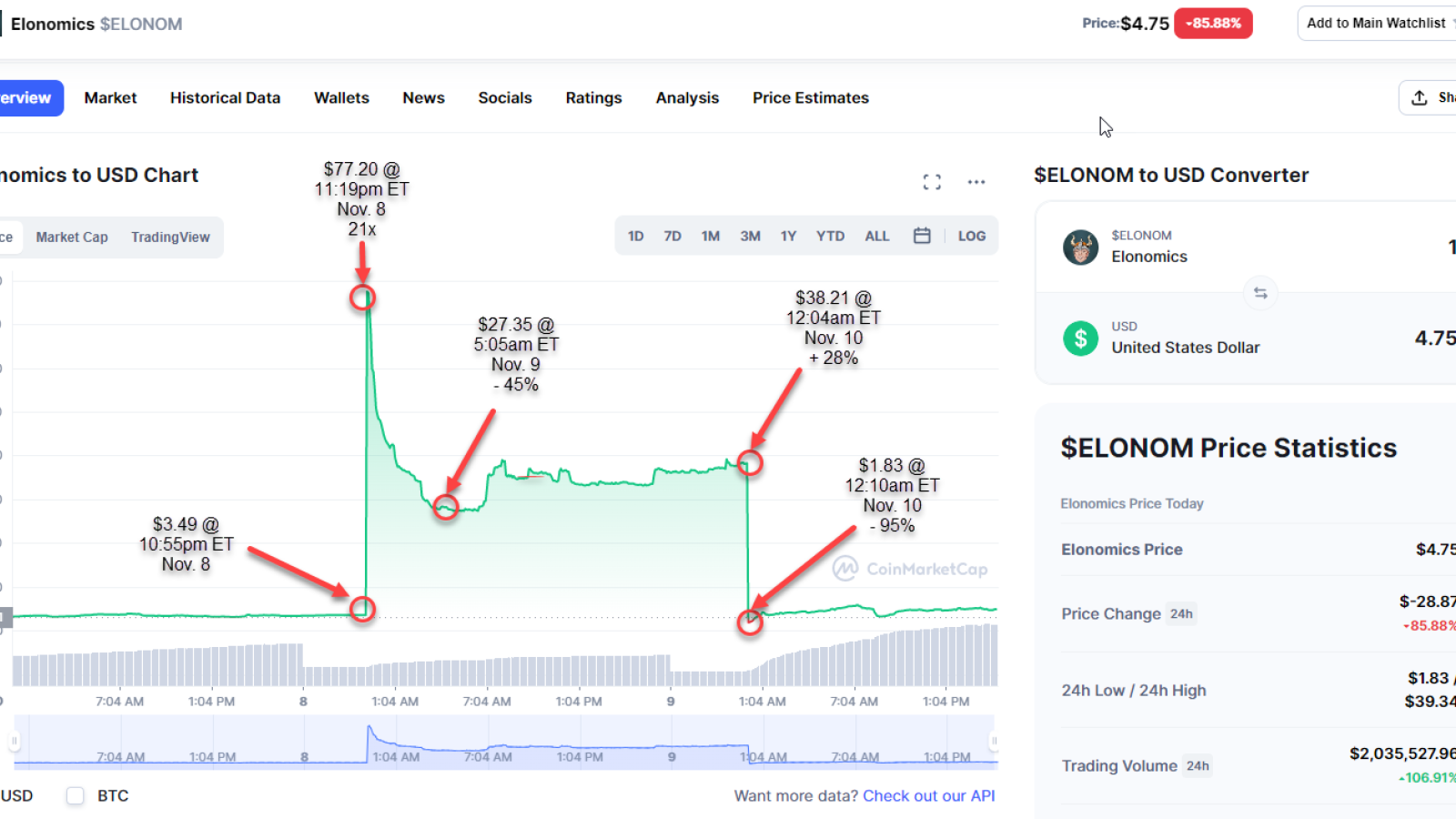 Image via coinmarketcap.com
Breakdown of the Musk-themed mem coin
To recap the chart, as Monday, Nov. 8 was winding down ELONOM was holding steady at $3.49 per meme, when it erupted 20 minutes later to more than $77 – a 21x multiple. Within five hours it plummets and then hovers in the high $20s for more than a day. The meme edged up 28% to just over $38 per token at 12:04am this morning – only to crater 95 percent of its value in six minutes, to a price of $1.83.
The price today has since floated back above $4 per unit and has been holding steady. There were no obvious trading volume spikes, whale sales, or news to explain such vicious whipsaw swings. What makes this price action doubly puzzling is that ELONOM is an elastic supply token, which is supposed to smooth out volatility.
Elastic supply tokens are supposed to reduce volatility
The ELONOM meme is an elastic supply or rebase token that's programmed to automatically increase or decrease the total amount of circulating supply based on price changes to stay within a preset price-to-supply ratio. As prices go up or down, the supply in wallets shifts directions proportionately to maintain the ratio's status quo. It's possible that the algorithm is twitchy and still in development, which is causing these visceral overcorrections.
Until the programming for this meme coin gets straightened out, ELONOM hodlers might consider a more relaxing activity – like juggling live chainsaws.
Nascent Crypto Sector Is the Biggest Outperformer After Skyrocketing 37,000% This Year, According to Market Research Firm
A prominent market intelligence firm has identified one crypto sector that is exponentially outpacing all others in terms of growth.
UK-based market research firm MacroHive created four indices which the company believes capture the popular use cases of cryptocurrencies.
Each index, except for Bitcoin, consists of five tokens that represent the market value of a particular theme or sector.
One index that's a cut above the rest is the metaverse sector, according to MacroHive.
"The clear outperformer this year has been the metaverse. It is up a whopping 37,000% this year and has gained 20% over the past seven days alone"
MacroHive says that the metaverse index is made up of play-to-earn game Axie Infinity (AXS), Ethereum-based virtual world The Sandbox (SAND), virtual reality platform Decentraland (MANA), blockchain gaming platform Enjin Coin and player-controlled blockchain gaming platform Gala.
The next top-performing index is the smart contract sphere consisting of Ethereum, Solana (SOL), Cardano (ADA), Avalanche (AVAX) and Polkadot (DOT). The smart contract index is up 2,355% this year, according to MacroHive.
Third on the list is the decentralized finance (DeFi) index. For the DeFi index, which is up 584% this year, MacroHive selected lending and borrowing protocol Aave, stablecoin governance token Maker (MKR), smart contract DeFi platform Compound (COMP), decentralized exchange Uniswap (UNI) and automated market maker PancakeSwap (CAKE).
Indian Crypto Bill in Anvil, Govt. to Weigh Pros & Cons of Crypto

The latest update in the controversial Indian Crypto Bill saw the Finance Minister, Nirmala Sitharaman consider the underlying technological boon that comes with the industry's banes. While speaking at the 'Agenda Aaj Tak' event in Delhi yesterday, Sitharaman noted that the crypto bill is in anvil and will soon be sent for approval to the cabinet.
Furthermore, she highlighted the juxtaposition given the government's concerns about the decentralised industry accompanied by their plan to fully avail the financial benefits of the blockchain technology. Following this mindset, she ascertained that the "Cryptocurrency bill will take into account the underlying technology".
Ambani's Two-Cents on Crypto
The Indian government appears to be on the right track, financially, given that even the richest man in all of Asia, Mukesh Ambani swears by the same technological advancement with the blockchain.
He spoke yesterday, at a forum organised by India's International Financial Services Centres Authority together with Bloomberg, where he argued the potential of blockchain technology. Ambani said, "Blockchain is the technology I believe in and it is different from crypto". Ambani claimed that India will see an evolution in its "fintech, education technology, health technology, and industry" through digital services.
Furthermore, he compared the power of data to that of former days' oil, asserting the only difference being, data's easy accessibility.
"Digital technology, I believe, is a great leveler, a great democratizer…The new oil, i.e. data, can be generated and consumed everywhere and by everybody. It has the potential to create value equitably across sectors, geographies, and economic classes.", said Ambani.
Borderless Crypto
Despite understanding the pros, like innovation and technological advancements, the Indian government is determined to regulate the decentralised industry in lieu of its dangerously fast-evolving nature. According to CoinGape's exclusive coverage on Nirmala Sitharaman's stance towards upcoming crypto regulations, she noted that mere national level monitoring will never be enough when it comes to the decentralised industry. Sitharaman called upon global regulators to come together to centralise a borderless body like crypto.
"All of us also recognise technology respects no physical border. Technology has the power to sweep through borders. It means global action is the only way in which you can regulate it effectively", said Sitharaman.
Whales Are Actively Accumulating Three Altcoins – And Selling Two Others, According to Crypto Analytics Firm Santiment
Crypto whales are actively accumulating three altcoins and selling two others, according to the crypto analytics firm Santiment.
Santiment says whale tracking can be an effective method of determining which crypto assets look bullish or bearish.
The analytics firm notes that the number of whale addresses holding between 1-10 million Skale (SKL) has surged in the past week.
SKL is the native asset for Skale, a blockchain network that aims to enable developers to create and provide decentralized chains that are compatible with Ethereum. SKL is trading at $0.28 at time of writing and is down more than 10% in the past 24 hours.
The number of whale addresses holding between 100-10,000 Maker (MKR) has also shot up in the second half of November, according to Santiment.
Maker is a governance token that supports DAI, a stablecoin that is pegged one-to-one to the US dollar without any banks, governments or third parties. MKR is trading at $2,683.35 at time of writing and is down more than 9% on the day.
Santiment notes that the number of whale addresses holding between 1-10 million Ocean Protocol (OCEAN) has also increased in the second half of last month.
OCEAN is the native asset of the Ocean Protocol, a blockchain ecosystem that connects data providers and consumers. The 193rd-ranked crypto asset by market cap is trading at $1.15 at time of writing and is down nearly 9% in the past 24 hours.
On the flip side, Santiment notes the number of whale addresses holding between 1-10 million Ren (REN) has decreased in the past week.
Ren is a platform that powers transactions between different blockchain platforms. It aims to make it easy for users to adopt and invest in decentralized finance (DeFi). REN is trading at $0.80 at time of writing and is down more than 8% on the day.
The number of whale addresses holding between 1-10 million GRT is also down in the past two weeks, according to the analytics firm.
GRT is the native token for The Graph, a platform that indexes and organizes blockchain data. The 46th-ranked crypto asset by market cap is trading at $0.79 at time of writing and is down more than 9% on the day.
Santiment also notes the number of addresses holding between 100-10,000 Basic Attention Token (BAT) has also gone down slightly. While the analytics firm refers to these addresses as "whales," that appears to be a mistake, since BAT is only trading at $1.21 at time of writing.
BAT is a utility token based on Ethereum. It powers the anti-ad web browser Brave, which focuses on protecting a user's data by removing ads and ad trackers. The 84th-ranked crypto asset by market cap is trading is down 12.5% in the past 24 hours.