Fresh Bitcoin price highs put bulls in profit for Friday's $1.2B BTC options expiry
Every time a new Bitcoin (BTC) all-time high is formed, excessive expectations follow. This time was no different as its price briefly touched $69,000 in the early hours of Nov. 9. 
Bitcoin 8h, we got our November 9th historical correction, seems to be very minor for now. Naturally I expect at bigger correction after we hit the 84k region, and then into blast off.$BTC #Crypto #Bitcoin pic.twitter.com/cfbBkOIFEK— Miles J Creative (@JohalMiles) November 9, 2021
Words are just words, so there's no loss from being excessively bullish or bearish, but in options markets there's a cost for placing those bets. For example, on Nov. 10, a right to buy Bitcoin (call option) at $100,000 on Dec. 31 is trading at BTC 0.022, or $1,460. For this privilege the investor pays an upfront fee which is also known as the premium.
Analysts and pundits quickly issue their $100,000 targets after Bitcoin posts its highest monthly close ever. However, history has proven that short-term price estimates seldom work, and it doesn't matter if you're an anonymous Twitter figure or a well-versed multi-million dollar crypto fund manager.
Bitcoin price estimates are often far off
Despite being a widely successful venture capital investor, Tim Draper's $250k price guess for 2020 was off by 88%. Even renowned bank analysts can get it very wrong, as did a Citibank FX Wire "Market Commentary" from Nov. 2020 where they cited a potential $318k high in 2021. Still, with 50 days till year-end, maybe some of those prophecies will turn out true, but the majority remains no better than random numbers.
Bears are possibly eyeing regulatory hurdles, for example, Singapore became the latest region to ban crypto derivatives exchanges services. Huobi Global announced on Tuesday that it would shut down accounts of all Singapore-based users by the end of March 2022. In September, Thailand's Securities and Exchange Commission also recommended revoking Huobi's local operating license.
An initial analysis based on the open interest of call (buy) options and put (sell) instruments presents a balanced situation for Nov. 12's $1.3 billion options expiry.
At first sight, the $630 million call (buy) options dominate the weekly expiry by a mere 12% compared to the $565 million puts (sell) instruments.
However, the 1.12 call-to-put ratio is deceptive because the recent rally will probably wipe out most bearish bets. For example, if Bitcoin's price remains above $66,000 at 8:00 am UTC on Nov. 12, virtually every put (sell) instrument becomes worthless. There is no value in a right to sell Bitcoin at $58,000 or $62,000 if it's trading above that price.
Bulls might aim for a $410 million profit above $70,000
Below are the four most likely scenarios for the Nov. 12 expiry. The imbalance favoring either side represents the theoretical profit. In other words, depending on the expiry price, the active quantity of call (buy) and put (sell) contracts varies:
Between $64,000 and $66,000: 2,440 calls vs. 310 puts. The net result is $135 million favoring the call (bull) instruments.
Between $66,000 and $68,000: 3,430 calls vs. 50 puts. The net result is $225 million favoring the call (bull) instruments.
Between $68,000 and $70,000: 44,070 calls vs. 10 puts. The net result is $305 million favoring the call (bull) instruments.
Above $70,000: 5,820 calls vs. 0 puts. The net result is complete dominance, with bulls profiting $410 million.
This crude estimate considers call options being exclusively used in bullish bets while put options in neutral-to-bearish trades. This oversimplification disregards more complex investment strategies.
For instance, a trader could have sold a put option, effectively gaining a positive exposure to Bitcoin above a specific price. Unfortunately, there's no easy way to estimate this effect.
The bears' best hopes turned out to be ineffective
After a 19% rally in 30 days, bulls dominate Nov. 12's weekly expiry. One factor that may have been partially responsible for that move was the absence of an adverse price impact after the $1 trillion U.S. infrastructure bill passed the United States House of Representatives. The bill mandates all digital asset transactions worth more than $10,000 to be reported to the IRS.
Traders must consider that even bearish news has little to no impact on the price during bull runs. Moreover, the effort bears need to pressure the price is increased and usually ineffective.
Bulls might take advantage of the current situation by pushing BTC above $70,000, which would result in an additional $105 million estimated profit which would push their total to $410 million.
Is Apple Planning For Bitcoin Payments! Will BTC Network Volume Eclipse Visa And Mastercard Payments?
In an acute inflationary atmosphere, numerous cryptocurrency projects seem to be more appealing to investors. Possible threats of US inflation and the prevailing pandemic situation prompt investors to espouse Bitcoin payments. On the other hand, the network has been thriving hard to outstrip the network volumes of Visa and Mastercard. 
The global crypto market cap raised its bar to the new highs on, as investors gush into Bitcoin investments as Federal Reserve chairman Jerome Powell made remarks on tapering of monthly bond purchases to occur a couple of weeks before than expected. This move would further result in a hike in the interest rates, resulting in hyperinflation. 
Apple to Adopt Bitcoin Payments?
The reputed tech firms might lookout for investment opportunities that would help manage their purchasing power. Notably, top companies with significant cash reserves such as Apple ($191 billion), Google ($168 billion), Microsoft ($137 billion), Amazon ($86 billion), Facebook ($86 billion), and Oracle ($39 billion) might shift their gears to Crypto investments. Moreover, crypto market insight platform Bitcoin Archive is been optimistic about Apple's adoption of Bitcoin payments. 
Yes, @Apple is getting into #Bitcoin payments – just join the dots 🤷🏻‍♂️— Bitcoin Archive 🗄🚀🌔 (@BTC_Archive) December 1, 2021
However, crypto analyst Venturefounds recently made remarks on loss of purchasing power by $102 billion in retaliation of record break inflation rate in the US. Hence, possibilities are quite high that top-tier tech firms would soon roll out a red carpet to the Bitcoin payment adoption. 
On the other hand, the Report of Blockdata confirms Bitcoin's progressive move against PayPal, Visa, and Mastercard payments. Bitcoin network acclaimed an evaluated average of $489 billion per quarter in 2021. Besides Visa, Mastercard, and PayPal payments have recorded network volume worth $3.2 trillion, $1.8 trillion, and $302 billion respectively. However, the platform has been optimistic about the massive growth of Bitcoin's payment network. 
Collectively, investors all across the globe appear to be FOMO-ing Bitcoin. Hence, the flagship asset and other revolutionary cryptocurrency projects would experience sustainable growth in the near future. Especially, the platform has dragged more than 60 to 70% of investments during uncertainties such as pandemic and global financial crises.  
Bitcoin tests traders' nerves as analyst reissues $400K BTC price forecast
Bitcoin (BTC) was on repeat on Dec. 2 as markets watched another attack on $60,000 end in defeat.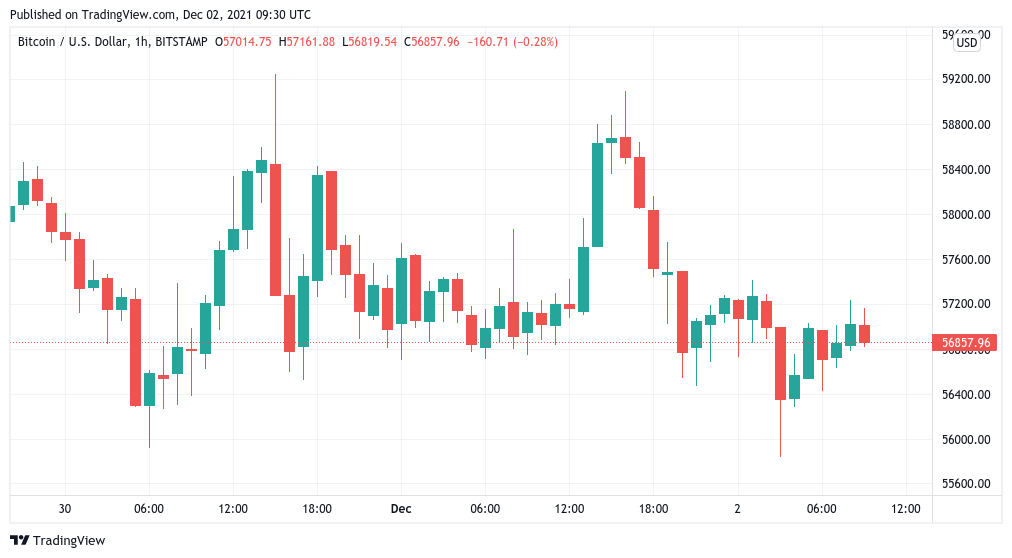 BTC/USD 1-hour candle chart (Bitstamp). Source: TradingView
"Nothing has changed"
Data from Cointelegraph Markets Pro and TradingView showed BTC/USD back at $57,000 Thursday, having come full circle in 24 hours.
The pair had briefly hit $59,000 into the Wall Street open the day prior, this failing to hold as another round of macro triggers skewed sentiment to the downside once more.
Bitcoin thus fell in line with stocks reacting, it seemed, to continued concern over the new coronavirus omicron variant. The S&P 500 ended the day down 1.2%.
With a sense of frustration pervading crypto markets, analysts took the opportunity to reassert a longer-range perspective.
"It's very simple. Below $60K I've remained cautious/bearish as I'd like to see that area flip," Cointelegraph contributor Michaël van de Poppe summarized.
"Levels to watch for buys; $53K-54K zone and $47-50K zones for Bitcoin. When to buy altcoins? December. Nothing has changed past weeks."
Those buy target lows were accompanied by renewed predictions for this cycle's bullish peak, which, as in April this year, place BTC/USD at up to $400,000.
Fellow analyst TechDev, eyeing Fibonacci levels on the two-week chart, also described Thursday as "another day to zoom out."
Open interest stays near all-time highs
On exchanges, open interest, meanwhile, remained a source of concern due to its sheer volume relative to price action.
Data from on-chain analytics firm Glassnode showed open interest on Bitcoin futures recently matching its second-highest levels in history, nearing its April record.
"At some point, this open interest is going to get flushed out one direction or the other," analyst William Clemente commented.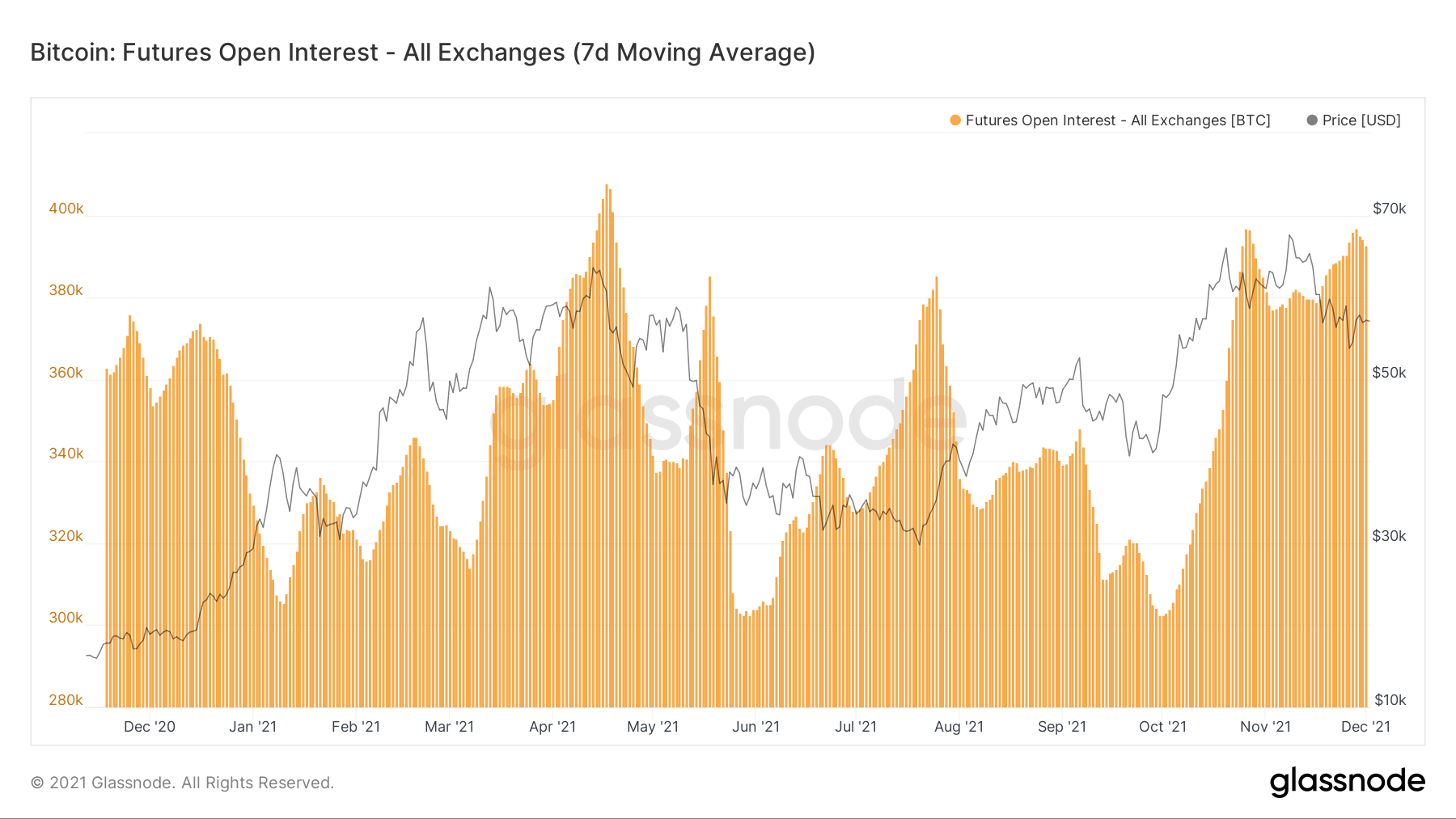 Bitcoin futures open interest 7-day moving average chart. Source: William Clemente/Twitter
With cyclical price action characterizing the week, the mood thus stayed favoring an ultimate exit up or down, with derivatives structures being "reset" as a result.
Funding rates were mostly neutral across exchanges Thursday.
Post-Twitter Dorsey Moves Deeper into Bitcoin 'Spiral' as Square Goes 'Block'
The Twitter founder Jack Dorsey's payments firm Square has taken on an extra dimension – likely a crypto-themed one – as the company has changed its name to Block.
In a press release, the firm announced that "as a result of the name change," its Square Crypto unit, a "separate initiative of the company dedicated to advancing bitcoin (BTC)," has changed its name to Spiral. 
Its Twitter handle has also changed to @spiralbtc – a clear nod in the direction of bitcoin.
Dorsey stepped down as Twitter boss late last month.
The witty PR wordsmiths at Spiral rationalized the name change on Twitter, writing:
"Square Crypto is now Spiral. Since our formation, the spiral emoji has been a part of our brand lore, and given the opportunity to rebrand to CoinSomething or BitWhatever, we went a different way. Spiral looks and sounds cool. What other reason do we need?"
As for what the newly rebranded firm will do, the company explained in a blog post that it plans "to double the number of full-time [developers] working on projects under the Spiral umbrella in 2022," adding: "We also plan to write more grants than ever in the coming year."
Spiral continued:
"Square Crypto was never the best name for our team."
The firm lamented the fact that its former name "drew a direct line between the corporate benefactor we are supposed to be independent of [namely Square] and us."
Also on Twitter, the still-extant Square account noted:
"Obviously Square Crypto no longer makes sense, so the team is changing its name […]. This rebrand reflects their focus on bitcoin as it continues to grow like a spiral from a single point, encompassing more and more space until it touches everything."
The bitcoiner and investor Stephen Cole noted the significance of the BTC in the @spiralbtc handle.
Bitcoin, not crypto 🌀 https://t.co/PLJ8nDpCoB— Stephen Cole (@sthenc) December 1, 2021
Dorsey has frequently made his views on bitcoin known online, often seeming to side with so-called bitcoin maxis and downplaying the potential of rival blockchain protocols – a fact that has often drawn ire from Ethereum (ETH)- and altcoin-centered communities.
In August, the Twitter founder appeared to "accidentally" share an ETH-bashing post from a bitcoiner, leading ETH advocates to accuse Dorsey of baiting them. He answered by claiming that he was "not trolling" or "fighting" rival "projects" but instead "agreeing" with the concept that ETH "wasn't a good idea."
Dorsey's Block business empire also comprises TBD (TBD54566975), a planned decentralized bitcoin exchange project.
As for the main Block/Square company and brand, the firm explained that Block had not entirely squashed Square, noting:
"The Square name has become synonymous with the company's Seller business, which provides an integrated ecosystem of commerce solutions, business software, and banking services for sellers, and this move allows the Seller business to own the Square brand it was built for."
However, away from the world of BTC-themed symbolism, some expressed tongue-in-cheek reservations about the name change. Another sharp-witted soul, this time a Redditor on the r/bitcoin sub, pointed out that while spiral might sound cool for bitcoiners, in the world beyond crypto, it can often have negative connotations. The poster remarked:
"Spiral is a terrible name for a financial company."
Meanwhile, Square/Block's Cash App mobile payments app has started supporting Taproot.
Taproot is considered to be Bitcoin's largest upgrade in more than four years. Finally activated on November 14, it came with Schnorr, a soft fork that improves privacy, scalability, and speed, and encodes multiple keys into one.
All @CashApp customers can now send #bitcoin to Taproot-enabled wallets. 🥕

Fun Easter egg at 0:13… #709632

Tick tock, next block. Block by block.pic.twitter.com/98OiPFaBq2— Michael ₿. Rihani 🇺🇸⚡️🇱🇧 (@MichaelRihani) December 2, 2021
funniest leadership page of a public company I've seen

(https://t.co/RKuYw3ttjF) pic.twitter.com/CHC615jeDB— Tanay Jaipuria (@tanayj) December 2, 2021
If you're not in crypto, you're not in tech.

This was once true of the Internet — if you weren't working with it in some way, you were on your way to irrelevance.

Now, it's happened a second time. https://t.co/GyHL7thl9e— Mark Jeffrey ⚡️🚀 (@markjeffrey) December 2, 2021