This is the reason why Ethereum [ETH] is yet to hit $5K
Many people are waiting for ETH to hit a new all-time high at $5K, but it seems a little problematic because of the network state. The average network fee is again very high. The last time that the average network fee was this high was May 12th.
According to the latest analysis tweeted by Santiment:
"#Ethereum is sitting at ~$4,780 at the time of this writing, and optimism that $5k is around the corner appears high. One of the few things holding $ETH back is the fact that the average network fee sits at $63.50, which was last this high on May 12th."
The Familiar Challenge
After Bitcoin showed new ATHs in the price chart, many are waiting for other major cryptocurrencies to break records and show new all-time highs. Ethereum can be the next one.
Some people are also thinking about flipping to happen in the charts and Ethereum achieving the first stout of cryptocurrencies list in terms of market cap. Anyway, there are still some burdens in this path for Ethereum because of the biggest challenge this network has, the average network fee.
The network fee or gas fee is one of the shortcomings of Ethereum that has become of bigger challenge in the last two years. After a considerable increase in using this network, we have seen the gas fee increase considerably and is currently $63.50. It means transacting on this network is still very expensive, and it may prevent many people from buying ETH and increasing its price to the optimistic $5K prediction.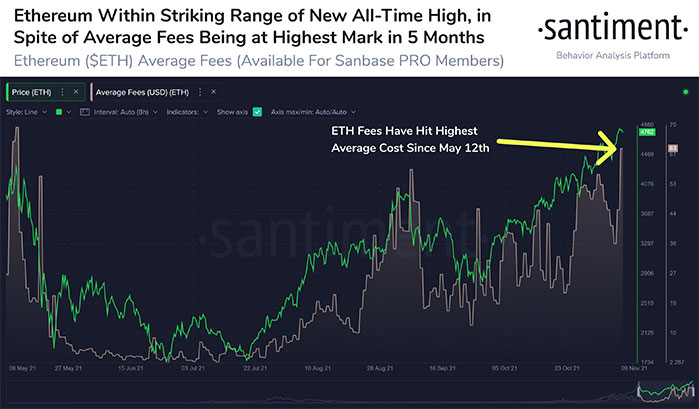 The last time that network fee was this high was on May 12th this year. After that day, the ETH price started to decline, going down to near $1700.
Some experts believe the rise of network fees can result in price corrections in the ETH chart again. When we look at the charts provided by Santiment, we see the price and average network fee having a correlation with each other.
Some cryptocurrency enthusiasts believe that Ethereum can become the first choice for transactions with high value. It means the network stays the same, and the fees may go even higher, but mainstream users won't use it anymore, going to solutions like Polygon and others.
If this happens, a price correction may be possible again. When the usage of a network goes down, it can mean people aren't confident about that blockchain anymore.
But on the other hand, Ethereum can become a blockchain like Bitcoin that its native token has value because of its importance and not necessarily its use-cases.