Cardano Price Analysis: ADA consolidates around $2.1
Cardano price analysis is bearish today.
ADA/USD saw a brief spike above $2.30 resistance yesterday.
Cardano is currently trading at $2.1.
The Cardano price analysis is bearish today, as we expect more selling to follow after a strong rally ended yesterday with a move to $2.378. As a result, another retracement is expected before another rise can be made, which will require further consolidation.
Yesterday's Cardano price analysis concluded that further downside was to be expected after the strong rally to $2.378 ended with a short-term top, which has indeed been confirmed after ADA/USD retraced before the descending wedge resistance at $2.301. Yesterday saw another attempt at this level, but no further upside was gained, and ADA/USD is now moving to retest the breakout point at $2.180.
The Billinger bands have started to move downwards as well, being a good indicator for further selling.
Today's Cardano price prediction will see a downside break below $2.15 will result in another test of the previous breakout point at $1.951. This is a major support level, and it has not been tested. If it gives way, a further downside to $1.56 is likely in the medium term.
A breakout below $2.15 will result in a drop to yesterday's low at $1.951, which has not been tested yet and could provide support if tested again after the expected sell-off.
ADA/USD 4-hour chart: ADA finds support at $2.0
On the 4-hour chart, we may see Cardano price finding some support at $2.0 after a powerful retrace earlier, suggesting that there could be more upside in the next hours.
The Cardano price rallied to $2.09 after a robust drop after October, finding support around $1.90 by the end of the month. After several days of consolidation, the first attempt to rise followed on November 3rd.
ADA/USD fell further and quickly returned to previous support levels as demand faded. Consolidation ended after the week when another rise began on Monday.
The MACD indicator is currently in the positive area, but it's moving downwards. The EMA lines are decreasing and approaching each other, resulting in a brief price correction before another rise.
The RSI is in the positive area, and it was unable to break above 60, which means that ADA/USD is likely going to retrace further before finding support.
Cardano Price Analysis: Conclusion
The Cardano price outlook for today is bearish, as we anticipate a further decline after a strong rally over the previous days. As a result, ADA/USD will most likely test further downside as it approaches the current support level of $2.0.
Cardano's Hoskinson: 'Winners of the future in the DeFi space are going to…'
The age of DeFi is here. This sector of the cryptocurrency industry is raking in huge investments from all parts of the financial market while existing in a constantly evolving ecosystem. This, unarguably, has taken a toll on some networks struggling to keep up with the pace of development while others are looking at it as a capitalistic opportunity up for grabs.
Cardano, for instance, launched smart contract functionality earlier this year to prime the network for hosting DeFi applications. While its native token ADA saw unprecedented demand and growth in the days leading up to the Alonzo hard fork, its price action has been largely uneventful since, save for a loss of over 50%.
Its network activity, however, has seen a huge spike recently, and most of it can be attributed to its emergence as a viable DeFi contender.
But, what makes Cardano a suitable option for developers to build upon? Well, from the horse's mouth itself, it's because of "their vision for the future." In a recent interview, Cardano founder Charles Hoskinson noted that while the open cryptocurrency movements had started as being open source and decentralized, most networks want to lock users into their protocols and tokens, "which is crazy."
Instead, he says, cross-chain is the way to go for DeFi, where networks would be open to interacting with one another. He added,
"The winners of the future in the DeFi space are going to have liquidity and interoperability, the ability to move multi-chain."
He also praised networks like Chainlink that are not putting "all their eggs in one basket like Ethereum," but are instead working towards this goal. Chainlink recently launched its Cross-Chain Interoperability Protocol (CCIP), which it has called a "new global standard for decentralized inter-blockchain messaging, data and token movements."
The network also recently surpassed $75 million in total value secured – A sign of the growing importance of multichain protocols.
The Cardano and Ethereum networks have also been connected through a recently launched cross-chain which allows users to migrate their NFTs between the two.
According to the exec, in the coming years, Layer 2 protocols will be witnessing all the action as a majority of the interaction will take place there while L-1s will be used as "a proof checker and a settlement of last resort." He added,
"We saw that future and we designed the extended UTXO model, Hydra, our side chain model, and all these other things to accommodate that future and if dApps are going to live there, I think they could live there very comfortably."
On the topic of dApps, Hoskinson also noted that a coherent way of curating dApps is of prime importance at the moment. Here, users can ideally check and verify the applications such as in the case of Google or Apple's applications stores.
"You have to make discoverability of dApps really easy, then you can get mass market, you can get millions to billions of users very quickly in the developed world."
Apart from Cardano, protocols like DappRadar are also working towards a one-point solution for dApp navigation.
Cardano Price Correction May Be Over, ADA Price Could Ignite Soon!
As the crypto space is flipping from the bearish divergence, a slight recovery from the previous losses is witnessed. Cardano on the other hand showcased an immense bullish trend that may help the asset to reignite the bull run. In the present scenario, the ADA price rally gathers immense strength as the current flip appears to be more prominent. 
ADA price was comfortably trending around $2 with reduced volatility, however, the recent sell-offs just extracted a huge chunk of gains. And hence the support levels around $2 are currently major resistance levels for the asset. Therefore the ADA price is required to climb high beyond these levels to register a notable uptrend.
As mentioned in the chart, the ADA price trended within the descending channel and about to test the upper resistance line. No doubt the asset attempted to break the downtrend a couple of times before, yet failed and collapsed to the middle levels. However, with a notable green candle, the asset successfully flipped the bearish trend. But still, the descending channel needs to be broken which is a challenging task.
The asset is consolidating very close to the resistance levels. The trading volume also has risen considerably by more than 40% registering more than $2 billion. Interestingly, the MACD showcases a notable buying pressure building and hence the upper levels may be broken any time from now. On the other RSI in the 4hr chart is trending below 55 from more than 10 days indicating a healthy accumulation. 
Collectively, the Cardano price may range high in the coming days, however, it's mandatory for the asset to test the crucial resistance around $2. Amid the gearing up of bullish trends, the ADA price may attempt to smash $2 at the earliest in order to range beyond $3 soon. 
Why Cardano network activity is increasing and how it will affect ADA price
Cardano price action has been uneventful in the past few weeks as the token continues to slide, creating lower lows.
However, the protocol's network activity has increased as a flurry of Dapps joins the blockchain.
The Ethereum-killer's price would need to reclaim $1.64 to kickstart a recovery.
Although Cardano price has continued to drop since the Alonzo hard fork launch, the protocol's network activity has continued to increase. Analysts argue that the Ethereum-killer could be the most legitimate alternative to the existing ETH ecosystem. 
DeFi to drive increased demand for ADA
The cryptocurrency community has long pitted Cardano against Ethereum as competitors. Romain Pellerin, the chief technology officer at Input Output stated that Cardano would be "on par with Ethereum" once smart contracts were launched, with a reduced carbon footprint.
The founder of Cardano, Charles Hoskinson previously argued that Tesla should accept ADA for payment after Elon Musk stated that his company would halt Bitcoin payments due to the leading cryptocurrency's harm to the environment caused by mining operations. Due to the fact that Cardano runs on proof-of-stake, it does not require high levels of energy consumption, unlike BTC and Ethereum.
Cardano price has proceeded with sliding further following the Alonzo hard fork, while the top two cryptocurrencies by market capitalization registered new  all-time highs in the past two months.
The Ethereum-killer has not reached new highs since September, and the launch of smart contracts did not seem to have much of an effect on boosting Cardano price higher.
Cardano's network activity has continued to increase as the blockchain has allowed users to create decentralized applications (Dapps) on its network. Some of the projects in development currently include NFT marketplace THEOs and Indigo Protocol which allows participants to trade real-world assets on the blockchain.

Cardano network activity
While Ethereum would still need months before it can fully transition to a proof-of-stake consensus mechanism, Cardano has already been running successfully on this type of algorithm.
As Cardano has grown immensely over the past year in transaction volume and market capitalization, it could easily have an edge over Ethereum.
Hoskinson recently argued that since Cardano is a future proof design and that the development team is "systematically building towards it together with the strongest and most engaged community brick by brick," there does not need to be a "magical Cardano 2 to survive."
According to prominent analyst Lark Davis, it is about time for "Cardano to start taking off again," as a lot of development in the DeFi industry is about to kick-off, including Ardana and Sundae Swap, which he stated will "drive increased demand for ADA."
Cardano price aims to tackle $1.64 next to kickstart recovery
Cardano price has formed a descending parallel channel on the 4-hour chart, as ADA has been unable to create higher highs. It appears that the Ethereum-killer is aiming to kickstart recovery as it sliced above the 21 four-hour Simple Moving Average (SMA) at $1.56.
The next area of resistance for Cardano price will emerge at the June 15 high at $1.61, near the upper boundary of the prevailing chart pattern. If ADA manages to break above this level, it could signal a bounce for the token's price.
The following hurdle for Cardano price will appear at the 50 four-hour SMA at $1.67, then at the 38.2% Fibonacci retracement level at $1.78. Bigger aspirations will target the 100 four-hour SMA at $1.81 before facing a stiff headwind at $1.89 where the 50% retracement level and resistance line given by the Momentum Reversal Indicator (MRI) coincide.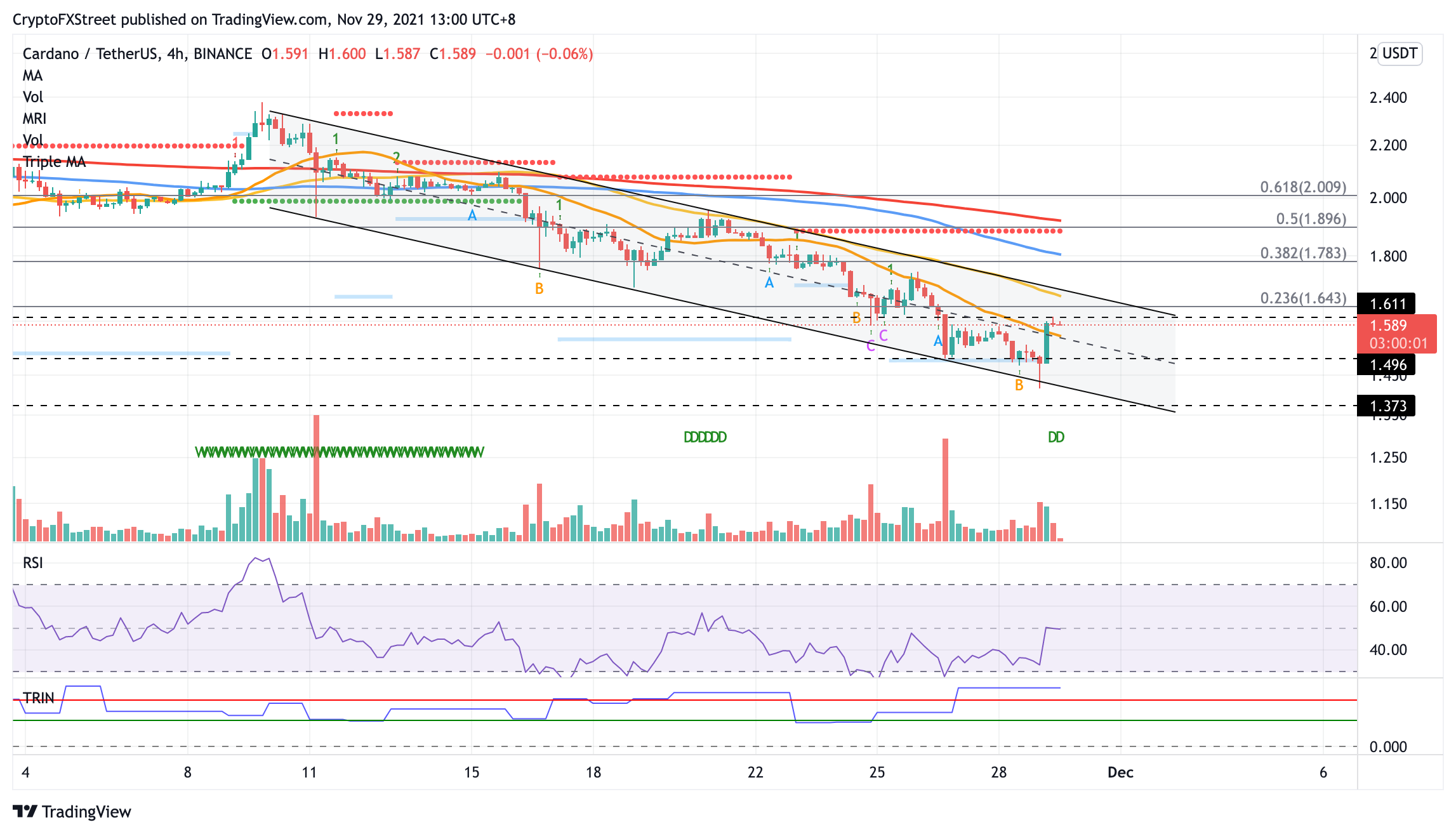 ADA/USDT 4-hour chart
If selling pressure increases, Cardano price will discover immediate support at the middle boundary of the governing technical pattern at $1.55, where the 21 four-hour SMA also sits. If ADA continues to drop lower, the July 4 high at $1.49 will act as the next line of defense for the token.