Crypto Trader Justin Bennett Tracks Bitcoin and Cardano Trajectories After Crypto Market Pullback
Crypto investor and technical analyst Justin Bennett thinks Bitcoin (BTC) still looks "pretty good" amid the market pullback while predicting major boosts for Cardano (ADA) and other altcoins.
In the latest edition of his Cryptocademy newsletter, Bennett discusses Bitcoin's recent "aggressive" pullback to $63,000.
"Bitcoin just shook out a lot of excess leverage with an aggressive pullback to $63,000.
So is that it?
An extended pullback here certainly doesn't fit the 2017 fractal that I've discussed several times. But that doesn't mean it can't or won't happen."
After looking at the BTC charts again, Bennett tweeted a more optimistic view.
"Bitcoin still looks pretty good here, and there's a ton of support that's built up above $60,000.
Higher highs and lows are the key. So far, so good for BTC.
Who knew that would turn into a rhyme?"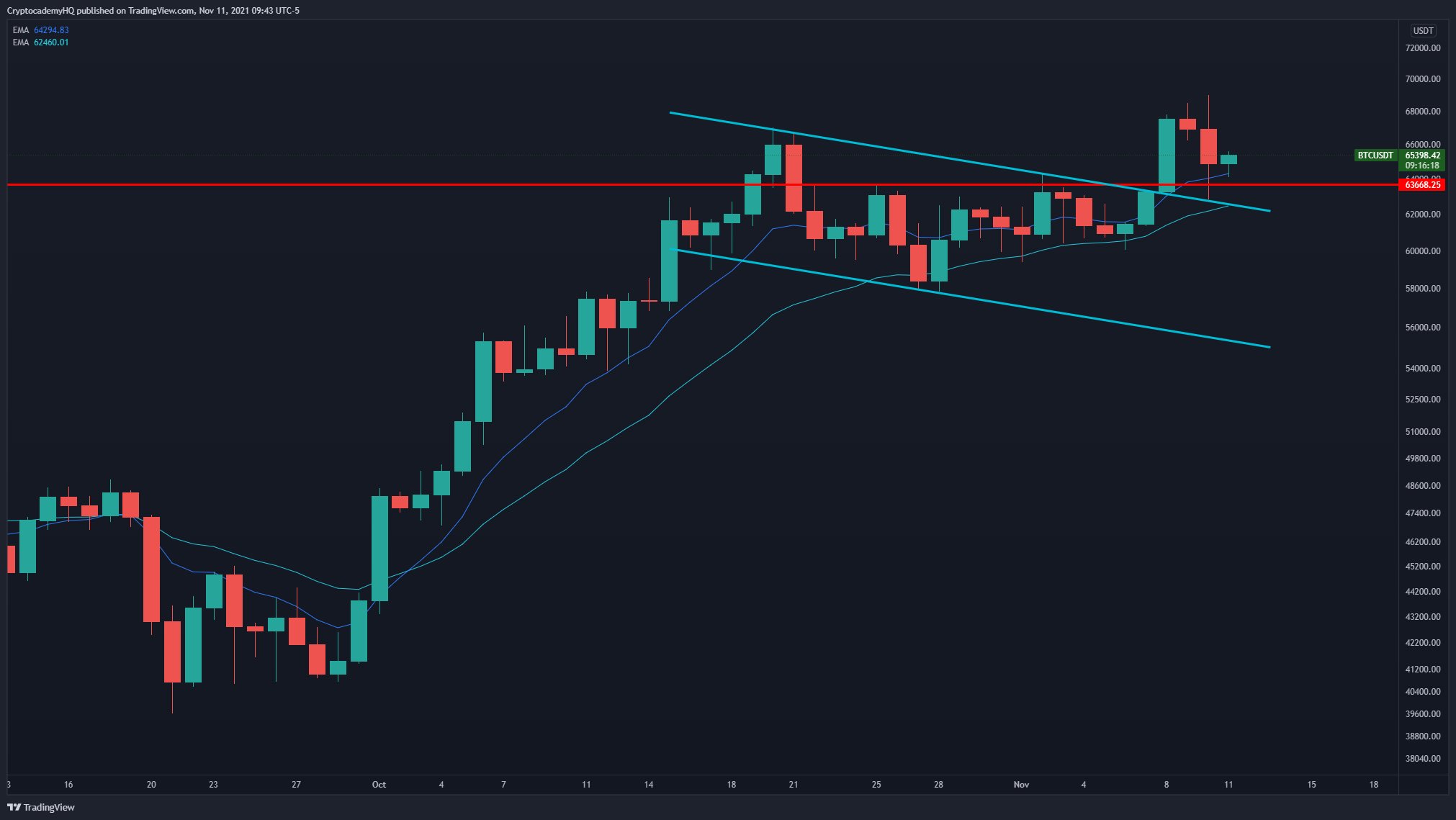 BTC is trading at $65,107 at time of writing.
Tweeting about Cardano, Bennett predicts the global payment blockchain platform's native cryptocurrency will soon soar over $3.00.
"ADA has reclaimed $2.15. So that's now a substantial support area.
Get above $2.35 on a daily closing basis, and ADA gets sent back to $3+, [in my opinion]."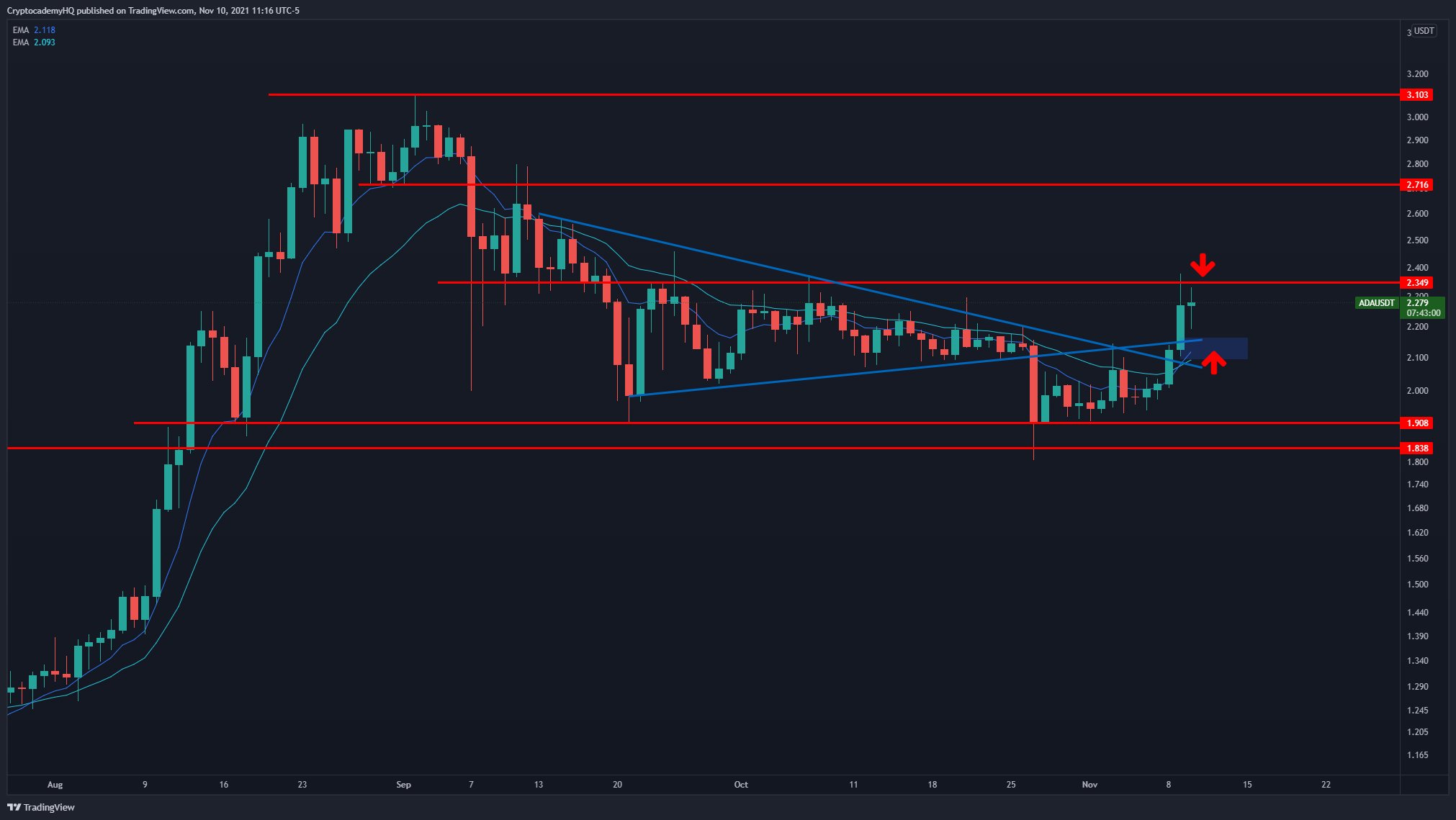 ADA is currently trading at $2.09.
Looking at Ethereum (ETH), Bennett believes the second-largest crypto asset by market cap can explode past $6,000 before December.
"ETH was showing a nice stair-step pattern. I say 'was' because today's close could put an end to it. A daily close below $4,600 could introduce some weakness.
I still think ETH/USDT [Tether] has a shot at making it to the $6,000 – $6,500 measured objective in November as I've discussed, but only if this rally remains constructive."
Currently, Ethereum is valued at $4,763.
Tweeting about blockchain oracle service Chainlink's native token LINK, the Cryptocademy founder sees the second leg of a "two-step breakout" as already in progress.
"LINK with a perfect two-step breakout. The second step is in progress and will confirm with today's close."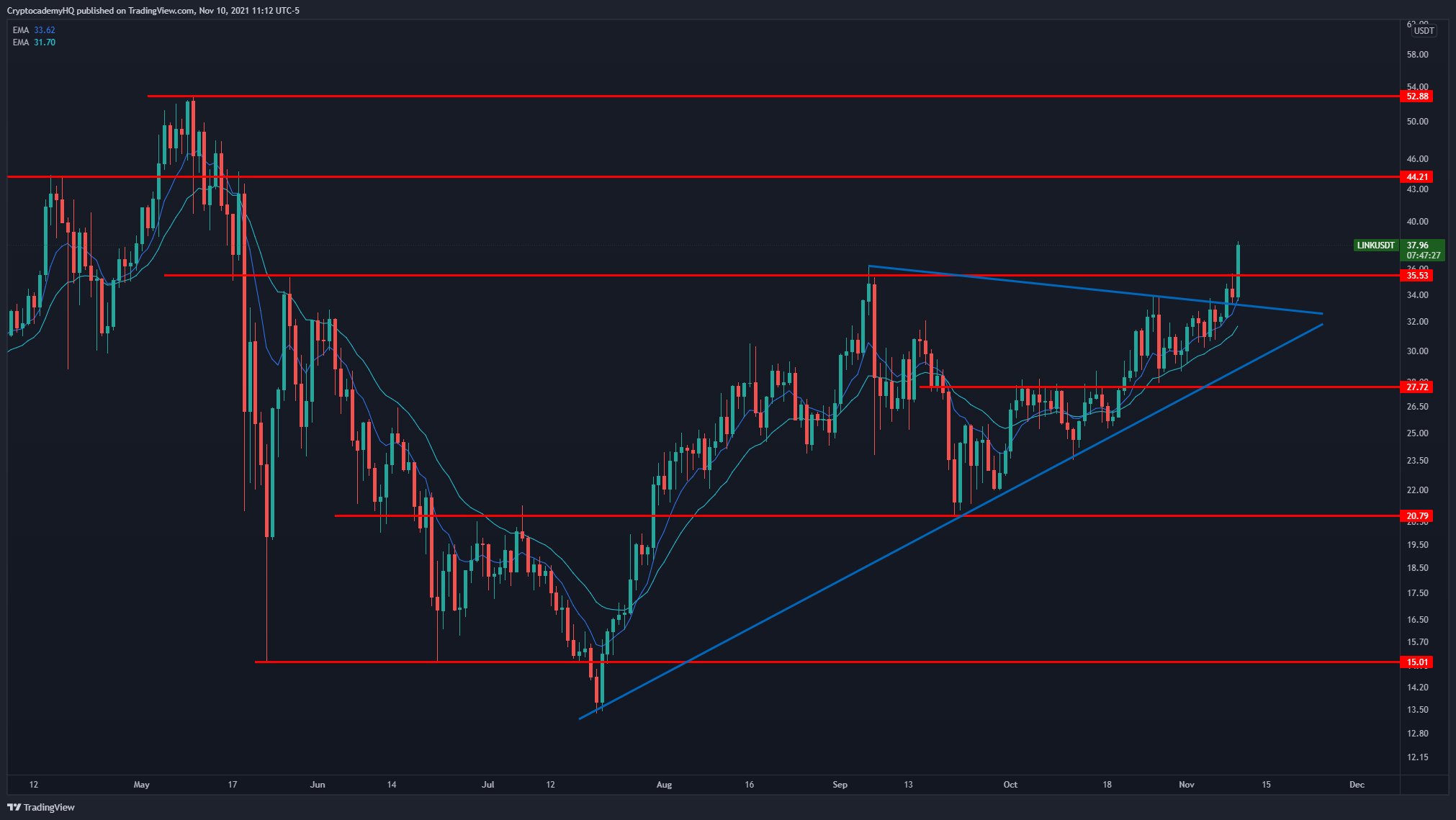 LINK is trading at $35.31 at time of writing.
And speaking of chains, Bennett also updates his outlook on enterprise solutions-focused platform VeChain (VET).
"VET is testing the $0.155 region as support today following the selloff from Bitcoin.
In a lot of ways, $0.15 is a must hold level. A daily close below that would flip it to resistance and expose $0.14.
The area just below $0.19 remains resistance for VET/USDT. You can see how the market found selling pressure there during Tuesday's session."
VET is currently exchanging hands at $0.16.
Bitcoin Senator Rallies For Support Against Powell's Renomination As Federal Reserve Chair, Here's Why

Popular Bitcoin Senator, Senator Cynthia Lummis is reportedly soliciting for the support of her fellow Republicans in her stance against Jay Powell after the latter got renominated to chair the Federal Reserve.
Bitcoin Senator Wary of Crypto-unfriendly Nominees
As reported by Decrypt who first broke the news, a source in Lummis' office says her reasons border on her belief that there is an unlawful treatment of crypto-based institutions in her home state, Wyoming.
Meanwhile, the Bitcoin senator is not only against the nomination of Powell. The source still claims that Senator Lummis is also asking her Republican colleagues to help block Leal Brainard's nomination as well. Brainard is another nominee of President Biden's for the Fed positions.
Lummis' skepticism might be as a result of the Special Purpose Depository Institutions or SPDIs as they are otherwise called. They are a new type of crypto-based bank that Wyoming lawmakers granted a special operational license to, just last year.
Two crypto-based companies that received the license in 2020 include Kraken exchange and Avanti — the stablecoin issuer. However, the Federal Reserve's decision to not approve their applications for central bank-issued accounts has placed a hold on their banking ambitions.
Speaking about the Federal Reserve's delay in a Wall Street Journal feature article by Lummis on Wednesday, she says it is an intentional and unlawful obstruction. She added that the Fed's reasons are ambiguous at best. According to the Bitcoin Senator, Lummis claimed that the Wyoming entities have met all requirements for being a bank under the Federal Reserve Act.
Lummis insists that Powell and Brainard are only avoiding their legal obligations in their continued treatment of SPDIs and like many other U.S lawmakers, she wants to know why.
Could Lummis' Pressure Affect Powell's Confirmation?
As Lummis continues to apply even more pressure on her colleagues, the possible extent to which this pressure can truly go in affecting the confirmation process of both Powell and Brainard, remains to be seen.
But with the chair of the Senate Banking Committee, Sherrod Brown, reportedly holding a vote on the pair sometime this month, both of them could be confirmed.
Also, there's a possibility of a potential tight vote now that some progressive Democrats — most notably Elizabeth Warren — are saying they will not be voting for Powell.
PlanB's Floor Model First Miss: Bitcoin Price Closed Way Below $98K In November
PlanB's floor model was wrong about BTC's November closing price. The stock-to-flow model, though, is still on track.
Bitcoin's closing price for November below $60,000 meant that PlanB's floor model, which was particularly accurate until now, was finally broken.
At the same time, though, the analyst confirmed that the more popular stock-to-flow model was still valid as BTC is on track towards $100,000.
PlanB's Floor Model Fails
PlanB is among the most popular analysts in the cryptocurrency space, predominantly known for the Bitcoin stock-to-flow model, which he published in early 2019. However, he also posted another model, which he referred to as the "worst-case scenario," in July this year.
Also known as the floor model, it's based on technical aspects, such as the 200-day moving average, and saw BTC closing August at $47,000, September at $43,000, and October at $63,000.
The first two months were spot on. BTC closed in October at $61,000, which was still very near to the model's predicted price, and PlanB said it was "good enough" for him.
However, November's closing actual closing price of way below $60,000 was quite different from what the model envisioned – $98,000. As such, the analyst admitted that this was the model's first miss after nailing the previous few months.
$98K❌

Floor model first miss (after nailing Aug,Sep,Oct). No model is perfect, but this is a big miss and the first in 10y! Outlier/black swan? I will give Floor model 1 more month.

S2F model unaffected and on track to $100K.
Watch out for trolls confusing Floor and S2F model! https://t.co/tj6SSwSzKR— PlanB (@100trillionUSD) December 1, 2021
S2F on Track
As mentioned above, the floor model works separately from the stock-to-flow model, which sees the stock as the size of existing reserves (or stockpiles) and the flow as the annual supply of new bitcoins to the market.
It's actually even more bullish as the original version sees bitcoin tapping $100,000 by the end of the year. The upgraded stock-to-flow cross-asset model, which introduced different phases of bitcoin's development, predicted a price tag of $288,000 until 2024.
Although bitcoin still struggles below $60,000 at the time of this writing, PlanB believes that the original S2F hasn't been broken as the asset is on its way towards $100,000. If BTC is indeed to go into a six-digit price territory, it would have to increase its USD value by more than 66% in the next 30 days.
CashApp Added Bitcoin Taproot Support, Here's Why It Is Important
CashApp now supports the updated version of Bitcoin
The widely known Cash App mobile payment service developed by Square, which is being used to transfer money with the usage of a mobile app, now fully supports the Bitcoin taproot update.
The mobile payments service is currently available in the U.S. and the U.K. but is still reporting 70 million annual transactions between users and generating $1.8 billion in gross profit.
The taproot upgrade was highly anticipated by the Bitcoin network and the cryptocurrency community in general. Previously, the update went into effect on Nov. 14, 2021, at block 709,632.
Previously, the announcement appeared on the app's website that has described numerous benefits that users will experience after the implementation of the update. One of the main advantages is increased privacy and reduced transaction fees.
The two-week period has been chosen to confirm the functionality of the updated version of the currency. As for now, the update has been activated for all customers. Taproot-enabled wallets are now available for both receiving and sending.