Shiba Inu must hold key support to avoid total capitulation
Shiba Inu price on a knife's edge as it approaches its final support zone.
Flash-crash is likely if buyers are unable to support Shiba Inu.
Upside potential, however, does exist and could initiate a massive short-squeeze.
Shiba Inu price found itself a victim of the selling pressure faced across all financial markets on Wednesday. Shiba Inu has found some technical support at the 50% Fibonacci retracement at $0.000049, but buying appears to be drying up. As a result, Shiba Inu is very much at risk of a capitulation move towards $0.0000100.
Shiba Inu price at risk of a -80% drop, but bulls could surprise any late short-sellers
Shiba Inu price action is developing one of the most sought-after bearish Point and Figure patterns: the Bearish Catapult. The bearish Catapult forms after a breakout below a triple-bottom, followed by a slight bounce by buyers, and then a breakout below a double-bottom. There is a theoretical short idea with a sell stop order at $0.0000400, a stop loss at $0.0000550, and a profit target at $0.0000100. Ultimately, Shiba Inu bulls must hold that $0.0000400 value area, or Shiba Inu could face a very violent flash crash. However, in the event of a breakout below the double-bottom, downside risk may be limited to the $0.0000150 value area.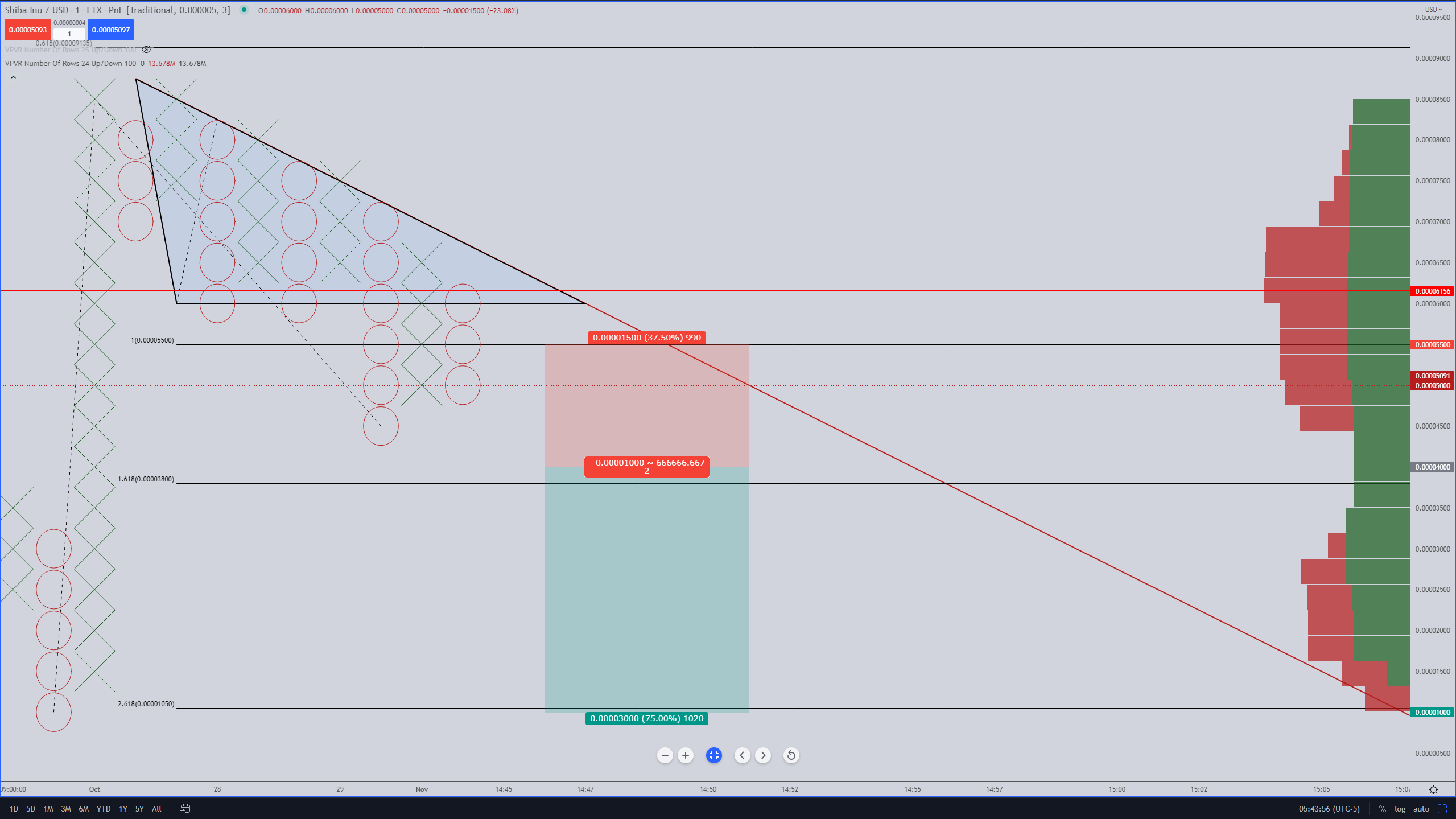 $0.000005/3-box Reversal Point and Figure Chart
The short setup will be invalidated if Shiba Inu price moves above $0.000057.
On the long side of the market, there is an aggressive buying opportunity based on a Pole Pattern setup. The hypothetical long entry would be a buy stop order at the 100% Fibonacci expansion at $0.0000550, a stop loss at $0.0000475 and a profit target at $0.0000900. The entry is aggressive because it is based on a three-box reversal near a retest of the prior descending triangle pattern and is at risk of being rejected quickly. However, if buyers can sustain Shiba Inu price above the descending triangle, that will likely trigger a short squeeze and bring in a large number of FOMO buyers.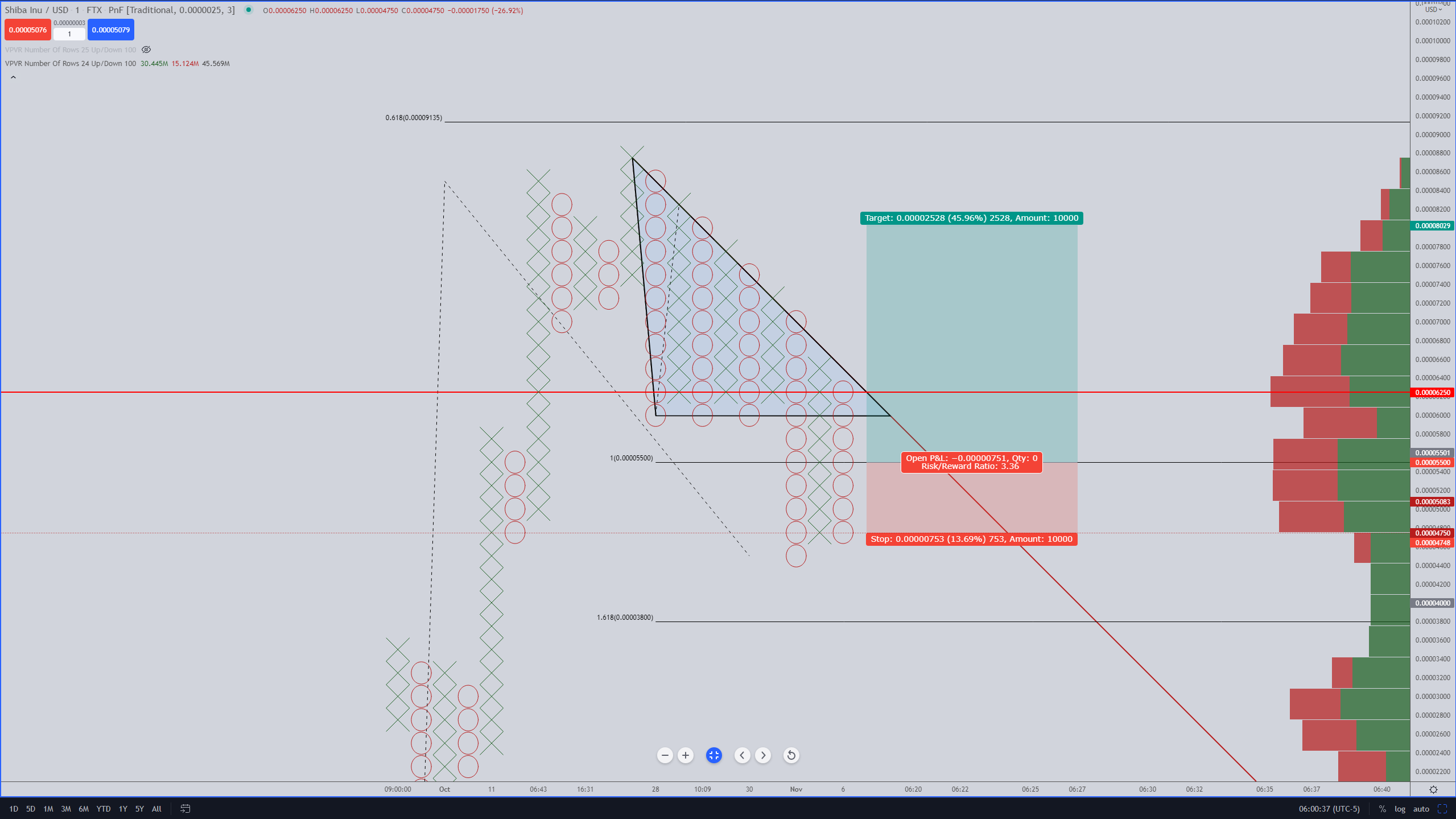 $0.000025/3-box Reversal Point and Figure Chart
The hypothetical long trade idea is invalidated if Shiba Inu price continues to drop below the $0.000040 level.
Healthcare Company Adds Shiba Inu to Its Balance Sheet
A Toronto-based healthcare company now holds Shiba Inu on its balance sheet.
Ask The Doctor, a Canadian online healthcare company, has added $1.5 million worth of Shiba Inu to its balance sheet, according to an announcement posted on its Twitter account.
Kraken facilitated the seven-figure buy. As reported by U.Today, Shiba Inu started trading on the San Francisco-based cryptocurrency exchange on Tuesday.
Ask The Doctor has added ~$1.5M USD (approx 31B $shib) to our balance sheet via Kraken.

We are 72 hours away from accepting #SHIB with our healthcare partners. pic.twitter.com/NHG17druCh— Ask The Doctor ® 🇺🇸🇨🇦 (@askthedr) December 1, 2021
The medical information website will also begin accepting the meme cryptocurrency with its healthcare partners within the next three days.

It already allows clients to pay with Dogecoin for certain services in the U.S. and Canada.   

The Toronto-based company was launched in 2010, allowing its clients to connect with medical professionals via text messages or video streaming. Notably, its list of co-founders includes former NBA player Israel Idonije and former NBA star Dikembe Mutombo.
In 2016, Ask The Doctor started accepting Bitcoin payments, becoming the first healthcare company around the globe to embrace crypto.
The reason for adding the new payment option was to offer customers who share sensitive medical data more privacy.
Shiba Inu Coming to Brazil's Largest Crypto Exchange
BBrazil's Mercado Bitcoin is set to add support for Shiba Inu on the first day of December.
Mercado Bitcoin, the largest cryptocurrency exchange in Brazil, has announced that Shiba Inu will become available for trading starting from Dec. 1.
The token is yet to be added to the trading platform at the time of writing.
The announcement was accompanied by a video of a Shiba Inu dog in military gear.
Uma das moedas que mais valorizaram em 2021 e que acumula um verdadeiro exército de seguidores💪😮

É isso aí! Amanhã, $SHIBA estará disponível no MB, com um histórico de valorização de mais de 18000%, até agora neste ano.

🚨 01/12 #shibarmy @shibtoken #shibainu pic.twitter.com/24HuhiBymA— Mercado Bitcoin (@MercadoBitcoin) November 30, 2021
After listing SHIB, Mercado Bitcoin will also add support for Cosmos (ATOM), Polkadot (DOT) and Loopring (LRC) later this week.
2TM, the parent company of the number one exchange in Latin America, raised another $50.3 million in late November. This occurred just months after raking in $200 million in July during a Series B investment round spearheaded by Japanese conglomerate SoftBank.
Last month, Korbit became the first cryptocurrency exchange to list Shiba Inu in South Korea.
Kraken, one of the world's top exchanges, also added support for the top token earlier this week.
New Shiba Whale Buys $38 Million Worth of Tokens
Another whale appears on Shiba Network after token drops from local high and consolidates
New Shiba Inu whale appears on the network after purchasing $38 million worth of tokens. The whale newcomer has bought 850 billion tokens while it was losing 5% of its previously gained value.
The transaction was made 15 hours ago, while the token had just begun its correction and was trading at $0.000048. Such strong buying power, unfortunately, could not push SHIB further up and fuel the local uptrend.
With more whales entering the market, Shib's fundamental background is continuously developing while the price on the market seems to struggle to break through the $0.000046 area.
Other whales also remain in the Shiba Inu sea by holding more than $2.3 billion worth of tokens while previously owning only about $1.8 billion. The change in the trend appeared shortly after the global cryptocurrency market correction.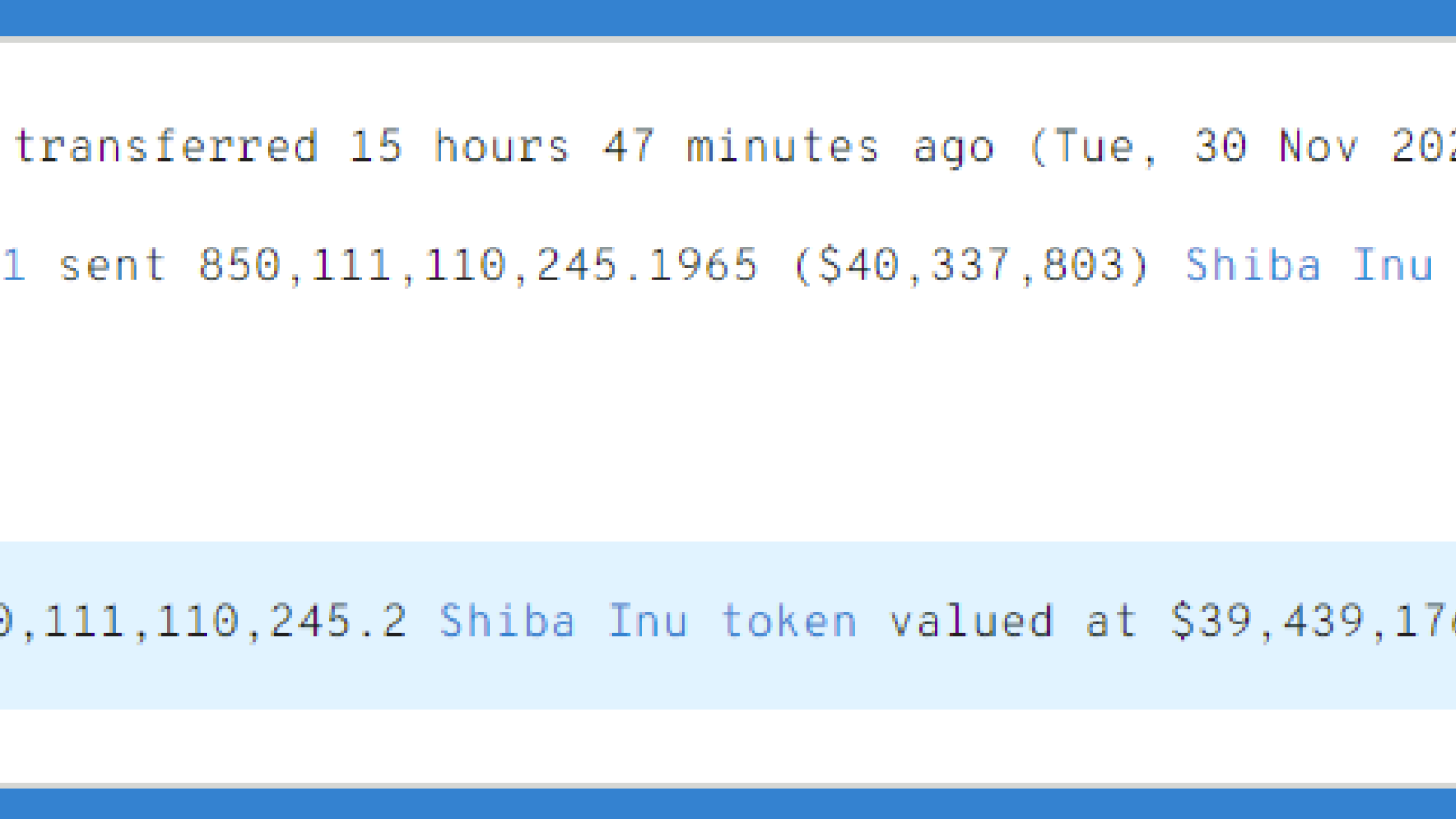 Most whales have entered Shib with a large discount of 15% compared to the previous trading range. Whales have also become an absolute majority on the chain by buying up 72% of the circulating supply, which puts Shiba mostly in the hands of large wallets.
At press time, Shiba is trading at $0.000046 with 3% of the daily loss. Additionally, the token is losing 15% from its previous high of $0.000054. The token failed to continue its rally and is trading at the local support, while on-chain data suggest a rapid drop of trading volume, which indicates that traders have not yet decided the future direction of the asset's price.