VeChain Price Prediction – Will VET Price Hit $1 in 2021?
Bullish VET price prediction ranges from $0.18 to $0.8.
The VET price might also reach $1 soon.
VET bearish market price prediction for 2021 is $0.05.
This VeChain (VET) Price Prediction 2021 article is based on technical analysis alone. Below, you will see the key metrics that we have taken into consideration upon coming up with our VET price analysis and prediction.
The crypto market is continuously growing at an ever-accelerating pace. With the surge in investor participation and increasing dissatisfaction with traditional markets, crypto is becoming more diverse. Is VeChain one of the cryptocurrencies that are enjoying this financial upheaval? We will know in this VeChain price prediction article.
However, apart from its price, how much do we know about VeChain? Better yet, what is VeChain? Let's find out about VeChain in this VET price prediction article.
What is VeChain (VET)?
VeChain is a blockchain-based platform that aims to improve the supply chain management of companies and organizations. It has partnered with various household names in different sectors. Some of these include BMW, Royal Melbourne Institute of Technology, and Oxford University.
At the helm of VeChain is Sunny Lu, who once worked for Louis Vuitton China and built massive IT and cybersecurity infrastructure.
VeChain has a public blockchain called VeChain Thor. It enables smart contracts, decentralized applications (DApps), on-chain governance, and more. Its native crypto asset has the ticker VET, which is available for trading on different exchanges.
Now that we have a little background on what is VeChain, let us proceed to our VeChain price prediction. Let us start analyzing the VeChain price's recent movement.
Technical Aspects of VeChain (VET)
There are many aspects that make VeChain stand out from the rest. One feature that makes it special is that instead of being a blockchain of all things, VeChain ensured a specialized approach to develop its structure. Another is its ability to blend centralization with decentralization. Because of this, users relish its high-speed transfers, transparent information flows, and most especially, efficient collaboration.
VeChain has established innovative solutions to solve real-world problems. For instance, the VeChain platform can be used to track the quality, authenticity, storage temperature, transportation medium, and last-mile delivery of any product right from the manufacturing facility, up to the final delivery, and lastly, to the end customer. To do this, VeChain utilizes smart chips or Radio Frequency Identification (RFID) technology that broadcasts key information onto the VeChain blockchain network, which can also be accessed anytime by authorized stakeholders.
Another VeChain use case is its distributed ledger technology (DLT). Through this, it can enhance the processes of any business, along with its supply chain management. As a result, it can help improve the efficiency, transparency, and traceability of supply chains. In detail, VeChain gives both consumers and retailers the ability to ascertain the authenticity of every product being bought. In line with this, VeChain also helps in both recording and verifying every single piece of data that comes in the supply chain movement — this ensures efficiency and security.
Suffice to say, VeChain is made to make the supply chain industry better. It is designed for the betterment and efficiency of the supply chain sector. Moreover, VeChain technology was developed mostly, in order to solve and address the insufficiency that many businesses face — specifically, in the transaction processes.
VeChain (VET) Current Market Status
VET remains to be one of the most aggressive cryptocurrencies nowadays. According to CoinMarketCap, the VET price is $0.17. Notably, VET was able to record a decreased rate of almost 3.91% in the last 24 hours.
In terms of its market standing, VET market capitalization amounts to almost $11,067,826,351 with a 24-hour trading volume of over $1,387,995,890. As a result, the crypto ranks as one of the top 25 cryptocurrencies in CoinMarketCap. With all these achievements, we can say that VET has come a long way in developing its technology throughout the years.
Currently, the top cryptocurrency exchanges for VET are Binance, FTX, Huobi Global, Upbit, and Mandala Exchange. Now that you already have an idea about what VET cryptocurrency is, do you think VET is a good investment this year? If you are already excited to know, come, and together let us check this VET price analysis and price prediction article.
VeChain (VET) Price Analysis 2021
VeChain continues to be one of the trusted digital assets in the crypto world. VET ranks as one of the top 25 cryptocurrencies in CoinMarketCap.
Do you think this is enough to maintain VeChain's uptrend position this year? Are you already curious? Therefore, join me and let us check the chart in this VeChain price analysis to find out.
Based on the chart above, VeChain positions itself along with the raging bulls. Today, VET trades at a high price of $0.17 with a 7 days increase rate of +23%.
In addition, we can see that VeChain recently performed an Ascending Channel pattern. An ascending channel is the price action that occurs in an upward direction through a rising parallel line. More so, the chart shows the Higher Highs and Higher Lows from this price pattern. In addition, this pattern represents a short-term bullish.
In other words, VET is gearing itself for a possible bullish rally in the days to come. If this happens, the crypto might go beyond its $0.18 resistance level and reach the bullish price of $0.5. Of course, this is most likely to happen if the bullish market continues to reside with VeChain.
Conversely, if the bulls turn against the crypto, the price of VET might fall. In short, VeChain might break out from its uptrend position and nosedive to a bearish price of $0.11 to $0.05. Indeed, this price level is not a good picture in the eyes of the investors.
The Relative Strength Index (RSI) of VeChain (VET) is at 68.31, indicating a nearly overbought state. With this in mind, traders, especially scalp and day traders, can trade with confidence without worrying about a major price reversal.
Let us also look down for the Simple Moving Average (SMA) and the Exponential Moving Average (EMA) of VET.
VeChain is one of the potential cryptocurrencies this year. Since the start of 2021, VET's price has seen many bullish moves which are higher than the previous one. More so, these are followed by consolidations, fluctuations, and corrections right away.
VeChain (VET) Price Prediction 2021
The VeChain network is one of the most active crypto this year in terms of technology development. Do you think this is enough to make VeChain a profitable network to invest in 2021? Let's head to the chart in this VeChain price prediction to check it out.
The crypto is showing strong bullish signals against the bears. In this graph, the crypto trades at a high price of $0.17. If this bullish trend continues, VET might be able to break its $0.25 resistance level. It could even go further beyond $0.5 before the year ends and is likely to reach $0.8 – $1 in 2021 if the market continues to favor crypto.
However, if the market turns against the crypto, VET could experience a price decline, an event in favor of the bears. This bearish event could trigger a price roll back below $0.11 and could even fall deeper to $0.05. In this case, the crypto must find a way to regain its composure and recover back to its bullish position. Otherwise, the bears might turn the support level to the new resistance level, an event not favorable to investors.
VeChain (VET) Price Prediction 2022
If this bullish trend continues, VeChain will reach $2 by the end of 2022. Moreover, the first half of 2022 is going to show fast growth, up to $2.5. Then this rise will slow down, but no major falls are expected. With upcoming, partnerships, and developments reaching $2 is quite optimistic in the price point of view but undoubtedly feasible for the near future.
VeChain (VET) Price Prediction 2023
The price of VeChain can move even great heights, however reaching $4. Moreover, this is possible only if the market maintains its bullish trend. In addition, only if the cryptocurrency VeChain breaks past the psychological resistance level.
VeChain (VET) Price Prediction 2024
As per the latest upgrades, developments, VeChain price prediction, and new project forecasts of the platform. Moreover, this might boost the price of VeChain in the crypto market, and it will be the best investment as the price can spike and reach around $7.
VeChain (VET) Price Prediction 2025
In the next four years, VeChain prices could race up to $10. However, reaching this level could not be so difficult for VeChain as additional medium, short-term, and long-term price targets could be found to purchase or sell orders. This indicates that VeChain has a high possibility of reaching a new ATH soon in the next five years as per the prediction.
Conclusion
VeChain has a bright future ahead of it in 2021. With the ongoing developments happening within the VeChain ecosystem, as well as in the overall crypto market, we may see VeChain reach new heights.
Bullish VeChain price prediction 2021 is $0.8. It may even reach over $1 if investors have decided that VeChain is a good investment in 2021, along with mainstream cryptocurrencies like Bitcoin and Ethereum.
FAQ
What is VET?
VeChain is a blockchain-based platform that aims to improve the supply chain management of companies and organizations. Its native token is VET.Will VET reach $1?
Yes, it's very much possible that VET might reach $1 in the near future as per the current bullish trend.Is VeChain a good investment?
VeChain proved to be one of the active and busiest digital assets in the crypto world in the past year. With this in mind, it is wise to say that VET is a good choice of investment.Is VeChain better than Ethereum?
In terms of technology and functions, VET and ETH both have unique quality features. Therefore, it is too early to tell which one is better than the other.What will be the VeChain price by 2022?
VeChain (VET) price is expected to reach $2 by 2022.What will be the VeChain price by 2023?
VeChain (VET) price is expected to reach $4 by 2023.What will be the VeChain price by 2024?
VeChain (VET) price is expected to reach $7 by 2024.What will be the VeChain price by 2025?
VeChain (VET) price is expected to reach $10 by 2025.
VeChain coiled and ready to break out to $0.21
VeChain price develops a trifecta of bullish breakout conditions pointing to a substantial drive higher.
VeChain is likely to become a leader in the altcoin market.
Limited immediate downside risks for VeChain exist.
VeChain price is positioned for a massive bear trap, which would yield a spike of over 80%. The $0.002/3-box Point and Figure chart show why a breakout above $0.126 could initiate a flash-spike higher.
VeChain price is ready to pop, shattering any hopes of existing and future short-sellers
VeChain price has a rare combination of three powerfully bullish signals on its Point and Figure chart. And all three signals are considered authentic or confirmed if VeChain hits the entry of the hypothetical long setup. The three signals are as follows:
An entry at $0.128 confirms an ascending triple-top breakout.
An entry at $0.128 confirms a Bear Trap Point and Figure pattern.
An entry at $0.1280 breaks the dominant bear market angle and converts VeChain into a bull market.
It is rare to have such a substantial collection of bullish reversal signals present at the same price level. Because of these three signals, they exacerbate the projected profit target from the Vertical Profit Target Method. Consequently, the profit target of $0.21 is just a hair below the 100% Fibonacci expansion at $0.212.
The theoretical long entry is a buy stop order at $0.128, a stop loss at $0.120, and a profit target at $0.21. The long trade idea is invalidated if VeChain price moves below the $0.106 value area.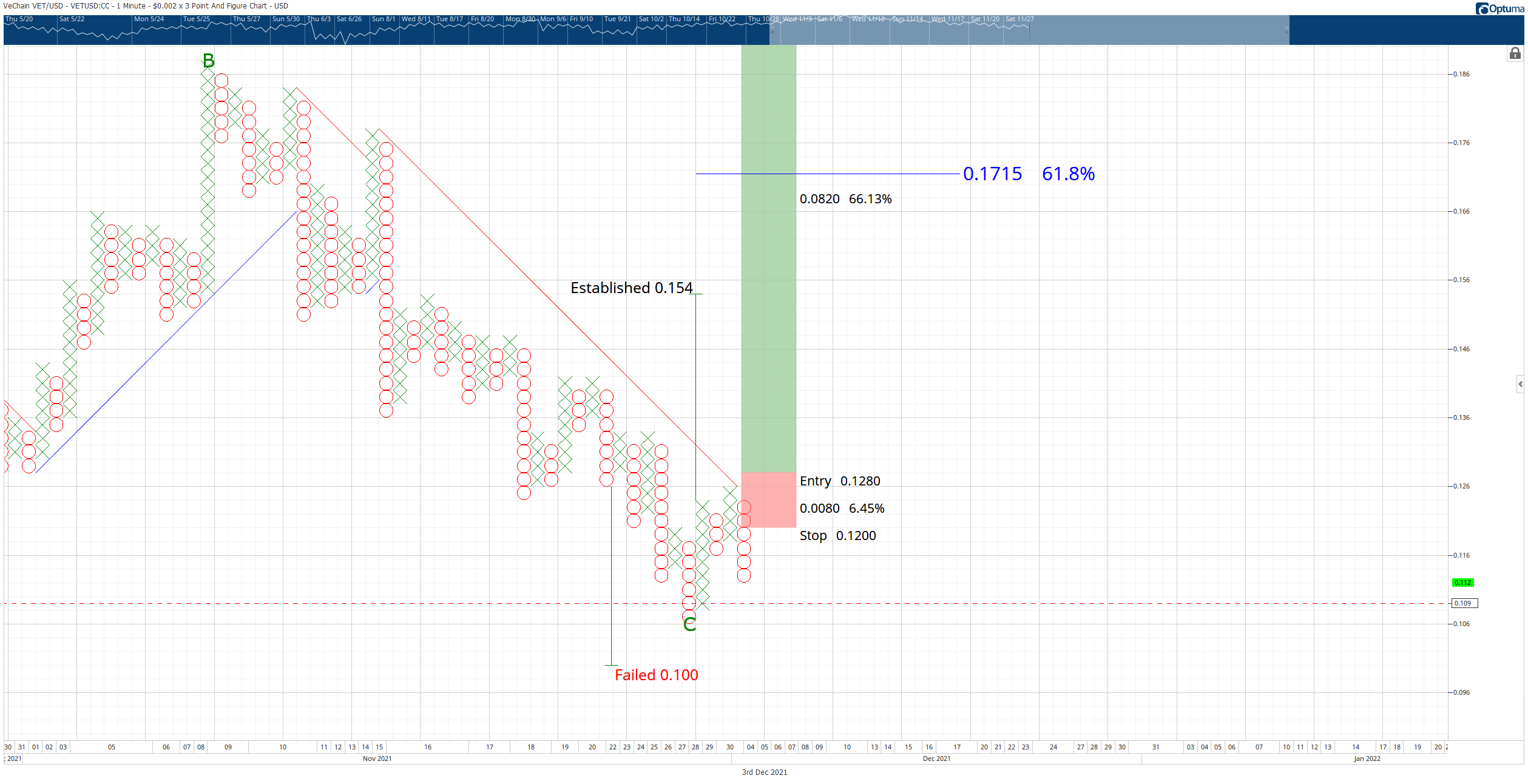 VET/USDT $0.002/3-box Reversal Point and Figure Chart
If any weakness over the weekend (which is always a possibility during the weekend trading sessions), the downside risk should be limited to the 38.2% Fibonacci retracement at $0.072.
VeChain price eyes 20% upswing as VET bounces off the buy zone
VeChain price successfully tested the buy zone, extending from $0.097 to $0.11, triggering an uptrend.
A decisive close above $0.12 will confirm a rally and propel VET by 20% to $0.146.
A daily close below $0.095 will invalidate the bullish thesis by creating a lower low.
VeChain price has been on a downtrend for the past three weeks and is showing signs of a reversal. Clearing a crucial barrier that VET is currently grappling with will confirm the start of this uptrend.
VeChain price to reclaim old highs
VeChain price dropped 44% from $0.18 to $0.10 between November 9 and November 28. This correction pushed VET straight into the buy zone, stretching from $0.097 to $0.11. This area is where high probability reversals occur, and as seen, VeChain price has already rallied 16% to where it currently trades – $0.12.
As VET hovers around the 50% retracement level at $0.12, market participants should wait for a daily close above it to enter long. This move will help solidify the upswing and trigger a 20% ascent to $0.146.
Clearing this level with enough buying pressure to spare will see VeChain price make a run for the range high at $0.16. In some cases, VET could sweep the swing highs at $0.17 and $0.18 to collect liquidity resting above them.
Therefore, investors can expect anywhere between a 20% to 30% upswing for VET.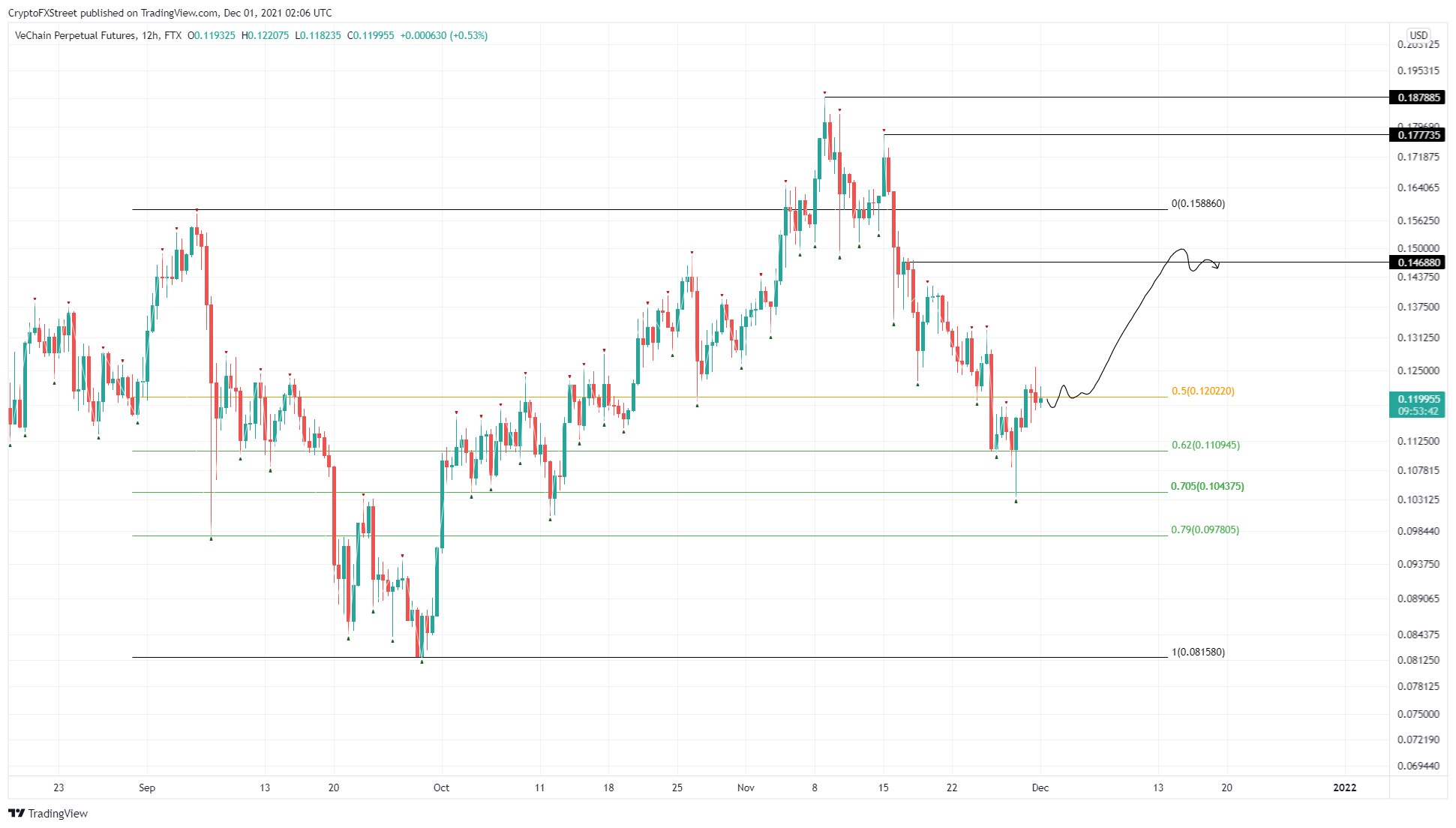 VET/USDT 12-hour chart
While things are looking decent for VeChain price, a retracement to $0.10 or $0.097 on VET would provide investors with another buying opportunity.
However, if VeChain price produces a daily close below the range low at $0.081, it will invalidate the bullish thesis.
'VeChain Thorsday' on 2 Dec, 2021 VeChain (VET) Grows and Attracts the Attention
VeChain Foundation Expressed: We are excited to introduce VeChain Thorsday! Each Thursday, we'll be hosting projects built on VeChainThor over on our Discord channel. Tune in weekly to hear what's happening, meet the community and win prizes! Keep your eyes peeled for our first session, coming soon.
Love Metaverse, NFTs & GameFi? Join the first 'VeChain Thorsday' on 2 Dec. at 8PM UTC & begin exploring projects built on VeChain.
Community Reaction: How about you take one of these days and explain how you need to sell 1.3 billion vet a quarter to pay for ongoing business expenses.
It makes sense, as VeChain grows and attracts the attention of more enterprises and governments, they really can't have individual team members getting into it with Twitter personalities. All communication needs to be streamlined, appropriate and well timed.
Could some supply of the currency be burned in the near future and be in more exchanges?
Just tell me how VET token is going to get advantage of all your partnership? Growth, if you read the white paper. It tells you everything you need to know.
What are VET's plans for 2022? Recently, VET has been sideways and there is no latest dynamic.
This is exactly what we need, more activity in the networks. It is time that we give it the importance that this great project really has, I hope that this year 2022 we will continue to see more activity with VET. I keep holding on until the end.
Always someone complaining, always something to complain about. Buy the coins with puppies and bunnies. Another good step for VET.
Very promising I liked the concept of the project but there has been very little communication from the team.
I rather see enterprise adoption then hype tweets. So, far no other blockchain tech companies that have the type of growth then VeChain, but I understand your opinion.
Not looking for hype tweets, however, VET governance is a public process, at least for now (voting for mainnet updates, gas fees). What happens if they lose public support and can't get important updates passed? Better to start re-shaping public perception sooner than later
This is a brilliant idea for more community participation and for everyone to get familiarised with projects built on VeChain.
VET runs POA, calls themselves an enterprise platform – has no major announcements, starts dipping into NFTs (crappy ones), Now Metaverse, and Sunny says Vechain 3.0 is DAO? Is this why Vechain foundation has been selling for Op costs? wheres the focus?
Is it going to benefit VET token? No? What a crypto?
You guys really need to hire an experienced community relations person.
News Source