Chainlink Price Prediction: LINK remains indecisive, but 20% move likely
Chainlink price is currently hovering above the 50% Fibonacci retracement level at $33.19 with no directional bias.
Investors can expect LINK to make a 20% move depending on how the $33.19 support level holds.
A breakdown of the $25.40 demand barrier will trigger further descent.
Chainlink price is facing massive pressure from both camps, resulting in indecisive moves. Currently, LINK is hovering above a crucial barrier but has no directional bias whatsoever. Therefore, market participants can expect the altcoin to reach for the immediate barriers.
Chainlink price remains uninteresting
Chainlink price seems to be facing pressure from buyers and sellers, leading to a series of candlesticks with small bodies and massive wicks. However, one upside to this situation is that Chainlink price has produced a daily close above the 50% Fibonacci retracement level at $33.19.
This move suggests that Chainlink price is on an uptrend, and the odds are tilted toward a bullish move. However, for this bullishness to manifest, LINK needs to stay above $33.19. In this situation, a potential spike in buying pressure is likely to trigger a 20% upswing to $41.35, coinciding with the 70.5% Fibonacci retracement level.
In the case that the buying pressure persists, Chainlink price could extend its run-up to the next level at $44.73.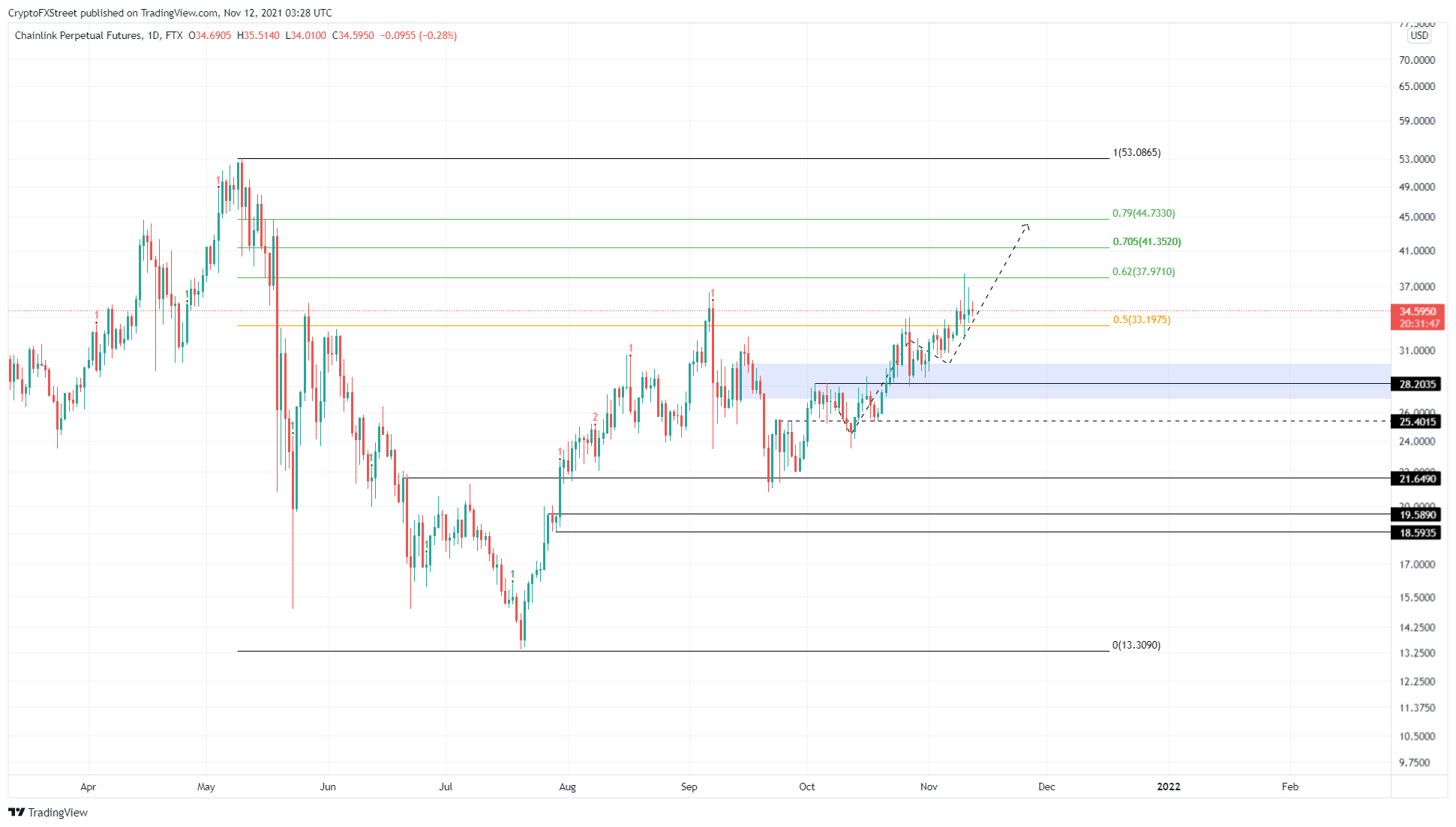 LINK/USDT 1-day chart
While the upswing narrative rests on the fact that Chainlink price needs to hold above $33.19, a lower low below it will imply that a correction is possible. This move will drive LINK to the demand zone that ranges from $27.01 to $9.79.
This area of support harbors a stable foothold at $28.20, constituting a 20% downswing from the current position. Here, Chainlink price could give the upswing narrative another chance. However, if the buying pressure fails to make a comeback, LINK could revisit the $25.40 support floor.
Chainlink price needs to hold above $22 for LINK to avoid steep crash
Chainlink price is under pressure from global markets entering risk-off mode, creating headwinds in cryptocurrencies.
LINK price already broke $24.55, and the monthly pivot at $23.50.
Should market turmoil accelerate, expect a test of $21.62, and a break lead to acceleration lower.
Chainlink (LINK) price has fallen following  global market turmoil as investor's increasingly reach for safe-haven assets whilst dropping riskier holdings.. Following these headwinds, bulls have seen yesterday's gains quickly reversed, and the downturn since the beginning of November gain additional confirmation. Expect a break of $21.62 to see an accelerated sell-off towards $15, accounting for 45% losses.
Chainlink price could form a falling knife as bulls flee the scene
Chainlink faces double support with the historical level at $24.55 and the monthly pivot at $23.25, which for now looks to be holding, or at least slowing down the selling pressure.Sentiment is backing the LINK price to fall further as sell-side volume accelerates and these support levels are now likely to be penetrated. Expect further downward pressure towards $21.62, the historical August 5 level which was also respected during September. 
LINK price may see some let up in the sell off from profit-taking along the way lower, eventually leading to a make-or-break moment when bears try to pierce $21.62. Whilst there may initially be a bounce off that level it will probably be followed by a break below, which would then see a massive acceleration as sidelined bears seek to jump on the descending bandwagon. The move could lead to an overall 30% devaluation..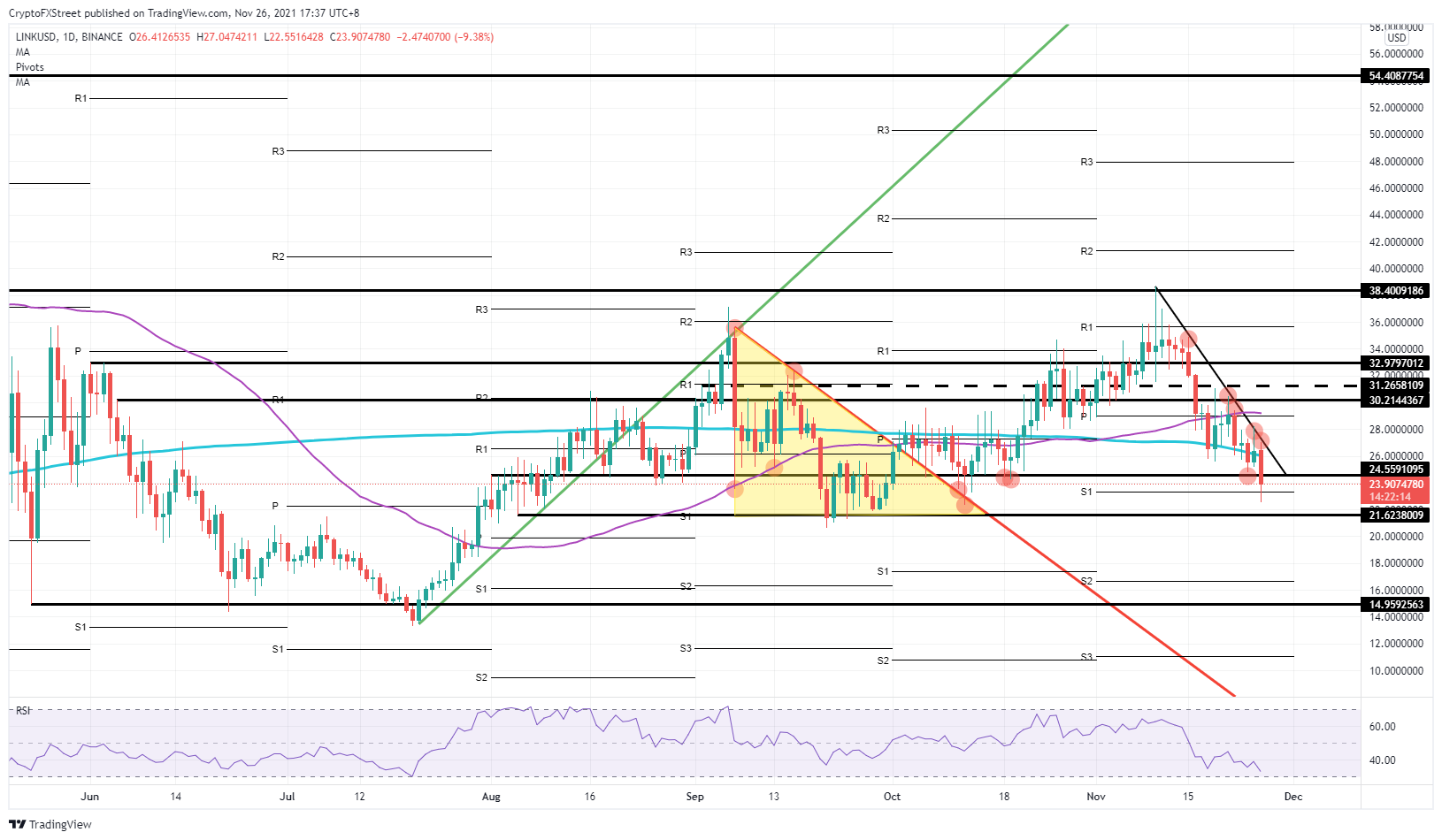 LINK/USD daily chart
$14.95 could provide an eventual bottom, but many bears will want to lock in some profit on the way down at around $17.00 and the S2 support level. At these levels bulls will have the opportunity to pick up Chainlink at a very attractive discount. Expect a reversal from this zone, and a surge to the upside as the buy-side volume overtakes sell-side action, withLINK price rising back up towards $21.62.
Chainlink Price Analysis: LINK swiftly recovers back above $26, another lower high to be set today?
Chainlink price analysis is bullish today.
LINK/USD set lower low above $25 yesterday.
Recovery above the previous low seen this morning.
Chainlink price analysis is bullish today as we expect further recovery after a slightly lower low set yesterday above the $25 mark. Therefore, LINK/USD should see more upside today, with the 28 mark as the next resistance.
The market overall saw bullish momentum return over the last 24 hours as sellers are exhausted. Bitcoin gained 2.72 percent, while Ethereum 2.18 percent. Meanwhile, Avalanche (AVAX) is among the top performers, with a gain of over 11 percent.
Chainlink price movement in the last 24 hours: Chainlink sets lower low at $25, starts the day bullish
LINK/USD traded in a range of $25.20 – $26.79, indicating a moderate amount of volatility over the last 24 hours. Trading volume has increased by 20 percent, totaling $949.7 billion, while the total market cap trades around $12.49 billion, ranking the coin in 19th place overall.
LINK/USD 4-hour chart: LINK to set lower high today?
On the 4-hour chart, we can see the Chainlink price rapidly retracing yesterdays loss as another lower high should be set today.
Chainlink price has seen strong bearish momentum since a new major swing high was set at $38 on the 10th of November. After an initial drop to $33, a consolidation followed until the middle of the month, when another spike lower was seen.
Support was initially reached at $28, with further push lower following on the 18th of November, taking LINK/USD to $26. After a slight recovery over the weekend, sellers took over again on Monday, slowly pushing the market lower until the $26 mark was tested again yesterday.
The Chainlink price could not hold for long, breaking below the support and establishing a new lower low above $25. Since then, LINK/USD has seen a quick recovery above $26, with further upside likely to be tested later today.
Chainlink Price Analysis: Conclusion
Chainlink price analysis is bearish today as we currently see strong retracement looking to set another higher low. Therefore, LINK/USD should see further upside later today as the market has not yet peaked.
While waiting for Chainlink to move further, see our articles on the Best Crypto Wallet 2021, Decred Wallet, and Ripple vs SEC.
Ethereum whales have a master plan for Chainlink after prolonged consolidation
Top 1000 Ethereum whales actively trade more Chainlink than Shiba Inu and Crypto.com tokens put together.
Chainlink's trade volume surpassed $2 million, and the altcoin was more popular than SHIB and CRO tokens.
Analysts set a bullish $38 target for LINK price based on a similarity between current and previous trends.
The top 1000 Ethereum whale wallets are actively trading Chainlink, and the altcoin is preparing for a comeback after prolonged consolidation.
Ethereum whales trigger a spike in Chainlink's on-chain activity
Chainlink has dropped out of the top 15 cryptocurrencies by market capitalization and suffered prolonged consolidation. Chainlink continues to onboard new partners through its oracle service, leading to increased popularity for the altcoin over the past quarter. 
The top 1000 Ethereum whale wallets are a major contributor to the rise in Chainlink trading volume. Chainlink has topped the list of most traded cryptocurrencies by whale wallets, dominating Shiba Inu and Crypto.com. 
Chainlink is the sixth most popular cryptocurrency among traders, with $380 million in holdings of the top Ethereum whales. Proponents consider that the recent drop in Chainlink price may be linked to the risk-off trend in financial markets.
Chainlink network's total value locked (TVL) exceeded $75 billion at the beginning of November 2021. Increasing exposure to the metaverse and the rise in partnerships in the DeFi ecosystem has triggered a spike in the growth trajectory of Chainlink. 
Sergey Nazarov, co-founder of Chainlink protocol, recently tweeted:
As Chainlink's decentralized services expand beyond validated data e.g., Keepers/Off-chain Compute & CCIP, the Chainlink economy grows in both the value secured ($80Bn+) and the fees generated from that security. Super-linear staking is being worked on to increase security & fees.
Analysts are bullish on LINK price and set a target of $38 for the altcoin before the end of 2021. @linkmarine007, a cryptocurrency analyst, has compared the LINK price trend with the previous cycle. 
How $LINK gets to $500. All of this has happened before and all of this will happen again. #linkmarine old timers know this can happen. pic.twitter.com/2rHNWi5rOz— D (@linkmarine007) November 19, 2021