Dogecoin Price Analysis: DOGE/USD is bearish for the next 24 hours
Dogecoin price analysis is bearish today.
Dogecoin is currently trading at $0.2615.
DOGE/USD is likely to retrace.
The Dogecoin price is bearish today, as the price has been rejected following another advance was cemented at $0.29 this morning, after a consolidation around $0.28 previously. Before further appreciation can be looked for, DOGE/USD must likely decline again and establish another higher low.
The Dogecoin price has moved back downwards this morning, following the previous advance to $0.29 earlier this week, which was short-lived. A consolidation was seen around $0.28 before another move upwards occurred yesterday, which was pushed below the previous day's high of $0.30 at $0.2976 about an hour ago now, which was enough to force a rejection at that level so far today and turn price southwards again for now as it heads towards the next support around $0.25 to $0.26.
Dogecoin price movement in the last 24 hours: Dogecoin trades in a tight range
So far today, the price has tested the previous day's low of $0.29 briefly and turned back south again initially, but the bears could not hold onto this level. We're seeing a little bit of follow-through northwards now, which may lead to another test of the previous high at $0.2976 soon before further decline ensues expectedly. The following support is located at $0.25 to $0-26 area where some traders have been scalping from, so I would expect that area to be tested before any significant bearish action can take place due to how deep it is in terms of daily chart structure for DOGE/USD.
I remain bearish on Dogecoin for now until the price can show signs of reversing back upwards. This means that I am looking to sell at the next possible higher high, which is expected to be formed around $0.28 – $0.29 area where strong support has already been seen previously and near the 100 hourly simple moving average as well, which should hold as a new resistance level if it is tested again soon.
DOGE/USD 4-hour chart: DOGE rejects upside again, prepares to retrace?
On the 4-hour chart, we can see that Dogecoin's price has recovered to $0.28 after failing to rise this morning.
Dogecoin's price volatility picked up at the end of October. A strong reversal occurred after a stunning decline to $0.22 on October 27th, further trading upheaval.
Dogecoin's price rose by 40% in a few hours on October 28th, reaching $0.34. However, Dogecoin could not maintain these price levels for long, and a gradual retracement followed throughout November.
For now, I remain neutral on the Dogecoin price as we wait for further price action to develop in either direction before getting involved in any potential trade setups.
Dogecoin continues to generate mainstream media exposure. Its community dispels false information about cryptocurrency still being used for nefarious purposes by criminals and how it only has value because of the community that backs it.
Dogecoin Price Analysis: Conclusion
The price of Dogecoin has been bearish since this morning when we anticipated another retreat following the rise that was rejected this morning. DOGE/USD isn't yet ready to climb any higher, suggesting that a new peak may be reached later this week.
Dogecoin Forecast December 1, 2021
DOGE/USD are traded at 0.2226 and continue to move as part of the correction and the downward channel. Moving averages indicate a short-term bearish trend for Dogecoin. Prices are again testing the area between the signal lines, which indicates pressure from the sellers of the asset and a potential continuation of the fall from the current levels. At the moment, we should expect an attempt to develop a correction in the value of a digital asset and a test of the resistance level near the 0.2405 area. Where can we expect a rebound down again and the continuation of the fall in the Dogecoin rate with a potential target below the level of 0.1805.
Dogecoin Forecast December 1, 2021
A rebound from the resistance line on the relative strength index (RSI) will be in favor of reducing the DOGE/USD quotes. The second signal will be a rebound from the upper border of the descending channel. Cancellation of the coin fall option will be a strong growth in the value of the asset and a breakdown of the 0.2605 area. This will indicate a breakdown of the resistance area and continued growth in the cryptocurrency rate with a potential target above the level of 0.3205. With the breakdown of the support area and closing of quotations below the level of 0.1955, we should expect confirmation of the development of a downward trend in Dogecoin.
Dogecoin Forecast December 1, 2021 imply an attempt to correct and test the resistance area near the level of 0.2405. Where can we expect a rebound and the continuation of the fall in DOGE/USD to the area below the level of 0.1805. An additional signal in favor of a decline in Dogecoin will be a test of the trend line on the relative strength index (RSI). Cancellation of the fall option will be a strong growth and a breakdown of the 0.2605 area. This will indicate a continued rise in the cryptocurrency with a target above the level of 0.3205.
Dogecoin Price Analysis: A Consolidation Phase In DOGE Coin Hints The Price Will Rise Back To The $0.336

The DOGE coin is currently under a short-term sideways trend. For the last four months, the price has been resonating in a range, and now with the recent price fall, it is back to the bottom support of $2. A positive news for the crypto investors to rally ahead is the Binance resuming the DOGE coin withdrawn/deposits.
Key technical points:
The DOGE coin resonating in a definite range
The DOGE price gave a breakout from the falling wedge pattern in the 4-hour time frame chart
The intraday trading volume of the DOGE coin is $1.89 Billion, indicating a 0.69% gain.
Source- DOGE/USD chart by Tradingview
The DOGE coin price displayed an impressive recovery in October, where the price rallied from $0.196 to the 0.34 mark. However, with the same enthusiasm, the coin indicated a bearish reversal which plunged the coin price back to the bottom support.
The DOGE price entered within this price range due to the sudden fall of June. However, even after four months, the coin is resonating between these definite levels, indicating a consolidation phase in this coin.
Due to the sideways trend in the price, the crucial EMAs(20, 50, 100, and 200) are drawn too close together, making it challenging to identify a correction signal. Therefore, the crypto traders can use the 50 and 200 EMA in their chart to find the primary trend, which in our case is bearish.
The Relative Strength Index(41) indicates a bearish sentiment within the DOGE coin.
DOGE/USD Chart In The 4-hour Time Frame
Source- DOGE/USD chart by Tradingview
The falling DOGE price revealed an excellent opportunity for crypto traders by forming a falling wedge pattern in the 4-hour time frame chart. On November 29th, the price has a breakout from this overhead resistance trendline indicating more confirmation for a rally.
If the price manages to sustain this breakout, the coin traders can consider a long opportunity for them using proper risk management.
Dogecoin price could see 400% gains if DOGE holders band together
Dogecoin price is moving sideways after a breakout from a descending triangle pattern.
A potential 400% move to $1.08 will face obstacles up to $0.35, beyond which, DOGE should rally swiftly.
On-chain metrics are hinting at an increase in large transactions and a paradigm shift in the nature of holders.
Dogecoin price is at a crucial tipping point in its evolution with the potential for it to trigger a massive volatile move. Hurdles exist, however, that will make it difficult to reach its intended target, of a new all-time high.
Dogecoin price at make or break levels
Dogecoin price has set up three lower highs and two higher lows, which when connected using trend lines reveals a descending triangle. This technical formation forecasts a 361% upswing to $1.09, obtained by adding the distance between the first swing high and low to the breakout point at $0.24.
DOGE breached the triangle's hypotenuse on October 18 at $0.24. Since this point, the meme coin has struggled to move higher but failed.
Interestingly, Dogecoin price has been moving sideways and has retested the $0.193 support level thrice since August 3 with the latest revisit on November 26. This created a triple-tap setup, a bullish technical formation that forecasts a reversal in the trend.
Since Shiba Inu has stolen DOGE's spotlight, things have been calm and consolidative for the original meme coin. If the buying pressure increases, however, pushing Dogecoin price to pierce through the $0.29 level to $0.35, and it produces a daily close above it, it will trigger an uptrend.
In this scenario, it will allow market makers to collect the sell-stop liquidity resting above $0.35. This development will allow DOGE to create a platform for the next leg-up at $0.44.
Clearing this hurdle will open the path to retest the current all-time high for Dogecoin price at $0.74. According to this prediction, DOGE could extend its bull rally to tag $1.09, its intended target. Due to the recent downswing, this upswing will represent a 400% gain from the current position at $0.22.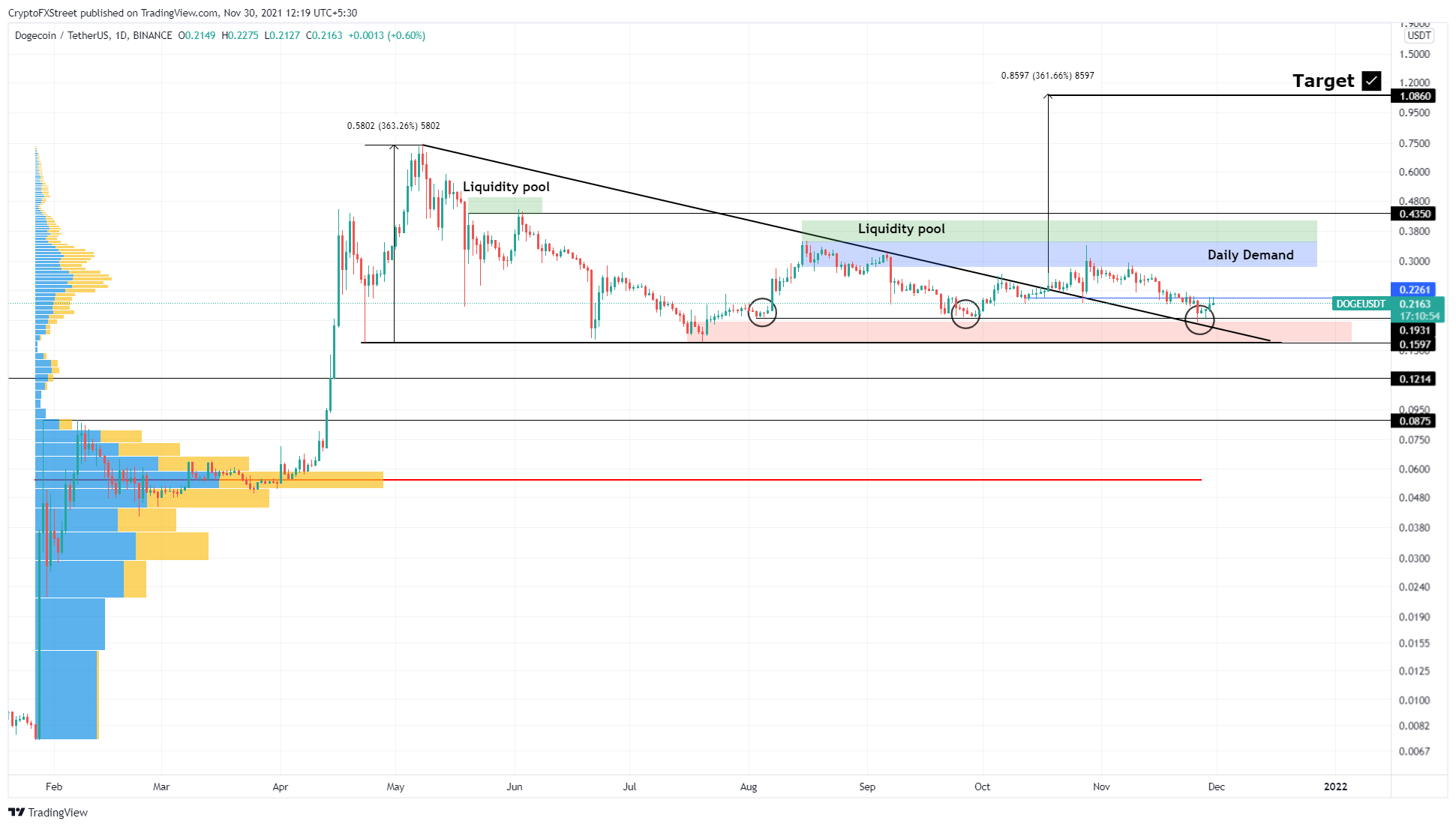 DOGE/USDT 1-day chart
As mentioned earlier, Shiba Inu seems to have siphoned off the hype, investors, and capital from Dogecoin, affecting its price, but things seem to be reverting, with some on-chain metrics suggesting a flip of the narrative is possible.
On-chain metrics predict a bright future
Looking at the transaction data tells a story about the nature of investors. Large transactions track transfers that are $100,000 or more. An increase in this metric serves as a proxy for institutions and their investment thesis.
Over the past six months, the number of such transactions has increased by 70.7% from 1,570 to 2,680. This uptick in the metric suggests that high networth investors are starting to take interest in DOGE at the current price levels.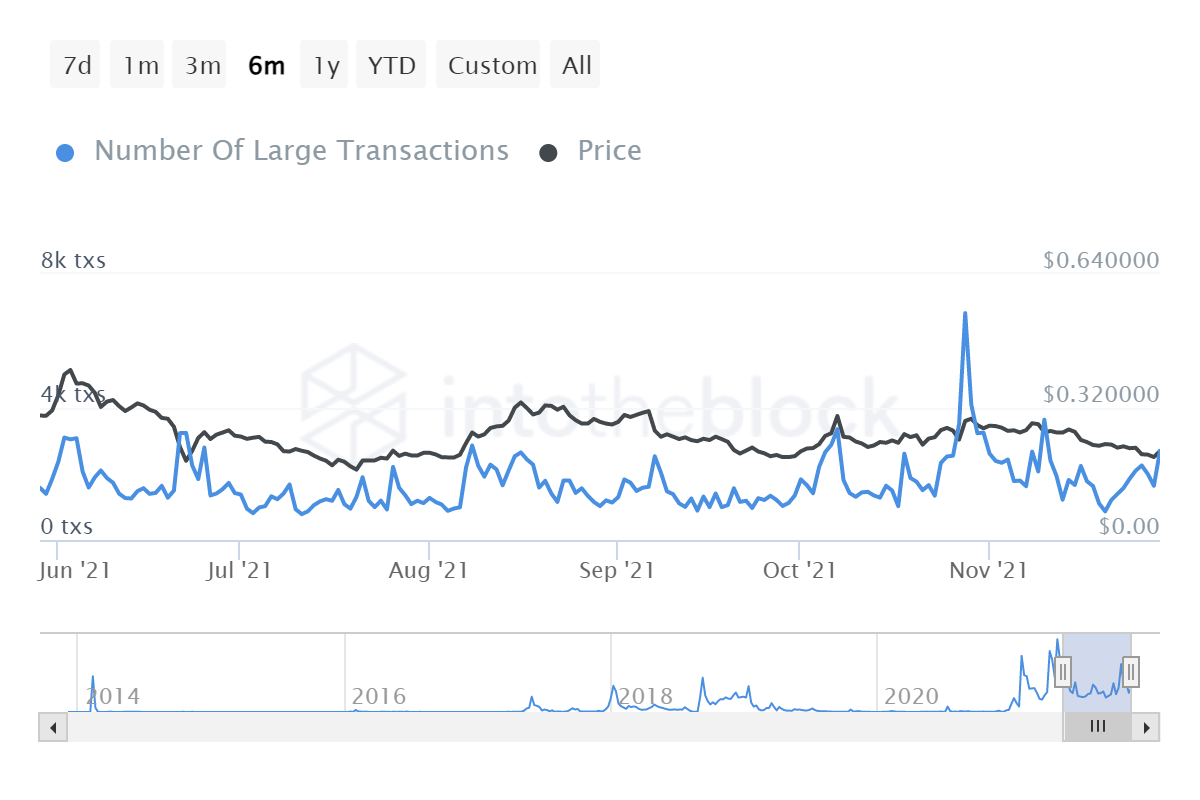 DOGE large transaction chart
While the above metric provides an insight into the potential investments, IntoTheBlock's Global In/Out of the Money (GIOM) model shows where significant blockades are present. This fundamental index reveals that the DOGE will face formidable challenges ranging from $0.30 to $0.34. Here roughly 500,000 addresses that purchased 47 billion DOGE are "Out of the Money" and are likely to sell to breakeven, increasing the selling pressure.
If buyers overcome this uptick in sell-side momentum and produce a daily close above $0.35, however, it will clear the daily demand mentioned above. This move will also open the path up for market makers to collect liquidity.
All in all, this on-chain metric also promotes a bullish idea for DOGE with a contingency that the bullish momentum pushes the meme coin above $0.35.
While the on-chain metrics described above serve as a tailwind for the bullish thesis, the new addresses joining the network add a dent to it. This metric shows that new users joining the Dogecoin network over the past six months have declined by 34.7% from 34,320 to 22,380.
This reduction indicates that despite the capital inflows observed in the large transaction metric, a majority of investors are not yet interested in DOGE. Hence, this divergence between the new addresses and the large transaction chart paints indecision.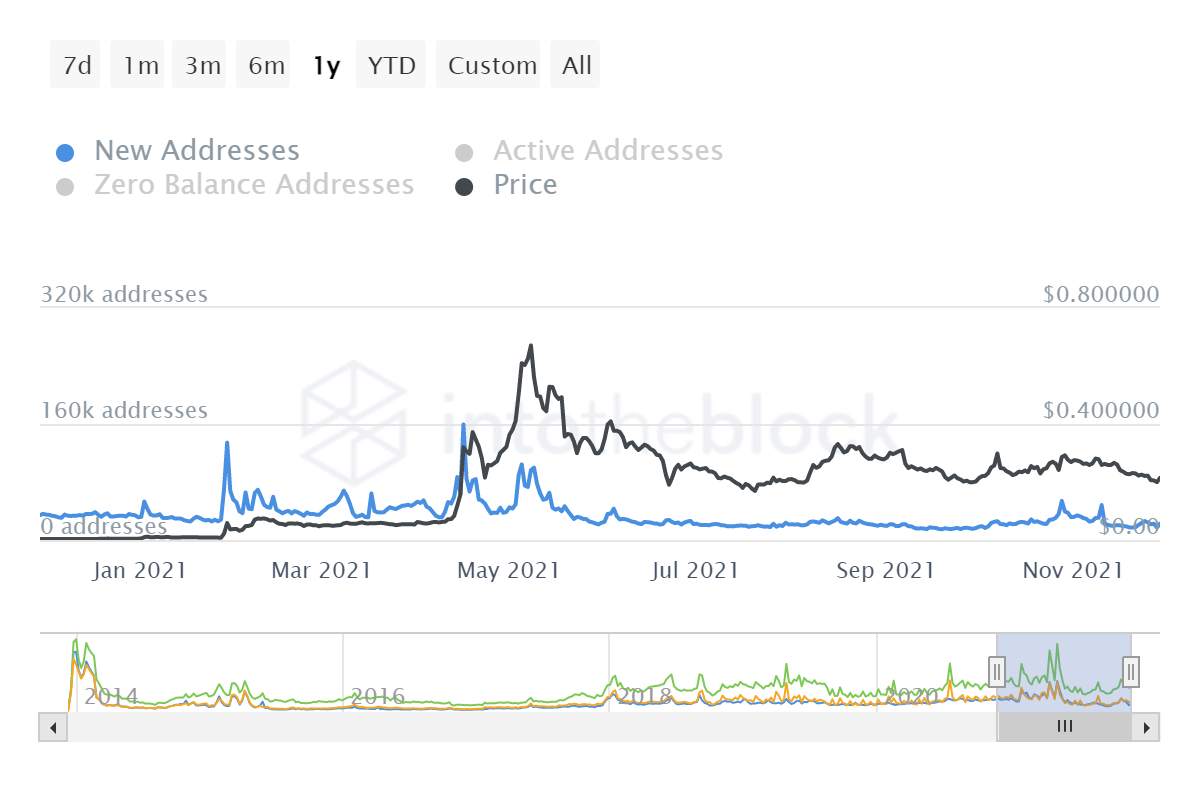 DOGE new addresses chart
The discrepancy noticed above can be explained in the holders' chart which shows a paradigm shift. In November 2020, the composition of DOGE investors was 74.2% holders (1+ years), 18.6% Cruisers (1 month to 1 year) and 7.2% traders (less than a month). As of November 2021, this composition has changed and shows that cruisers are currently dominating with a 50.7% stake, while holders have dropped to 42.1%.
This drastic decrease in the long-term holders suggests that these investors have been distributing their holdings over the past year ie., indicating increased sell-side pressure, which adds credence to DOGE's lackluster performance over the period.
In summary, if long-term holders stop offloading their DOGE holdings, investors can expect Dogecoin price to start inflating.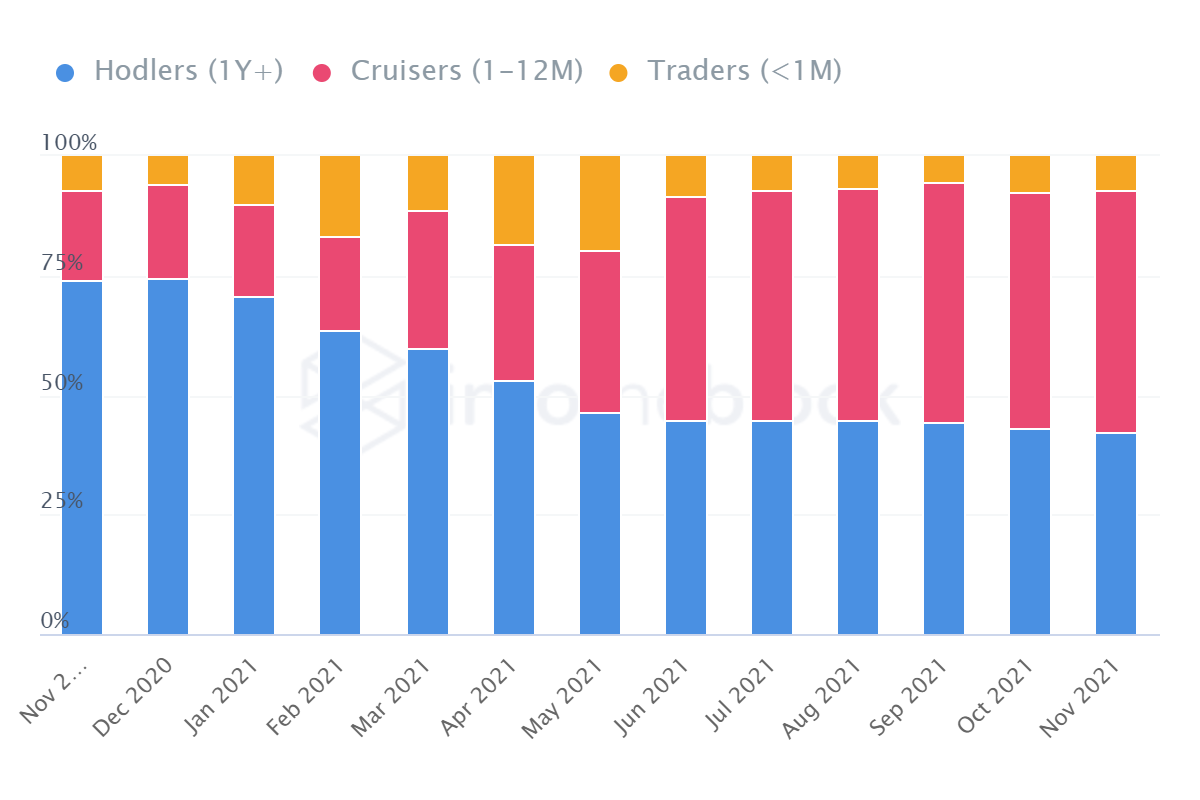 DOGE Ownership chart
On the other hand, if the selling pressure increases, knocking Dogecoin price below the $0.193 support level, it will lead to a retest of the descending triangle's base at $0.16. If the bears produce a daily candlestick below this crucial barrier, it will open up DOGE to a massive 45% crash to $0.09, with a potential pitstop at $0.12.