Ethereum 'has to bounce' as ETH bulls pin $5K rally hopes on critical support channel
Ethereum's native token, Ether (ETH), could see yet another strong rebound in the sessions ahead as its price falls into a trading zone with a recent history of attracting buyers.
The rising trendline has been triggering ETH's price rebounds since the beginning of October and comes as a part of a broader ascending channel range.
As a result, Ether's path of least resistance has been to the upside despite pullbacks at the channel's upper trendline, with its quarter-to-date returns currently sitting at over 38%.
Most recently, the rising trendline was instrumental in limiting sell-offs that followed Ether's rally to a new record high above $4,870. That prompted analysts to expect another strong price rebound in the future, with a "swing long" setup posted by Forexn1 on TradingView calling for a bull run to $5,000.
MacroCRG, a Twitter-based independent market analyst, said Ether "has to bounce" as it manages to hold the rising trendline as support following the latest price pullback.
Meanwhile, another analyst, Pentoshi, also anticipated a rebound but discussed the prospects of corrections below the rising trendline. In a Nov. 12 tweet, he stated:
"I would love a 20-30% wipeout on alts. Usual bull run dip. Just bc I want it doesn't mean it will happen. Greed to fear, please."
Pentoshi's downside target in the event of extended price correction was near $4,000, as shown in the chart below.
Macro fundamentals support ETH bulls
Ether's ability to limit price corrections and — atop that — form new highs appears to have more than just technical factors behind it.
Chris Weston, head of research at Pepperstone Financial Pty, cited fears of high inflation as the common denominator that has boosted demand for potential hedging assets across the crypto market, leading to Ether's 500-plus percent and Bitcoin's 130-plus percent price rallies in 2021.
To investors, "Crypto is where the fast money is at," Weston said in a note.
Additionally, Mike McGlone, senior commodity strategist at Bloomberg Index, last week said he expects a $5,000 price for Ether, saying that investment "portfolios of some combination of gold and bonds appear increasingly naked without some Bitcoin and Ethereum joining the mix."
Three #Crypto Musketeers Driving $3 Trillion Market Cap – Representing a better way to transact, a strengthening ecosystem and here-to-stay asset class, #cryptodollars are the most significant advancing part of the digital-money revolution and the third leg of the crypto stool. pic.twitter.com/qhEOXttPW8— Mike McGlone (@mikemcglone11) November 9, 2021
Ethereum Drops Under $4,000 First Time Since October
Ethereum falls sharply below $4,000 for first time since mid-October but then recovers above it
Ethereum has briefly fallen below one of the strongest supports, according to cryptocurrency market analysts. As of now, the second-largest cryptocurrency has recovered back above $4,000, but the market might not be ready to V-shape recovery yet.
Liquidation rates on the cryptocurrency market for Ethereum have reached $60 million in the last few hours. According to data from various centralized exchanges, a significant number of leveraged orders for Ethereum have been gathered at or close to the $4,000 support.
Previously, Ethereum was testing the area close to the $4,000 mark numerous times but failed to go through it and remain under it. As for now, Ethereum is trading at $4,053 with a total 10% daily loss.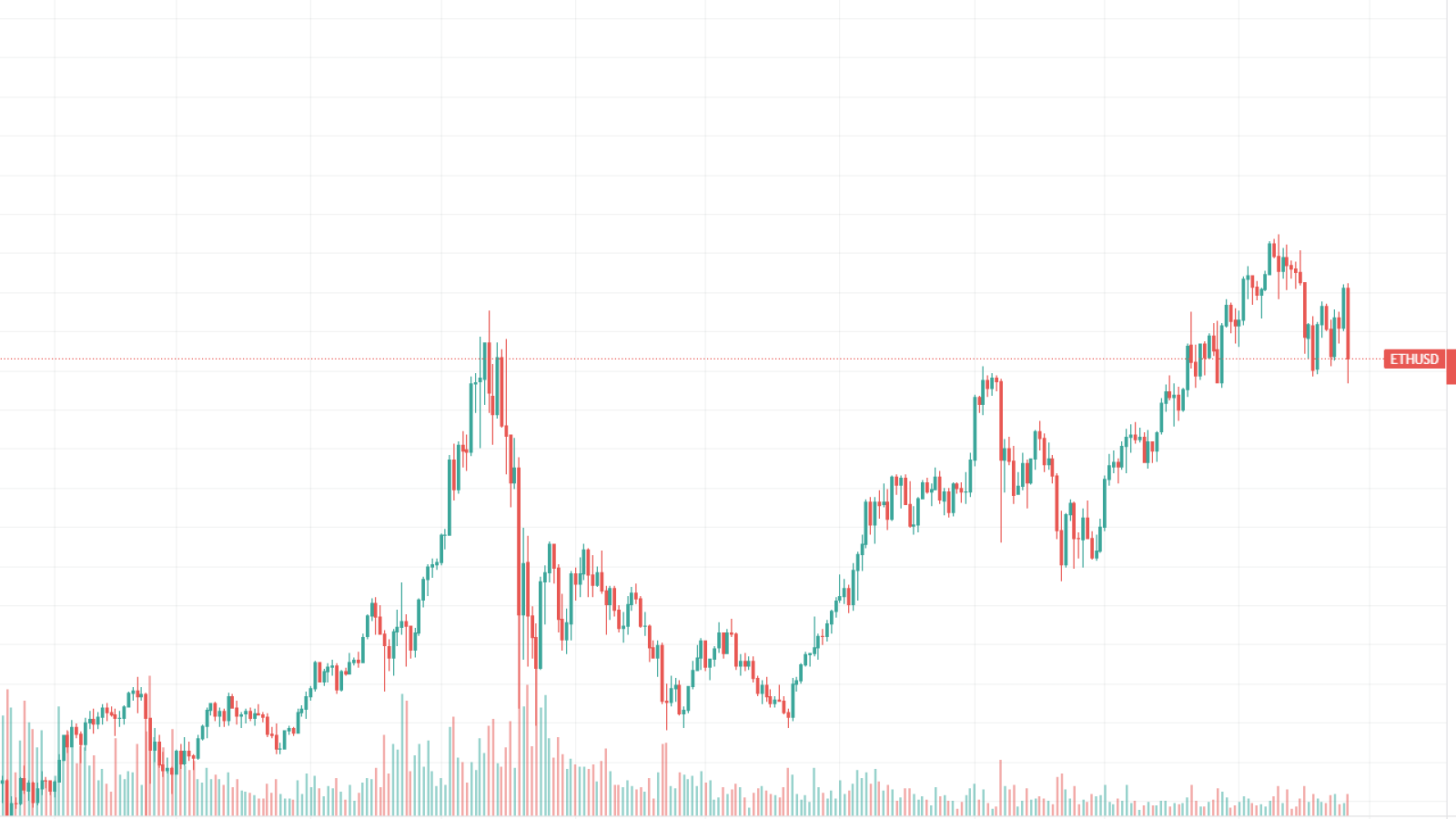 U.Today previously reported that Bloomberg analysts see Ethereum trade in the rangebound for a long period of time after the ATH retrace. The lower border of the range was $4,000 and the upper $5,000.
Other cryptocurrencies like Bitcoin, Cardano or Doge are losing 7% of their value, which is slightly less compared to Ethereum's 10% loss. According to data from TradingView, the cryptocurrency market mostly follows the stock market's path by rapidly losing value due to risks caused by the new pandemic measures.
According to exchange flows, traders are not yet rushing to sell all their assets, while strong inflows were present previously when Bitcoin was trading close to $60,000. Currently, the main selling pressure comes from retail traders and institutions, and crypto miners' wallet activity still remains at year lows.
Tech Savvy Crooks Are Stealing Millions in Bitcoin, Ethereum and Shiba Inu Through YouTube Live: Report
Scammers are using compromised YouTube accounts to steal millions of dollars in crypto from unsuspecting viewers, according to a new report.
The cybersecurity firm Tenable says digital thieves are employing a savvy blend of fake celebrity endorsements and trending cryptocurrencies to reap illicit gains through fake giveaway events.
Analyst Satnam Narang says the scammers are utilizing YouTube Live to create supposed live streams that in actuality broadcast pre-recorded, ripped-off and manipulated content.
"To promote the fake cryptocurrency giveaways on YouTube, scammers follow a very basic templated approach… Each video contains a section that features an unrelated interview involving notable [crypto] figures…
The videos contain a section that features the URL for the so-called event or giveaway. This section is not clickable, which means the user has to manually type in the URL to reach it."
Once the viewer visits the scammers' website, they are asked to send funds to a crypto address and told they will later receive double their money or more in return.
The crooks are stealing popular crypto assets including Bitcoin (BTC), Ethereum (ETH) and popular memecoin Shiba Inu (SHIB).
Narang says that in a recent month-long survey of YouTube Live scams, he counted at least $8.9 million in fraudulent activity.
The report goes on to explain how familiar faces are ideal to use as bait when luring in victims.
"Scammers recognize that users place a lot of trust in influential voices. Combined with the plethora of existing interview footage featuring many of these notable figures, scammers have developed a formula that adds legitimacy to their efforts and has continued to work for years."
The report notes that an important aspect of running a successful scam is to take over an existing YouTube account that already has a large subscriber base. This leverage provides an air of legitimacy and increases the likelihood that a significant number of people will encounter the video.
The presentations are designed to be slick and professional, such as this fake Elon Musk/SHIB promotion.
Tenable notes that after Musk's appearance on popular late-night comedy show Saturday Night Live back in May, hackers made off with over $10 million via fake crypto giveaways.
In response to the proliferation of fraud on its platforms, Google's Threat Analysis Group recently posted a wide-ranging report called "Phishing campaign targets YouTube creators with cookie theft malware."
The section about crypto fraud states,
"A large number of hijacked channels were rebranded for cryptocurrency scam live-streaming. On account-trading markets, hijacked channels ranged from $3 USD to $4,000 USD depending on the number of subscribers."
Ethereum Price Analysis: ETH swiftly drops 14 percent, retracement to follow?
Ethereum price analysis is bullish today.
ETH/USD spiked below $3,950 previous swing low.
Buying pressure rejecting further upside.
Ethereum price analysis is bullish today as we expect recovery after a strong selloff earlier today. Likely ETH/USD has found support around the previous low of $3,950, leading back to the upside over the next 24 hours.
The market overall has seen strong selling pressure over the last 24 hours. Bitcoin has lost 7.33 percent, while Ethereum 9.11 percent. The rest of the top altcoins follow with similar results.
Ethereum price movement in the last 24 hours: Ethereum spikes below $3,950 after peaking at $4,550
ETH/USD traded in a range of $3,933.51 – $4,550.84, indicating massive volatility over the last 24 hours. Trading volume has increased by 30.71 percent, totaling $25.79 billion. Meanwhile, the total market cap trades around $480 billion, resulting in market dominance of 19.63 percent.
ETH/USD 4-hour chart: ETH starts to recover, returns above $4,000
On the 4-hour chart, we see recovery in progress for the Ethereum price as further downside got rejected over the last hours.
Ethereum has seen a slow recovery over the past weeks after a strong decline from the $4,867 previous all-time high set on the 10th of November. Support was eventually found at $3,950, with the following reaction taking ETH/USD to $4,400.
A higher low, indicating a potential reversal, was set on Monday. From there, Ethereum slowly moved higher until a quick break above previous highs was seen yesterday.
Ethereum price peaked at $4,555, quickly reversing lower overnight. Further downside followed, pushing ETH/USD towards previous lows until the $3,950 major low was tested. Bullish momentum appeared again over the past hours, returning ETH higher as the market starts to recover the loss.
Ethereum Price Analysis: Conclusion
Ethereum price analysis is bullish as we expect a retracement to follow over the next 24 hours as bearish momentum is exhausted. Therefore, ETH/USD is headed higher to recover some of the losses seen earlier today.
While waiting for Ethereum to move further, see our articles on the Best Crypto Wallet 2021, Decred Wallet, and Ripple vs SEC.