Hoskinson 'loves' the 2022 roadmap for Cardano's 'living, growing ecosystem
For many people who are invested in IOHK's Cardano network, it is more than just the function of its price. Earlier this month, Cardano Community reported about having surpassed two million ADA wallets.
Focus 2022
IOHK CEO, Charles Hoskinson is also looking optimistic about how the project is coming together. He recently stated,
"I'm really loving how the roadmap for 2022 Cardano is coming together. It's a living ecosystem, growing, refining, adapting, and becoming stronger."
In a recent blog post, the company behind Cardano also discussed how it will optimize network performance over time. It noted that Cardano's focus going forward will shift to optimizing, which was initially at providing core capability and correctness. IOHK's Tim Harrison stated,
"As the network grows and Cardano functions at a higher capacity, we will be adjusting the parameterization to keep up with network demand."
Network congestion
In the context of recent congestions experienced due to large NFT drops, it is looking to build "more efficient traffic systems" for the near term.
"In the short term, we'll be able to ease NFT drop congestion by more evenly spreading the stake distribution and reward distribution computation. "
Also noting that some developers are already producing such systems specifically for NFT drops, it is also likely to 'reduce costs.'
Moreover, IOHK stated that the network is designed to be "highly resilient even under heavy saturation." Therefore, the "'congestion' period lasted for less than one hour," when it experienced a large number of simultaneous NFT transactions.
Nonetheless, IOHK promised 'gradual upgrades that will be implemented over the course of the next few months.'
What's next?
With a focus on boosting network performance, Harrison also pronounced a likely waiting time between transaction submission and transaction adoption. Additionally, Cardano will also investigate increasing block size, Mempool size, and script compression among other alternatives for that optimization.
"We also plan to move the ledger state to disk storage to ease the on-chain load…"
With that, Cardano's "Hydra is set to bring additional capability in the mid-term." In that context, Hoskinson had recently stated,
"It'll be able to offload a large amount of the transaction traffic that's going to come from all of the apps that are coming (soon). As PAB comes online, Cardano is going to get hammered by an enormous amount of traffic. Hydra is a necessity for that…"
In the long term, there are likely to be more updates around the Ouroboros protocol.
Cardano-Based DEX Announces Date of Testnet Launch
A major Cardano-based decentralized finance protocol is about to launch its testnet
Cardano-based decentralized exchange SundaeSwap has announced that its testnet launch is going to take place on Dec. 5. 

Thousands of users will be able to try out one of the most notable projects on the Cardano network.  

The purpose of the testnet is to discover some bugs and inefficiencies ahead of the upcoming mainnet launch.

It will also help the Input Output team to adjust the performance metrics of the network so that it can work smoothly under heavy load:
Our testnet is the perfect opportunity to put the new parameters under load so they can assess performance and further raise these limits.
Implementing such incremental changes will be crucial for making Cardano scalable enough for the decentralized finance sector.  
In late September, SundaeSwap forged a partnership with Nervos, China's top public blockchain. 
Here's What's Next for Cardano, Shiba Inu, Terra and Two More Altcoins, According to Crypto Analyst
A popular crypto strategist and trader is plotting what could be ahead for Cardano (ADA), Shiba Inu (SHIB), Terra (LUNA) and two other altcoins.
Pseudonymous cryoto analyst Altcoin Sherpa tells his 154,100 Twitter followers that he is short-term bullish on ADA after the smart contract platform managed to stay above support at $1.48.
"ADA: Not a bad place for a long. Support/resistance level, 0.50 Fibonacci level too. I still wouldn't hodl (hold on for dear life) this though. It would be a swing trade."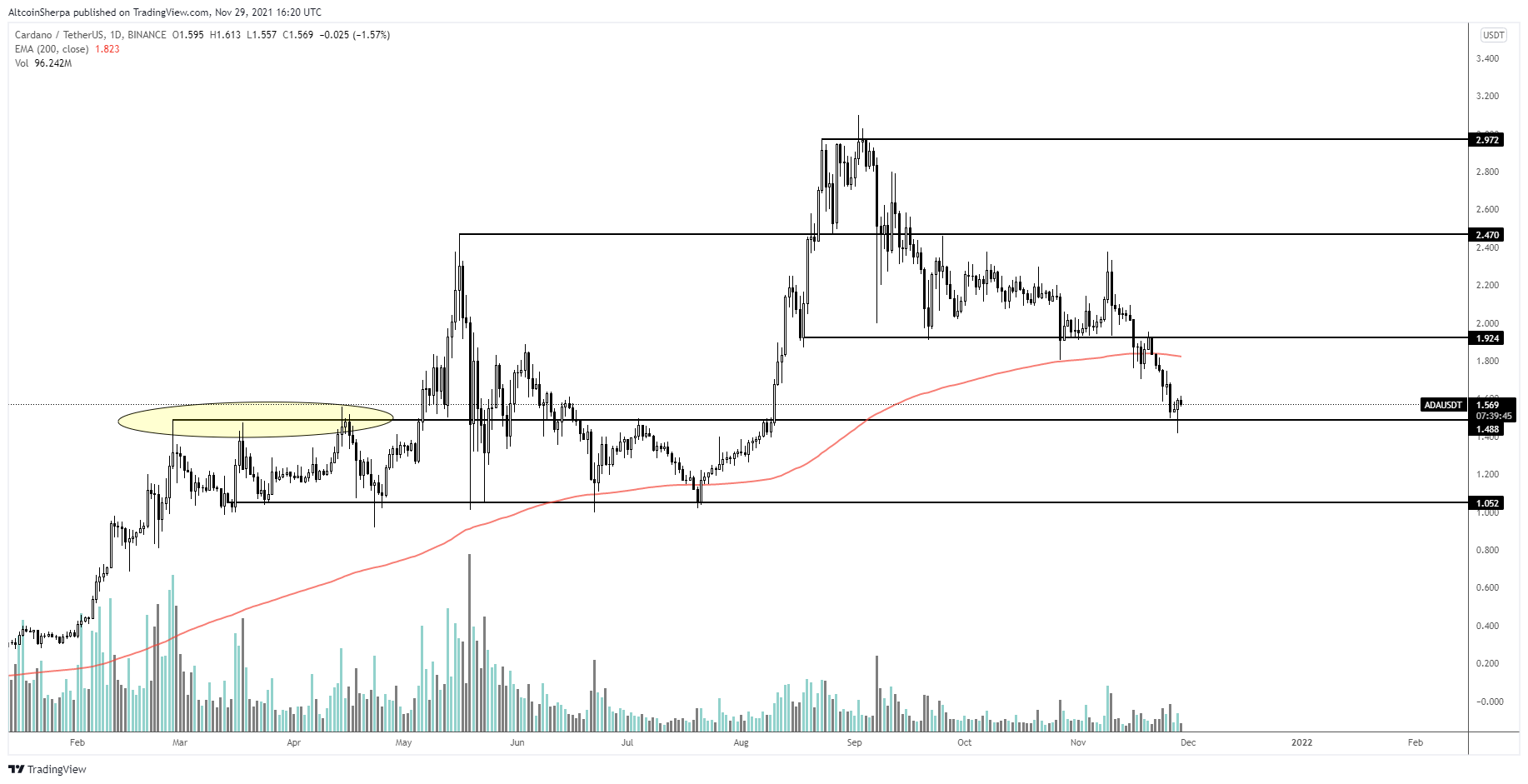 At time of writing, Cardano is trading at $1.56, down 2.85% in the last 24 hours.
Next up is popular meme coin Shiba Inu. According to the crypto strategist, he's expecting SHIB to ignite a quick bounce before resuming its downtrend unless the Dogecoin competitor manages to consolidate around $0.000047.
"SHIB: Short-term bottom is probably in. Expecting some sort of lower high to form. If this consolidates at the 0.50 [Fibonacci level], a more explosive move will come (But it's going to take a much longer time in my opinion)."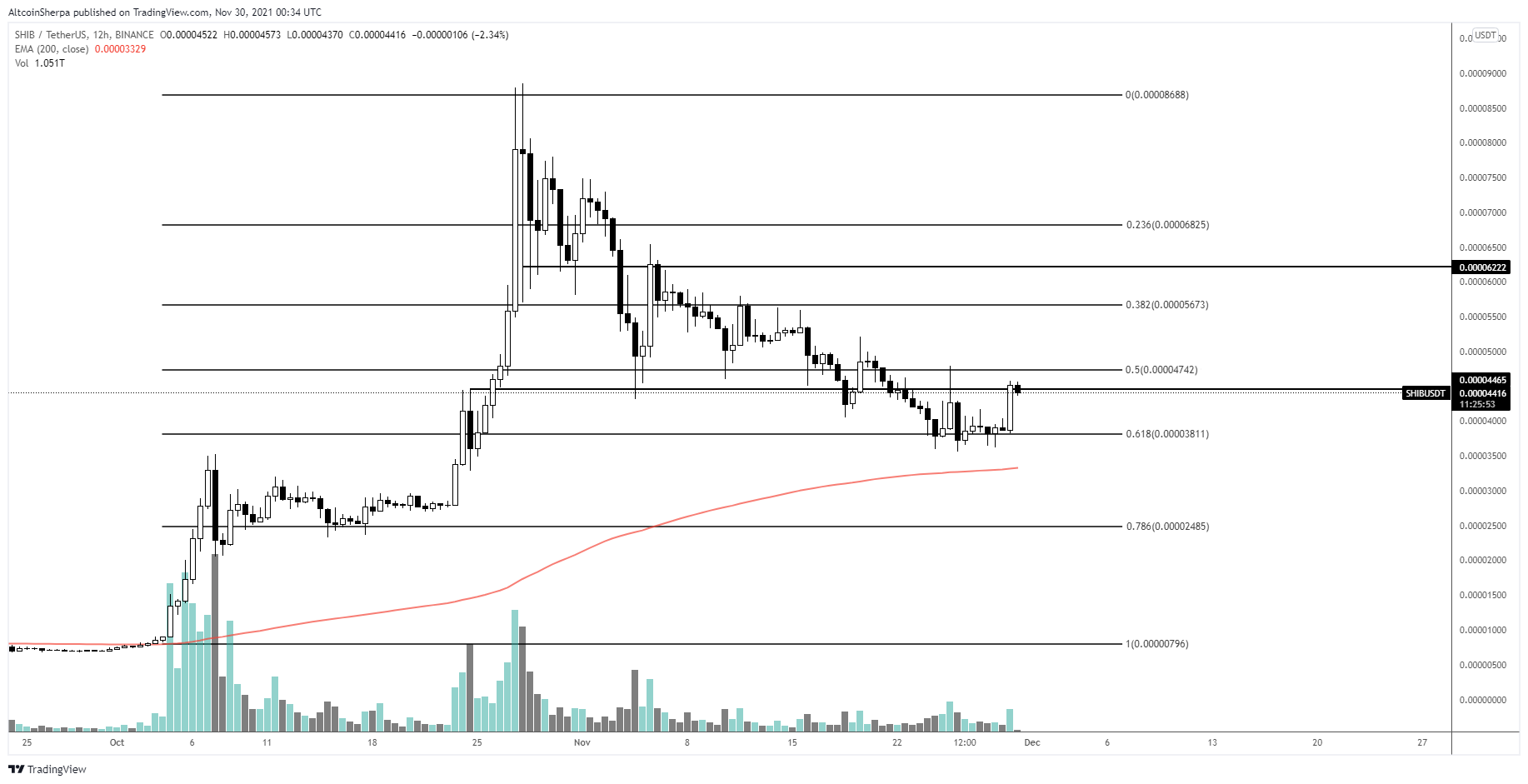 SHIB is currently exchanging hands at $0.000048.
Another coin on the trader's list is decentralized finance (DeFi) payment network Terra, which Altcoin Sherpa says is poised to erupt to new record highs.
"LUNA: Still a high time frame bullish [market structure], send to all-time highs."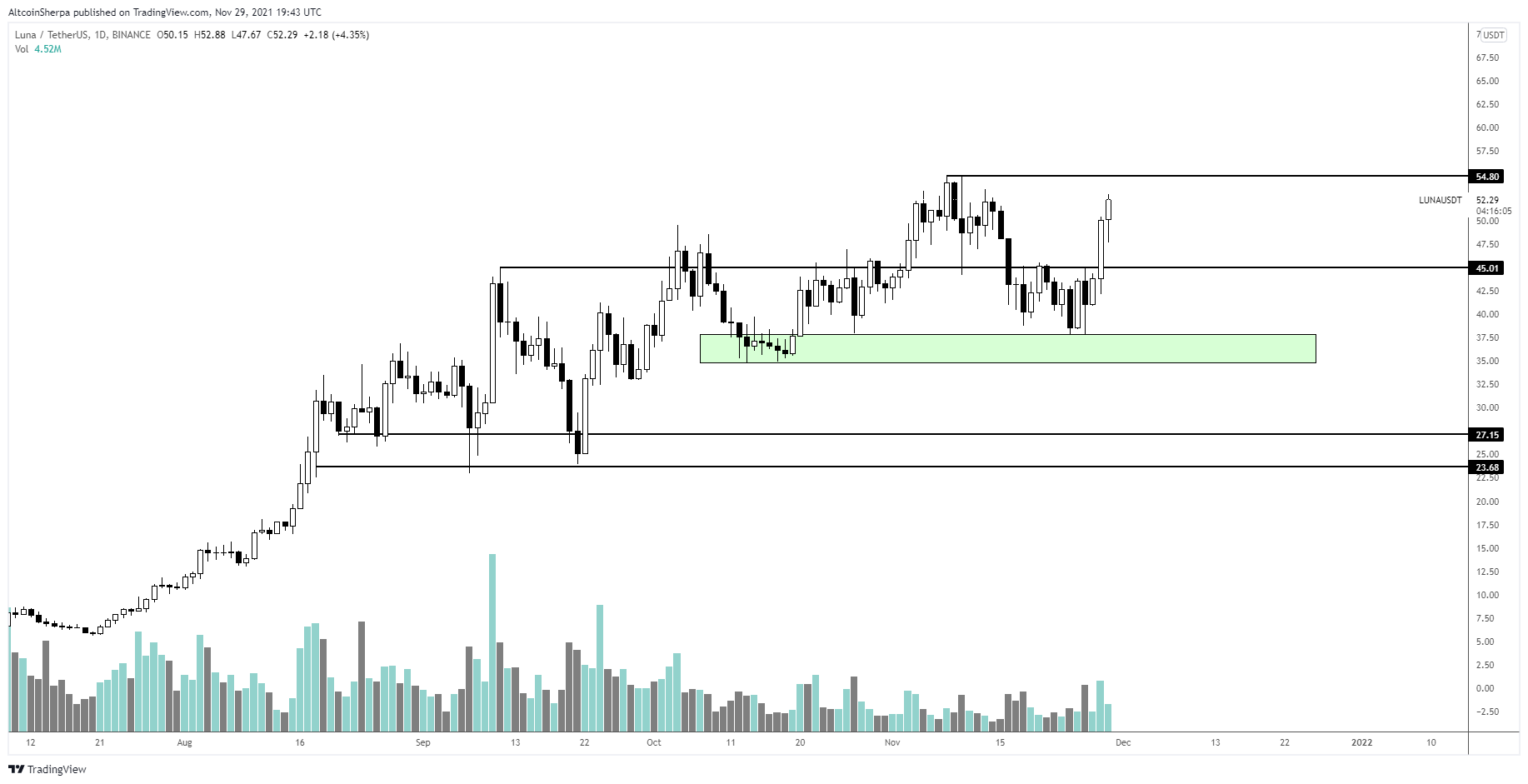 The fourth coin on the analyst's radar is the blockchain-based game ecosystem The Sandbox (SAND). Altcoin Sherpa maps out two potential scenarios for SAND after the coin printed a bearish lower high structure.
"SAND: My plans are below. Let's see where this goes. In general, I personally think a lower high just got printed, and we're going to go lower. If a higher low comes, we will enter some consolidation, and then I'm guessing another push higher."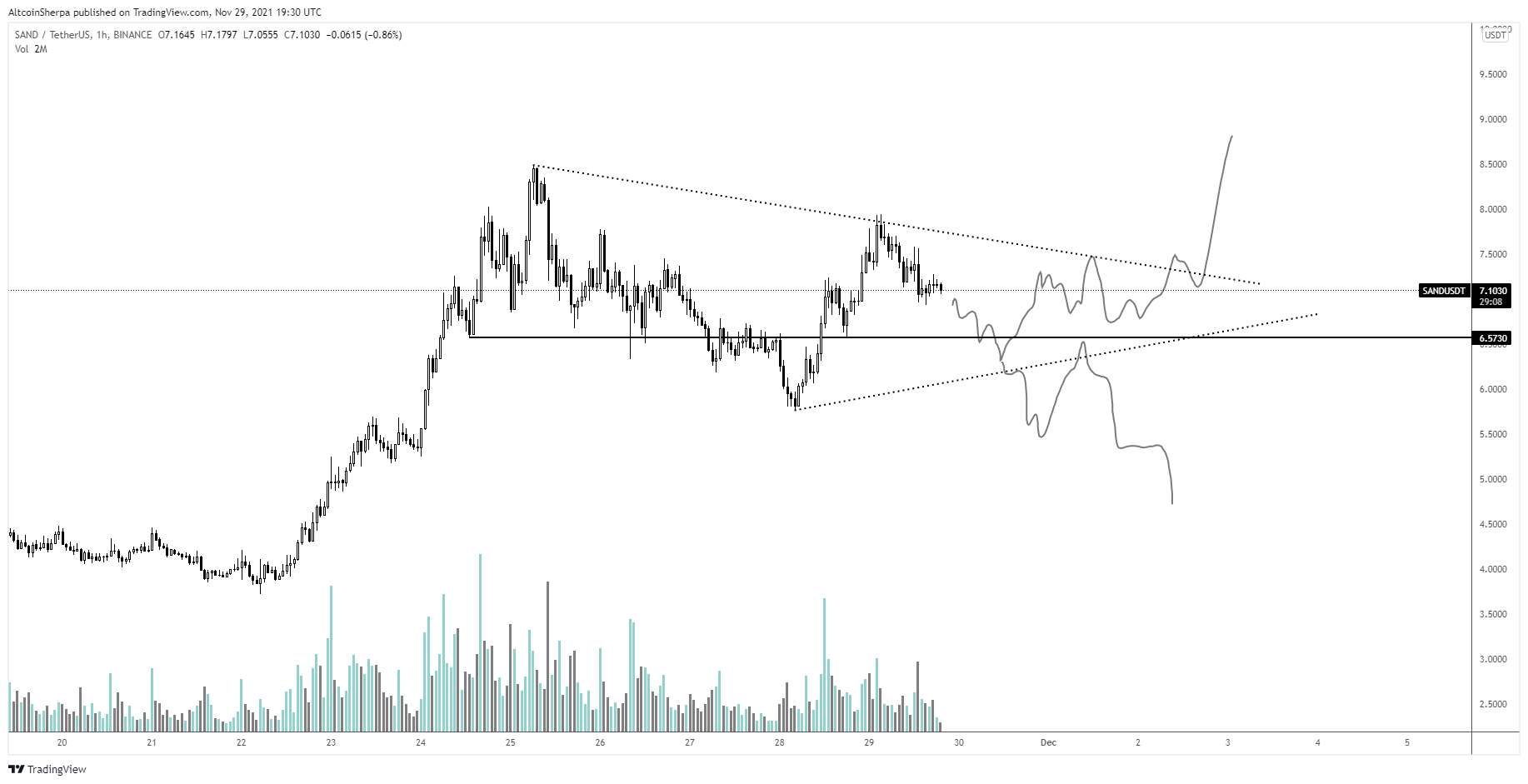 The last coin is Theta Network (THETA), a peer-to-peer distribution platform for video content. According to Altcoin Sherpa, THETA can launch a massive rally once it takes out resistance at $9.61.
"THETA: When this moves it will be explosive. It's been ranging for quite some time, and I think that this one usually has its own market cycle. I would not buy this as an active trade though."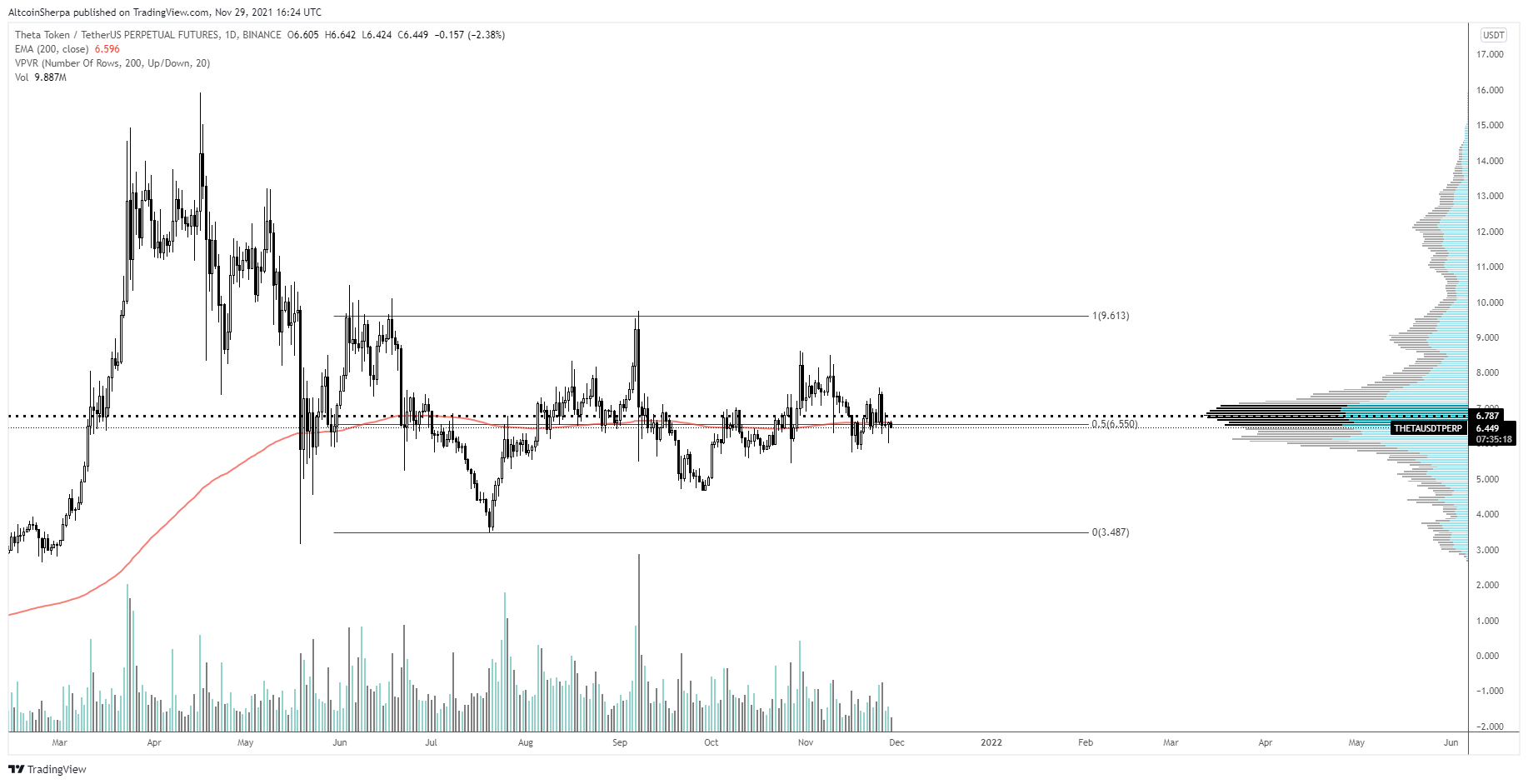 Is Cardano Price Ready For Bullish Reversal? Traders Watch These Crucial levels
ADA Price established a new high price of $3.08 two months ago. The altcoin has been struggling to keep up with its earlier stellar performances.
In November 2021, the Cardano price struggled. It began the month around $2 and then jumped more than 22% to a monthly high of $2.3766. It then plummeted 44.55 percent to $1.4235, a multi-month low.
Cardano Must Hold Critical Level
Cardano (ADA) must hold a key level to maintain its positive market structure, according to a well-known crypto strategist and trader.
Despite Cardano's dramatic slide from its all-time high, crypto analyst Jason Pizzino assures his 242,000 YouTube subscribers in a new strategy session that the smart contract platform is still on a broadly positive trend. At the moment, the overall trend is still a huge bull market. 
If we broke the lows at approximately $0.90, he wouldn't call it a bull market anymore, but at the moment, we've closed above the 50% [Fibonacci level], so it's still going strong. [It's trading at] $1.60, and the 50% is at $1.59, so it's $0.01 higher, so there are just a few minor indicators there.
Cardano's significant decrease this month, according to Pizzino, could signal the end of ADA's multi-month corrective period.
"You can see how much, how quickly it starts to fall towards the end. And from this point, I am saying 'potentially' the end. I can't say for sure it is, but it's quite often that you get a very sharp move towards the end of the downtrend and then a reversal…I don't see a reversal yet, but the first sign is there for me that the market has taken a sharper turn down."
According to public on-chain data, the number of active addresses on the Cardano ($ADA) network has lately increased from roughly 150,000 per day to over 480000, before plummeting back to 200,000.
The data shared by Messari shows that when the price of the Cardano fell, the number of active addresses unexpectedly increased. At the time of writing, the altcoin is trading at $1.58 and has declined by 2.7 percent in the last 24 hours.