Sculpting the future of merchant payments starts with a digital currency alternative to Visa and PayPal
Small businesses are essential to the economy since with them comes growth and innovation in the community they operate in. Unfortunately, the barriers to starting a new operation are substantial, often plagued with high exchange rates and merchant fees charged by credit card companies. Until today, businesses have had little choice but to go ahead and follow these rules.
Along came cryptocurrencies, which rewrote these rules by providing a decentralized solution to conducting transactions and similar services. The result is that these digital currencies have continued to increase in demand, even becoming commonplace to consumers. As a result, both consumers and businesses have begun to recognize benefits such as contactless transactions and the ability to pay anywhere. However, no matter how decentralized these assets may be, they are still being largely overseen by centralized organizations that entail extra fees and additional steps to use them in business dealings.
Operating under the mission to sculpt the future of cryptocurrency payments and to change the way these transactions are conducted is the BNBPAY project. BNBPAY is being led by a group of payment specialists and industry pioneers with decades of combined experience in the retail point-of-sale (POS) and commerce industries. Together their mission is to become the most widely used crypto payment for commerce, including e-commerce and brick and mortar shops.
A BNBPAY team member shares, "We are here to retake control. Cryptocurrency gives us an alternative, a way to give the power back to small businesses."
Rewriting the rules
The creation of this platform is built on core principles, including trust, immutability and efficiency, all of which are said to be the core of building the payment industry's decentralized digital economy. BNBPAY offers an alternative to traditional payments to Visa, MasterCard, and PayPal, which charge nearly 3.9% per transaction — further operating without a single point of failure and the fear of third-party monitoring.
Underlying BNBPAY will be the BPAY token, available for purchase through PancakeSwap and BitMart. In contrast to other cryptocurrency exchanges, BPAY can't be mined and exists in a finite supply of 10 billion, 20% of which has already been burned. The tokens were created on the Binance Smart Chain (BSC), utilizing ERC-1363 technology, which allows the BNBPAY payment system to deliver fast, affordable and transparent crypto payments at a fraction of the cost of traditional payment gateways.
Additionally, users may also be rewarded with BPAY tokens when they spend. Holding tokens will also allow investors to take advantage of near-instant transactions and allow investors to stake BPAY tokens for additional rewards. The token is said to be just the beginning, with the intention that one day the BSC ecosystem will bring the future with functionality to stake, pay and earn with it.
BNBPAY also has plans to use bridging technology to become chain agnostic, which will allow users to make purchases with any cryptocurrency while simultaneously ensuring the cheapest and fastest blockchain is used to ensure fees are kept to a minimum.
Merchants and businesses will also benefit from saving on merchant fees with each transaction, all without fear of worrying about chargebacks and other forms of credit card fraud. BNBPAY allows for the easy integration of crypto payments into a user's existing ERP or e-commerce website, with add-ons for accounting software to manage tax filing and sales reports. Additionally, the BNBPAY POS payment terminal will give merchants the option to receive any crypto, stablecoin or fiat seamlessly, allowing business owners to avoid any volatility risk.
Therefore, the BNBPAY solution will consist of several different products. Among them are a mobile wallet for Android and iOS, the e-commerce payment plugins, the BNBPAY POS Payment Terminal and the BNBPAY Staking platform.
The future for merchant payments
Looking ahead to the next year, the team has clear goals set up, such as applying for a credit license with SG regulators, and further developing their BNBPAY Wallet and e-commerce payment plugins for frequently used platforms. Within the year, 10,000 merchants are targeted as a part of these efforts as they fight for market share against banks and PayPal.
BNBPAY has since begun the process of applying for a payment license with MAS (Monetary Authority of Singapore), further adding to the legitimacy of the project and providing an opportunity for the team to form additional partnerships with traditional financial companies.
Most recently, the team has announced that they will now be an exclusive crypto payment provider for Kee Song Group (1258.TWO), a publicly-traded poultry company growing over $ 100 million in revenue per annum.
MicroStrategy's Michael Saylor Drops Important Announcement About Scams
It seems that MicroStrategy's Michael Saylor has an important announcement to make and he used his Twitter account to tell the following to his followers.
Check out his tweet below.
Public Service Announcement: Every hour my team reports 10-15 scammer YouTube videos impersonating me or @MicroStrategy that offer free bitcoin rewards. They pop up as fast as we can have them removed. ☹️

Only trade #bitcoin on a legitimate exchange you trust. pic.twitter.com/SuwlBcWEbx— Michael Saylor⚡️ (@saylor) November 28, 2021
Anthony Pompliano hopped in the comments and said: "We have also been reporting that specific video scam to no avail. Very frustrating."
Someone esle wrote: 'I have specifically reported this to @YouTube several times, and kept track of it afterwards, it was not taken down. But 10+ seconds of copy right music on your live stream and a robot will notify you…"
Another commenter said: "@YouTube are only great at shutting down legitimate accounts but are useless against scam accounts especially if you point it out to them. They do not have good intentions."
Saylor is praising Bitcoin
Not too long ago we were revealing that MicroStrategy's Michael Saylor continues to support Bitcoin after his firm accumulates the king coin in all moments.
Check out the latest tweet that he shared about the king coin.
#Bitcoin is the first decentralized, universally available asset on an open monetary network.That means that at any given time, someone, somewhere is working to add value using all the financial & technical assets at their disposal to the benefit of all the other bitcoin holders.— Michael Saylor⚡️ (@saylor) November 15, 2021
At the moment of writing this article, BTC is trading in the green, and the coin is priced above $64k.
It's been just revealed that the popular on-chain analyst Will Clemente thinks certain metrics indicate Bitcoin (BTC) is just now entering the main phase of the bull market.
Here's What's Next for Polkadot, The Sandbox and Three Low-Cap Altcoins, According to Crypto Analyst
A popular crypto strategist and trader is mapping out the levels where Polkadot, The Sandbox and three other low-cap altcoins could bounce and potentially carve out bottoms.
The crypto analyst known in the industry as Altcoin Sherpa tells his 152,600 Twitter followers that interoperable blockchain Polkadot (DOT) might see an influx of demand once it taps the 200-day exponential moving average (EMA), which is currently hovering at $32.
"DOT: More consolidation expected at the $30-$40 range. 200-day EMA should be support here."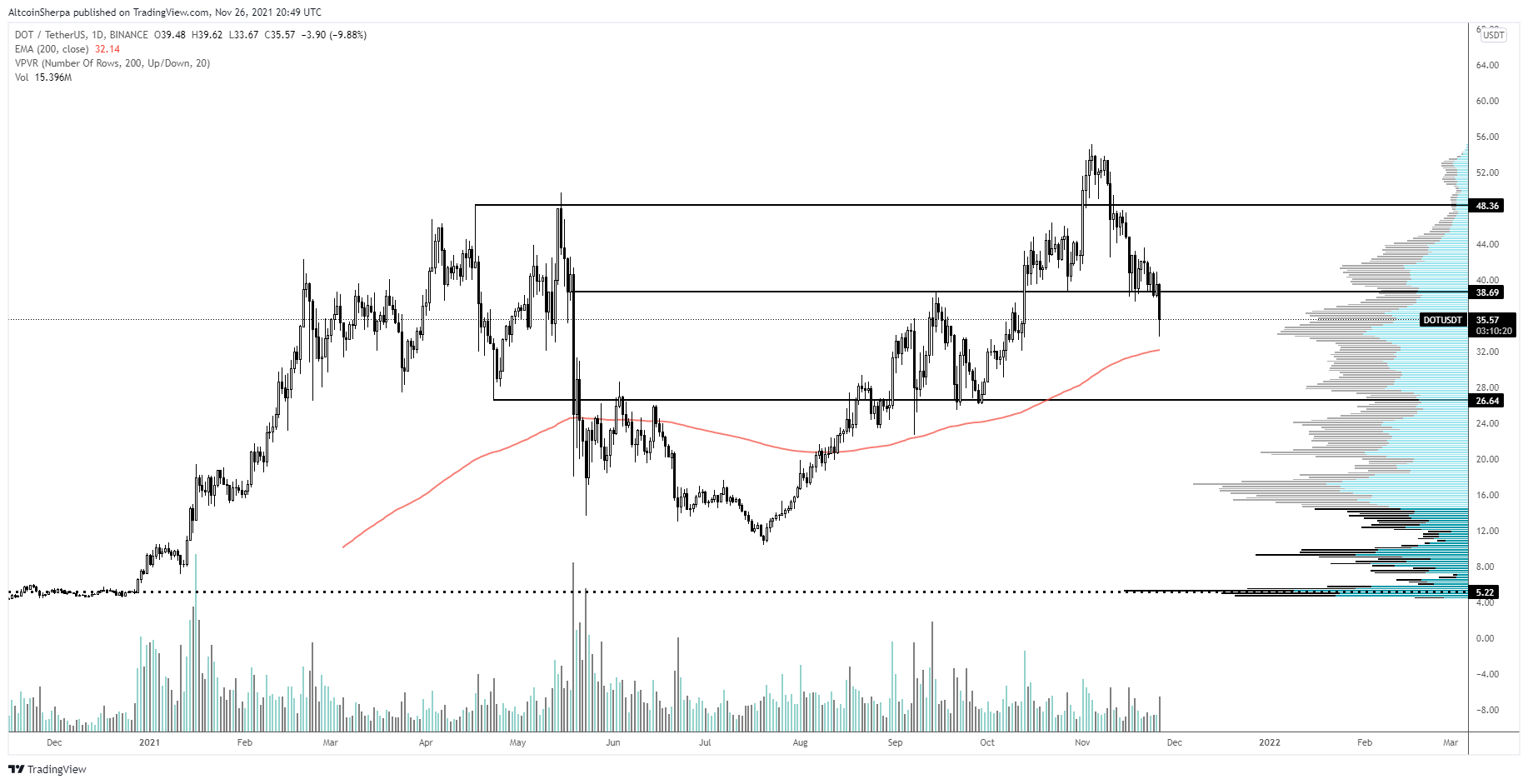 Next up is blockchain-based gaming ecosystem The Sandbox (SAND). According to Altcoin Sherpa, he's looking for SAND entries around $5.
"Probably one to buy the dip on. The strongest coins get bought back up the fastest."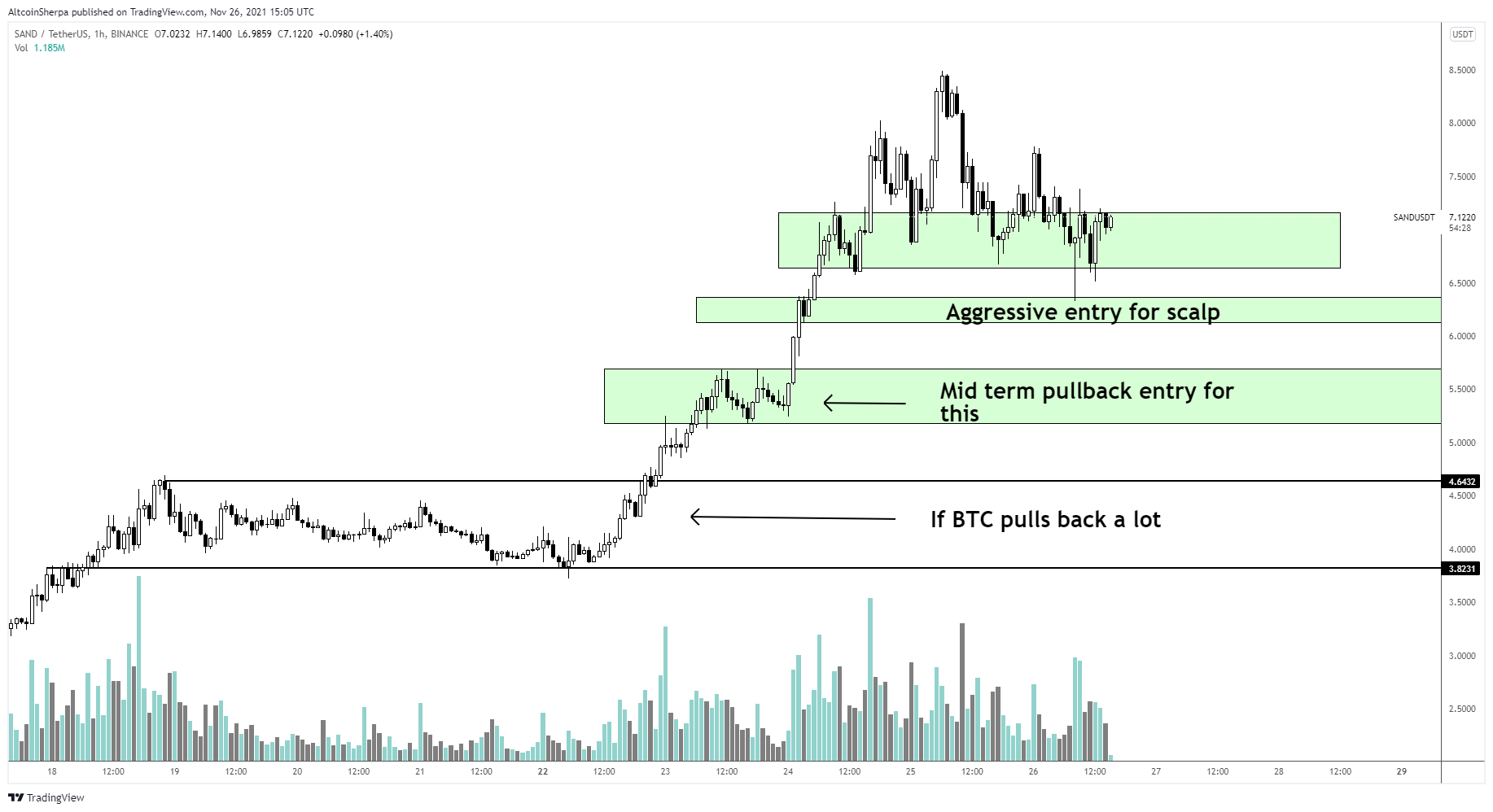 The third altcoin is CRO, the cryptocurrency that powers the Crypto.com payment, trading and financial services platform. According to Altcoin Sherpa, a low timeframe support might provide some relief for CRO.
"CRO: patiently waiting for $0.60."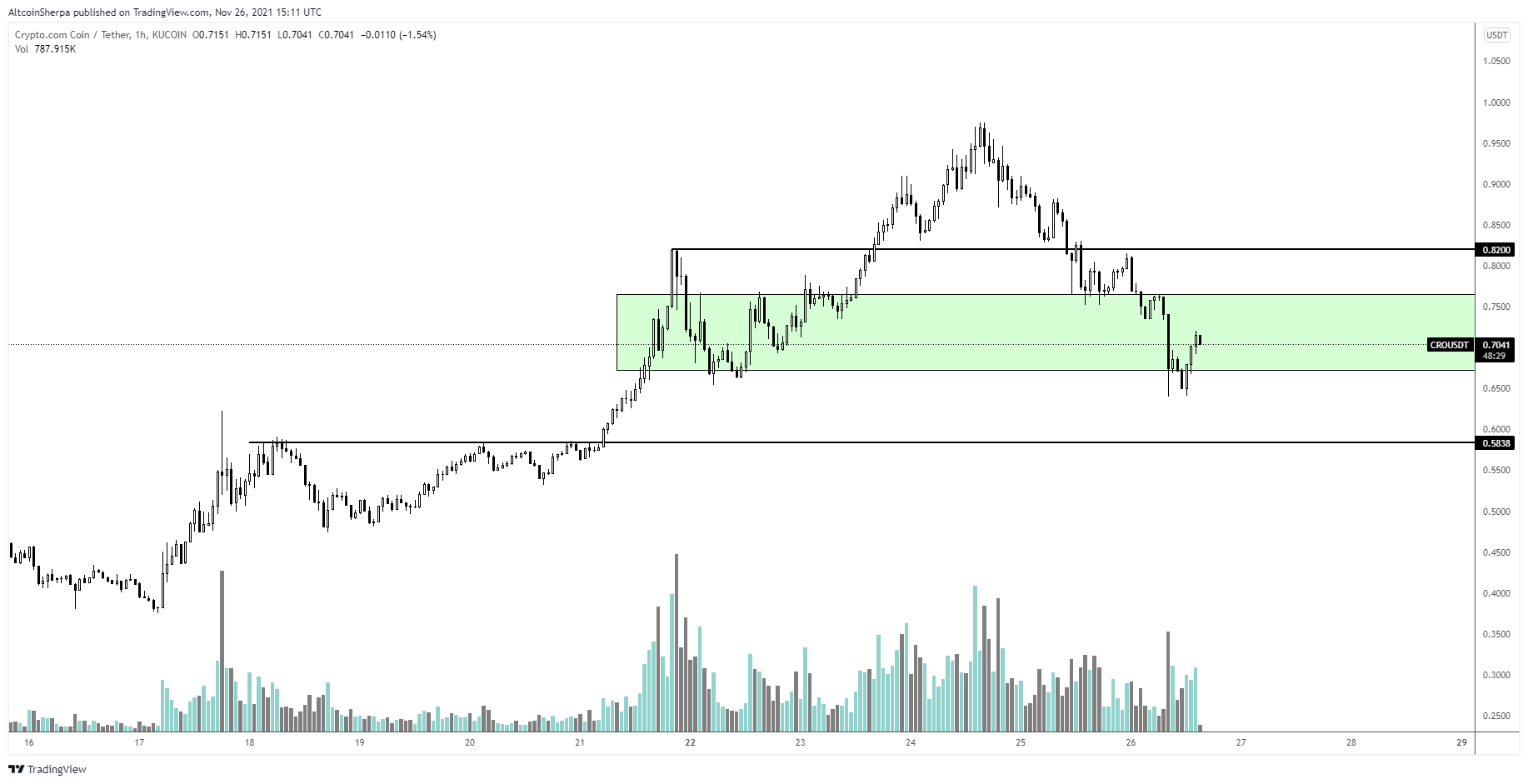 Another coin on the trader's list is Oasis Network (ROSE), a smart contract platform that prioritizes privacy for open finance. The crypto analyst says he's expecting ROSE to carve out a bottom around $0.29.
"Good first reaction to the 0.618 [Fibonacci level]. It's likely this makes a lower high if it continues up strongly. I would rather see this consolidate for a bit at 0.618 and then form a solid bottom for continuation."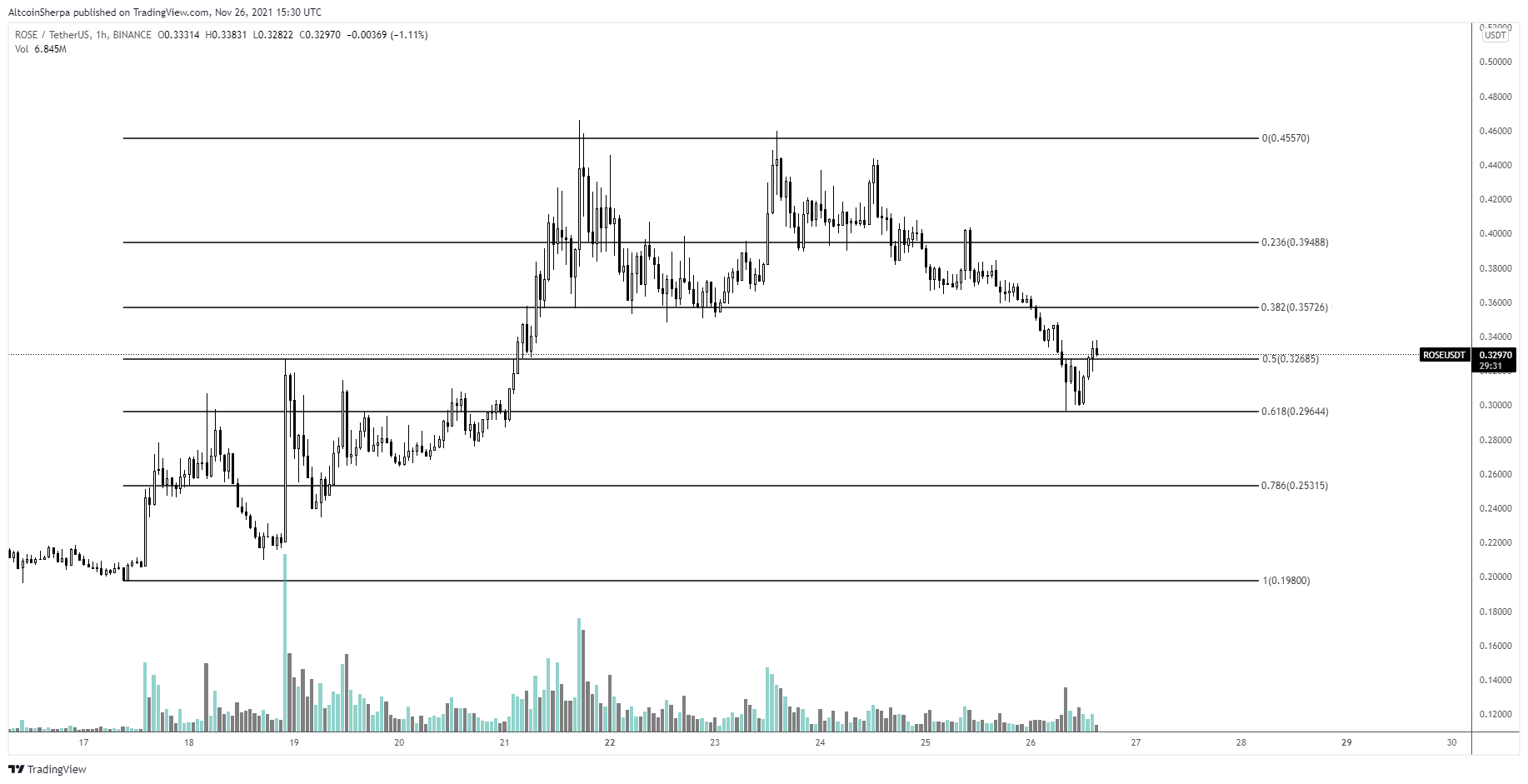 The last coin on Altcoin Sherpa's radar is payments infrastructure platform COTI. The crypto analyst says that COTI is currently respecting the 200-day EMA as support ($0.37) but adds that a new sell-off event can push the token down to $0.30.
"First good tap of the 200-day EMA. I think that this one will find a short-term bottom around here. More support at the 0.618 [Fibonacci level] though."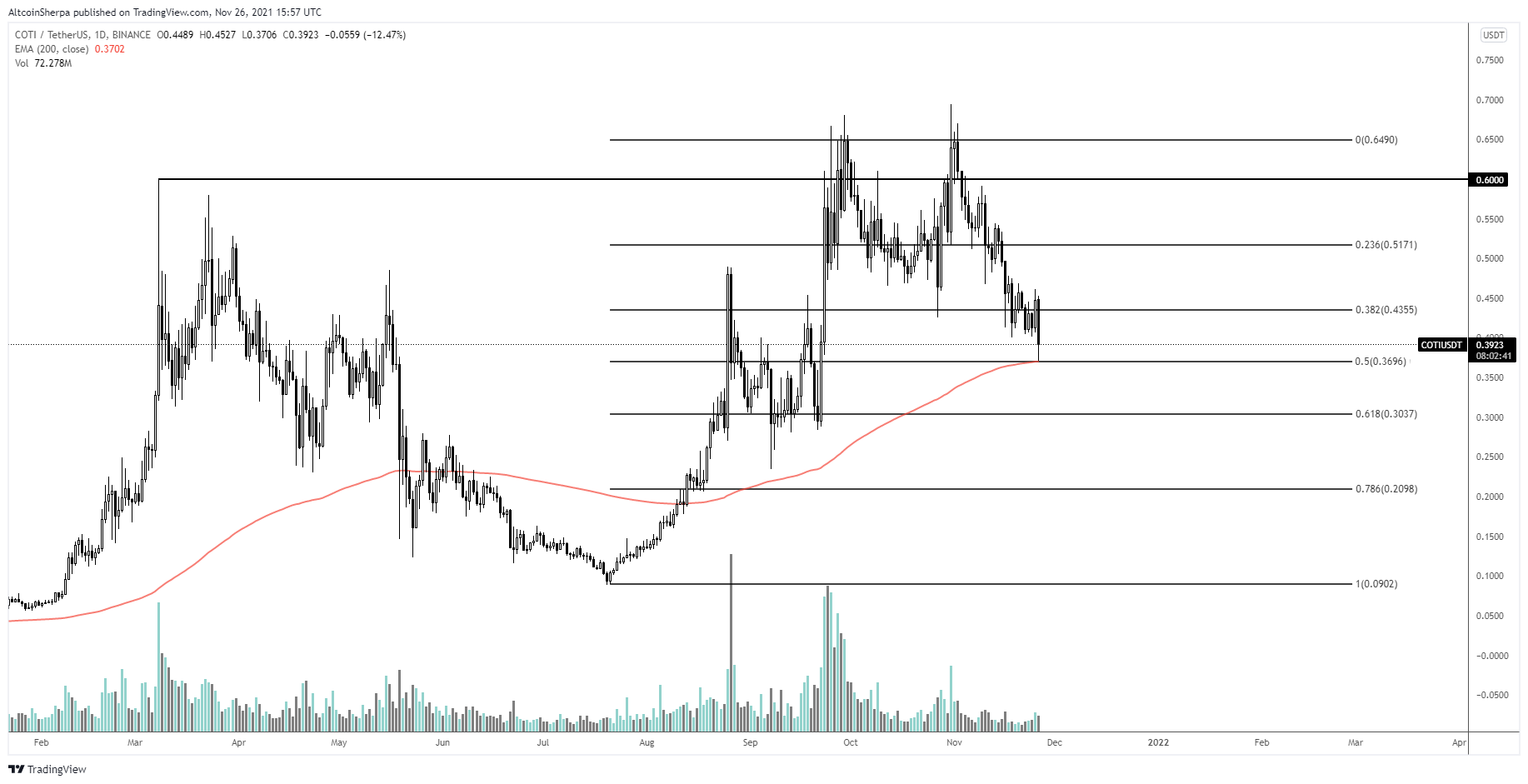 Elon Musk's Brother Claims Web3 Could Unlock $100 Billion Per Year for This Segment
Restauranteur, chef and entrepreneur Kimbal Musk indicates yet another unusual use case for decentralized industry.
Innovator and visionary, baord member of Tesla Inc. and SpaceX, Kimbal Musk is certain that Web3's ethos and practices can be of great use in philanthropy.
"$100,000,000,000 per year just in America"
Kimbal Musk has taken to Twitter to share that the implementation of Web3 in philanthropy could unlock twelve-digit funds for the philanthropy segment.
Using Web3 to decentralize philanthropy has the potential to unlock $100 Billion per year, just in America, spent on bureaucracy 🤠— Kimbal Musk (@kimbal) November 26, 2021
This jaw-dropping sum can be added to the volume of money in this sphere just in the United States, let alone in other countries. Bringing decentralized instruments to charity can significantly advance its resource-efficiency.
Namely, Web3 tools are going to eliminate the unnecessary elements of bureaucracy from this trending sphere.
Mr. Musk's Twitter audience agreed with his statement, while some commentators added that Web3 instruments could eliminate corruption—not only bureaucracy—from philanthropy.
Crypto and charity: long road ahead
In 2021, numerous charity initiatives somehow utilize Web3 instruments. Typically, major charity foundations add mainstream cryptocurrencies as payment tools.
As covered by U.Today previously, DeFi project Munch created a purpose-made platform for The Giving Block charity conglomerate that features 200 non-profits.
Also, many NFT products are conducting charity giveaways. Namely, Binance and Tron-backed APENFT co-hosted the Charity Mystery Box event to support environmental charities One Tree Planted and Koala Clancy Foundation.