These signs indicate that Solana is due for an immediate reversal
Solana has extended its correction for five days, having lost 13% of its value from an all-time high of $260. With the MACD and RSI lining up chances of further losses yet, SOL could stretch towards the 50% Fibonacci level, over the near-term.
As the Bollinger Bands and RSI reach oversold territory, expect bulls to mount a comeback before SOL tags its defenses below $218.3. At the time of writing, SOL traded at $227.4, down by 6% over the last 24 hours.
Solana 4-hour Chart
Considering a bearish crossover between the 50-SMA (yellow) and 20-SMA (red) , SOL could weaken below the 38.2% Fibonacci level as sellers continue to drive the market. Should a double bottom at $220 fail to prop SOL back up on the chart, the price would be exposed to another 5% sell-off towards the 50% Fibonacci level.
Additionally, the 61.8% and 78.6% Fibonacci levels could help generate a bullish reversal as well. The former support area coincided with the 12-hour 50-SMA (not shown) while the latter clashed with the 4-hour 200-SMA (green). In case sellers are able to drive past these defenses, SOL's downtrend could stretch all the way to its September lows of $124.15 or even $115.88.
Reasoning
There were a few interesting observations on SOL's indicators despite bearish readings. For instance, SOL was oversold after trading on the lower band of the Bollinger Bands and was due for a reversal. SOL was not far away from the oversold territory on its 4-hour RSI as well.
Such readings could allow buyers to inject momentum back into the market. On the downside, MACD would not lend a helping hand to bullish traders. The index was trading at a 1-month low and showed no signs of a reversal in movement just yet.
Conclusion
The 38.2% Fibonacci level and a double top at $220 were SOL's best chances of an immediate reversal. Oversold readings on the Bollinger Bands and RSI would aid buyers in a recovery as well.  However, traders should be cautious of a close below the 78.6% Fibonacci level as this could transpire into heavy losses over the longer run.
Litecoin And Solana Outperform Bitcoin-Based Investment Products in November
It's been just revealed that Bitcoin-based investment products are seeing some pretty strong competition these days for altcoin-based products.
This is what crypto data company CryptoCompare revealed recently.
The latest reports from CryptoCompare are out
The crypto data firm explained that the investment products based on Litecoin (LTC) and smart contract blockchain Solana (SOL) had better returns than those based on BTC over the 30-day period leading to November 19th.
"BTC-based investment products were outperformed by Solana & Litecoin-based products, led by 21Shares' ASOL (Solana-based product) and Grayscale's LTCN (Litecoin-based product), which returned 22.0% and 14.9% respectively."
The online publication the Daily Hodl notes that CryptoCompare says Bitcoin-based investment products recorded losses over the same period while products based on Ethereum and Solana registered profits.
"BTC-based products experienced losses over the last 30 days, ranging from -6% to -13% while ETH products saw gains ranging from 0.5% to 7% for ETH products. 21Shares' ASOL ETN [Exchange-Traded Notes] experienced the largest gain at 22%…"
The very same notes also revealed that the level of assets under management (AUM) for Bitcoin saw a significant drop on a month-on-month basis while the AUM for other crypto assets surged.
"Bitcoin AUM fell 9.5% to $48.7 billion in November, its largest month-on-month pullback since July. Meanwhile, Ethereum and other cryptocurrency products saw their AUM rise 5.4% to $16.6 billion and 10.4% to $2.6 billion, respectively."
Bitcoin adoption intensifies
The mass adoption of Bitcoin continues despite the multiple corrections that the digital asset has been seeing lately.
Check out the latest report coming from Cointelegraph about this exciting move that has been made.
It's been reported that Fintonia Group, a Singapore-based fund manager regulated by the Monetary Authority of Singapore (MAS), has launched two institutional-grade Bitcoin (BTC) funds.
The new funds are the Fintonia Bitcoin Physical Fund and the Fintonia Secured Yield Fund.
This is what Fintonia announced on Thursday.
"The funds are live and investors can subscribe and redeem regularly as they are open-ended funds, similar to a mutual fund. The funds are only available for accredited Investors."
Keep your eyes on the market to see where the prices of the digital assets are going.
Solana price forms bear trap before SOL ascends toward $325
Solana price is slowly planning a recovery after a bear trap has been formed.
$209 will be a key level to watch as SOL must rise above it in order for a 54% rally to be on the radar.
The Ethereum-killer will find reliable support at $185 if selling pressure increases.
Solana price has been steadily trending upwards since mid-September, providing a promising bullish outlook. However, the Ethereum killer recently formed a bear trap as it sliced below the governing technical pattern's lower boundary, confusing forecasts. Once SOL manages to reclaim $209, the altcoin could skyrocket 54%.
Solana price needs to reclaim critical level
Solana price has printed an ascending parallel channel on the daily chart, suggesting an optimistic outlook. On November 26, SOL sliced below the prevailing chart pattern's downside trend line, indicating that the uptrend is in jeopardy. However, technical indicators suggest that this recent low only formed a bear trap.
While Solana price fell to a swing low at $182, the Relative Strength Index (RSI) failed to reach a new low – indicating a bullish divergence. This trading signal suggests that the bears are losing control over the market, and that the bulls are ready to take over, marking the end of a temporary downtrend.
The prevailing chart pattern suggests that Solana price could tag the upper boundary and 127.2% Fibonacci retracement level as its next bullish target at $325, marking a 54% climb.
In order for the bulls to execute a recovery, Solana price must reclaim the the lower boundary of the parallel channel as support at the 78.6% Fibonacci retracement level at $209, coinciding with the 21-day Simple Moving Average (SMA).
Solana price will face battle additional hurdles at the 50-day SMA at $225, corresponding to the resistance line given by the Momentum Reversal Indicator (MRI). The final hurdle appears to be at $259, the altcoin's all-time high, which sits near the middle boundary of the governing technical pattern before SOL aims for the optimistic target at $325.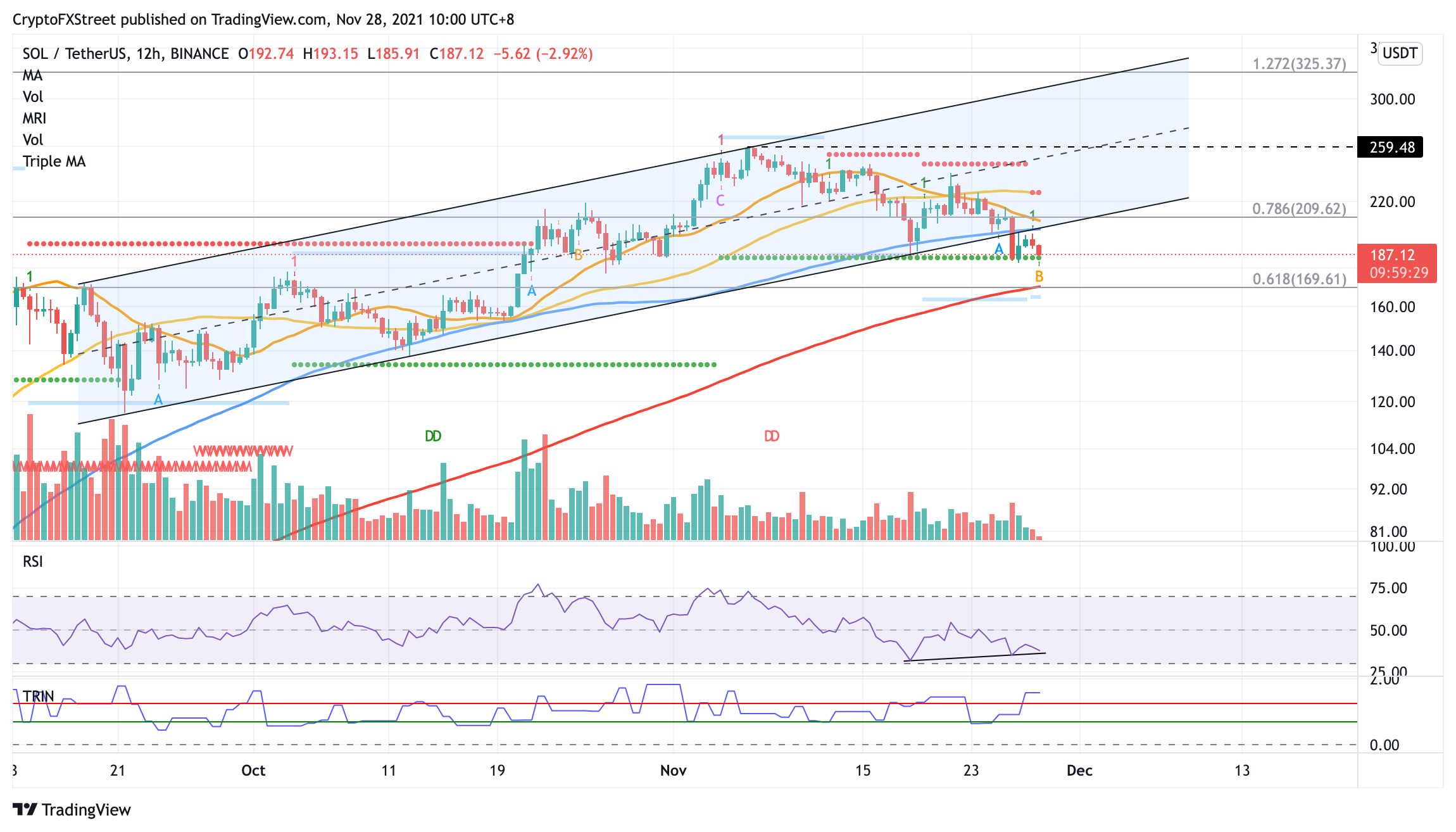 SOL/USDT daily chart
The MRI flashed a bottom signal on the second November 27 candle, adding credence to the bullish outlook.
However, if the bears decide to take back control, Solana price will discover an immediate foothold at $185, the November 18 low, corresponding to the MRI's support line. An additional line of defense will appear at $169, where the 200-day SMA and 61.8% Fibonacci retracement level reside.
Solana (SOL) Ecosystem has Grown in Leaps and Bounds
Reportedly, the Solana ecosystem has grown in leaps and bounds — and new projects are starting all the time. Every Solana hackathon has been bigger than the last.
There are now more than 1,700 active developers building on Solana — everyone from crypto veterans to people who learned Rust over a weekend.
Community About Projects on Solana: Pay attention to fluxprotocol. It's the next level oracle, fully decentralized. It will enrich DeFi on Solana, FLX token fair launch will be held on 1st Dec via balancer on copper launch.
Solanacash aims to accelerate the adoption of the Solana network around the world by adding more transaction capacity to the network. Key Features: Powered and deployed on Solana. Low Transaction Cost. Mobile App.
How to make Solana node, do you have some video? Solana is an amazing project. They prioritized continuous building over noise making. It's the great work that they do behind the scenes in their ecosystem that is paying off now. But more work is also needed to sustain these achievements.
For clarity, for those new to ecosystem by DeFi: Solana SOL is a decentralized blockchain built to enable scalable, user-friendly apps for the world. Solana is the fastest blockchain in the world and is capable of supporting over 50,000 transactions per second (TPS) while maintaining block times of 400 milliseconds.
Comparing that to trad alternatives; Visa claims a max TPS of 24,000 and Mastercard 5,000 Solana can already operate at 10x the speed of Mastercard and transaction cost $0.00025 Visa/Mastercard charge anywhere between 0.1-2.5% of every transaction. The more you spend the more the fees.
With Solana – you pay a flat fee whether you transact $1 or $100 million. Moreover, it's global. We don't even want to start counting the fees banks charge on FX & conversion for international transactions and remittances. The World Bank actually thinks 7.68% fees is an accomplishment.
It is proven that Solana can scale to a whopping 710,000 TPS with today's hardware and it only gets faster thanks to Moore's Law. A unique selling point for Solana is that everything is on Layer 1 aka everything is in one giant place. Solana ensures compos-ability.
Between ecosystem projects by maintaining a single global state. This is extremely important for DeFi, NFTs, and the Metaverse – not having to deal with fragmented Layer 2 systems or sharded chains is a HUGE win as it expands the design space for devs.
News Source