Crypto Exchange Gemini Adds Shiba Inu Support — SHIB Investors Hopeful Robinhood Will Be Next
Another major cryptocurrency exchange has added support for the meme cryptocurrency shiba inu. Gemini has begun supporting SHIB alongside a few new defi, metaverse, infrastructure, and data management tokens. Meanwhile, the petition for Robinhood to list the shiba inu crypto has garnered more than 531K signatures.
Shiba Inu (SHIB) Now Supported on Gemini
Cryptocurrency exchange Gemini announced its support for the meme cryptocurrency shiba inu (SHIB) Friday. The company wrote:
We are delighted to announce support for shiba inu (SHIB) as well as a range of new defi, metaverse, infrastructure, and data management tokens.
The exchange detailed: "shiba inu (SHIB), audius (AUDIO), mask network (MASK), wrapped centrifuge (WCFG), quant (QNT), radicle (RAD), burn (ASH), superrare (RARE), fetch.ai (FET), and numeraire (NMR) are now supported for deposits and custody on Gemini."
The company added:
We believe these tokens will provide value to our users and will continue to support defi, the budding metaverse, decentralized infrastructure, and data management environments.
Following Gemini's announcement, Shiba inu investors are hopeful that the trading platform Robinhood will be next to support SHIB. The proponents of the meme cryptocurrency have been petitioning for Robinhood to list shiba inu; the petition on Change.org has gained more than 531K signatures at the time of writing. However, Robinhood recently discussed its coin listing strategy, indicating that it is in no hurry to add new coins to its platform but did not say definitively whether it will or will not list SHIB.
Meanwhile, Coinbase made shiba inu available to New York residents early this month in addition to adding some SHIB trading pairs. The Nasdaq-listed crypto exchange has been offering SHIB on its platform for several months.
Crypto exchange Kraken, however, said on Twitter that it would list the shiba inu token if its tweet got 2K likes. However, when the SHIB community delivered more than 80K likes, the company walked back on its promise and failed to list SHIB.
Shiba Inu Breaks New Record by Reaching $2.3 Billion Held on Whale Addresses
Shiba Inu whales are now holding even more coins after accumulating new funds amid the correction.
Following a 35% rally on the market, Shiba Inu whales have decided to support private traders by purchasing more than $300 million worth of coins in total in a relatively short period of time, according to WhaleStats.
Currently, Shiba Inu whales are holding more than $2.3 billion worth of tokens. Previously, the same value was at approximately $1.8 billion. The strong buying activity coming from whale addresses appeared a couple of days ago when the cryptocurrency market started to recover from a 15% correction.
📰 BREAKING: Top 1K ETH richlist now hodl 48,004,861,881,545 $SHIB ($2,376,356,727 USD)

🥳 #ShibArmy #friendshib The King is coming back stronger than ever!

Source: https://t.co/28TDZ70IkD pic.twitter.com/U6ubAXV5eg— WhaleStats – the top 1000 Ethereum richlist (@WhaleStats) November 30, 2021
Before the aforementioned events, whale-tier addresses got rid of more than $300 million worth of tokens, which was a smart move since Shiba Inu lost more than 10% of its value right after.
As usually happens after a correction, buying power slides into the market, which then leads to a swift recovery like the one that we witnessed on Shiba Inu today.
Previously, U.Today reported that the average position of SHIB whales has increased by more than 40%, which may have been the first signal of accumulation started on the largest addresses.
The current rally on the Shiba Inu market is slowly accelerating. At the beginning of the trading day, Shib was trading with a 5% premium and, for now, the token trades with more than 10% of daily growth.
In addition to strong market performance, retail traders are slowly entering SHIB, with its volume having drastically increasing to $3.6 billion, which is almost a 100% increase compared to previous trading days, when the average volume on SHIB pairs was at 12-13 trillion tokens.
Here's When and How Newegg Is Going to Accept Shiba Inu
Newegg is among the first major companies to add support for Shiba Inu
California-headquartered electronics seller Newegg is going to integrate Shiba Inu in early December through a partnership with payment processing service BitPay.
As reported by U.Today, the company confirmed rumors about Shiba Inu acceptance on Twitter last Friday.
It then made its official announcement with grandeur by displaying it on The Reef, the largest outdoor billboard on the planet located in the heart of Downtown Los Angeles. The massive 736-foot screen attracts 173 million impressions per week.
The online retailer also added Dogecoin in late April, but the news was announced with much less fanfare.

In July, Newegg also became the first big-name electronics retailer to accept Shiba Inu as a payment option.
The company allowed its customers to pay with Bitcoin all the way back in 2014, becoming a pioneer in terms of crypto acceptance.
Newegg's director of brand marketing, Andrew Choi, says that crypto payments provide the company's customers with greater flexibility:
We are always looking for ways to innovate the shopping experience on Newegg.com, and something our customers want is greater flexibility and options, including the ability to pay with a wide range of cryptocurrencies.
AMC, the number one movie theater chain in the world, became the first BitPay customer to decide to accept Shiba Inu. In mid-November, CEO Adam Aron confirmed that the new payment option would be added in early 2022.
Shiba Inu Price Soars As Whale Buys 25 Billion SHIB Tokens
Shiba Inu is back above Avalanche after a 25% price spike
The price of Shiba Inu has added more than 25% over the past 24 hours, vastly outperforming the rest of the cryptocurrency market.
The meme token has now surpassed Avalanche, and it's now close to flipping rival Dogecoin once again.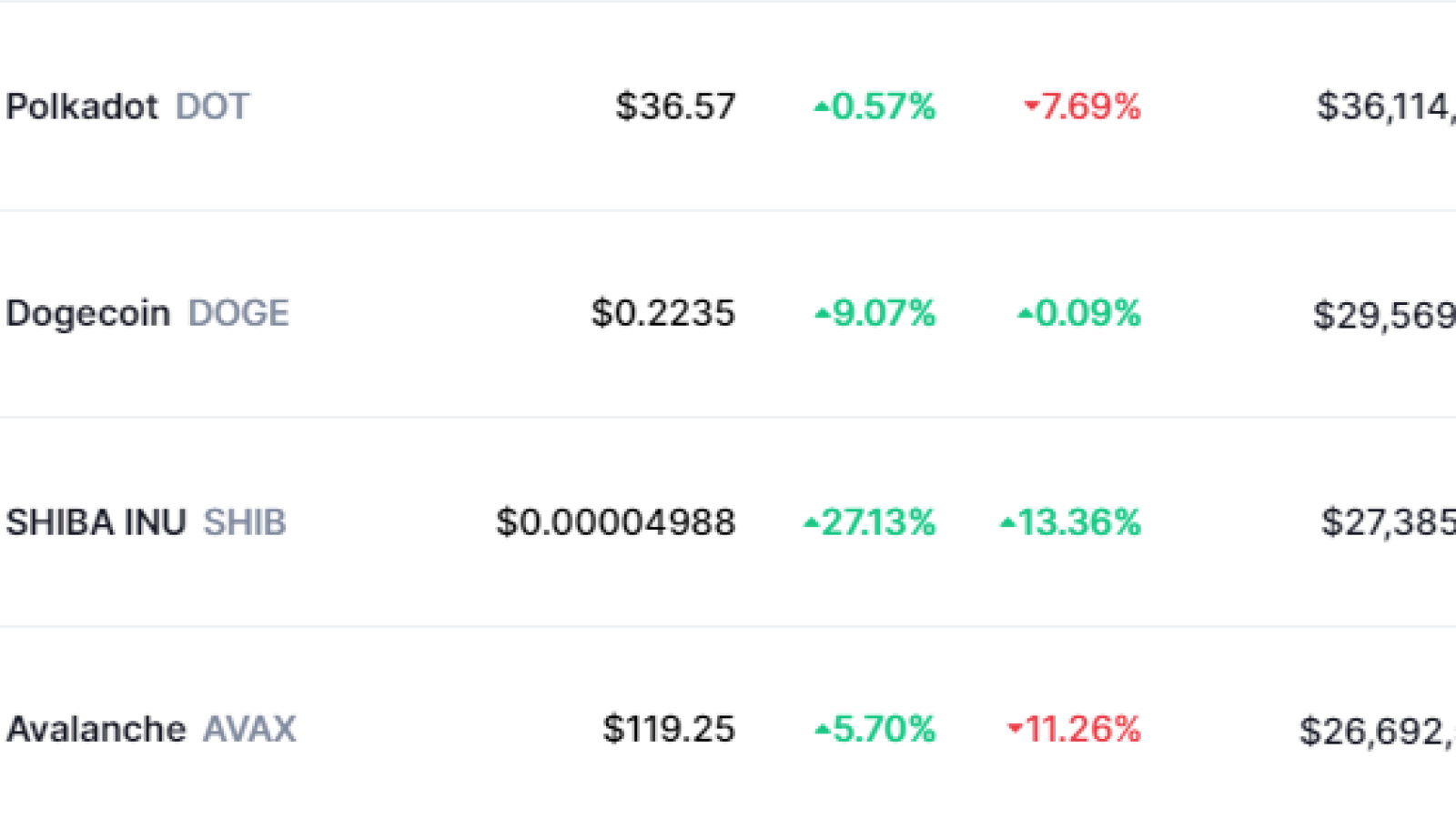 The most recent spike came after Kraken, one of the largest crypto exchanges, added support for Shiba Inu on Monday, putting an end to almost a month-long wait. 

A few hours ago, a mysterious Ethereum whale nicknamed "Gimli" also bought an additional 24.8 billion SHIB tokens that were worth roughly $1 million at the time of the purchase. They currently own $56 million in the second-largest canine cryptocurrency, which is the wallet's second-biggest holding after Ether.  
🐳 ETH whale "Gimli" just bought 24,841,285,852 $shib ($1,095,500 USD).

Ranked #263 on WhaleStats: https://t.co/3bvrsUeq69

Transaction: https://t.co/igkBXjPd5r#shib #ethereum #whalestats #defi #erc20— WhaleStats – the top 1000 Ethereum richlist (@WhaleStats) November 29, 2021
The whale also holds $26 million worth of Decentraland ($MANA), the largest metaverse token on the Ethereum blockchain.
Shiba Inu is still down 42% from its lifetime peak that was reached on Oct. 28.