Sandbox Price Analysis: SAND Token Gains 12% In Intraday Sessions, Will This Rally Continue?

The Metaverse token like SAND was having a short break after it gave a remarkable rally, driven by the Facebook announcement of rebranding to 'META.' The technical outlook for SAND/USD is super bullish, and it seems the token wants to again challenge the $3.45 level. will it go beyond this level?
Key technical points:
The SAND token price obtaining good support from the 20-day EMA
The daily RSI chart showed a significant drop in its value
The intraday trading volume in the SAND token is $2.5 Billion, indicating a 56.3% hike
Source- SAND/USD chart by Tradingview
On November 3rd, the SAND token made a New All-Time High of $3.45. The token price needed to stabilize this sudden rally and thus, initiated a minor retracement phase. The SAND price plunged to the Fibonacci retracement level of 0.5, which provided sufficient support to this token.
As for the crucial EMA's(20, 50, 100, and 200 ), the token presents a strong uptrend, where the 20 EMA line is currently providing good support its price.
The Relative Strength Index value is at 68 and has shown a considerable fall concerning the minor pullback of the price action.
SAND/USD Chart In The 4-hour Time Frame
Source- SAND/USD chart by Tradingview
The SAND token bouncing from the 0.5 FIB indicates a reasonable possibility of the price continuing its rally. The token price also managed to reclaim a minor horizontal resistance of the $2.77 mark, and the price might retrace back to retest this level.  
The MACD Indicator shows both its line have recently jumped above the neutral zone(0.00), indicating a switch to the bullish momentum in this token. The token price is currently trading at the $3.34 mark with an intraday gain of $25.3%.
Sandbox bears in control, pushing SAND price to $3
Despite Saturday's flash-crash, sandbox price has yet to initiate a standard corrective move.
Oscillator values and positions warn of continued selling pressure.
A standard 50% retracement off of a parabolic rise is expected.
Sandbox price will likely follow the rest of the metaverse bubble with a more profound and violent collapse soon. A strong bounce off of crucial support may trap buyers, accelerating any selling pressure this week.
Sandbox price is in a sell-the-rally mode as a 30% drop from the weekly open is likely
Sandbox price action over the weekend was the definition of what whipsaw trading behavior looks like. Last Saturday's open was $6.01 and moved as low as $4.12 during the flash crash. An insane recovery ensued, with SAND closing positive on the day at $6.07 – one of the only cryptocurrencies to do so.
However, that didn't stop the selling pressure from continuing. Sandbox price closed lower by 11% on Sunday and has traded as low as 12% today. Unfortunately for bulls, there is zero support on the daily chart within the Ichimoku system. Near-term support doesn't appear until the weekly Tenkan-Sen at $4.57 and the Kijun-Sen at $4.33.
However, the weekly Ichimoku support levels may not hold as the oscillators remain at extremes. The Relative Strength Index is just turning south after trading above the second overbought level of 90. A likely trendline break with the Relative Strength Index points to more downside pressure.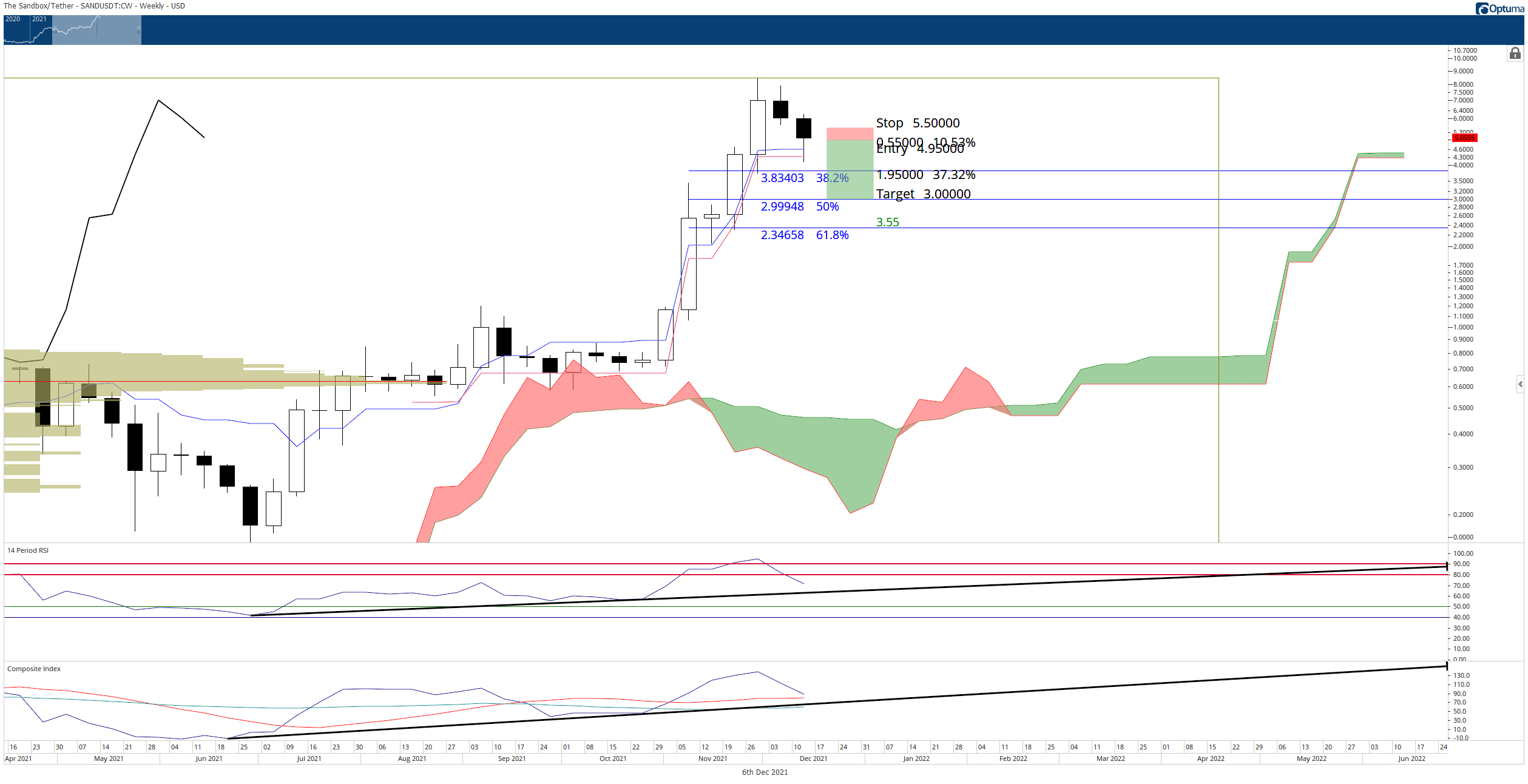 SAND/USDT Weekly Ichimoku Chart
The Composite Index is the most vital oscillator to watch. If the Composite Index crosses below its moving averages and the trendline, a swift collapse in Sandbox price is likely to occur. The projected support structure is the 50% Fibonacci retracement at $3.00.
If there is a daily or weekly close above the current week's open, that will invalidate any near-term bearish outlook.
Here's What's Next for Decentraland, The Sandbox and Elrond, According to Crypto Analyst Michaël van de Poppe
Cryptocurrency analyst and trader Michaël van de Poppe is warning traders against buying Decentraland (MANA), The Sandbox (SAND) and Elrond (EGLD) at their current prices.
Van de Poppe tells his 148,000 YouTube subscribers that following the "epic runs" of these three altcoins, it's time for investors to take profits in Decentraland, a virtual-world blockchain; Elrond, a scalable blockchain; and The Sandbox, a gaming platform.
"…if you are in those projects, I think the point has come to actually take profits, especially when it comes to MANA and SAND. Those have been running heavily. You have to take profits before a heavy correction starts to take place because at this point the downwards momentum might be heavier than the upwards momentum."
Looking at the Elrond/Bitcoin (EGLD/BTC) chart, the crypto analyst says that buying opportunities are gone until a correction adjusts prices to the 0.005 BTC ($291) and 0.006 BTC ($349.20) level.
At time of writing, Elrond is trading at $427 while Bitcoin is exchanging hands at $58,200.
"If you're seeking for any trade opportunity right now, I think the opportunities are quite gone. But the [EGLD/BTC] chart itself says that every level gets a beautiful retest taking place here before it starts to continue.
So I'm looking at any of these two levels [between 0.005 BTC and 0.006 BTC] to take any entry from, based on a daily time frame."
Van de Poppe says he's hoping to pick up SAND if it retraces down to about 0.00007 BTC ($4.07). The asset is trading at $7.27 at time of writing.
"So SAND, I'm not interested in trading this one at all. I'm going to look at anywhere in this region [below 0.00007 BTC] for any scalp opportunities."
Decentraland's MANA is trading at $5.10 at time of writing. According to the crypto analyst, MANA could drop to around 0.000055 BTC ($3.20) where it could present opportunities for longer-term trades. He recommends looking for scalping opportunities if it starts trading below 0.00007 BTC ($4.07).
"You can start looking for scalp rates here [0.00007 BTC]. But more likely, we're going to get into this region here [around 0.000055 BTC] where you want to take some trades."
Is Trend Reversal Near For, The Sandbox (SAND), Decentraland(MANA), & Enjin Coin(ENJ)!
As the crypto space continues to embrace the evolution of distinct technologies, Metaverse has also engulfed massive traction of the mainstream audience. Interestingly, post-Facebook's rebrand to Meta, the respective protocols have soared beyond expectations. Moreover, while the crypto market strives to escape from the bear trap, Meta tokens emerged as saviors of the crypto space. 
Notably, The Sandbox (SAND), Decentraland (MANA), and Enjin Coin (ENJ) soared by more than 450% post the trend reversal to meta. Yet the tokens have been trading at their peak of the bull cycle, correction in the short-term looks imminent. 
The Sandbox (SAND)
The Sandbox price has been a revolutionary project in the world of gaming. With the incredible surge in the trading volume of 28.54% round the clock, the price of the asset has reached a new ATH of $7.02 on 24th November. The asset has been clinching higher highs with short corrections of 5 to 8% prior to its every leg up. SAND price hasn't yet undergone a trend reversal if it happens anytime from now, then its price would plummet to $3.35.
Decentraland (MANA)
A Decentraland price network has been built on the Ethereum blockchain. With an incredible surge of trading volume of 59.28% round the clock, the protocol has claimed an ATH of $5.31 on November 24th. The MANA price has maintained a slow and steady rise throughout the month. With healthy consolidations, the price has made a solid move. Though the price has not undergone a major pullback yet, the price would decline by more than 20 to 30% reaching crucial support around $3.6.
Enjin Coin (ENJ)
Enjin, a blockchain-based gaming firm looking strong for the past couple of days to overthrow SAND and MANA. With a more than 100% surge in trading volume, ENJ's price has hit an ATH of $4.50 on November 24th. Unlike other chief Meta tokens, the protocol has shown positive volatility throughout the year. Hence, in case of a trend reversal, the price would drop to the immediate support of $3.2.
Collectively, the aforementioned Metaverse tokens have been trading at their peak of the bull cycle. However, it's been a while they haven't undergone a requisite correction yet. In case of a trend reversal, the tokens would experience a correction of 10 to 15% for a longer period. Hence, before investing in projects at their ATH, it is mandatory to do a thorough research of the asset.