Top 6 Performing Cryptocurrencies in 2021
2021 has been a great year for the crypto space.
With the year closing in, which cryptos did perform well?
Shiba Inu, Axie Infinity, Terra, Solana, Polygon, and Dogecoin are the top-performing cryptos according to CoinGecko.
Since 2020, the world has seen how the crypto space expanded and evolved. Aside from cryptocurrencies, several more innovations emerged like DeFi, NFTs, and metaverse.
At the moment, many establishments and even countries now take cryptocurrencies as a mode of payment. This only shows how cryptocurrency is slowly seeping into the financial sector, positioning itself in the market.
With that said, as the year is almost closing in, many would want to know which cryptocurrencies performed well in 2021. Moreover, according to CoinGecko, the top six performing cryptos for this year are Shiba Inu, Axie Infinity, Terra, Solana, Polygon, Dogecoin.
Records in CoinGecko show that Shiba Inu garnered a 77909077.8% increase over the past year. Axie Infinity had a 45859.4% yearly increase while Terra recorded 15491.9%.
Similarly, Solana has seen a 11879.1% increase over the year while Polygon and Dogecoin reached 10742.4% and 9155.6% increases respectively.
The numbers don't lie, they say. Even the entire crypto market shows significant growth as it is now closing to $3 trillion.
Nonetheless, as analysts have said, this only shows that cryptocurrencies are here to stay. It will continue to transform our current market sector and be a part of our lives.
MicroStrategy's Michael Saylor Drops Important Announcement About Scams
It seems that MicroStrategy's Michael Saylor has an important announcement to make and he used his Twitter account to tell the following to his followers.
Check out his tweet below.
Public Service Announcement: Every hour my team reports 10-15 scammer YouTube videos impersonating me or @MicroStrategy that offer free bitcoin rewards. They pop up as fast as we can have them removed. ☹️

Only trade #bitcoin on a legitimate exchange you trust. pic.twitter.com/SuwlBcWEbx— Michael Saylor⚡️ (@saylor) November 28, 2021
Anthony Pompliano hopped in the comments and said: "We have also been reporting that specific video scam to no avail. Very frustrating."
Someone esle wrote: 'I have specifically reported this to @YouTube several times, and kept track of it afterwards, it was not taken down. But 10+ seconds of copy right music on your live stream and a robot will notify you…"
Another commenter said: "@YouTube are only great at shutting down legitimate accounts but are useless against scam accounts especially if you point it out to them. They do not have good intentions."
Saylor is praising Bitcoin
Not too long ago we were revealing that MicroStrategy's Michael Saylor continues to support Bitcoin after his firm accumulates the king coin in all moments.
Check out the latest tweet that he shared about the king coin.
#Bitcoin is the first decentralized, universally available asset on an open monetary network.That means that at any given time, someone, somewhere is working to add value using all the financial & technical assets at their disposal to the benefit of all the other bitcoin holders.— Michael Saylor⚡️ (@saylor) November 15, 2021
At the moment of writing this article, BTC is trading in the green, and the coin is priced above $64k.
It's been just revealed that the popular on-chain analyst Will Clemente thinks certain metrics indicate Bitcoin (BTC) is just now entering the main phase of the bull market.
Here's What's Next for Polkadot, The Sandbox and Three Low-Cap Altcoins, According to Crypto Analyst
A popular crypto strategist and trader is mapping out the levels where Polkadot, The Sandbox and three other low-cap altcoins could bounce and potentially carve out bottoms.
The crypto analyst known in the industry as Altcoin Sherpa tells his 152,600 Twitter followers that interoperable blockchain Polkadot (DOT) might see an influx of demand once it taps the 200-day exponential moving average (EMA), which is currently hovering at $32.
"DOT: More consolidation expected at the $30-$40 range. 200-day EMA should be support here."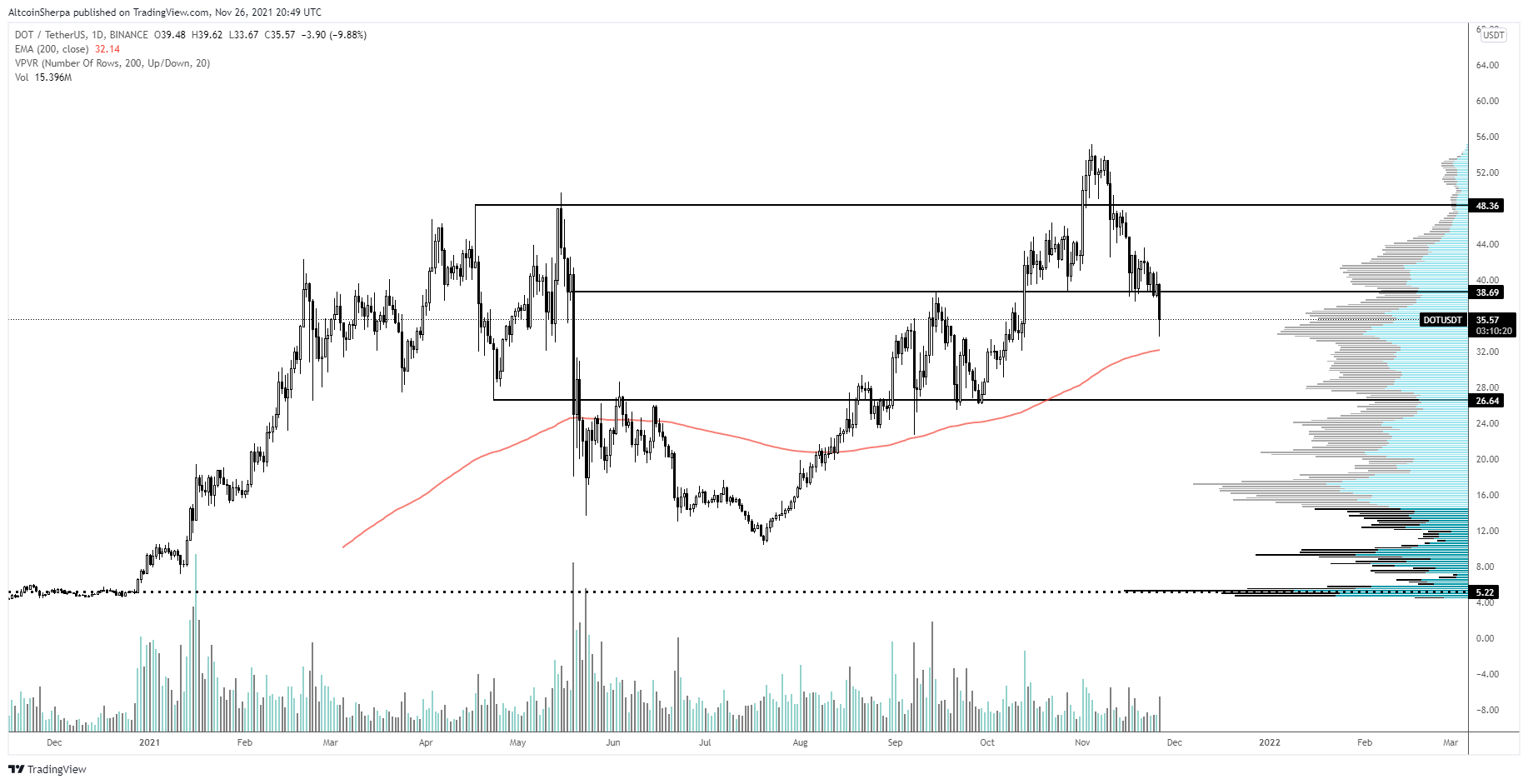 Next up is blockchain-based gaming ecosystem The Sandbox (SAND). According to Altcoin Sherpa, he's looking for SAND entries around $5.
"Probably one to buy the dip on. The strongest coins get bought back up the fastest."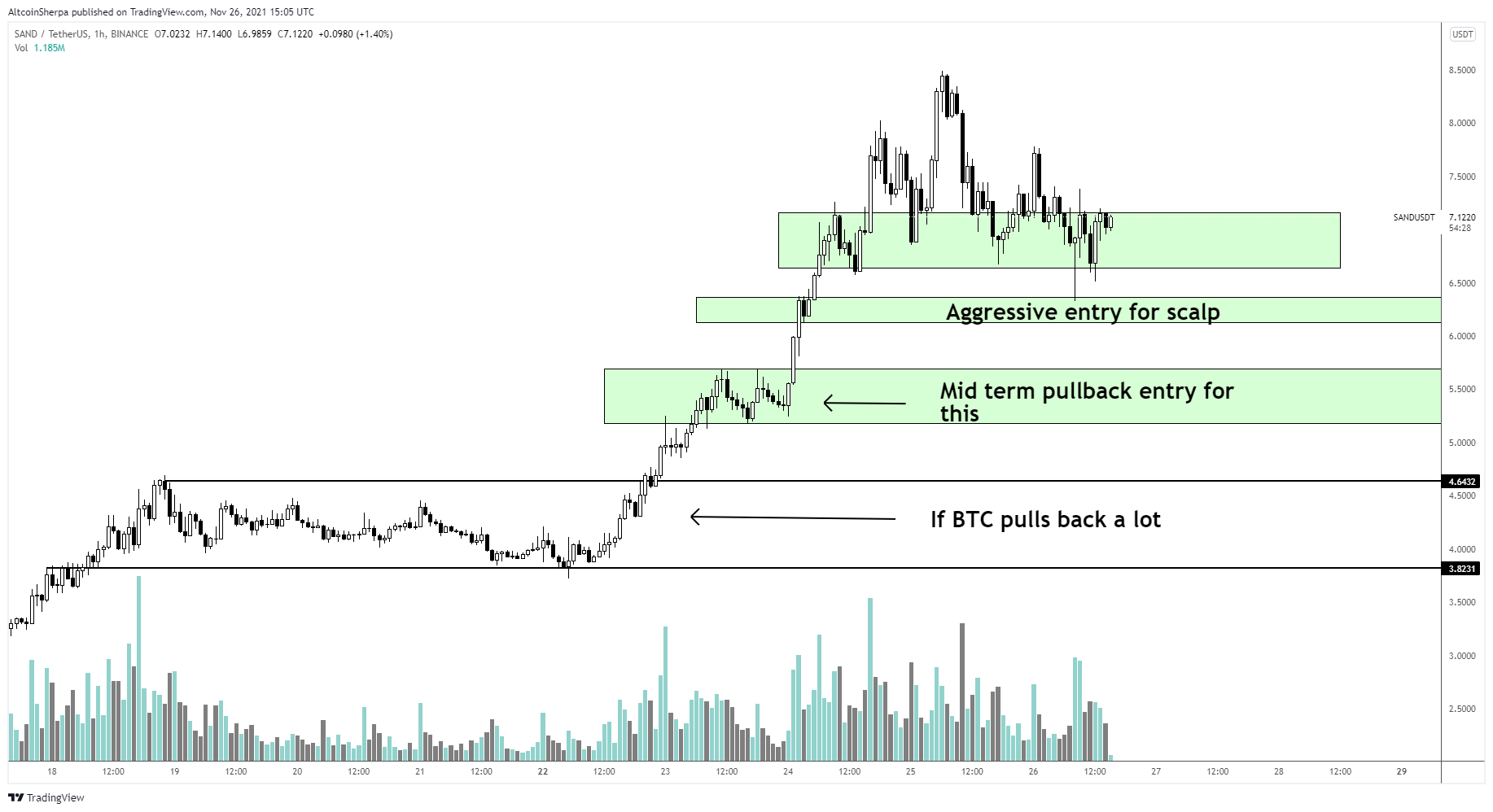 The third altcoin is CRO, the cryptocurrency that powers the Crypto.com payment, trading and financial services platform. According to Altcoin Sherpa, a low timeframe support might provide some relief for CRO.
"CRO: patiently waiting for $0.60."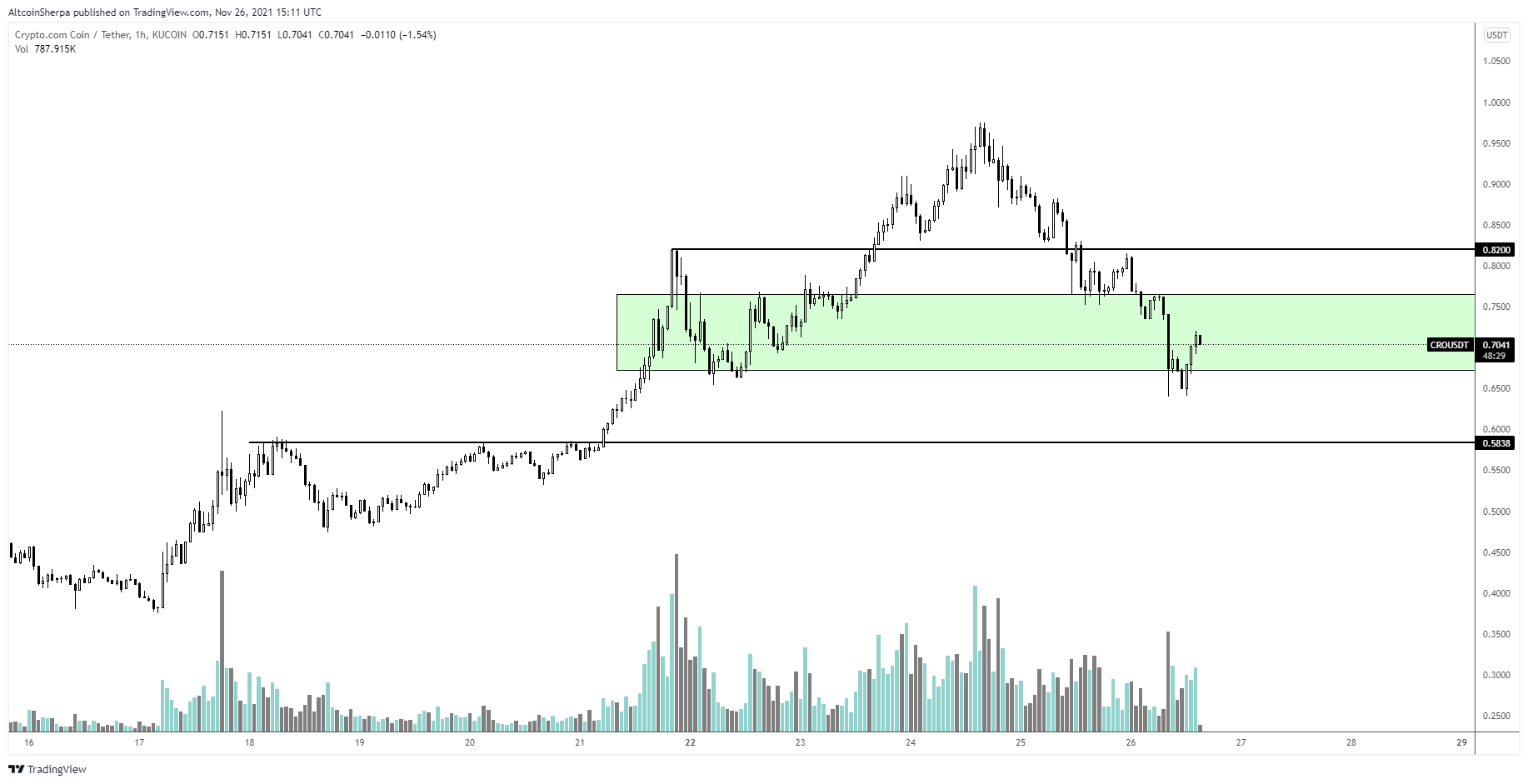 Another coin on the trader's list is Oasis Network (ROSE), a smart contract platform that prioritizes privacy for open finance. The crypto analyst says he's expecting ROSE to carve out a bottom around $0.29.
"Good first reaction to the 0.618 [Fibonacci level]. It's likely this makes a lower high if it continues up strongly. I would rather see this consolidate for a bit at 0.618 and then form a solid bottom for continuation."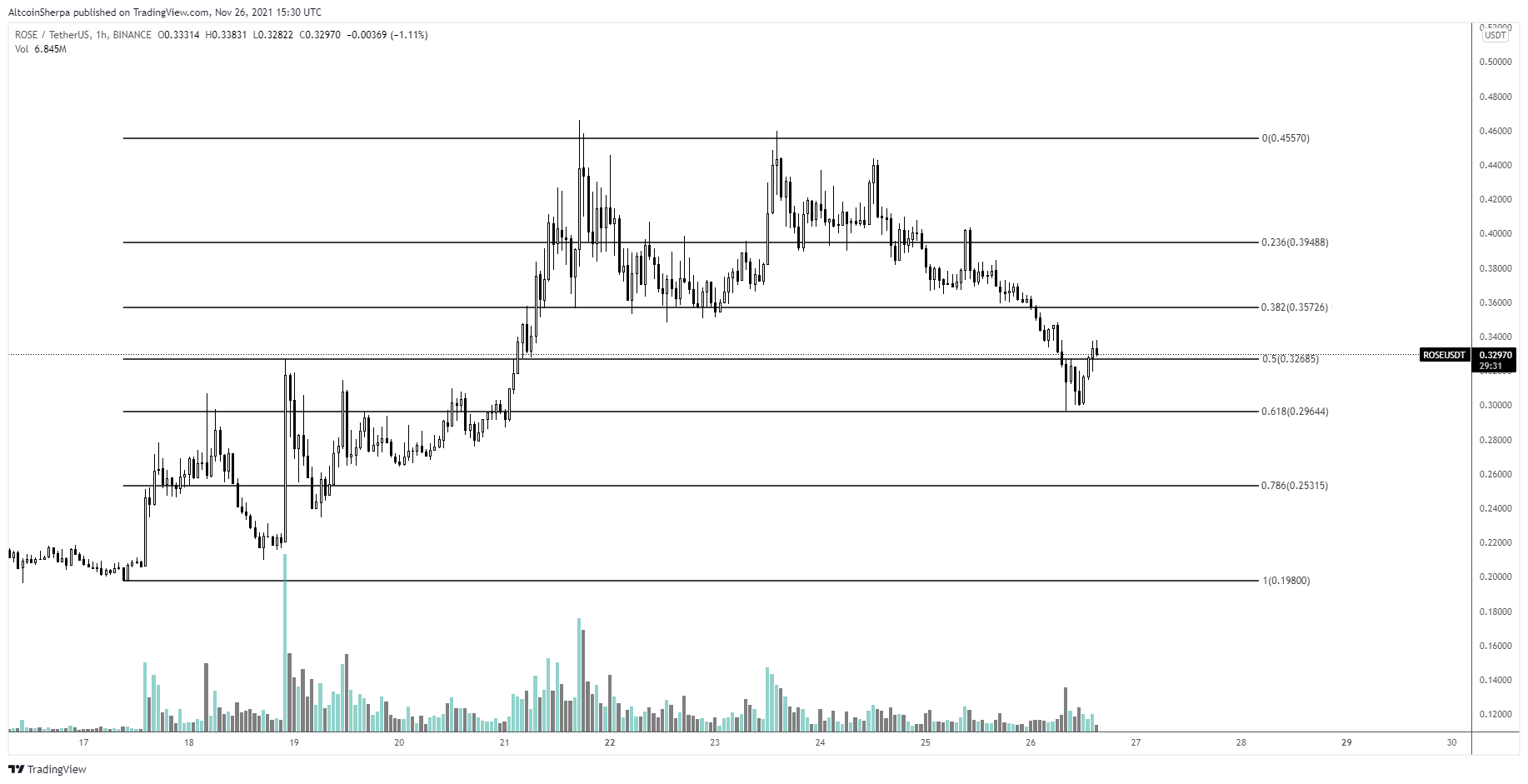 The last coin on Altcoin Sherpa's radar is payments infrastructure platform COTI. The crypto analyst says that COTI is currently respecting the 200-day EMA as support ($0.37) but adds that a new sell-off event can push the token down to $0.30.
"First good tap of the 200-day EMA. I think that this one will find a short-term bottom around here. More support at the 0.618 [Fibonacci level] though."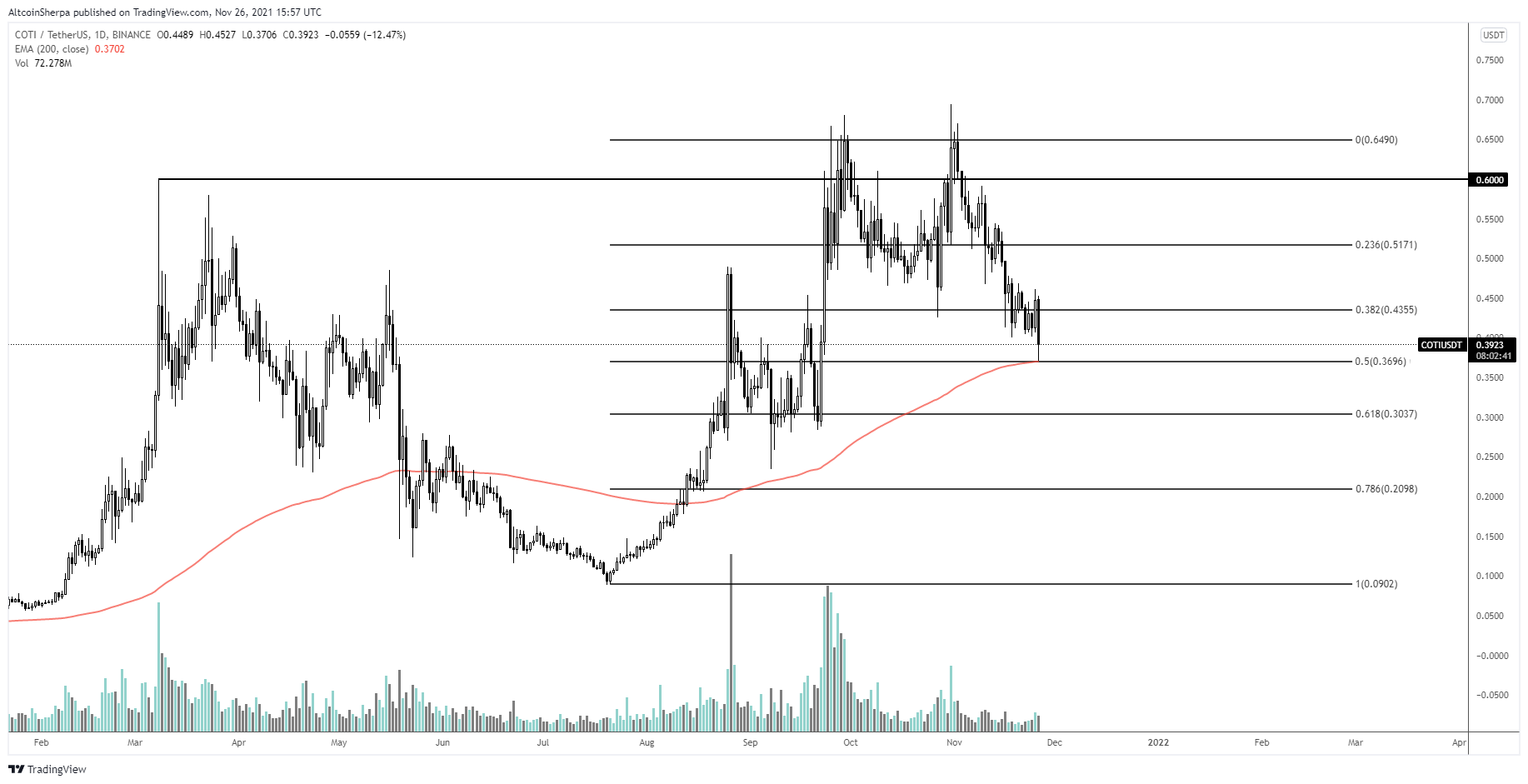 Safe with $4m worth of cryptocurrencies stolen from billionaire's home
• Billionaire offers a $500000 reward for his $4m of cryptocurrencies safe.
• External cryptocurrencies wallet is stolen with other valuables in a safe.
The cryptocurrency market turned gray today amid news of a new crypto heist. A safe with $4m worth of cryptocurrencies was stolen from the house of a billionaire man in Auckland, a city on the north island of New Zealand.
According to announcements, Mark Geor, a crypto enthusiast, lost his virtual funds stored in a safe. As the decentralized market gains fame worldwide, more people are getting scammed or robbed. Geor is offering a reward of $500,000 for its stolen safe.
Millionaire safe with cryptos is stolen
New Zealand has become a haven for the rich and millionaires who have earned their capital from cryptocurrencies in recent years, including Mark Geor. Although New Zealand offers many tourist spots, it might lack security considering what happened to Geor.
The billionaire renovated the family home in Auckland, a city in the north of New Zealand, without knowing what misfortune would happen. According to Geor, after completing the renovations, he realized that a safe had been removed from the mansion.
The businessman confesses that there were $10000 in cash, jewelry, high-end watches, and an external wallet where it was supposed to contain the cryptocurrencies inside the safe.
Geor believes that were professional thefts, suggesting that he or those involved worked on the crime because they broke through the security system installed in the mansion. However, Geor is optimistic that the criminals must not understand what the safe contains.
Reward offered for finding the safe
After what happened at Mark Geor's family mansion, Special Agent Mike Campbell took up the case to find the criminals. According to Campbell, this robbery occurred between the first and second week of September, and there is still no progress on what happened.
Campbell is also the spokesperson for the attractive reward. This compensation will exceed $500,000 if the safe is returned with all your belongings, including the crypto wallet.
The police are investigating if the person hired for the remodeling had something to do with the robbery. Something that might outrage the Cryptocurrency-loving community is learning that the billionaire left his crypto wallet in a safe at home while he was remodeling it. But it is not something that could be expected in a country characterized by having one of the lowest robbery rates in the world.
For now, Geor will have to wait for the criminals to show up with the contents of the safe or for someone to give a clue as to where the criminals are.